Meet Kim Fischer | Manifesting Coach, Radical Ritual Queen, Yoga Leader & CEO of Lotus Life Yoga Center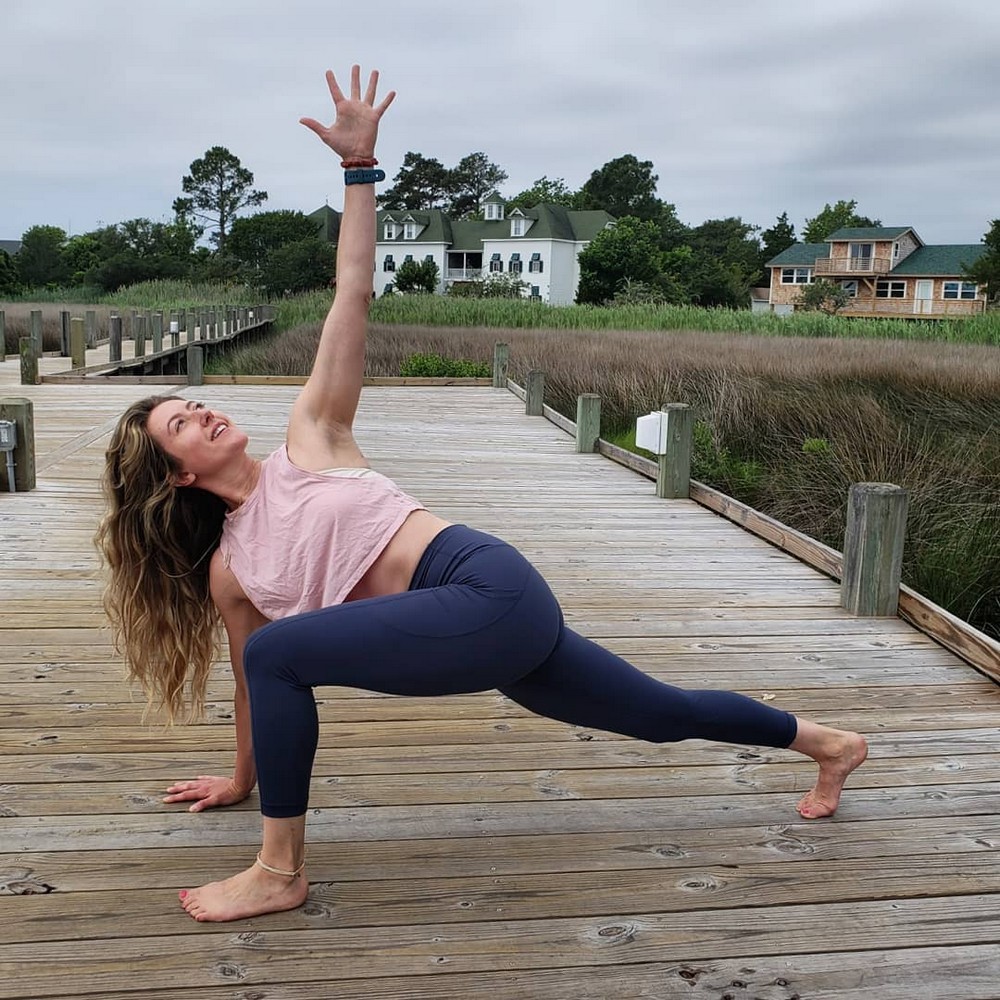 We had the good fortune of connecting with Kim Fischer and we've shared our conversation below.
Hi Kim, have there been any changes in how you think about work-life balance?
Finding balance isn't the goal for me any longer. I have found over my years of yogic practice and entrepreneurship that it isn't balance so much that I want but feeling content with my life and all of its fullness. So the question for me has become, not how can I find balance, but how can I find ease and joy? How can I feel expansive?
Joy comes from discernment actually. Discernment means saying "yes" to the right thing at the right time as well as saying "no" to the right things. On the other hand, If I say "yes" to everything, I over burden myself and eventually feel burned out. This is the typical path- take on everything, loose your power, and overwhelm yourself. Then, loose your energy and joy and start searching for "balance". We all do this and it isn't our fault. It's partly because that is what we are told in life- "go and find balance". It is also because I don't think we are taught the true power of discernment. It's a tool to help us feel content and expansive, regardless of the fullness of life, because it allows us to take the power back.
When I learned how to be discerning I was able to stop the cycle of overwhelming myself. Which, in turn, allowed me to avoid feeling "out of balance" in the first place. I don't worship balance. I worship discernment. It's truly a game changer.
A huge part of being able to practice discernment is through learning how to feel into your "yes." Otherwise you won't know what is the best thing to spend your time on. My morning routine, which I lovingly refer to as my Radical Rituals, have clarified for me, how to embody my "yes" and trust myself. I wake up at 5 or 5:30am everyday, practice pranayama (yogic breathing), visualize my goals and dreams happening and journal what I see and how it feels- excitement, joy, love, confidence! Then I turn on some amazing music and dance to the frequency of those emotions. I let every cell, muscle, and bone feel the emotions. This, to me, is akin to a boss aligning employees with the goals and OKRs of the quarter. If everyone isn't aligned to the mission, the business will fail.
When I am then presented with choices and options, rather than feel overwhelmed, I can feel into my body's reaction first, on a visceral level, and see if it matches the "yes" I have been holding during my Radical Rituals. If it matches, I go for it. If it doesn't match, I say "no, not right now." This routine has been critical for establishing trust in myself that I can be a discerning person and that it is OK for me to say "no" to tasks or requests that don't align with my goals and dreams.
This mindset and routine has allowed me to smash some amazing goals this past year, including reopening my yoga studio, Lotus Life Yoga Center, start a podcast, begin 1:1 spiritual coaching, launch digital courses, and travel with my partner, Brandon. Life definitely didn't get less busy but I learned how to be more discerning. As a result, I don't feel balanced, per se, but empowered, and fulfilled. I much better combination, I think.


Alright, so for those in our community who might not be familiar with your business, can you tell us more?
I first started teaching yoga in 2007. I rented space, subbed for other teachers- anything to gain experience. Finally, I was able to land a solid teaching position at a local studio and eventually was promoted to manager. Fast forward to 2011, I opened up my own studio, Lotus Life Yoga Center. At the peak of the business, I had two locations, 30 employees and a very large student flowing. We offered yoga teacher training programs, retreats to Costa Rica, and workshops on many different topics of interest. It was the gem of the community.
However, around 2011 I started to feel a strong call to finish my undergrad degree and dive back into studenthood. I have always identified as a life-long learner and so I knew better than to ignore my soul and heat's desires. Sometimes you need to leap and trust the Universe. So, I sold my business's assets to another local yoga studio who happened to be looking to expand at the same time (talk about great timing!). Although I was excited to pursue education and love risk, this was a very difficult time for me and the community. My identity was completely changing and I was leaving behind something that I loved deeply. Little did I know that fate would have me resurrect something I though was buried, almost five years later.
In the Fall of 2011, I restarted my quest toward an undergraduate degree and then quickly moved on to my graduate degree in Human Computer Interaction. This eventually led me to working as a User Experience (UX) Designer at a local tech company. I loved my job, the culture, and made great earnings. All the while I never stopped teaching yoga. In fact, I taught a lot of yoga and really started to ramp up my social media presence and emailing campaigns. I also started up an online community, taught remote classes, and offered a few in-person retreats.
Then, in August of 2021, it all came to a head. I was exhausted from basically working two full-time jobs. I knew, deep down, that I wanted to dive back into full-time entrepreneurship. So I did what worked once before in my life- I asked the Universe for help. Literally. I will never forget the moment. I threw my arms into the air, and with full humility and faith, said the following " Universe, I need help. You know what I want. Give it to me in a way that when I see it, I will know it's from you. And I promise I will take action."
That evening, a friend messaged me, wondering if I was aware that my previous location was once again available for lease?
Chills ran up and down my spine and I knew I had received the help I asked for. I made good on my end of the bargain, as I promised. I called my former landlord and ended up securing financing and signing the lease all within 9 days. I quit my amazing job as a UX Designer and Lotus Life was resurrected. It bloomed out of the mud, once again.
This second time around feels different. I'm in 100% alignment and trust with myself and the Universe. I know that I responded to the RSVP from something higher. And so I work, teach, and lead now from an elevated and sacred place.
If there is any big takeaway from my story it is this, trust the tempo of your life because anything is possible at any moment.


Shoutout is all about shouting out others who you feel deserve additional recognition and exposure. Who would you like to shoutout?
There are so many unique, amazing people, who have influenced me along my entrepreneurial and spiritual path. Notably, my monitorship from the professors at SUNY Oswego who have greatly shaped my thinking and creativity. My spiritual and yogic teachers (there are too many to list here). My goddesses, and best girl friends who have, at many times, restarted my heart. My parents, Marty & MaryEllen, for always demonstrating the art of fun and joy at any age. Above all, I would like to dedicate my shoutout to my partner, my ride or die, and best friend, Brandon, who has provided this wild-spirit with all the space in the universe to expand, healed my wounds, showed me what compassion and patience can create and freed me from self-doubt. I love you.

Website: www.lotuslifeyogacenter.co
Instagram: https://www.instagram.com/lotuslifeyogacenter/
Facebook: https://www.facebook.com/lotuslifeyogacenter
Yelp: https://www.yelp.com/biz/lotus-life-yoga-center-syracuse
Youtube: https://www.youtube.com/channel/UCnnFblZcAr_XReldBncB7lg
Nominate Someone:
 ShoutoutAtlanta is built on recommendations and shoutouts from the community; it's how we uncover hidden gems, so if you or someone you know deserves recognition please let us know 
here.