Meet Karen Marie Jenkins: Personal Brand Photographer & Visual Storyteller
We had the good fortune of connecting with Karen Marie Jenkins and we've shared our conversation below.
Hi Karen Marie, what led you to pursuing a creative path professionally?
Why I chose artistic and creative, career, and business choices is not a simple answer or story, but one, I believe is rooted in transformative life experiences that had a major impact on my childhood in the late 1960s. From ages 5 to 10, I lived in an inner-city neighborhood in Cincinnati, Ohio called Evanston during the cultural and historical period of "Say it loud, I'm black and proud song and later mantra along with Motown sounds, national rioting and protests. This neighborhood gave me real-time experiences with black cultural arts and black pride and affirmation of my black skin. It also fueled in me the confidence of black girl magic decades before it was a thing. But my world of lived art and black pride would dramatically change when my parents moved from the inner city to the suburbs of Cincinnati approximately six months after my 10th birthday in August of 1967, aka the "Long, Hot Summer." My confident self-image, and how I experienced being a dark skin black girl would take a dive, as I became confused about who I was as a black girl; it would take years of healing through the arts to recover and meet back up with the spirit of that young girl. It was during this personal crossroad that art became a tool I used to escape the hurt and pain I felt, and the start of my lifelong love for art and humanities (culture) and career choices in the arts. The brand story for my personal brand photography business is based on my struggles with self-esteem and image with my brand mission grounded in producing positive and confident images of women that empower them to embrace images that are bold, authentic, and unapologetic. As I stated before, this story begins on Grantwood Ave in a neighborhood called Evanston from the years 1962 to the summer of 1967; I was an elementary school black girl. Evanston was a special place and our street was a magical place to live on. The kids on Grantwood spent lots of time together, roaming freely in and out of each other's houses playing together, eating our favorite snacks like sugar and syrup sandwiches; outside we jumped double-dutch rope, played four-square, Freeze Tag, Hide and Seek, and games like Kiss and Catchers (our introduction to kissing). We lived art and culture. Our lived art included talent shows we held outside the doorsteps of our homes into the wee darkness of the night. At our choreographed shows, we sang Motown songs such as "Stop in the Name of Love by the Supremes (Diana Ross) along with dance steps we created to go along with the lyrics. My favorite choreographed song was to another Motown hitmaker, Steve Wonder to his song "Everything's Alright." I still remember the dance moves from our choreography. Also, in my community, was King Record Studio, the home of recording R & B artist "Say it Loud, I'm Black and Proud" James Brown. My friends and I often played in the parking lot of this recording studio with the miniature records found on the lot. On one occasion, I saw James Brown with that thick, black pompadour hairstyle in downtown Cincinnati. This was my introduction and affirmation of black pride, and cultural arts; a lived experience. Black pride was also reinforced at the elementary school where I attended from 5years old to 10. Evanston elementary was a predominately all-black school. In kindergarten, I had my first black teacher, Ms. Butler. She was a beautiful dark skin black woman with long thick black hair. I recall her as a soft and nurturing teacher with a beautiful smile who affirmed my beautiful black skin. During recess, we played my favorite game of Tetter ball in the schoolyard, a popular inner-city game. Evanston nurtured a living art and cultural history that reinforced my positive black image. Happiness is beaming in the picture of me in front of my parent's car on Grantwood. Unfortunately, my positive self-image would soon change shortly after my parents moved, like the tv show the Jefferson's 'moving on up', we moved on up to Princeton City School District in the suburbs of Cincinnati in August of 1967. Historians called this "the Long, Hot Summer of 1967; a period of riots all across America, including Cincinnati. I was old enough to remember the rioting. Our move 'on up' was for better opportunities, one for better education. My father married my mother at 17 years old; she was 18. He was a high school drop-out but later earned his diploma. Later, he attended the University of Cincinnati's evening college where he earned an Associate degree in Accounting and shortly after became a Certified Public Accountant. My father wanted better opportunities for his family, so we moved to the suburbs to a community called Hollydale. This was also a black community, but it was a different experience for me. This period represented a crossroads of change in American history. Black folks who moved to the suburbs were seen as 'sell-outs' and rich black folks who turned their back on the inner city and the 'fight.' I recall my dad and other black men in our newly developed subdivision having to protect it by standing guard at the entrance upon hearing that it was going to be burned down. Ironically, the story of Hollydale, our new community represented its own fight for existence. Former city of Cincinnati black mayor, Theodore Berry helped the Black homeowner's association of Hollydale secure the community. Laura Laugle, from the piece: "T. M. Berry Project: Berry and the Fight for Fair Housing in Cincinnati, Part 2". University of Cincinnati Library Retrieved 2017-08-04, wrote: The problem for Berry and his partners was, as expected, discrimination. The chosen plot of land for the subdivision which would be named "Hollydale" was a farm in Springfield Township near Glenview Golf Course." The "…original Cedar Grove Homestead Association member Edward Jacobs explains "we were told by the farmer who owned the land that he'd rather see the land full of weeds and rabbits before he would sell it to us… Once we raised enough money, we had to get a white lady in Glendale to buy the land in her name and turn it over to the association." My 4th-grade school picture from Glendale elementary tells my story and experience: I look sad and confused, and I was. It felt like me and another dark-skinned black girl were the darkest girls in our class. Funny, but prior to fourth grade I never felt my blackness or dark skin tone in a negative way. Up to this point, I was not self-conscious about my skin color or skin tone. I knew I was a black girl, but this was different from anything I had experienced. There were glimpses of happiness at Glendale Elementary in my fourth-grade class and that was my teacher Mrs. Williams, a black teacher with smooth caramel brown skin and a radiant white smile. She was pleasant and endearing. Her warmness drew me back to my kindergarten teacher at Evanston Elementary, Ms. Butler. I loved my teacher, but it was not enough; my grades in her class were not good. I went from being an "A, B student in Evanston to my 4th-grade teacher wanting to hold me back. Later, I realized there were academic differences in the schools, but still my parents wouldn't allow me to be held back because they knew I was experiencing a cultural shock. It was during this period that art became a tool I needed to comfort me with the emotional pains I felt that were quickly affecting my self-image and self-esteem. Art had to become my friend at this crossroads in my early life as my self-image as a dark-skinned black girl was taking a further dive from my experiences I had in the hallways of my new school and when I got off the school bus. "Hey Blackie, hey pie face," the cute boys yelled out "Come here blackie, black dawg." "You hear us talking to you, black dawg!" I felt so alone with no one friends like I had in Evanston. The walk of pain, shame, and embarrassment was a lonely feeling and took an emotional toll on me. Is this what black is supposed to feel like? When I was in Evanston, I was the: Say it loud I'm Black and I'm proud, girl. I was among the Motown black girls on my street singing in talent shows outside our doorsteps. This was a different kind of blackness that made me unsure of who I was and where I belong as I struggled for years to find myself. At this juncture, Art quickly became my friend. At home, I would often gaze out the windows as if they protected me from the hurt of their words. It was emotionally safe inside my home, shielded from the glass that protected my ears from hearing those harmful words. My mother was there to soothe my wounds with her words, "Stick and stones will break your bones, but names will never hurt you," but we now know that words hurt deeply and for a long time. My mother continued to be proactive and started me on my life-long hobby and love for art because she knew I needed something to take my mind off the hurt. She supplied me with colored pencils, paint by numbers, how to draw anatomy books, and sketchbooks and I loved them. Art became a refuge and led to my love for fashion illustration and wanting to become a fashion designer at an early age. The intersection of living black culture, arts, and black pride in Evanston, to the emotional need for art at ten years old from my personal experiences in the suburbs, both of these experiences led to my love for art and creativity and became a mechanism for healing my self-image and self-value. These early experiences, I also believe ultimately led to getting a Bachelor's degree in History (Afro American Studies, minor) and a Master's degree in Humanities, along with a career in arts and teaching at the university level. My Personal Brand Photography business, Karen Marie Images & Branding is definitely based on my childhood story and personal journey with self-esteem and self-image. My brand mission is to empower my clients, particularly female entrepreneurs, to embrace bold, confident, and unique 'stand out' images that reflect their stories with truth, and power and authenticity.

Can you open up a bit about your work and career? We're big fans and we'd love for our community to learn more about your work.
I've been involved with arts and humanities from an early age as stated earlier in my story. Although I attended college right after graduating from high school, I got a Bachelor's in History and Afro-American Studies Minor and a Master's degree in Humanities as a non-traditional student. But prior to getting those degrees, I had multiple jobs in the arts from working as a volunteer in Denver, Colorado at the Black American Cowboy Museum, and the Colorado History Museum. While interning at the Black Cowboy Museum, I was awarded a paid internship at the Smithsonian Institute in Washington, DC where I had the pleasure of meeting and becoming friends with international photographer Carrie Mae Weems. We both worked in the American History Museum at the Smithsonian under Dr. Spencer Crew. In my home-town of Cincinnati, I also worked multiple art positions one as a Cultural Arts editor and writer for the black newspaper called the Cincinnati Herald along with teaching art and photography classes for kids in Cincinnati and later in Atlanta. I taught English for 18 years at Northern Kentucky University. A few years before retiring in 2016, I started my photography business renaming it Karen Marie Images & Branding where I capture bold, and authentic storytelling images, primarily of female entrepreneurs.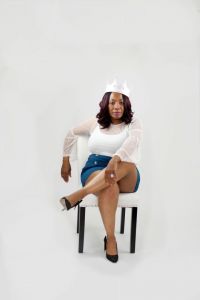 If you had a friend visiting you, what are some of the local spots you'd want to take them around to?
Ra Sushi in Midtown. I love the ambiance; it is casual, has great prices. I love their sushi, mini short ribs, and their Lemon Drop Martinis. You have to visit the new Whole Foods also in Midtown, it has multiple floors, a full bar and a rooftop. It is definitely a destination stop. Atlantic Station is a fun shopping experience, lots of brand name shopping, and restaurants. Piedmont Park is a beautiful park also in Midtown.. It is a great place for walks and bike rides, and it is equally fun during their annual Jazz concerts in the park with several stages and big-name artists. And they are absolutely FREE. I saw Macy Gray at one of these concerts, and it was one of the most memorable times. It was a huge, but chill crowd. There are also some nice spots just outside of Atlanta if you love live music and dancing, which I do! One of my favorites is a great spot in Stockbridge, Georgia, Savoy Bar, and Grill. They have a great menu with lots of choices and the food is delicious. They have live music on weekends with top Atlanta talent. Kat's Café is a must for local Friday night fun; it is a small intimate spot but a lot of fun, great drinks, food, and music entertainment. Krog Market is a good attraction for restaurants with locally grown food. Ponce City Market is a marketplace of eclectic shops and restaurants. And you can't go to Atl and not visit Mary Mac's Tea room, as a matter of fact, go more than one time if you can. Oh, my goodness, the food is DELICIOUS! You can't leave Atl and not go to the famous Lenox Mall with all those famous brand name stores, like my favorite Macy's!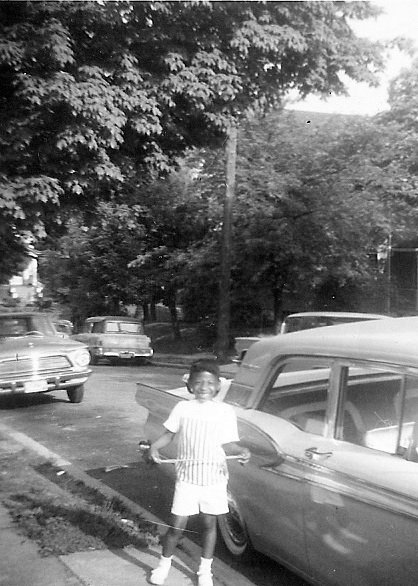 The Shoutout series is all about recognizing that our success and where we are in life is at least somewhat thanks to the efforts, support, mentorship, love and encouragement of others. So is there someone that you want to dedicate your shoutout to?
My shout-out is to my deceased mother, Bertha Jean Jenkins. Through her wisdom, she put me on an artistic journey at a young age, by giving me the tools to divert my attention from the pain I was experiencing while uplifting my spirit. She always encouraged my artistic ideas. As I got older, I would share some of my ideas with her, and she would say, "don't tell too many people." I always answered yes, but I didn't really understand the insight of that statement, at the time, but I absolutely understand it now. By giving me those tools when she did, she had the insight and wisdom to understand how art can heal the spirit and become more than a hobby. By seeing that I needed the specific tool of art and creativity to address my declining self-esteem and image, she ignited my life-long love of art, fashion, and creativity.
Website: http://www.karenmarieimages.com/
Instagram: https://www.instagram.com/karenmarieimages/
Linkedin: https://www.linkedin.com/in/karen-marie-jenkins-99578815/
Twitter: https://twitter.com/KarenMJenkins
Facebook: https://www.facebook.com/karenmarieimagesandbranding/
Image Credits
All the photos belong to Karen Marie Images & Branding
Nominate someone: ShoutoutAtlanta is built on recommendations and shoutouts from the community; it's how we uncover hidden gems, so if you or someone you know deserves recognition please let us know here.