Meet K.D. O'Hair | Actor, Singer, Hair Stylist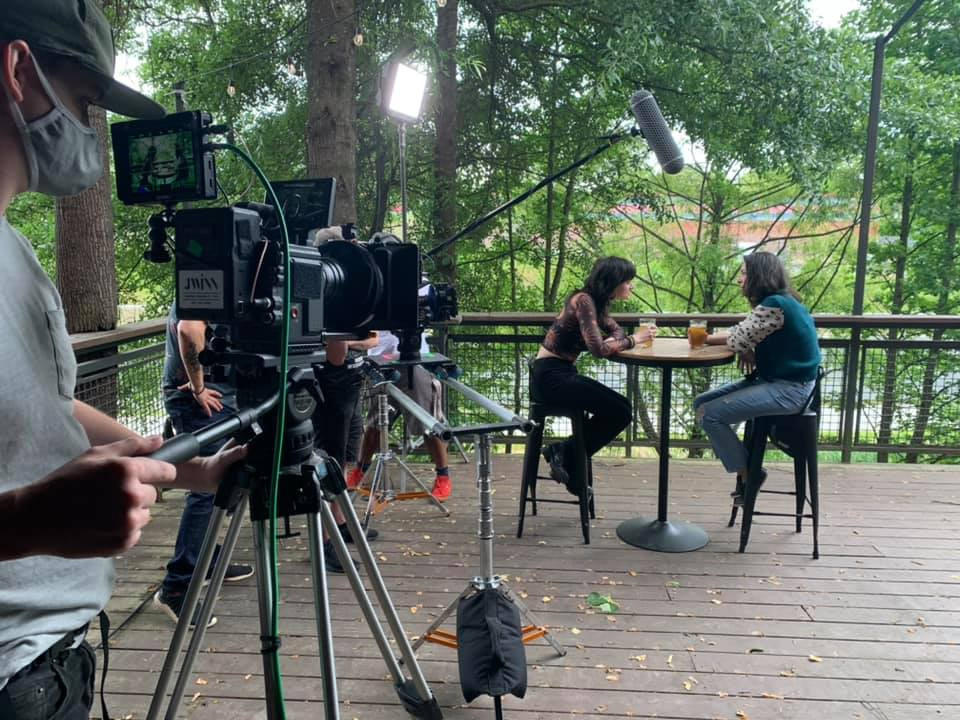 We had the good fortune of connecting with K.D. O'Hair and we've shared our conversation below.
Hi K.D., Let's talk about principles and values – what matters to you most?
Integrity. It is something I feel has been traded in by many these days in order to get ahead. It is almost as though a majority of people live their lives believing they are better than others and are therefore entitled to act as such while their social media presence would have you believe that they are selfless and genuine. The look of being an authentic person is more important than actually being one.
I have noticed in my own life, especially as an individual Karma follows extremely closely, that whenever I do the next best thing for my highest good without doing harm to others, everything else falls in line. That is how I interpret integrity. We are mirrors for each other; we can bring out the best and worst in one another. We all have room at the table despite what society might want us to believe, and we can all help each other get there. So why wouldn't we do that? Also, being able to sleep at night and look at your own self in the mirror ain't so bad either.
Alright, so let's move onto what keeps you busy professionally?
I am a creative through and through. I've been an actor since I was 5 and have never wanted anything else so fervently. Singing became a part of that, another way to express myself and this never-ending well of emotion I lug around. Pursuing a career in those concentrations led me to Chicago where I lost myself in a big big way. Two of those years I didn't perform at all, and I was broken because of it, turning to substance abuse. I have realized since that performing is never an option for me; I have to do it. It's in my bones. It's my purpose in this life. And thank goddess because I can't be this friggin empathic for nothing; all these feelings must go somewhere!
Whilst following these dreams, I found myself in Cosmetology school at the Aveda Institute of Chicago. Hairstylists have always fascinated me, and I couldn't face a reality of waiting tables until performing worked out. Servers are some of the most disrespected workers on this planet; having a taste of that, I couldn't do it. (ALWAYS TIP YOUR SERVERS AT LEAST 20%, if for anything, putting up with people's entitled bs for hours on end). Back to hair, I've been a stylist now for 11 years. It was a profession I had zero talent for to start, a new and extremely challenging experience to develop a craft from nothing. Becoming a booth rental stylist the past few years has really given me the power and confidence to build my own salon experience for my clients, to use the color I want, make my own prices, come in when I want. It allows me the autonomy to be creative in my day job and be able to act and sing whenever I book a gig. I am so grateful to have this kind of freedom. I think it's an important ingredient to live an artistic life.
I grew up in the theatre; it was my first love. For the past 9 years, I have focused on Film/TV acting. I used to think it would be seamless going from one medium to another, but in my journey, my god it's been a huge learning curve. They can be so absolutely different from one another for unexpected reasons, and there is always something new to learn. I act because I love being in that moment. I love having the parameters of lines, storyline, character development, etc but in order to live authentically within that world. With theatre, you get to do that for 2-3 hours straight, just living as your character. Every night with a different energy based on cast/crew, but even the audience. A play/musical becomes this living, breathing, growing beast. With film, you have to be your own beast. You're performing in these, in comparison, tiny increments, perfecting moments with back to back takes while you have this lie detector recording your every move, and your audience is that lens & the production team, the crew. They can't hoot and holler you on, clap whenever you're bringing the house down, most especially because they have a job to do and that lens does not have hands. You have to be so present in that moment because once they yell "cut, moving on", that's it. That was your moment. You don't get to do it again tomorrow. You don't even know what take they're gonna use to tell that story, but it will be immortalized forever, watched by people who don't even exist yet years from now. It's a different variation of difficulty.
As with anything, nothing like experience to really drive in the important lessons. Therefore, one has to work, and an upcoming actor's climb can feel so desperately sporadic, especially for females and people of color, just to name a few. However, funny enough, I have been lucky to book more within the pandemic than I have the past few years. I can't help but think it's because something clicked within me with everything going on in the world, having just gotten out of a toxic 5 year relationship, and finally having the wherewithal to stand on my own two feet. My purpose became clearer, and I realized I could focus on my development in the way I saw fit. I found a version of myself I always knew I could be, and it hasn't been easy and it's still not, but I would be remiss to say that I don't see miracles happening in my life every damn day because of these choices.
I got to work this year on "One Way" with MGK & Kevin Bacon, booked my first guest star on "Chicago Med", my first union commercial for GA Lotto, worked on Jaime Andrews' brilliant film "Division", in an episode of the second season of Starz' "Hightown" coming back in October, and just filmed a feature I cannot speak about but I am oh-so-excited for people to see. It's cathartic to see the fruition of one's efforts for so many years, and knowing you've earned it too. I think the business side of film is probably the hardest part. Funny how an industry based on telling stories about humanity can be anything but humane at times. Having a rich, rewarding life outside of performing helps level that with the wins, most especially because how the hell are you supposed to tell stories about life when you aren't living yourself? Crafting a magical, spiritual life and really loving time to myself has brought a lot of peace and power. And I dunno what I did right, but the people I attract to my salon chair and get to work with at Adore Hair Studio of Decatur bring so much joy into my life as well.
Lastly, I finally have an original band, SÜG (short for sugar), and I am over the moon about it! That dream has always been near & dear to my heart, and it's finally happening! I met my guitarist and fellow songwriter, Jeremy Haysman, through a mutual friend. We started jamming together; I was so self-conscious about it in the beginning. But poof! SÜG was born, and we quickly gained our drummer, Brian McKenzie, and bassist, Roque. It's crazy to see how it's all aligned so quickly. I've never quite experienced the amount of power that comes from writing a song; it's like a spell. It blows my mind. We're really excited to hopefully start playing live in the near future and meanwhile, are creating an online presence of song clips and hopefully doing an IG/YouTube livestream soon on September 19. Follow us @sugmahkiss. Also, you might hear our song, "Selene" in "Division".
Out of all these experiences, I have realized that life is balance, yin & yang, and that solutions to problems lead to even more, different "problems" (thanks "The Subtle Art of Not Giving a F*ck"). It is why we're here. So if we can make peace with that notion, surrender to it and find the joy in the everyday, find what it is that sets our friggin souls on fire while not forgetting to live intentionally and presently, I think we'll be alright.
If you had a friend visiting you, what are some of the local spots you'd want to take them around to?
Ok, I recently discovered Church and am in love. Church organ karaoke for the win. Metalsome Mondays at Dark Horse are pretty epic as well. We'd go to trivia at The Highlander, where they have peak pool tables in the back. And I proceed to humiliate my friend with my impeccable pool skills. Foodwise, we hit up Argosy, Fellini's, Farm Burger, Revolution Doughnuts (I work next door to them, dangerous), Slutty Vegan, Go Vegetarian, Avellino's, Atlanta Breakfast Club, Sushi Avenue, Bambinelli's, hopefully not all in one night. ChocoLaté Coffee and Dancing Goats for caffeine. Butter & Cream always being the end of the night jam for ice cream.
Things to do (some outside of the city): Crystal Blue and Phoenix & Dragon for all metaphysical needs, even the latter for psychic/medium readings. Sacred Heart Tattoo of Little Five Points to see my artist Darby Dust. Walk around Little 5 Points and really just all the artsy parts of the city, take in all the graffiti. It's stunning. I love hanging in cemeteries so we'd have to go spend hours reading the headstones at Historic Oakland Cemetery and another day we'll go meditate at my current favorite spot, East View Cemetery. It's got these beautiful trees with purple/pink flowers. So peaceful. We'd also have to hit up Piedmont Park where we can race scooters everywhere, scaring couples trying to go for a leisurely walk at twilight and then go see the doggos at Brookhaven Park. I have a dog, so we'll blend in. Then for the ultimate relaxation, we'd hit up Jeju Sauna and then Sunny Feet Massage for an hour long session. The best. The End.
The Shoutout series is all about recognizing that our success and where we are in life is at least somewhat thanks to the efforts, support, mentorship, love and encouragement of others. So is there someone that you want to dedicate your shoutout to?
I would love to thank my gorgeous mother, Brenda O'Hair. She is and always has been my biggest cheerleader. She is the epitome of a badass with a heart of gold; she never gives up. Ever. I really hope to live up to that.
I also wanna thank my beautiful friend and fellow artist Abby Holland for recommending me for this opportunity. My boo and spiritual guru Breann Couch. Jaime Andrews for being my incredibly talented idol turned ever-inspiring friend. Lisa Wolff for being a literal Earth angel. Nancy Lang for being a damn superhero master teacher I so deeply admire. Really all the incredible women in my life who have lifted me up over the years into their magick helping me to see my own. And I could never leave out my Earth twin and the groundbreaking artist, Tully Satre. You are a masterpiece. I am so grateful to all of you.
Instagram: @madovey
Linkedin: K.D. O'Hair
Twitter: @madovey
Facebook: K.D. O'Hair
Youtube: K.D. O'Hair
Other: IMDb: K.D. O'Hair my band IG @sugmahkiss
Image Credits
Lola Scott Chase Anderson Eric Scherb/SageCat Photography
Nominate Someone:
 ShoutoutAtlanta is built on recommendations and shoutouts from the community; it's how we uncover hidden gems, so if you or someone you know deserves recognition please let us know 
here.