Meet Jennifer Rich: Doll Maker and Owner of Heartfelt Friends by Jen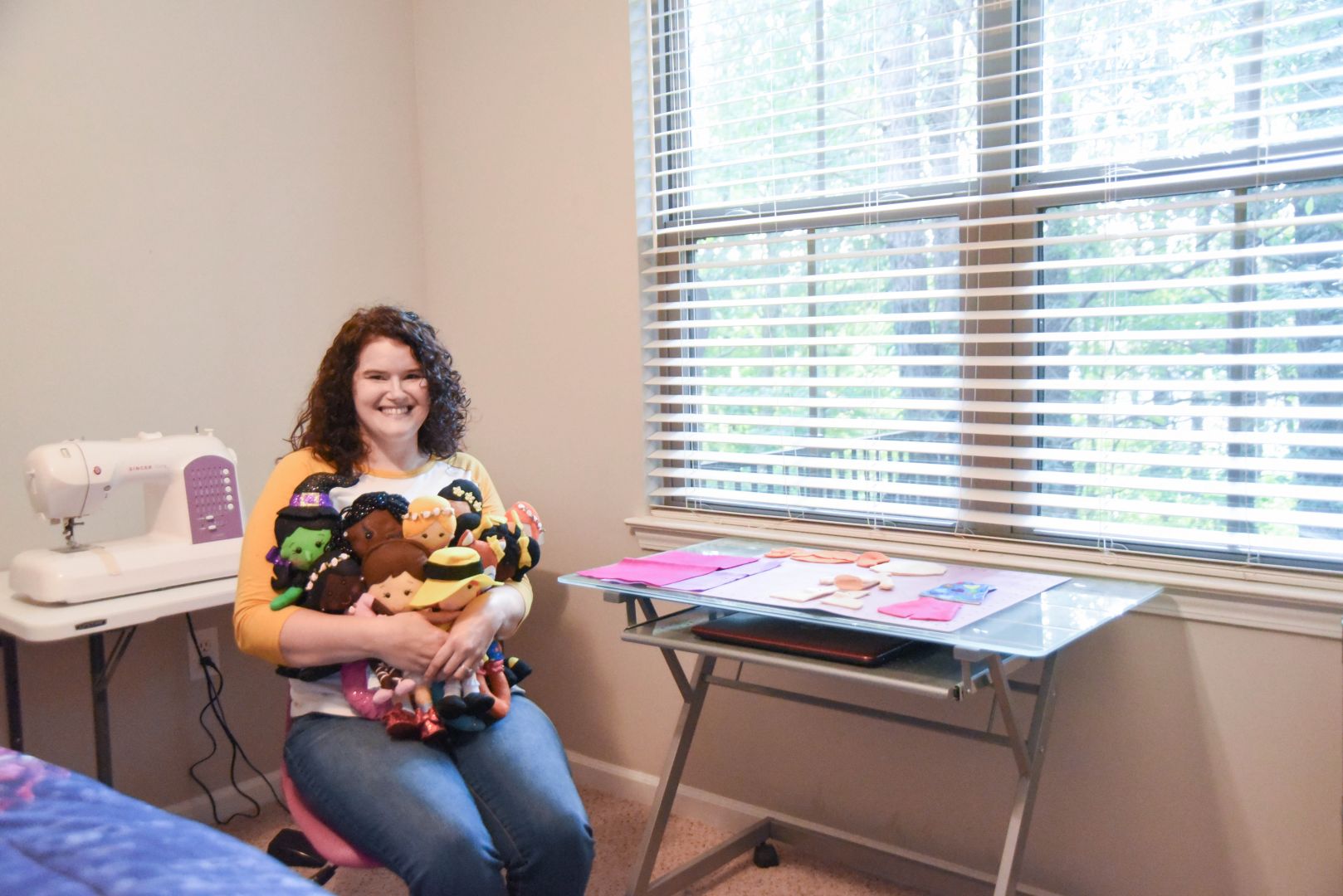 We had the good fortune of connecting with Jennifer Rich and we've shared our conversation below.
Hi Jennifer, can you walk us through the thought-process of starting your business?
The journey of starting my business began in October 2014. My husband and I were in the process of trying to start a family when we received news that no couple wants to hear. We were diagnosed with infertility. Naturally, I was filled with many strong emotions, and I felt as if I needed a creative outlet. Since the holidays weren't that far away, I searched for "Christmas Crafts" on Pinterest. A lot of options popped up, but the handmade Christmas ornaments caught my eye. I took one look at those felt ornaments and thought, "This looks like fun!" I had barely sewn on a button before this, so I have no idea why I thought sewing Christmas Ornaments would be fun, but I did. The next day I bought the materials I'd need to make a few ornaments. So what does making Christmas Ornaments have to do with doll making? After I made a few ornaments I was genuinely hooked. I loved it! I taught myself a few basic embroidery stitches via YouTube and stumbled my way through the project. A couple of weeks later I was back on Pinterest looking for more felt ornament patterns when I started seeing these adorable, free patterns for tiny felt dolls. I wondered to myself if it would be that much different from making felt ornaments? They were made from the same materials, right? How hard could it be? I wouldn't actually make my first doll for another year, but I kept the idea in mind and created a Pinterest board of free felt doll patterns. I was determined to make time to try my hand at them, but life took over and it took a year before I finally made the time to make my first doll. My first doll was the ugliest thing ever! She was a witch that could fit in the palm of your hand. It was Halloween and I was feeling crafty, but I knew absolutely nothing about embroidery and that poor little doll looked like something out of my nightmares! I still keep that first doll in a drawer to remind me not to despise humble beginnings. It took three more dolls before I felt confident enough to share photos of my creations with friends. A friend from college, Cassie, sent me a message and asked if I would make some dolls for her little girl for her dance recital and her birthday. I was so surprised by the request. I was making the dolls to occupy my mind while my husband and I saved up money for our fertility treatments. I never imagined anyone would want to buy dolls from me. I made two dolls for my friend Cassie, and her daughter loved them! They were my first customers. I continued to make dolls for fun, getting better with each new doll and soon more friends and acquaintances wanted me to make dolls for their kids. It wasn't long before I was getting orders regularly. Everyone said, "You should Sell on Etsy!" So, I figured, "why not?! It's worth a try." Before I knew it, I was off and making plans to start a shop! The first step in officially starting my business was thinking of a name for my shop. Each of my dolls was made from the heart, and I put so much love into making them. Since they were made from felt, I decided on the name Heartfelt Friends by Jen. I also thought of the slogan, "The best friends are handmade with love." I wasn't just making dolls, I was making little friends for kids to play with and tell their secrets to. I loved playing with dolls when I was little and knew how special they could be. For many children a doll or special toy is often their first friend. This was how Heartfelt Friends by Jen was born! I then started making more plans such as deciding on a logo, creating inventory, and after some research, I decided on some potential prices for my items. After just two years of making dolls, I opened up my online doll shop on Etsy on September 1, 2017. My shop started in a small corner of my apartment, specifically at my dining room table and has now graduated to the spare bedroom where I set up a craft room and office. I can't tell you just how much the joy of making dolls for children has warmed my heart! I may not be able to make dolls for my own child yet, but I've made dolls for many other children. I feel so honored to be a part of these childrens' lives through the memories they will make with their "heartfelt friends." When customers send in pictures of their children enjoying their dolls, its like a balm to my heart. Seeing their happy faces is everything! I often think the one good thing that came out of our infertility diagnosis was the inspiration to start my doll shop. I am forever grateful for finding a hidden talent and developing a hobby that turned into a passion that became a business of spreading love and joy to others.
Please tell us more about your art. We'd love to hear what sets you apart from others, what you are most proud of or excited about. How did you get to where you are today professionally. Was it easy? If not, how did you overcome the challenges? What are the lessons you've learned along the way. What do you want the world to know about you or your brand and story?
I think what sets my work apart is my craftsmanship, the love for what I do, and the impact my "Heartfelt friends" make on my customers. All the dolls I make are sewn and embroidered by hand. I rarely use a sewing machine, except for certain garments that the dolls may wear. I take pride in knowing that I personally sewed or embroidered every stitch myself. I look at making each doll like it's an adventure and I think that fact shines through in my finished products. I love the stories I have heard from my customers about the memories their children are making with the dolls I made for them. I've made dolls for so many special occasions; first dance recitals, graduations, newborn nurseries, a child's first doll, Christmas, and birthdays. I've been told stories of how children have taken their "Heartfelt friend' into school for show-and-tell. I've been told that their child sleeps cuddled up with their "Heartfelt friend" every night. The latest story I heard was that one little girl decided she wanted to learn how to sew after she received her doll and that she repeatedly asked her mom "How did she make this part or that part?" This fact sets me apart because I take pride in making dolls that will help children make long lasting memories. My process involves asking a lot of questions to make sure my customers get exactly what they want, and I send progress photos every step of the way. My business is small, but it is also hands on and personal. I think my customers appreciate that. I would say that running a business has not been easy. One difficulty that I've had in running my business is the learning curve that I've had with marketing through social media. I'm still learning how to best market my shop through different social media outlets, mainly Facebook and Instagram. Being a small shop, I don't have a large budget to put into advertising, so the bulk of my marketing has come from word of mouth and attending local craft shows. I've struggled with driving traffic to my Etsy shop due to the fact that there are so many talented doll makers out there who also sell on Etsy. Learning how to best make my dolls stand out from the rest continues to be quite the challenge. I'd say one of the most important lessons I've learned while running my business is knowing my limitations. The truth is, sadly, I've sometimes had to turn customers away because there are only so many hours in a day, especially during the Christmas season. I work on a first come, first serve basis. I'm not a large toy company. I'm not set up to mass produce dolls. It takes time to sew custom dolls by hand. I also can't charge the lower prices that a major toy company can, It's the reality of buying handmade. If I were to charge people for every hour that I spent working on their doll, my prices would be so much higher. Understanding my limits and having the courage to voice them has helped me stick to realistic deadlines from Shop to doorstep. It allows me to keep a work-life balance and time to work on my own ideas for dolls instead of only making things my customers request. Yes, I want to make money, but I also want to have fun too. So, I made the decision early on to stay small, stay personal, and stay honest with myself and my customers about what I'm capable of as a small shop, even if it cost me individual sales. I believe having fewer customers that are happy is better than having many customers who are unhappy because I can't keep up with the demand. In short, recognizing my limitations helps me run a more enjoyable business. I want the world to know that I've learned that pain can produce something beautiful. I started felt crafting and doll making during a very painful season of my life. It started out as a creative outlet to relieve stress and relax, but it became so much more. I found a hidden talent that became a passion. I love making dolls that make people smile. I put love into every stitch. Each "felt friend" was made with love and it's my hope that they will spread joy and love wherever they go. Each "felt friend" helps make memories and I love hearing customer stories. The smiles from happy children and their shared memories bring me so much joy. I'm grateful for the privilege of helping children and families make memories that last.
Any great local spots you'd like to shoutout?
This is a fun question! I often have friends and family who come to visit me from out of state. Atlanta has so many wonderful places to go. Since My husband and I moved to the area 3 years ago, we have spent two out of those three years at the Georgia Aquarium with some of our family for the Thanksgiving Holidays. I love taking family there when they come to visit. We also love visiting the Atlanta Botanical Gardens. It is such a beautiful and peaceful place in the city. My husband and I enjoyed the scarecrow exhibit and the Christmas lights display there this past year. In addition, we also enjoyed touring World of Coca Cola and going to the Atlanta Zoo. I'm also very into theatrical productions and I took my sister to visit Shakespeare's Tavern last year. My husband and I also took in a show at the Fox Theater this past November. We went to see "Wicked' for our 10th wedding Anniversary. We loved it! I had the songs in my head for weeks afterwards! Those are mostly the popular tourist attractions that we love, but I also enjoy my town of Woodstock, GA. The downtown area is beautiful and thriving with shops, restaurants, and live music. I enjoy taking friends and family to Ipp's Pastaria for Italian food , and to Freight Kitchen and Tap restaurant for Southern cuisine. I also enjoy heading over to The Copper Coin for a cup for coffee. I like the vibrant atmosphere of our downtown as well, I love listening to music being played as we walk around visiting the various shops. There's always so many people walking around. The downtown area is also beautifully decorated during the Fall and Christmas holidays. It's just a fun place to be!
The Shoutout series is all about recognizing that our success and where we are in life is at least somewhat thanks to the efforts, support, mentorship, love and encouragement of others. So is there someone that you want to dedicate your shoutout to?
First, I'd like to give a shout-out to God. The relationship I have with my Heavenly Father inspires and enables me to do things I never thought I could do. Second, I would like to give a Shout-out to my husband, Bill. He is my greatest support, sounding board and best friend. I can't tell you how often he has sat and listened to me as I have bounced ideas off him. Even though I am sure crafts and dolls are not his favorite things like they are mine, he still makes time to listen, give feedback, and share with his friends and coworkers about my business. In fact, most of my doll orders came from his co-workers this past holiday season. Third, I'd like to shout-out to my family. My Mom, Sister, and Grandmother have also had a front row seat in my cheering section. They have spread the word about my dolls and Christmas ornaments to all their friends, and acquaintances. Word of Mouth has been a huge part of my business! My grandma Mary Ann is also an inspiration to me because she has always been the "sewing expert" in the family. I always admired her abilities and believe I came by my talent through her. I've enjoyed sharing my creations with her. She always gives a kind word and lets me know how proud she is. That means so much. Last, but not least, I'd like to shout-out my friends local and far. My friends who encouraged me to start my business, those who became customers and told their friends who became customers, and those customers who I'd never met until I filled an order for them, but then became new friends. I especially thank the customers and friends who submitted photos for this article. Thank you for your continued support. I also have had the opportunity to meet other doll makers through Social Media who live in Brazil and in the Netherlands where felt crafting is very popular. Thank you so much Barbara and Cindy for your kindness, encouragement, and help in finding new patterns. I enjoy sharing friendship and the love of doll making with you from across the world.
Website: https://www.etsy.com/shop/HeartFELTFriendsJen
Instagram: https://www.instagram.com/heartfeltfriendsbyJen/
Facebook: https://www.facebook.com/heartfeltfriendsbyjen
Other: heartfeltfriendsbyjen@gmail.com
Image Credits
Heather Stevens Joyful Day Photography and other photos were taken by myself or my customers with permission for use.
Nominate someone: ShoutoutAtlanta is built on recommendations and shoutouts from the community; it's how we uncover hidden gems, so if you or someone you know deserves recognition please let us know here.