Meet Evelin Juen | visual artist, musician and writer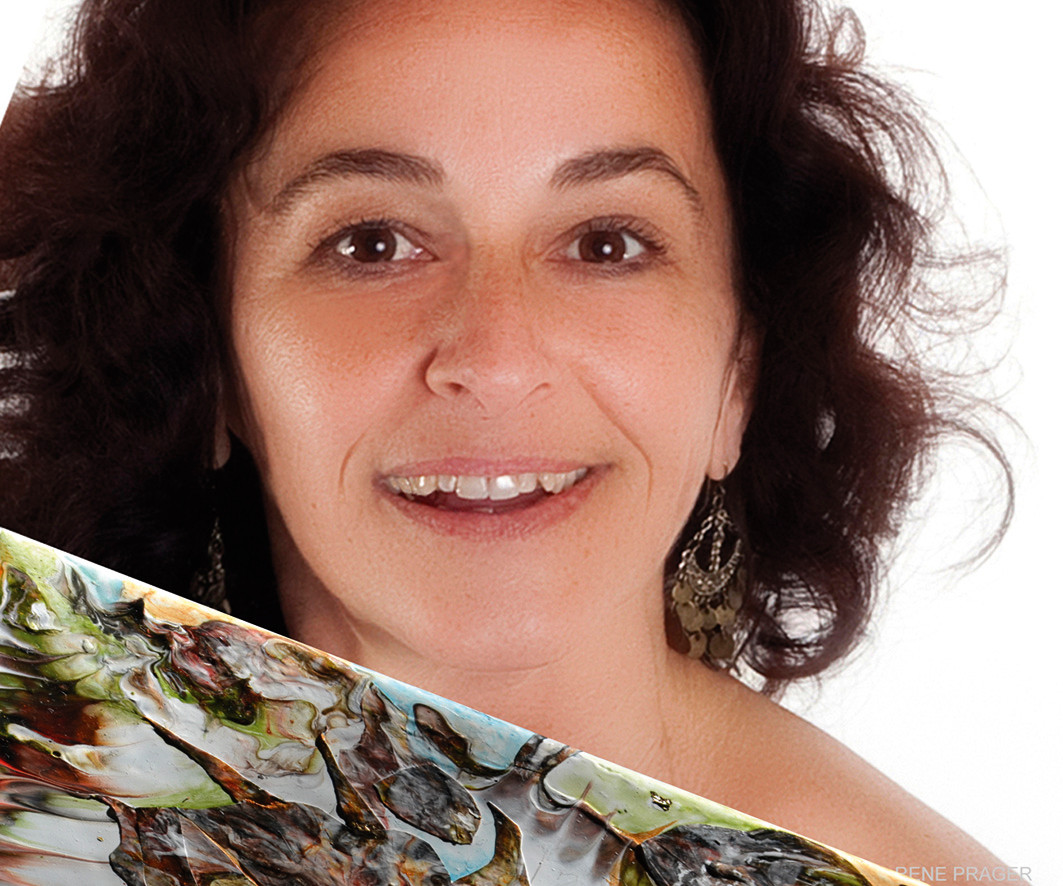 We had the good fortune of connecting with Evelin Juen and we've shared our conversation below.
Hi Evelin, what led you to pursuing a creative path professionally?
I guess, it was already written in my book of life, that art in its various forms of expression will be my destiny. Creativity and love for art was always in me and with me and came out of me. Since childhood, my aim to draw, to paint, to write and to sing, played an important role and formed my way of worldoutlook. After highschool, I decided to go to university to study history of art and archäology, to get deeper into material. I was highly fascinated by the overwhelming richness of human beings art output, expressing their inner world, social life, political situations, religiousness, love, fear, hate and joy from the very beginning of his kind.
Later, curious to opportunities of life, I worked in different jobs, for example as a culture and travel journalist for magazines and books, as a curator in fine art gallerys or as a bookseller. But never stopped to produce art as well.
Step by step, year by year, ways and curves, all this experiences have been small mosaic stones that created – and still do – my life and my art. All the different things I wanted to explore and to try, helped me to increase diverse skills and brought me further … I´m thankful, learning always…
To live as an artist is often a very hard thing, you never know what income you will have, you many times struggle for existence. As it is not a job with regulated times, people often do not respect and realize, that making art is a intensive and serious work, that needs passion, many hours of concentrated doing and often, you mostly have to be your own manager as well. In times like we face now, without gigs, exhibition possibilities and contact to your audience, it is even more complicated, but I think, such situations need innovative ideas, new kind of thinking and the willing, to break new ground.
Since about 20 years now, I am fulltime working as a writer, musician and visual artist, and I never did regret this decision. I am convinced, that you always have to follow your heart, and to do, what you believe in. The way was, and is always the goal for me.
Can you open up a bit about your work and career? We're big fans and we'd love for our community to learn more about your work.
As I said, I work as a visual artist, musician and writer. Quite a while I thought, that I shoud focus on one section to become real good in this, but with the time I did understand, that all together is the key to bring out what I want to bring out, and that it is like a synergy effect. I cannot favour one, all of them need my attention and affection, and I need all of them, to express myself. Inspiration comes from my inner, as well as from outside. I love to travel in real and in thoughts, my eyes and my heart wide open to experience the world and the universe, marvelling the wonders. But mostly of all, it is a present from a higher level of awareness and spirit. Every time I am thankful and it fills me with great pleasure, when I see, that what I made is good, and has a kind of magic when it is accomplished. I was always convinced, that in the arts some kind of a divinity in human beings crystallizes, there is a special door open, when you get the present of ispiration, forming new creations. It is a daily mood, a kind of flow and I am absolutely alive, feel well and have no daubt, to use my life time in the best way.
Together with my husband, who is a excellent and gifted musician, I make music, have the chance for singing and composing, writing own songs, but also cover highlights of music history. How deeply fulfilling to find the words and melody to his wonderful compositions, to record in our studio, and to play together with our friends and co-musicians, it is a spell! For both of us, the process is the real reason for doing, it is the most fun. But finally ( artists also have to eat …) we decided to publish our songs – , we found a great publisher and so two albums are out now, and we are working on two more this year.
As a visual artist, I work in different techniques, because the experiment, the discovery, the playfulness, the challange of different approches are such a big part of creative process. Without that, the indispensable and immanent boundlessness of art would get lost. Provoked from the willing to form, I take the risk to expand always into new areas, always looking at the world with fresh marvel, sometimes I catch a glimpse of behind, and wonder about the between.
Wherefrom it comes, whereto it leads, I dont know. But it makes me happy!
I tell mystic stories in most of my works, carefully using colours, and harmonic forms to create visions of other worlds or other point of views for the world we live in. The feeling for colours is important for me, the harmony in the composition, the atmosphere, that comes to life when someone looks at the picture.
Art is an outlet to canalize questions for to be or not to be, for beginning and ending of life, and the countless feelings of joy and pain between. I express the love for all that is alive, my admiration for nature, and my desire, to create beauty, verity and positive, so that the hope is indestructible.
I see what´s going on in the world, but try to stay positive and make this world a little bit better as far as I can with the talents I got. This is the ambitious aim to public my pictures, songs and written words.
Any places to eat or things to do that you can share with our readers? If they have a friend visiting town, what are some spots they could take them to?
I am living and working in Austria, and I love it! The places that are really important for me and which I would show to a (close) friend, are not intended to be public tips – I´m sorry! I keep them as a secret, and want to protect them as hidden places with its wonders of untouched nature and special spaces for those, who want to seek for them and are willing to explore.
But, as Austria is a wonderful and manifold country with a rich and long tradtional culture and history in architecture, music, visual art and literature, there are countless hot spots to go, if I want to show the beauties of my homeland. We have so many castles, palaces, museums, monasteries with impressing century old libraries, churches and historic gardens, beautiful cities such as Vienna, Innsbruck, Graz or Salzburg… also the mountains and uncountable lakes are a treasure, as well as the national parks … I would ask my friend to stay longer, a week isn´t enough!
For sure, we would have to try the characteristic Austrian pastries – they´ll make addictive! – and all sorts of dumplings our country offers. And – you cannot miss out – to try the incomperable ´Wiener Schitzel´.
The Shoutout series is all about recognizing that our success and where we are in life is at least somewhat thanks to the efforts, support, mentorship, love and encouragement of others. So is there someone that you want to dedicate your shoutout to?
So many people helped me in making my way, and I know, that without them, I couldn´t live my dreams. No doubt, that I have to start with my parents, my happy childhood, they gave me roots , unconditional love, inner strength and the believe, that I am right as I am, and doing what I am doing, is worth to be encouraged. Can not be thankful enough for this!
Speaking about all the people who brought me further would blow up the interview, I was lucky to often meet the right person at the right time. A helping hand here, a stimulating word there, an opportunity to develop, or a chance for a job.
When I was 17. years old, my arts teacher at school, who is a famous and exceptionally artist, was somehow a mentor, he also convinced my parents, to buy professional art equipment (not so easy affordable for us at this time!) for me, and provided advice for first oil colours, first brushes and easel.
Another important step was, when a bank manager from our hometown invited me to exhibit at his bank. At this time, I was just at the very beginning of playing around with photography and digital manipulation, learning by doing, producing small postcards, birthday cards and so on. My husband argued: ´show this kind of art, its really good´ – so I worked like crazy day and night, for about two months, and then I had enough artworks in this new digital art style for the show. I was so excited, it was quite a risk and somehow it was cheeky to jump into a new path like this, and to go public with it on such a well respected place and so many people invited to the show! But I did sell about more than half of the works already at the opening!! This surprising success was a milestone for my self-confidence in this new artstyle for me, and it developed in a natural way, without enforce something. One did lead to the other….I was selected from a private art museum in Tuscany to be part of their show, next step was an invitation for the the Georgian National Museum in Tbilisi, and as a result of this, an invitation to exhibit in Florida. Quite recently, I had a exhibition in a small, but very special gallery: https://www.lichtsinn.at/, and I want to highlight this place and the owner Thomas Driendl, because of the excellent service and the very beautiful catolog edited for the show.
So, encouragement also comes from gallerists and curators who believe in my art, publisher and radio makers who release my works as a musician and a writer, and all the ones, that appreciate what I am doing, listen to our music, read my stories and lyrics, look at my pictures, and – of couse, all the people out there, who buy my work, and give me the possibility to live my life as an artist !
Someone that I want to mention by name, because, together with my family, he is the most important person in my life, is my husband Peter. He is for sure the biggest fan and honest critic of my artistic outputs. He supported me from the beginning, gave me the chance to start as a full time artist, is always at my side at exhibitions, readings and gigs. He gives me love, understanding and support in all ways. Blessed, that I found the other half of my soul!
Website: visual art: Juenarts: http:www.evelinjuen.at, music: JuenJuen and Find Out music: http:www.juenjuen.at
Linkedin: https://www.linkedin.com/in/evelin-juen
Facebook: https://www.facebook.com/evelin.juen/, https://www.facebook.com/juenarts, https://www.facebook.com/JuenJuen-102933525184115, https://www.facebook.com/findoutmusik
Youtube: https://www.youtube.com/watch?v=PjuguRhzoKc&list=OLAK5uy_lMHb5CRU5GAXFD1qFDJQoSfo7EeUs17Ow, https://www.youtube.com/watch?v=fynQ-fiM7XY
Other: https://www.amazon.com/Eternal-Change-JUEN/dp/B099959QY8
Nominate Someone:
 ShoutoutAtlanta is built on recommendations and shoutouts from the community; it's how we uncover hidden gems, so if you or someone you know deserves recognition please let us know 
here.