Meet Elizabeth Devine: Writer, actor, producer, independent media mogul.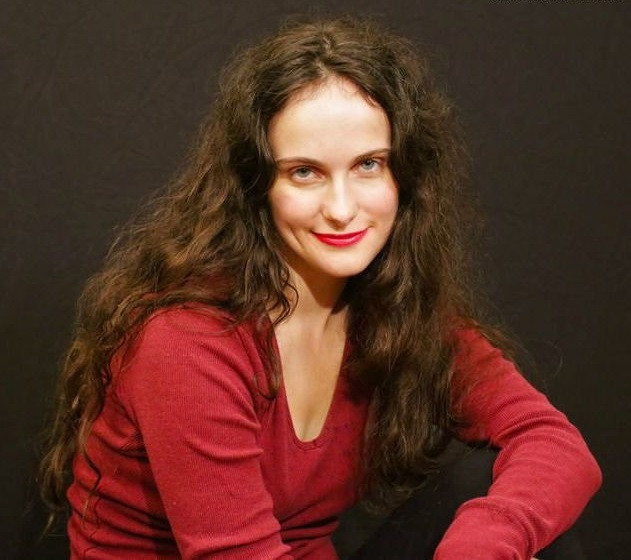 We had the good fortune of connecting with Elizabeth Devine and we've shared our conversation below.
Hi Elizabeth, can you walk us through the thought-process of starting your business?
I'm just not the best at working for other people's motivation. I'm actually on the autistic spectrum and one of the biggest problems I had in school was essentially doing what any authority figure wanted me to do, especially if I thought I could learn the objective in a better way. I often wandered off on my own and would even skip class to stay in the library and read where I was free from distractions. As far as I was concerned I was at school to learn but the teachers were there to teach me to obey. Well, now I work with people sometimes (I hated group work in school), but I don't have to work for anyone else's goals unless I share them. A lot of people just have their own vision of how things should be and they shouldn't necessarily have to conform to someone else's, especially if they can make their vision with their own two hands. I think conformity kills the spirit, and I think our society should really normalize not guilting people into compulsively working for the rich.
Alright, so let's move onto what keeps you busy professionally?
Finding my path as an artist has been a long, winding, and pitfall-filled story. I was eighteen years old when I decided I was going to leave home and pursue becoming a model. In my head this was always a side-gig and my main path was going to be writing, because I had written all my life and was first published (a small poem) at the age of seventeen. Turns out you have to engage entirely in your chosen gig to make it your path, but more on that later. So at eighteen years old I traveled to the city nearest to me, Atlanta, and I decided I was going to stay with a friend after getting some headshots and just get gigs around the city until something worked out and I could afford my own place, ect. A lot of my early career involved couch-hopping from friend to friend and getting evicted a time or two when I actually tried roommate situations. From the very beginning I would also travel to other cities where I knew people: Columbus Ohio, Philadelphia, New York, and attempt work, gigs, and projects. I was a master of cheap traveling and was quite familiar with Greyhound. I wanted to do acting too as it went right along with modeling but I honestly don't think I was very good at it at first. There was just a lot of acting gigs and it seemed fun. I have been in quite a few student and independent films that turned out terribly…sometimes entirely because of me. At this time I wanted to pursue more traditional forms of modeling but most of what I got were bikini shoots, tfp (trade for picture), or artistic nudes. Some of these artistic nudes were beautiful and wonderful experiences. At one point I climbed a mountain and then a waterfall naked and in the rain, and the shots were/are epic. I was very comfortable with myself in my early career and I often try to get that back after what followed. I got into more complicated things that improved my acting, including acting long-term for a production company that at first called itself a wrestling company (pro-style), but later developed into a fetish wrestling company. Though I didn't pursue pornography, the lure of adult entertainment of some kind, especially with its (very slightly) higher pay was one I eventually didn't resist. I had to later develop forgiveness for myself after this period of time because it wasn't until later, when I had fully developed frontal lobes (turns out that doesn't happen until your mid twenties), that I really understood the factors that pushed me in that direction. 1. Women aren't constitutionally equal in the United States which means we're not protected from discriminatory, exploitative, or hostile employment practices, so that's all I had experienced of attempting normal work at that time. 2. a lot of us are groomed from young ages by our societies to please others to the point of self-sacrifice or even erasure of self. 3. By eighteen I was already pretty jaded and was pretty convinced at the time that I couldn't get into higher education (which was my dream), and 4. I already had it in my mind that my total options in life based on my experiences so far were getting sexually harassed for minimum wage or getting sexually harassed for however-many-hundred dollars an hour. I would only later find out that I was on the autistic spectrum and have other social, mental, and personality based disabilities and I really wasn't in a mental or emotional state at that age to be making a lot of those decisions. And despite being a model of growing popularity, I had a lot of self esteem issues and issues saying "no" to people. Wow, did a lot of producers do what they could to take advantage. One producer of an independent film I was in (horror, not fetish), would chase me around the table and try to get me to come to his house for auditions only for it to end with us alone and him trying to get me to sleep with him before his partner of many years got home. That one I luckily escaped but I regretted ever participating in the project and my performance was compromised as a result. The producer of wrestling content that I worked with for surprisingly almost a decade I started an inadvisable physical relationship with the first few years, and though I initiated the relationship I'm personally under the impression that he used our (secret because he wanted to keep it that way) relationship and my feelings for him to agree to more submissive portrayals and to get me to adjust my comfort levels to closer to what he wanted them to be. Surprisingly and ironically that fetish wrestling gig gained me a small global fanbase. To this day I still get a few dozen people per month from a couple corners of the world telling me how much they enjoyed watching me wrestle. I found myself in a serious problem: I was becoming increasingly popular online and I didn't have the self-esteem to be in the kind of control I needed to be over my image and representation. So my solution was apparently to develop D.I.D. (dissociative identity disorder) and create a much more domineering persona. Some part of me subconsciously had just been pushed beyond a limit. I started only participating in gigs where I was the more dominant person, or the villain. I participated in Giantess fetish, which was essentially being filmed with CGI cities and/or CGI men and destroying everything in one's path. I would later appear on a documentary series produced by HBO for my portrayals. Focusing on those gigs led to the next step, in which I was invited to train as a Dominatrix at Pandora's Box in New York. I agreed, went for training, then came back to Atlanta to rule the roost. I became one of the more well-known Dommes in the city and even traveled to other cities to have men obey me for a profession. I had requests from men all around the world to be subjected to my well-known sadism. One of my favorite pets would fly in from Lebanon to see me. At this time I also began creating a documentary on BDSM that is still in production and that I will hopefully release to the world as my debut documentary before the end of the year. In a way encountering the BDSM community really saved me, because it taught me about true consent and helped me to realize just how little there of that in the world for women no matter what path we choose to pursue. Domination was the path that set me free from the ones I didn't want anymore. But I was still far from satisfied. There was a part of myself that I had been neglecting for years, and undermining by prioritizing what others wanted from me instead of what I wanted from myself. I decided to go to college. At the time I thought I couldn't do it because I had been home schooled from half way through middle school until I got my GED. The schools in my state couldn't find any record of me attending public school in that state, so they would not allow me to receive in state tuition unless I could find something. Well, armed with my new no-nonsense persona I went to the school board for the last county I attended public school and I sat in their office and refused to leave until they found something with my name on it. It took a couple of hours, but I got my scrap of paper, and I was able to enroll in a community college paying the in-state tuition instead of the out-of-state. If I had kept out-of-state status I would not have been able to afford to attend. From the moments I first walked on campus as a student I rediscovered myself, the real person I created a model persona to hide. Even though I always had problems in school I always wanted access to education. For a while it was a tug-of-war, and the world that wanted so much from me tried to pull me back into the roles it wanted me in while I tried everything I could to stay in school despite issues with money and mental illness. While in school I focused on my writing, and from then until now my poetry and nonfiction have been published by numerous online and print anthologies and literary magazines, and I learned the foundations of screenwriting, and self-publishing in ebook format and print. I now regularly self-publish poetry anthologies, I self-publish erotic science fiction under a pen name, and I have decided to start an online and eventually print publication company specifically for controversial material. Half way through my education I met my partner. I was trying my best to avoid any of the gigs I participated in before and didn't even really want to do professional domination anymore. I was laying that part of my life to rest and I was ready to start again. However, despite my obsessive focus on writing, I still had a huge appreciation for acting and for film making. So, I was scrolling through Craigslist (all my best stories start there), and I found an ad from a guy who was trying to start a sketch comedy show and he wanted to meet some people who weren't afraid to make fools of themselves. Technically that had been half my career at that point, so for some reason (even though it didn't pay), I took a chance just to have some fun. We filmed our first couple of sketches and it was indeed entertaining. We became friends and worked together whenever we could afford the time. Technically we could never afford the time, but we did it anyway. A year later we began a personal relationship. A year after that we moved in together, though not under the easiest of circumstances. I was no longer pursuing the gigs that made me money and he was working a normal job while I went to school full time. I was published more and even paid for it, but it wasn't often enough to support myself. After a while in school I became very active politically. Even though, again, I couldn't afford to, I volunteered for the Students for Sensible Drug Policy, for Atlanta Harm Reduction Coalition a time or two, and participated in marches related to Black Lives Matter, The Women's March, and more. I went from zero to politically active as an identity, and I brought a camera along for the ride and started a YouTube channel over it. I discovered that bringing a camera everywhere is just something I'm supposed to do. I now have five bring-a-camera YouTube channels. In school I took classes for film and screenwriting. Ben (my partner) took classes for make up and monster creation/puppetry and we made more movies and started making sketches with local students from my college. Those sketches eventually turned into a YouTube channel of its own filled with campy horror/comedy movies. We call the channel Crap Films. Ben and I write or co-write everything together, I edit the scripts, and we have friends who we have known since I went to school with them who are now professional camera men and more come and help us create our horrible masterpieces, and we all act in them. Now one of our films, The Weed Wacker Massacre, which won best short film at the Scumdance film festival and the Buried Alive film festival has just received distribution from a company in England that produces horror anthology DVDs. It's a step. I hear it could even end up being sold in Walmart. The fact that many of our sketches revolve around exaggerated southern characters and we could become Walmart Movie Stars is just too poetic. Now, that was a long story, and I really appreciate you sticking with it. Where does it go from here? Well, I write compulsively and it's the heart and soul of most of what I do and will hopefully remain that way for me. I love that I've gotten into screenwriting and I'd really like to produce some more dramatic science fiction films that I wrote a while ago. I'm still pursuing my education, a masters soon, and I'm still entirely determined to work for myself as opposed to someone else. Luckily websites like Patreon really help with that. I have a few YouTube channels I'm pursuing long term, including one on comedy, one on activism, and another for science. Ben and I will likely be creating and acting in ridiculous comedies for the foreseeable future, and it makes me curious about a possible path in stand up or improv. And finally, I intend to turn all of this experience into a collage of success and start both a publishing company of my own and hopefully a fully-fledged film production company for the documentaries and more I intend to create. I've been in films only focused on other people's views of things for a long time, and I truly look forward to using my experience in film to create my own vision and focus. I really hope some of you will join me for the journey.
If you had a friend visiting you, what are some of the local spots you'd want to take them around to?
I would definitely have to say it's imperative to visit Little Five Points at some point. The food there is an awesome eclectic diverse mix, from bars with burgers, to pizza joints, to Indian food, sushi, and more. The architecture (big Victorian houses) and the park are beautiful there, as are the items in all the indie clothing and jewelry shops. You can even get a piercing or a tattoo, and there's the Sweet water brewery across the street from the heart of Little Five. For a little late-night fun I like to attend some of the goth/industrial/fetish nightclub events held at the Masquerade. Great music, and goths are really, really friendly.
Who else deserves some credit and recognition?
My parents were free-thinkers and even though none (of the three) of them were the most responsible or together at times they certainly encouraged free thought and resistance… much to their own consternation when I eventually entirely resisted any of their efforts to get me to obey them either. My younger brother is always high on the list of people to recognize. Just him being there gave me someone to anchor me to reality a bit, give me a sense of responsibility to others and someone to think of whenever I was going to otherwise make a pretty dumb decision. He's cool and fun to hang out with, too. Bonus. My partner… the guy I've been with for eight years now. We met doing sketch comedy and he was actually one of the first guys I'd worked with who was truly a professional and knew how to behave like one. We became friends before our relationship began, and I highly recommend that. We met doing sketch comedy and still do it together. We support each other's dreams because we were friends first. Then finally about any teacher who ever put up with me enough to teach me something, especially Mrs. Estes in the (5th?) grade who let me steal her copy of The Giver when the rest of the class demanded she stop reading it to us because it was too complicated for them to want to follow. I still keep a copy in case I can give it back to her one day.
Website: eadevine.com
Instagram: divineeliza
Twitter: https://twitter.com/EADevine
Image Credits
Wes Walker, Benjamin Dover
Nominate Someone:
 ShoutoutAtlana is built on recommendations and shoutouts from the community; it's how we uncover hidden gems, so if you or someone you know deserves recognition please let us know 
here.