Meet Christopher Manza: Production Sound Mixer & Classical Singer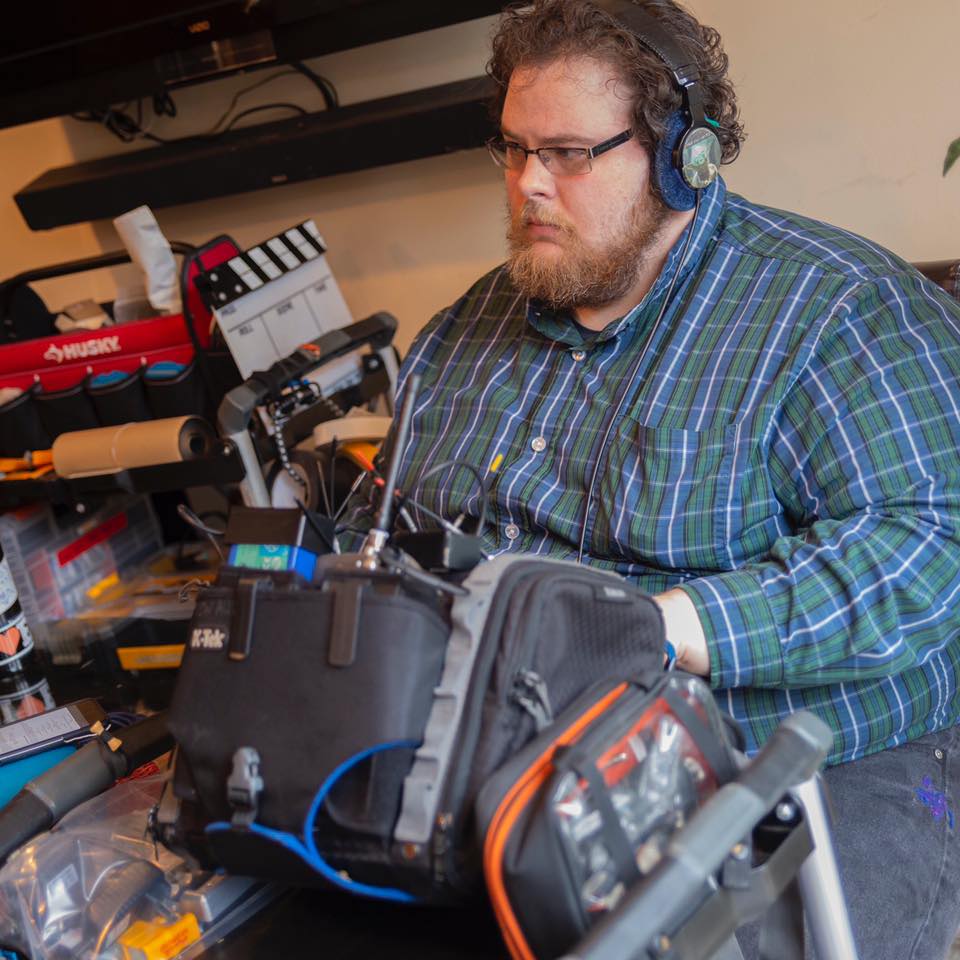 We had the good fortune of connecting with Christopher Manza and we've shared our conversation below.
Hi Christopher, we'd love to hear about how you approach risk and risk-taking.
Risk taking is incredibly important. Every aspect of working as a freelancer in film is risk taking. There are no guarantees when it comes to your success or income, it depends entirely on your own ability to network and do your job well. That in and of itself is risk because it's instability by choice. Risk taking has built my life and built my career. It isn't blind risk taking though. Every step of the way, you have to keep an open mind and analyze the risks. Sometimes that's budgeting and crunching numbers, sometimes that's following your gut instinct for what gig or decision you should or shouldn't take/make. But risk? It is a necessity.

Can you open up a bit about your work and career? We're big fans and we'd love for our community to learn more about your work.
I'm a Production Sound Mixer in Atlanta, Georgia. As of now I do audio for a lot of documentaries, commercials, and some public access television shows. I also sound utility for features and day-play in television. It hasn't been easy for me to get to where I am in this career, because I lack the education and experience that inherently got a lot of my colleagues into this business. I started out as an opera singer, attending Georgia State University for vocal performance. I had to pivot when a combination of the toxic environment in the voice program there and the expenses of college became too great. I'm lucky in that I was 19 when I made that pivot, but unlucky in that my background has nothing to do with audio recording or electrical engineering. I don't think a lot of folks realize the exact amount of technical training that goes into working in sound. Most folks in the field came from engineering backgrounds, or post production, or live music recording. Others spent years in film in other departments, or went to a school like SCAD and used their connections to find work. I did not. You don't often use mics in opera, so that's a side to music I distinctly didn't know. Nor did I have the connections to start out at an advantage. I am also young. I turn 26 this November and I've been doing this almost 7 years now. My colleagues at the same level of career as I are all about a decade older. I'm also a large dude, and I've had to field the hurdles of my weight in a field where most view you as ineffectual and sloppy when larger than average. I am proud of this. I am successfully paying my bills while doing something full time I thoroughly enjoy, and I had to hustle to do so. I still do. Every step of the way was reading textbooks at night after side jobs, mercilessly quizzing the folks at Trew Audio, pestering sound folks to have me on set so I could ask the stupid questions. And now, I like to consider myself self taught, though it's the mentors along the way who truly teach us. I am good at what I do, and every day I'm learning things that allow me to become better and better. It was hard work. It takes a special kind of perseverance to proceed in film when the odds are stacked against you. But the lesson that I took from it most of all is that it really takes just not giving up. Sure, some folks step out of school or step into the thriving market of Atlanta and immediately start working. Most, though, do not. And if you look around, you start to see that the folks who do get work are the folks who: 1. Admit when they've messed up and strive to never make the same mistake twice 2. Actively network and get to know film veterans despite the air of intimidation that comes from talking to legends in your field. 3. Stick around and don't give up when the going gets tough. Temporary pivots might be necessary, but when it really comes down to it, this one is most important. Things don't happen in film overnight. I've been here doing this for 6 years and I'm still not "established". It takes time. It's a career, not a job. The last bit I can say about lesson's I've learned is that it's incredibly important to listen to others in this industry. A lot of folks will agree with that without actually listening to others, but it's the most important skill a sound guy can have. It isn't just paying attention to the dialogue. It's listening to the veteran folks tell you their insane problems on big sets and learning from their mistakes. It's listening to an indie director describe their vision and making sure you include audio options that take their creative designs into account even when it means you might not have "perfect" audio. It's hearing that your team members are having a rough day and doing the small things to pick up the slack for them on set. Listening allows for learning, and excelling, and ingratiating yourself to others. Many folks listen without listening. As for my brand, Raven Sound LLC, I would just want people to know that I've got them covered. The company motto is "You'll Nevermore Have ADR!", mainly for the Poe pun, but I take that seriously. I strive to give the best production audio I possibly can, and I strive to do it with a smile while taking into account the needs of directors, producers, and talent. And yes, ADR is inevitable in many scenarios, but we will do our best and always have clients' backs. My team and I are skilled and passionate about what we do. I will always strive to do the very best in even the hardest situations, and communicate with production and post to explain the audio issues which might arise so that, as a team, we can create the best possible end result. Each project is someone's vision, and we want to give that voice.
Any great local spots you'd like to shoutout?
Atlanta is a huge and thriving city! There's an insane amount of amazing things to do in this city, and the exact itinerary would depend upon the interests of my friend. There's just so much going on constantly, from seasonal festivals to incredible conventions. There are definitely several things that are "required" when visiting Atlanta, though! The aquarium is a must! It's one of the biggest in the world, I think. The whale sharks will take your breath away and the educational aspects are fantastic. The Atlanta Botanical Garden is also amazing. I have an annual pass for the gardens. They have these food classes on weekends where they teach you recipes from what you can grow in your garden? And those are amazing and a must see. As well as the High Museum of Art and the Atlanta Puppetry Center. The High has these sketching classes you can sit in on, and even if you're like me and can't draw a stick figure, it's a lot of fun. And the Puppetry Art Center has this amazing Halloween show that has me in stitches. Stone Mountain is a must too, as is Tallulah Gorge up in North Georgia. There's just so much to do! I know it's all "tourist" stuff, but I love it nonetheless. As for food, there's an insane amount of amazing restaurants. From the stapes like The Varsity and Fox Brother's BBQ to the hole in the wall dim sum restaurants and pho shops on Buford Highway, there's always something fantastic to eat here. I specifically take everyone to Monterrey Mexican Restaurant on Lavista Rd because they're delicious and cost effective. A shrimp quesadilla there is top shelf. For a week long trip, five days, I'd have it like this: Day 1: GA Aquarium and The Varsity. Maybe the World of Coke too, those international sodas are a lot of fun Day 2: Piedmont Park and The Botanical Garden, with food from the restaurant in the gardens. They have a kale salad that is heavenly. And no, I never thought I'd be saying that about kale. Day 3: Puppetry Center tour and then a Laser Show at Stone Mountain, with an easy dinner at Monterrey's before the Laser Show. Stone Mountain is great, and the Puppetry Center tour is interesting but not too long, so we would still have time to climb the mountain and enjoy the view. Day 4: High Museum of Art tour and then dim sum up on Buford Highway. I don't remember a specific restaurant, but I've also eaten at a completely different one every time and been blown away. Day Five: Lunch at Fox Brothers, which I think is the best BBQ in the city, and then we would take a trip up to relax and hike in the mountains north of the city. Atlanta is amazing, but the trails up there make you feel so completely in tune with nature that it becomes an almost spiritual experience.

Who else deserves some credit and recognition?
My shout out is dedicated to the mentors who have believed in me along the way even when I didn't believe in myself. Chris Mills, a wonderful sound mixer in town. Jon Hicks, the current manager of Trew Audio in Atlanta. Allen Williams, who's education classes at IATSE Local 479 gave me the space to ask the dumb questons. Dr. Keith Walker, my vocal coach and friend. These people have given me the chances and room to shine even when the odds were stacked against me. They've made my education in my crafts a pleasure and allowed me the space to learn and grow in ways that would have never otherwise been offered to me.
Website: ravensound.space
Instagram: https://www.instagram.com/raven.sound.llc/
Linkedin: https://www.linkedin.com/in/christopher-manza-936634b2/
Facebook: https://www.facebook.com/RavenSoundLLC
Other: Personal Instagram: https://www.instagram.com/professormanza My Business Instagram is new, so a lot of my work is on my personal as of now.
Image Credits
Raven Sound Logo Credits: Oliver R. Warren Pageant Material BTS: Chase Smith EcoSense For Living BTS: Oliver R Warren
Nominate someone: ShoutoutAtlanta is built on recommendations and shoutouts from the community; it's how we uncover hidden gems, so if you or someone you know deserves recognition please let us know here.