Meet Amira Bryant: TWERKTASTIC Radio Host (Fleet DJ Host) & Engineer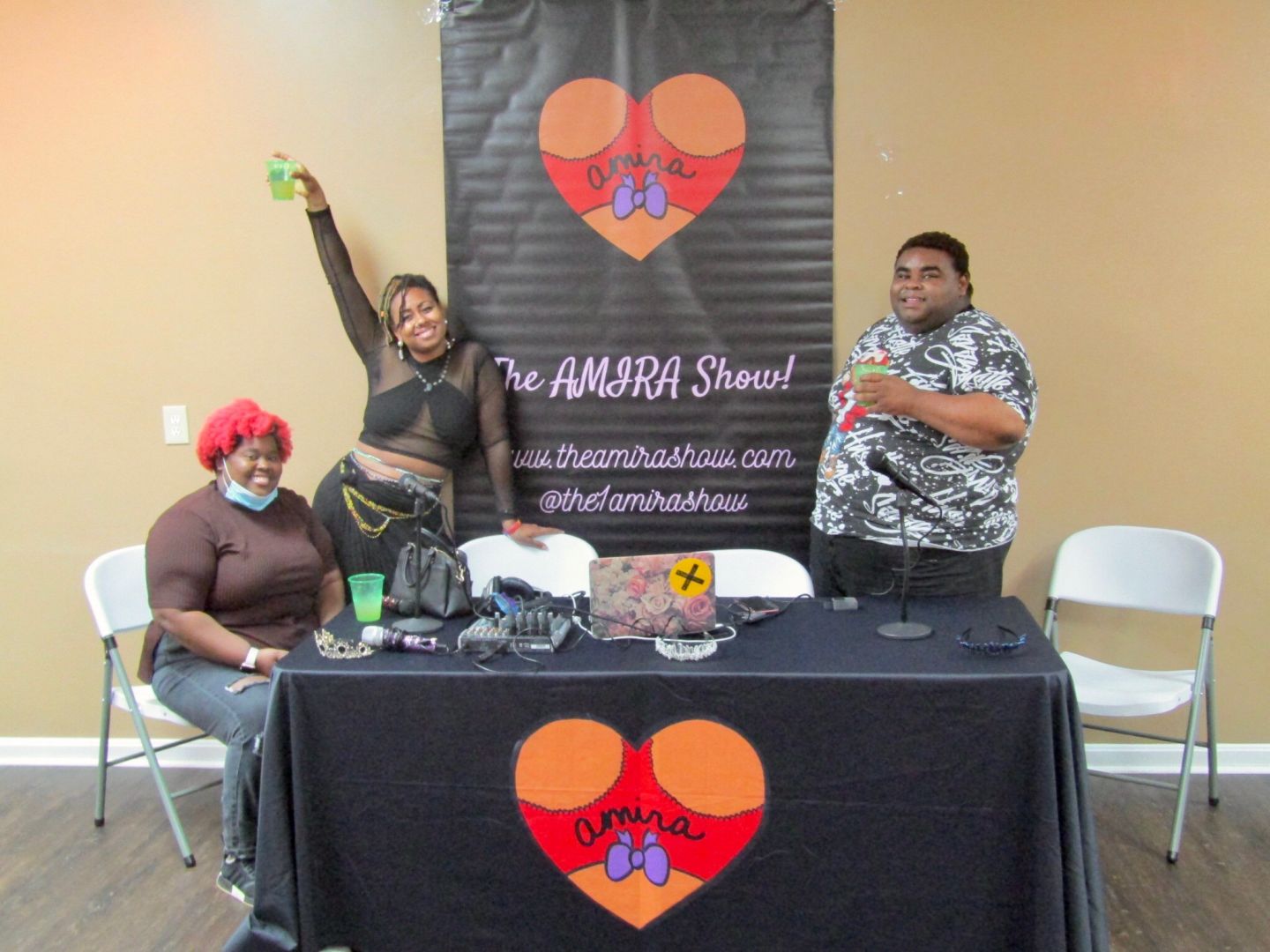 We had the good fortune of connecting with Amira Bryant and we've shared our conversation below.
Hi Amira, what role has risk played in your life or career?
I think risks force you to "grow up" and learn more about you and the world around you.
A reminder, my show, The AMIRA Show! focuses on the empowerment of women, the LGBT+ community, sex and sex work. Also featuring a music segment titled, "TWERK TIME!". Through through my goal is to bring representation to these identities and groups.
With my show specifically, it was definitely something different from what I was going to school for, but I also wanted to create something that I was living instead of just conversing about on my episodes. With this, I've explored more of me and learned more of who I am and what I want to be, and that's an openly sexual, bisexual/demisexual/Poly woman. And I present this visually (nudes, Only Fans, only interviewing women and members of the LGBT+ community, sex-positive content, etc.).
I've taken a risk and I was still afraid because of the judgement of others. Through this I've learned I have to stay strong because the judgement is a reflection of people's own insecurities, and fears. You learn to not take a lot personal, but I still struggle here and there.
Another risk is taking the financial leap to invest in yourself. It's hard when the return isn't monetary and you want to stay cheap…well don't. If you can, invest in yourself and your craft as the quality improves, more opportunities open and experience comes that will shape you into the professional you're aiming to be.
Alright, so let's move onto what keeps you busy professionally?
When it comes to my show, I would say that a few of the things that set me apart from other radio shows/podcasts is that the subject matter and content focuses on a variety of taboo topics, the show is more so a media brand and a mobile opportunity as travel and control my own equipment and provide other services, I only interview those who fall into my focused communities (women/identifying women, the LGBT+ community, sex workers/sex educators), AND I live and experience the shows topics as apart of my lifestyle.
I'm proud and excited about those aspects as it was tough for me to accept myself and what I wanted to represent through the process. I also feel there isn't an inclusive platform SOLELY for this representation!
I still have a long way to go to grow professionally, but I've gotten here through one, honestly, my journey through college (undergrad and graduate programs) as this helped me to learn networking, partnerships and collaborations. I've gotten a few more benefits out of my college career that assist me on the professional side of the show. Outside of that, throwing myself into situations to put all of these skills to use have been the best in terms of allowing life to teach you all it can in real time scenarios. It's easy for me to take that step and risk as I'm pretty spontaneous and impulsive, but sometimes it was challenging to maneuver issues after that. Transparency is key, right? So to share a few; rejection or no response to an email follow-up, interviewing on the spot (I've gotten so much better!), being inebriated and that effecting your sharpness (*face palm* definitely working on not getting caught up in the fun!), forgetting equipment and having to improvise when you said you could provide something (done well with that for the couple of times it's happened!)…and those have probably been the most prevalent.
When it comes to rejection, the lesson there is to not take it personal and understand that you'll receive many no's before a yes. I've learned to stay consistent, follow-up and move on when it's time to tackle the next possible opportunity. Got to stay persistent! The lesson with the rest of my challenges is mainly being able to provide a quality experience to your audience and customer. It is imperative to growing your audience, partnerships, portfolio, etc. If you can't/don't, you risk losing footing in gaining those prospectives…but not experience at least! Anyone tackling their own business will learn from those experiences and improve!
I want the world to know that my brand is what it is…and no amount of physical aging will change it or push me to "grow out of this" because my content is valid and necessary…and I may also be stating that because that's been on if my biggest insecurities and challenges with the show. But, until I believe it, I'll tell myself everyday as long as I'm touching someone with any gems or empowerment through these episodes! For my story, I want the world to know that this was a risk as most business ventures are, but this journey challenged me personally as well as helped me to learn more about myself and who I want to be. And…the journey has been successful in that aspect still 'til this very day and moment of me typing!
There is probably more with the brand and story…but I've yet to unlock those chapters yet. Let's chat again in another year!
If you had a friend visiting you, what are some of the local spots you'd want to take them around to?
I'm currently in Lousiville, Kentucky and while I'm still learning of some popular spots, I have a few in mind for a weekend of fun!
My best friends are boujee so the first night we'll have to visit Vibes, a black-owned lounge near the waterfront with a classy atmosphere.
Next is BREEWAYY…Jefferson Square. The Square was occupied by protesters and the community when Breonna Taylor was shot and killed by Louisville Metro Police Department. We'll have a picnic and I'll share with her all of the memories from that summer.
We can also visit the Black Market located in the West End and support black-owned businesses and shops. I've yet to go myself so this is a place on my to-do list as well.
Another spot I enjoy is the Big Four Bridge. It can get a little crowded but go visit during a super cloudy windy day and you can run or speed walk comfortably. I think the community consensus is that it's a great place for a workout or hangout.
There are also many events that happen throughout the week and weekend across the city! We'll find ourselves bar hopping on Bardstown Road, twerking at Eve's pizza (black-owned), I'll host a show at Wave FM (black-owned), we can get creative at a Chalk It Up event (usually Saturdays and an opportunity for protesting) and vogue at one of my favorite LGBT+ establishments, Play Dance Bar!
Shoutout is all about shouting out others who you feel deserve additional recognition and exposure. Who would you like to shoutout?
SHOUT OUT TO MY SQUADRON!!!
The AMIRA Show! SQUADRON, is the shows team. The team helps with set-up, co-hosting, equipment handling, event turn ups/interviews and whatever else is needed for a good time.
The SQUADRON is made up of my dearest, best friends. They always make things a good, smooth time and I often even feel more confident when they're by my side. I wouldn't have been able to accomplish much to the capacity I desire or even create the show vibe I want without them.
I've been working on making sure I'm steady enough to pay them now. It hasn't been successful yet (COVID messed up the start of that), but it's still in the plans to show my appreciation in more ways than a big thank you and a drink because they deserve so much more and I believe in paying your team!
I've had two teams thus far!
OG SQUADRON
Joe Thomas Carter – joethomascarter
ET – @dreamere
Anthony – @iono_iguess
Current SQUADRON
Jasmine – @_jazzysworld / @femme.drip
Anthony – @iono_iguess
Jonathan – @_lovinjohn
Shantii – @shantii.way / @femme.drip
AGAIN, THANK YOU TO MY PEOPLES! Especially my current as y'all have been holding it DOWN through each crazy transition of the show!
I love you all so, so much!
Website: www.theamirashow.com
Instagram: @the1amirashow
Twitter: @the1amirashow
Facebook: @theamirashow
Youtube: https://www.youtube.com/channel/UC1ODRCpHKHgAvj5lzBCxsBA
Other: NEW EMAIL: amiratwerks@theamirashow.com NOW with Fleet DJ's as a Fleet Host NOW with Wave FM Online as a host/media correspondent/delivering Breaking News/Audio and Visual Engineer (Facebook: Wave FM Online)
Image Credits
Photo by: Latonya of Queen Vibes Boutique Pictured: AMIRA (middle), Jonathan (right), Jasmine (left) Not pictured: Shantii, Anthony
Nominate Someone:
 ShoutoutAtlanta is built on recommendations and shoutouts from the community; it's how we uncover hidden gems, so if you or someone you know deserves recognition please let us know 
here.