What was your thought process behind starting your own business?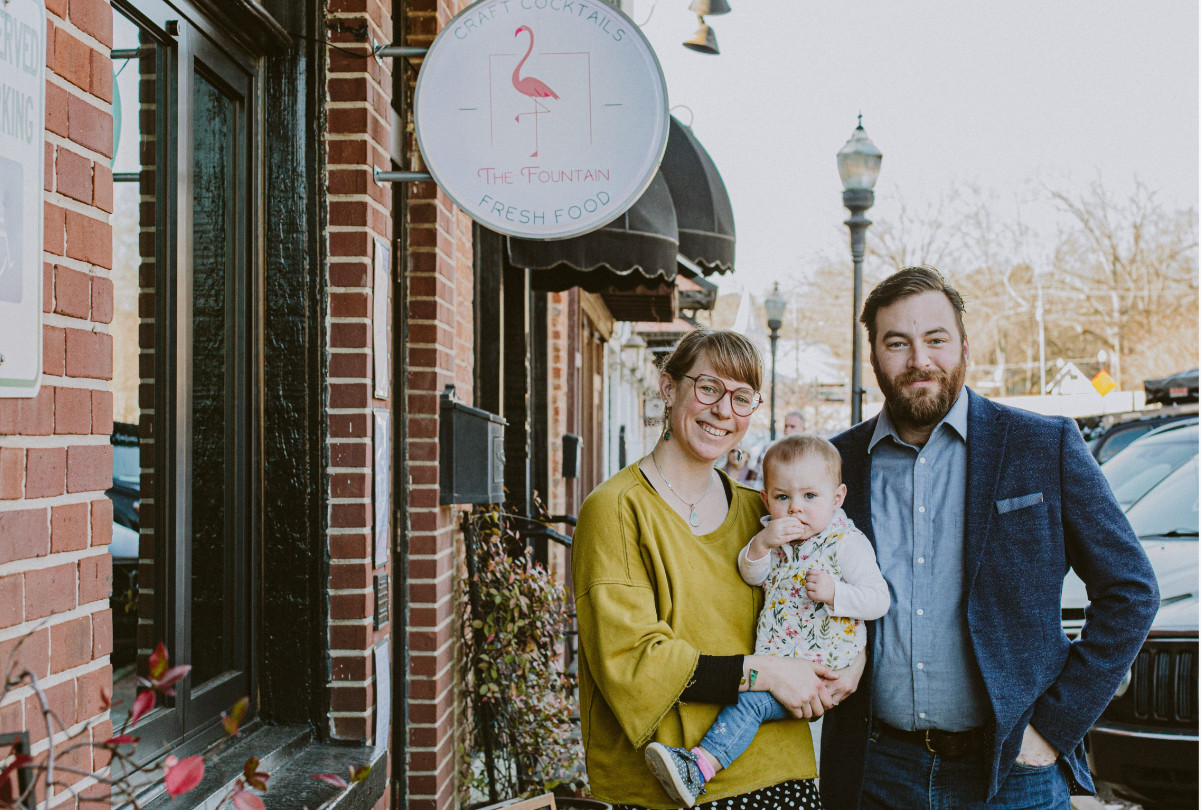 Are you thinking about starting a business? If so, we think you'll enjoy reading about how these seasoned entrepreneurs thought about the question when they were in your shoes.
Malloree Lingerfelt | Photographer

Starting my own business was a very hard decision for me. I grew up in a very small town and it seemed like everyone that lived there was a photographer. I eventually got some confidence to start up an Instagram page and start taking pictures of my friends and posting them, eventually it lead me to the start of my business. Once more people started following me and asking me to take their pictures, I thought to myself "I can turn this into my own business. It was a slow start at first but, wouldn't change anything about it. Read more>>
Sera & Jason Speegle | Bartenders, Chefs, & Small Business Owners

We (Jason and Sera) have been in the hospitality industry for 20 years each! It has always been our dream to open our own spot. After meeting and falling in love, It didn't take long to start forming our business plan. We set off to find the perfect location to open our business and start our family on our Great Southern City Road Trip. When Sera's mother Laura was diagnosed with a rare and aggressive cancer in 2017, we narrowed our search to the Atlanta area to be close to family. Read more>>
Bree Sims | Real Estate Broker and Luxury Auto Dealership Owner

I started my own business from one day doing research, and I found out that big names like Walmart, Apple, Amazon, and many others were all started by one individual. It wasn't rocket science. It wasn't started by the government, or created by a group of people the government appoints to build businesses based on the needs of that city. One person loved something, had an idea, and used that idea to start a business. Once that business started generating money, they grew & scaled the business. When I found out that even large corporations often start off as ONE individual, I said to myself "If they can do it, so can I". Read more>>
Isabel Gransaull | Custom Clothier & Instructor

I have been sewing for quite a few years now and I had been making most of my own clothes. Once I had my first child, I had my hands full and lost the desire to sew. I thought I would easily purchase RTW (ready to wear). However, I kept running into problems find garments with the right proportions for my body. I was wondering if I was the only one with this issue. Read more>>
April Brown | Fashion Boutique Owner

So, it was about 13 years old ago when I made the decision that one day, I would have my own clothing boutique. At that time, I was living in a city where plus size clothes were in huge demand and not many stores carried women plus size clothes that were flattering. My thought process was, I wanted to be that person that would be able to supply stylish clothes to help curvy women to look and feel good and confident about themselves. Fast forward to 2020, like most entrepreneurs such as myself that decided to take advantage of the pandemic, I was finally able to launch Stylush Boutique selling only plus size clothes during the start of my business. Read more>>
Ian Russell | Voice Actor

When my family and I moved from the UK to the US in 2014, I had a choice. Seek employment or make my own. I decided that I would try making my own first. I gave myself 12 months to prove to myself and my family that it could work and keep the roof over our heads. My mindset when starting has always been – "well if it doesn't work out I can always go back to the other thing' To date, that's never been necessary and 8 years in, my Voiceover business has never been busier Read more>>
Kay Stilb | Owner, Blits Mushroom Company

We see the potential in everything, and for us, turning a hobby into a business was a natural progression. My husband has a steady job, but as my children grew into school-age, independent beings, I needed something. I was missing my drive, my passion for all things. I had poured so much of my energy into raising two, amazing little people, that I forgot who I was a bit in the process. I began looking for jobs, but nothing made me excited or motivated. When we first started growing mushrooms for ourselves, we quickly realized their popularity as our friends and extended family were clamoring for samples any chance they could get. Read more>>
Tiffany Houser | Owner

The process behind starting my business was to provide moms and wives with a unique hair salon experience that caters to each woman individually. Read more>>
Michael Trapp | Photographer/Cinematographer/Editor

At the time I didn't really know anything about all the logistics of running a business. I just knew I wanted to work for myself & that I loved taking pictures & cinematography. So, at the time, I simply just jumped off the porch with everything I knew & sprinted after my vision and goals. Read more>>
Immaculate The Trap Aerialist | THE Trap Aerialist

I knew nobody else was going to marry two things that don't really belong in the same room. I saw an opportunity and created something to bring two works that couldn't be further apart together. Read more>>
Courtney Johnson | Master Cosmetologist

My vision was to provide a relaxing, positive atmosphere for women, men and children to come unwind and feel good about themselves while also providing excellent customer service. Read more>>
Mark Aw | AW Pottery CEO

There were several factors that were taken into consideration when setting up my business, cost of properties, demographic & income level, weather, as well as transportation. Carrying over the business from Malaysia, my main goal was to be able to supply potteries to the north east & south east of the US market. A location that is more to the central so our distribution center is not too far distant wise to the far north or the extreme south. Read more>>
Nekesa J. Smith / Teresa Beavers Co-Owners of The Beauty Suites, LLC | Master Cosmetologist / Educators / Owners

The thought process was always to provide a place for beauty professionals to thrive. In addition to being owner operators we wanted to help others on the journey towards ownership. As a Master Cosmetologist and Natural Hair Care Specialist we understand that importance of having a unique professional space to work, play and create. Creating your own hours, culture and branding are some key factors in the evolution of entrepreneurship! The thought process of freedom and infinite possibilities is the foundation of starting a business. Read more>>
Amanda Johnsen | Board Certified Nurse Coach

Having worked in and been a nurse leader in conventional medicine and the modern healthcare system, I began to see and experience a significant need to care for the caregiver. I noticed this long before COVID, but post-pandemic it is an even greater crucial need. There is so much high stress placed on nurses and healthcare providers that I really began to see depression, suicide, isolation, anger, drugs, and alcohol radically transform healthcare workers into people that was contradictory to the work they were doing. Read more>>
Chamarcus Bush | Owner of Thusm Clothing

When starting my own business my first thought was ownership. I knew I wanted to have a creative platform that I controlled with no restrictions or limitations. It was also important for me to have a business that I could one day pass down to my children. Keeping these key thoughts in mind; ownership, creativity , and legacy is how I run my business today . Read more>>
Trey Ross, M.Ed., Esq. | Attorney & Legal Tech Entrepreneur

I guess the first thought I had was: "Why not me?" For a while, I had been writing a blog called BrighterLine where we answered legal questions. The blog itself was beneficial to people who had nuanced legal questions. It was the type of blog that would occasionally get cited by grad students and law students and I would sometimes find that I popped up in a citation on GoogleScholar. In those instances, it was great to know that people were actually relying on the research we published. Read more>>
Jordan Stinson | Writer/Producer

When Taylor and I first started with the concept of "Mystic Cinema," our purpose was taking every visual medium to the next level. We love giving our takes on Features, Shorts, Commercials, music videos. So we really are in competition to entertain the world! Read more>>
Alexus Hall | Makeup artist & full time mommy

My thought process behind PaintedbyLexx Beauty CO. Was if anyone can do it I can too! Alexus, just stop counting yourself out and stop sleeping on your talent. I wanted to make someone, anyone feel beautiful and I have always been complimented on my makeup, which makes me feel my best and I wanted to share with others. If I can't be the president I can still make a difference with a conversation and a painted face! Also, just do it! You can profit from this but it was bigger than that for me, placing a smile on a person face was my motivation because, like I did that for a person which made me smile and feel better as a person. Read more>>
Carolina Torres | Fashion Designer

I have always believed in creating designs that are rare. Everything from hand painted dresses to elaborate hand beading/ draping. I work with clients one on one to create a personalized experience. The drive behind my business was to provide unique custom designs for people while giving them the chance to feel beautiful and confident in their skin, for any and all body types. I offer slow fashion, producing 2 collections a year while being able to help the environment at the same time. I do this by repurposing fabrics and minimizing fabric waste. Read more>>
Amani Sawari | Civil Rights Advocate and Writer, founder of SawariMedia

I wanted to create a space where incarcerated people are welcome to share ideas, learn more information related to politics, publish their work and advocate for criminal justice reform changes that are desperately needed today. Read more>>
Maggy Von | Founder/CEO::KILLSOUND productions, sound engineer, producer, music business

Basically, my thought was innovate the music industry, the love and passion I have for the music and most important was give me and create an opportunity for me as in that time the opportunities to the women was very difficult. Read more>>
A.Lola Bethea | Mortuary Cosmetics Creator

I am passionate about pursuing excellence, creativity, and financial success with uncompromising services and integrity, so I have decided to start my own retail e-commerce business. I'm in the industry to make a positive mark. I ensure that I abide by the rules and regulations of the funeral industry. My customers and potential customers can rest assured that they will get quality products and services at competitive rates. Read more>>
TONY DEWITT JR. | Executive Protection Specialist

I was good at what I provided and people saw that also. My clients trust me with their lives and or possessions. Read more>>
Nirjary Desai | KIS (cubed) Events CEO

Every event or client I collaborate with is special. I want to create a memorable experience for everyone, which brings me back to where I started. KIS(cubed) was founded with the intention of telling stories and 'keeping it simple'—which is the trademark phrase that inspired KIS. The best thing about my work is that I get to work with so many unique people, and I am extremely grateful to be the one who makes their voices heard. The relationships that I have built with clients and vendors encourage me to grow as well. Read more>>
Macky McNish | CoFounder of MFR

Remembering advice from a total stranger at a restaurant when I was 20 years of age. I was told that everyone has a brain and everyone's brain equally weighs 3 lbs. That life would demand one or the other. 1. I will sell my labor and build someone else's dream or 2. I will sell my own thoughts and ideas and build my own dreams. I chose the latter of course 🙂 Read more>>
Tavis C | Entrepreneur

I wanted to create a business that focuses on helping women look and feel amazing all the time. The idea is to make it easy for women to embrace their element and just have fun picking the best products at a reasonable price. Read more>>
Jameka Martin | Candle Maker & Entrepreneur

I knew starting my business would require commitment, dedication, and sacrifices. Therefore, I wanted to do something that would give me a sense of personal satisfaction and feeling of accomplishment as I built my business. Candle making was the business that made perfect sense for me. I can make products that would enhance another person's life and lifestyle. Even before I started my business, I was making candles as a form of therapy for myself. I knew this business would be worth the time and effort that was required. Read more>>
Jessica Russell | Custom Baker

At my kindergarten graduation when asked what I wanted to be when I grow up, my answer was a baker. Years later, I'm living out that dream. Although baking is always something I have been passionate about, I actually didn't intend on starting a business. After posting the birthday cake that I made for my grandmother on social media, I received so many requests from others wanting a cake. Two years later, I have a successful cake business. Read more>>
Tee Slaves | Tee Slaves is a songwriter and artist.

I was a manager for 7 years before launching my own creative/entertainment business. I worked with an actor and a musician in Los Angeles and I saw how imperative the business aspect of art was to a successful career. If you want to make money you need to operate as a business no matter what industry you are in. I had already had a management company so I needed to start a recording label, and publishing company, that's how the music industry releases sound recordings to listening platforms, hold sync licenses for reuse of musical works, and collects royalties. Read more>>
Ronjeanna Harris | Unorthodox Certified Wellness Coach | LPN

The desire to provide a solution through my services & products. Addressing a wellness/ skincare concern with a natural initiative to the client/customer. Read more>>
Tony Wright | Flava Beginnings &Fashion designer

My thought behind my business was to show the world that a faith based clothing brand could have style and be unique in helping the community as well. Read more>>
Ursala Ragland | Freight Agent

When we started our trucking company. Our thought process was building an empire doing something that we never thought we could do. Read more>>