What was your thought process behind starting your own business?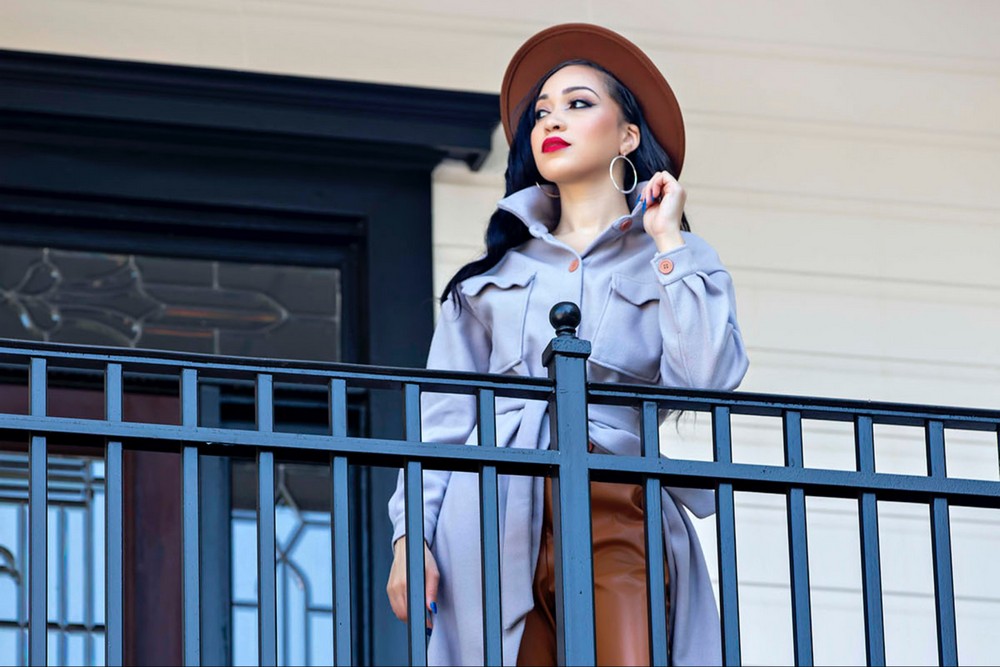 Starting a business is a commitment and requires dedication, resources and sacrifice. We asked some of the rising stars in our community how they thought through the idea of starting their own businesses.
Daniela Lozano Clark | Photographer

I wanted to work on something that I love and that I'm passionate about. I love that through photography I can tell a story, I can capture a fun/special moment forever. As a mom, I wanted something that would give me the chance to manage my own time so I can take care of my two boys as well. Read more>>
Lex Diaz | Artist and Authenticity Coach

I started acrylic pour painting as a hobby and once my first painting sold to a complete stranger, I knew this was it. This was the start of my business. I moved to Georgia around four years ago with a plan that ultimately fell through. I worked various retail and restaurant jobs to survive, but I didn't have a clear direction for my life. Thankfully, I transformed my mindset after hiring an online life and fitness coach. This year, I made the terrifying decision to leave my salaried manager position and pursue my passions to the fullest. I haven't looked back since. Read more>>
Alexis Reviere | Photographer

Actually I didn't have one. I was a very unhappy employee working at Wendy's & one day I had enough, quit and never looked back! I was young with a young daughter with no plan. I didn't jump straight into photography, honestly I never seen myself being a photographer in a million years. I didn't have someone saying "Hey you can be whatever you want to be" So I was unaware of a lot of the things I could be honestly! I started off making shirts. purchased a camera silhouette 3, taught my self in a few hours and made a living for me and daughter. 2 years later, I purchased my first camera, Canon Rebel T7 again with no clue how it works or what it do, played with it for a few hours & got it! I thank God daily for keeping me and my daughter! People underestimate being a entrepreneur! Some days you make hundreds, while others you won't see $1 Read more>>
Ahmed Lindsay | Creative Director and Film Director
The initial thought process was to partner up with a family member on a business venture. I was at a transitional phase of my life where the traditional 9-5 wasn't as fulfilling as I thought it would be, so I was open to trying a new career path. The plan was he would take care of the photos and I would do the videos and marketing. When it was time to get the ball rolling my cousin changed his mind, but I decided to keep pursing this path. Read more>>
OMOLARA ABOSEDE | Waistbead Maker

My thought process on creating my brand was to advocate for mental awareness and showcase the benefits of wearing waistbeads. I wanted my business to incorporate spirituality along with cross-cultural storytelling for each waistbead I make. Atunbi Waistbeads was conceived as a response to the pandemic and the mental, emotional, and spiritual trauma women were suffering. Having personal experience of mental illness, I recognized the collective need for healing energy. 2020 was the right time to introduce Atunbi Waistbeads. Read more>>
Melissa Walker | Marriage and Relationship Coach

Unfortunately, we live in a time where job security isn't as powerful as it was 20 years ago. I took the advice from my parents and other family members to secure degrees and find a job that had great benefits. I did it and landed in Corporate America. I was not satisfied. My goal in life, as cliche as it sounds, is to help people, and I thought that that's what I was doing when I dedicated my career to Human Resources. After a few years, I realized that I was helping the companies I worked for more than the employees themselves. I hated having to tell an employee that they weren't going to get a paycheck this week because of a "system error". I hated. employees reporting instances of hate and nothing become of it. I needed more for my life. Read more>>
Nnenna Walters | Designer/Stylist

Before I got into clothing design, I had never sewn anything in my life, but I was very much into fashion, especially Nigerian-inspired fashion. One day I was having a conversation with my friend who was making waist beads at the time, and I brought up sewing as a joke, then a couple of days later, the more I thought about it, the more I was actually into the idea. Later that week, I had told my mom about my vision, and she gave fabric that she had lying around in the house for me to make a skirt for church that Sunday. I was super excited about my skirt, so my mom and I went shopping for a top for me to wear with the skirt. Read more>>
Avia Cumberbatch | Financial Advisor & Real Estate Investor

I wanted to create generational wealth for my children. We didn't come from money and I wanted to teach my children the importance of becoming financial independent. Not many people I know who are employees have created wealth for their families and if so it isn't until they are ready to retire. Until then they have no freedom and live paycheck to paycheck. Read more>>
Christopher M. Wright | CEO of AllThings Wright, LLC.

The thought behind starting All Things Wright, LLC. is two parts. One is I've been been extremely blessed to bodyguard and travel across the world and see and do a lot for some wonderful artist and I've always done it under someone's business so my wife and I decided to ATW to build for ourselves and our daughters to carry on. That is the other part as well, to carry on a legacy for our children. Read more>>
Qn. Everlena Brown de Thiam | Executive Director & Media Producer

From a very young age I knew I wanted to make an impact And regardless of how creatively talented I was or intelligently gifted I was … something was limiting me. As I got older I begin to understand the effects of systemic racism on my perception of reality and progress. Rather than bathe in my historical misfortune, I would create a business to disrupt my inheritance. Read more>>
Octavia Sims | Self-Love Coach & Model

The thought process behind starting my own business was simply from my own personal experience of not loving myself and seeing how my life was in chaos, and that's when I realized I needed to change my life. I've always wanted to be an entrepreneur since I was 12. Personal development and entrepreneurship is my passion. I live and breathe for business and self growth so that's why I became a self love coach and model. Modeling is actually something that's more therapeutic for me and it allows me to release and be creative. Read more>>
Taena Allen | Architecture Business Owner

Starting my business was always an idea I had even while in school. The architecture field lends to it. I wasn't 100% sure how my business would work, but after working in 4 different architecture work environments, I realized that I could start by providing supplemental help for others in my field. It meant that I could filter who I wanted to work with and how many people I wanted to work with, while still keeping my day job. It's not the original idea I had for starting a company but it was an adaption that helped me grow connections and experiences that help mold my business. Even to today. Read more>>
Ahmaad Green | I help entrepreneurs make money online and create purposeful businesses. Digital Marketer/Advertiser & Course Creator.

I wanted to create a business that created value in others' lives. For much of my life, I've always wanted be an entrepreneur and follow in the footsteps of my late grandfather, Willie Brown, who owned a restaurant for over 40 years in Savannah, GA. After he passed when I was around 3 years old, I never truly had anyone to show me the ropes. But with my newfound knowledge in digital marketing and advertising that I acquired after dissolving my first business, Vipaji Kiumbe Brand, due to lack of cash flow, online traffic, and brand awareness. I want to help entrepreneurs overcome these challenges and grow long-lasting businesses. Read more>>
Jerome Jackson | Technology & Entertainment Attorney

Similar to how Jay-Z started Roc-a-Fella Records when he couldn't get signed as a recording artist, I was trying to get a job and couldn't get hired. I always believed in my ability to go out and get business, so while I was young, it seemed like the best time to bet on that ability. There was a lot I still needed to learn, not just about practicing law, but in running a business too. But there is no time like the present to learn a valuable life skill. Read more>>
Yanna Atlanta | Pro-Roller Skating, Nail Technician & Aerial Art Performer

Honestly, when I decide to dive in being a nail technician and getting my own shop there was no thought process. I was terrified, unsure until I literally just took a step out of faith and it took my 11 year old to put the initial "you can do anything" in my head. As far as roller skating professionally, it kinda blew up from me just doing something else I loved in my spare time and then sharing it with other people. Definitely didn't expect all of this but I'm truly grateful. Read more>>
Phlatlyne | Producer

The thought process behind starting my own business is having a great people around that see the same vision. Read more>>
Sasha Melbourne | Owner, Lavender Bee Beauty & Wellness

For as long as I can remember, my dream was to be an entrepreneur and make a positive contribution to the world. As an athlete for most of my life, being mentally and physically fit was always important. I fell in love with body care and all natural products during my senior year in high school largely through the influence of my parents and social media. I learned the benefits of using mother nature's gifts to create amazing products that are so much better than any product made in a lab. Read more>>
Lakeisha Allen | Women In Businesss

Every since i was little i always wanted my own business! I always had the idea of starting something i loved and was knowlegable at! I started Respect The Beard with Men in mind! Read more>>
Ramel Newerls | COMMERCIAL REAL ESTATE INVESTOR

My thought process behind starting my own business was being able to find new opportunities. I refused to settle on just being an entertainer or athlete. I was focused on creating a legacy for myself and my family. Read more>>
Shani H. | Founder and Owner of Grace & Black

This is such a good question. I've always dreamed of creating and operating a business. Since I was a child, I have always had a deep love for music and fashion. Some of my most cherished moments were waking up on Sundays to music and getting dressed in my Sunday best. It's something about when you look good you feel good. I also remember spending countless hours in stores shopping with my ma and grandma who exuded so much style and grace. Although they shopped for great deals, their ability to find timeless, flattering, and quality pieces that could transition from day to night, season to season, and year to year was amazing. Read more>>
Brianna Zellars | Chief Formulator and Founder, Alté

2019. That was the year of crossover for me. The big Four Oh (40). I had heard so much about the liberty that this age brought. I approached this life period with all the expectation and excitement likened to the crossing of the great red sea by the children of Israel. It was my exodus into my promised land. I would find confidence, boldness, discipline, self-assuredness, all the things I struggled with in my 30s. Well, that wasn't the case. When I looked in the mirror, I noticed a reflection I wasn't quite used to. Not only that, but I also didn't feel the way I used to. I was experiencing breakouts that I hadn't seen since 16. More acne breakouts lead to stubborn hyperpigmentation. Read more>>
Ronald (JusMula) Knight | Artist/Foreign Exchange Trader

It started off as a gift and something that took on a life of its own, but as time went by I realized that there needs to be some structure to my artistry. That way I could assure that my future and whoever inherits the legacy, from my bloodline hopefully, will reap the benefits of my early decision making. Read more>>
Jessica King | CEO, Revenue Cycle

I 've always wanted to be my own boss, and make money doing something I love. Having given birth to my 3rd child during a pandemic, I knew it was time to start my business venture. Being in the healthcare field for 15 years, I had all the experience to do so. I craved the freedom to live the life I wanted and to spend more time with my family. My goal is to create generational wealth, while teaching my children the value of hard work and determination. Read more>>
Joi Maddox | Home Baker

My thought process behind starting my own business was that I had desire to stay home with my daughter. Which is why I named the business (Marina) after her! I was fortunate enough that my siblings and I were able to stay home with my mom growing up and I believe we were better off for it. I also have always had the desire to work for myself and make my own schedule. Cooking and baking have always been things I was passionate about and been told I was great at. Read more>>
Sade Nicole | Fashion Designer

My thought process for starting my business was all started while shopping at a local mall in my hometown. I would often have trouble finding the right outfit, seemed as thought everything looked the same. Therefore with no knowledge of sewing I brought my first sewing machine in 2016 and started creating. Youtube really helped me learn the basics for the first few months of having the machine was all trial error. Once I got the basics I started creating outfit for my self and trying out new designs weekly. Read more>>