The Early Days: why did you start a business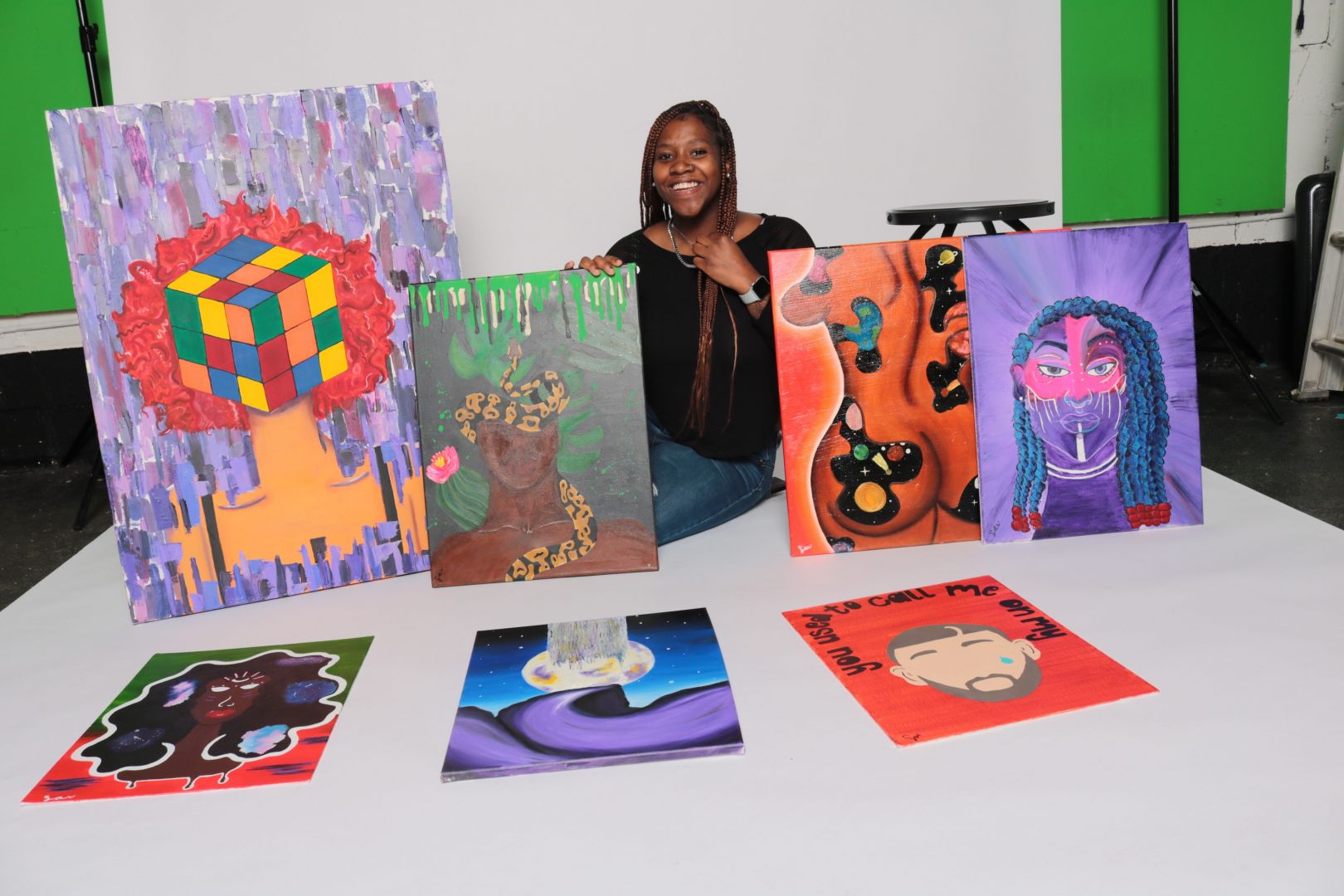 Are you thinking about starting a business? If so, we think you'll enjoy reading about how these seasoned entrepreneurs thought about the question when they were in your shoes.
Savanna Solomon | Visual Artist & Creative

Funny story…. So, I never even planned to "stat a business" with my art. Believe it or not, I never even planned to share it! I was home bored one day & decided go to the dollar store & picked up a poster board & a paint set kit. I went back home, cut the poster board in half & began painting it. The first thing I ever painted was a silhouetted lighthouse scene. Now, it wasn't the best painting ever but for someone who had never really painted before, I thought it looked pretty good. So, I painted a pineapple next and that one turned out pretty nice too! After that, I decided to try to paint on canvas. Read more>>
Dr. Gabriel Powell | Senior Pastor, Music Artist & Motivational Speaker

When I decided to start my own business, it was never solely about me. As I reflect, I remember leading music groups and ministry initiatives, touring as a music artist, and working for my father as his youth pastor and worship leader. Each of these roles required leadership, strategy, innovation, and empowerment – all of which I was naturally gifted. From the moment I began leading and forming groups, Read more>>
Monique Chatman | Esthetician & Master Male Grooming Expert

My reason for my business was to sell more products!!!.I knew once I got Men to try my Beard Essentials they would love and need them. My idea was to sell. sell sell.Once i realized that men were not only not taking care of their beards, they were down right neglecting their self care routines. So my thoughts shifted from selling the products to selling them a experience that they could physically and mentally gain from.A place were they could come and leave their worries at the door so they could see themselves in a more clear light. Read more>>
Nyesha Stone | Founder and PR Director

I never initially wanted to be a business owner, especially of a media company. I started Carvd N Stone in 2017 when I was attending college at the University of Wisconsin-Milwaukee. By my junior year of college, I was getting paid to report and write for local Milwaukee newspapers and magazines. Within just a few months to a year, I noticed how negative the news really was. I hated how reporters, especially those around me, covered the city of Milwaukee, so I decided to interview people for the good things they were doing. Read more>>
Tawanna Ballard | Certified Life Coach, Speaker & Trainer

My thought process has always been legacy. I started my business with my family in mind. It's always been important for me to make sure my children's children were able to partake of the work I have done and will do in life. The bible lets us know in Proverbs 13:22 that a good man leaves an inheritance for his children's children. I have always believed that each generation should get better and better. So, with all of this in mind, I started TRB Consulting & Solutions LLC in November of 2017. TRB Consulting & Solutions is a Coaching and Consulting firm designed to service individuals and organizations in life and business. Read more>>
Michele Stephenson | Meeting Planner

After 30 years in the hospitality industry right out of college, I started as a Meeting Planner and now went full circle to back to being a Meeting Planner and owning my business. I was just ready to go on my own because of the relationships and trust I establish through my career and clients wanting to work with me directly. I also, wanted my freedom and did not want to work that 8am-5pm job behind a desk making money for another corporation. It was just my turn. Read more>>
Michelle Cooke | Blogger & Content Creator

I needed more time! That's in in short. I couldn't find the time for my kids, husband or to do the things I love working a overwhelming job, 5 days a week. I was very displeased with the process of getting 2 weeks off every 365 years. I mean I really have to pick whether to take the vacation or prepare for sick days? No, thank you. But I also really need to unleash my creativity. Sitting in a cubicle 8-10 hours a day just didn't suit who I really am. Read more>>
Tanashia Durant | Dream Developer

My business was birthed out of pain. Everyone knows that a woman's wedding day is something that she dreams of her entire life. We plan the intricate details out for years and just hope that a handsome King comes and helps us make it a reality. I married my husband on 10-10-10. PERFECT right? NOT!!! Unfortunately, my wedding day was A DISASTER. I was depressed and embarrassed for months after! My dream day didn't go as planned because of a lack of proper systems and staff in place. Humiliation, disappointment, and heartbreak triggered the idea of Behind the Dream. It was a feeling that I was determined to make sure no DREAMER ever feels! My company now assists visionaries, CEOs, and artists in FLAWLESSLY navigating dreams to reality! Read more>>
Fantaysha Gary | Photographer

The thought process was "I need to do this"! It was not just for myself but for my family and other mom's who think life stop's after you have children. I was in university for the 2nd time and needed something to benefit my family financially. I wanted to provide professional photography that was affordable. I knew that I could make that happen. Read more>>
Eri Ko | CEO & Head Maid

I absolutely adore Maid Cafes! I initially got my start working in New York City's very first Maid Cafe under the management of a Japanese idol and her Manager. Working there was so much fun and I loved the interaction between guests from the food to the performances and games. It brought a certain type of excitement I had yet to experience and I wanted to recreate that feeling for everyone! Read more>>
Krystal Pearson-Warning | Business Owner

Seamoss is a product I believe in. Naturally, it made since to explore different ways I could offer it to clients looking wanting to heal their bodies. Before starting my own business, I would take seamoss throughout the day for weight loss purposes. When others noticed, I explained that I had been taking seamoss. I found that people were not interested in the basic gel, so I began researching and playing with it until I was able to create products which I knew others would like. Just like that, business took off, first Seamoss Lemonade, then Seamoss Gummies. Read more>>
Abby Gutierrez | Realtor & Entrepreneur

Well, I've always been a "Dreamer", and my mother has always worked extremely hard to this day. She would make empanadas every single day and took it to several corner stores/restaurants to sell, I would say that this is my inspiration. To be honest I did not think it'd be possible to be a business owner until I moved to Atlanta nearly 8 years ago and maybe 2-3 months in I was at city hall getting a business license for a courier company. Although the company did not work out it motivated me to keep trying. I currently own 2 companies (Endless Home Decor & Endless Cleaning Solutions) and I am a partner in another business all while being a Realtor for Keller Williams Realty. I'm happy! Read more>>
Kieshawn Whaley | CEO of Thee Nail Beauty Co.

I've always been a creative and innovative person. Growing up I knew and always said to myself that I wanted to have my own business because I wanted to play by my own rules. When you have something of your own it's like a baby. You nourish it, you take care of it and as any parent you hope that child will grow up to be just as you envisioned: successful. That is how I see my business and that is how I approached starting my business. I think it's important to do as much research as you can and really truly go through the trial and error process in order to figure out what you want for your business as well as what you think will make you a success for your niche. Read more>>
Dominique D. Glisson | Author & Owner of AfroSoFly Inc.

When I started AfroSoFly, my mission was to present poetry in the form of greeting cards, graphic t-shirts and books. As an erotic poet, I wanted to create a business that would be a home for other authors in the BIPOC community who aren't afraid to speak their raw, authentic truth. As the years went on, AfroSoFly expanded in ways that embraces all of me as an artist, poet, yoni enthusiast and revolutionary, Black woman. Read more>>
Alexa Brooks | Curl Advocate and Online Store Brand

I really wanted to create a platform for curly/natural hair girls that wasn't like any other brand/influencer that I had seen or heard of. I wanted it to be a community for woman and even men to feel comfortable embracing their natural selves beginning with their curls! I grew up going to predominantly white schools where I was constantly compared to every other african american girl who I was in school with; especially in middle and high school. I always felt that my hair had to be straight and down my back to "fit in." Read more>>
Kayla Hutchinson | Stationery Shop Owner

Despite my business only launching a little over 5 years ago, my love for greeting cards has been around since I was 2 years old. So in a roundabout way, my stationery shop was 22 years in the making. When I was young and visiting my grandparents each summer, my grandma and I would spend the days doing crafts and some more wild things (like an impromptu backyard circus inviting the entire street). My favorite craft by far was handmaking paper. We would create a nice thick pulp, fill it with fun-colored lint to dye it, and sometimes sprinkle glitter or run shiny threads through it. I would thenuse them to write letters to my family and friends during the summer. Read more>>
Terrell Kelly | FASHION DESIGNER

My thought process behind starting my own business or in better terms becoming a Fashion Designer was I just always liked to look different , and never like blending into a crowd I've always been into Fashion growing up, changing my sister shorts into skirts, even going to the Chinese hair store and buying bandannas and wrapping her up in them, I sat and watch how alot of things I did became popular so I know I had to be on to something. Read more>>
Zarian Johnson | Fashion Enthusiast & Entrepreneur

My thought process behind starting my own business was the end goal. The end goal being, a person who works hard for herself and is financially stable on her own. I knew that if there was a need that I could solve then I could create a business from it. Read more>>
Greg Jones | Dappers Game Zone Atlanta Owner

My wife and I wanted to start a business that would allow us to give something positive back to the community within the actual service. There is no better way than being able to bring smiles, fun, and excitement to your doorstep. Read more>>
Courtney Randolph | Writer, Owner of Getting It Write Writing & Tutoring Services, Co-owner of RightBite Vending Services

My thought process behind starting my own business started off as a way to make extra money in college. I would help people work through their ideas by putting them in writing. As I got older, and realized that I was impacting and changing the lives of people around me. My thought process to keep going was understanding that this is what God called me to do, this was my gift. To get paid for something I actually enjoyed doing. I began to invest in my business because I recognized it is my purpose to help change lives for the better. I began to write resumes, tutor, and brand myself more. Read more>>
D'Anthony Chambers | Valet company Owner and CEO

My thought process was actually in the right place at the right time kinda situation. I already knew exactly how I wanted to structure my company. I had already been doing it for a few years so I was very familiar with how I wanted things ran. Read more>>
Michelle Harrison | Owner / Creative Director

I learned in high school and college that I enjoyed helping my friends and family with life's milestone celebrations and that I had a natural talent for it. I have always been drawn the the creativity involved in curating events. In 1996 I work with the planning team at Eastman Kodak during the Centennial Olympic Games, hosted in Atlanta for 2 months. This experience introduced me to the BeHind The Scenes of event execution and production. Read more>>
Mandy Rodgers | Entrepreneur / Digital Marketing Executive

Since I was in high school, I knew I wanted to find a career to channel my pop culture passions and somehow get paid for it. Luckily….I have done just that! I fell into PR after graduating from the University of Georgia with a dual degree in Magazine Journalism and Film Studies, which wasn't the exact plan but was pretty close. After working at an entertainment-focused digital marketing agency in Los Angeles for 11 years, it suddenly became really clear that launching my own thing was the best next step in my career. Read more>>
Ej, Gumbosa, Wayne | Podcast host, Art Curator, Musicians

What makes Free Gems Network so special is that as individuals we already had our own businesses. That much knowledge between the 3 of us made it easier to get this one up and running. Read more>>
Dr. Stephanie Zgraggen, DC, CNS | Chiropractor, Certified Clinical Nutritionist & Female Hormone Expert

My thought process in starting Lime and Lotus was to be able to have a wellness center that provided services from multiple providers who were all like-minded and under one roof – Kind of like a one stop shop for wellness. I also felt it was important to provide opportunities to other small wellness business owners to have their own space to practice their modalities and services. It is difficult in today's commercial environment to be able to afford a 5-10 year lease, utility deposits, start up costs etc. Read more>>
Alexis Kelly | Beauty Enthusiast

When starting the Mocha L'amour De Soi Company I wanted to encourage women to be selfish and focus on their individual happiness and wellbeing by enhancing their outer beauty and normalizing radiating happiness from within and being their true selves, not who or what society sees as beautiful. Read more>>
Harsha Patel | Bespoke Luxury Designer, Fashion & Jewelry

Hi, I'm Harsha Patel of HP Jewelz. I followed my childhood love for fashion and design by giving up a lucrative career in advertising to pursue my passion. Years later after gathering experience under the stalwarts of the fashion and design industry, I started my own venture. I've always wanted to be my own boss and the only way to do it is to start and run your own business. Read more>>
Keisa Burton | Entrepreneur

It's was personal: The thought process was I get to bring my vision to life. I get to invest my time and energy into something I love. I get to see my business grow. I get to spend more time with my family. Read more>>
Daye J | Self-Defense & Crystal Healer Practitioner

A third of the almost 300,000 U.S. girls and women reported missing in 2020 were Black. Seeing families reach out for support and help to find loved ones via social media because the news wasn't covering it just didn't sit right with me (as a black woman myself.) Seeing the constant post of missing women made me start to buy individual self-defense pieces for friends and family just to know /have a piece of mind that if something happened I gave them a tool that might have helped. Read more>>
Secunda Anderson | Pie Baker & Culinary Artist

I started my own baking business because I wanted to share my authentic passion and gift of cooking to ultimately bring joy to others. I love cooking and I became extremely inspired during the pandemic and wanted to offer "comfort" through food. It was a very natural response for me to have the desire to sell the most sacred dessert within the African American community for the fist time during the Thanksgiving Holiday. I am very connected to sweet potato pie because its a huge tradition in my family. Read more>>
Sahaii Delfosse-Ingleton | Creative Artist and Jewelry Designer

Believe me when I tell you this was Divine guidance from the Universe. I never had any plans on starting a business! So here's the story! I went through a really bad time emotionally in my life and I was trying to heal from it. I didn't know where to start or even how to begin healing. I started delving into spirituality. I read books, LOTS of books on EVERYTHING I could find about our reason and purpose in this world, our soul's journey, Crystals, Numerology; I mean I read EVERYTHING! I started meditating a lot and using and wearing Crystals. Read more>>
Tiffany Marshall | Online Boutique Store

When I was starting my business I was thinking to my self that it was something for me to do and was going to make money. I start thinking what my business should be and what the name of my business should be. I put a lot of thought in the process of where to start, where to get my item from and what the prices should be. I did about three months of research on everything I need to know how to start my online boutique store. Read more>>
Tomeka BLACKICE Myers | Owner of unique visions management

My thought process was to build a company that when i leave my kids and grand kids would be able to have something to fall back on when they needed it Read more>>
Yugonda Sample-Jones | Urban Engagement Strategist

I worked as a Co-Teacher at Newport Academy, an alternative school for children with learning and behavioral disabilities, when I found my passion for community organizing, through my volunteer work. During my service as a liaison for the Choice Neighborhood Initiative (CNI) grant. I realized and experienced the lack of equity in the communication of information and opportunities. More resources were offered in different communities. Read more>>
Lindsay Barrett | Mid century modern purveyor

I have always loved vintage everything. My grandfather, or Grand, as we used to call him, had incredible style and an eye for quality. My grandparents house was impeccably styled. Both of us also had parents who liked to find "treasures" and refurbish and resell them. Our interest in furniture started with our personal collection which got a little too big, so we started selling off cool pieces we didn't have room for in our house. We started our business as a side hustle and within two years it grew into a full-time business. Read more>>