The Characteristics & Habits That Matter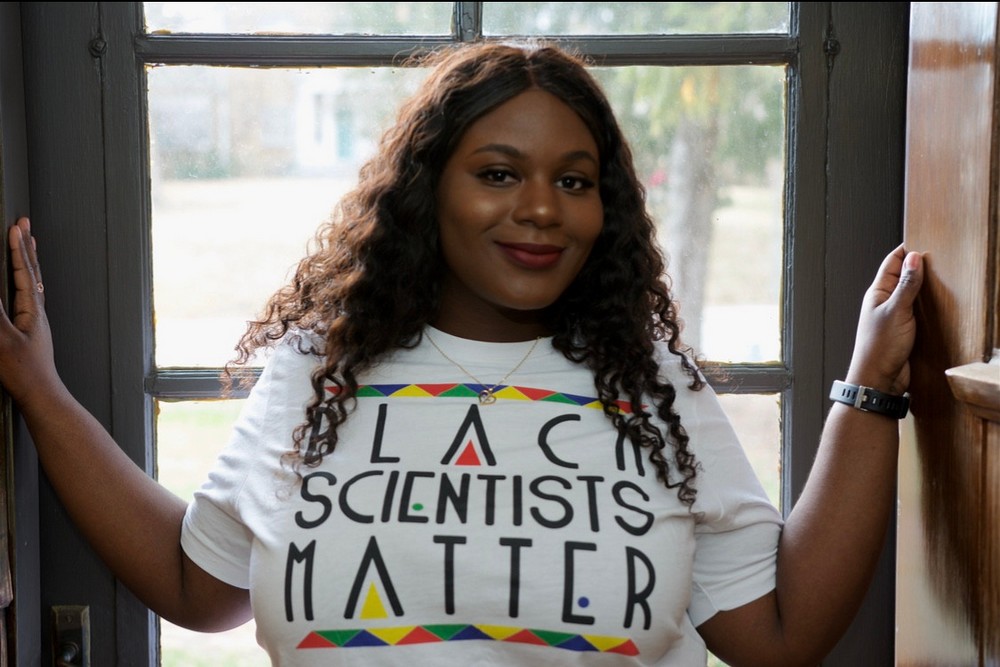 We asked some of the city's rising stars about why they think they have been so successful and we've shared their responses below.
Sierra Nance | Scientist & Entrepreneur

Love is the most important factor behind my success. It is what motivates me, what determines how successful I will be, and what comforts me during the tough times. My family and the people I surround myself with love and support me unconditionally. They may not always understand what I'm doing or why I'm doing it this way, but they always encourage me and stand beside me. I am a very talented multi-tasker – often wearing many hats simultaneously; however, the things that I am most successful at are the things that I'm passionate about. My original career path entering college was to go to pharmacy school until I discovered research AKA the real good science and fell in love. Read more>>
Kendra Knight | Storyteller Brand Photographer

Success is defined on my own terms – it has to be – if 2020 taught us anything is that everyone has their own struggles. What others have more of doesn't mean they are happy or successful. Success is gratitude, success to me is adding value to your life, success is deciding what you want and what will make you happy. Read more>>
Tia & Tyra Cooper | Personal Trainers

The most important factor has been courage. We have been athletes since the age of 5 years old to the sport of track and field. We practiced hard every day and showed up ready to perform at every track meet despite any difficult challenges we faced. We faced many challenges and was not always favored. Track and field and our personal life groomed us in a courageous mindset to believe we are capable in doing anything we put our minds to. We carry this same mindset in our brand by taking on everyday challenges and making the best decisions to elevate our brand even if we are considered taking a risk. Read more>>
Vintij Brat | Jewelry Designer Extraordinaire

The most important factor behind my business is my purpose! Proverbs 19:21
21 Many are the plans in a person's heart, but it is the LORD's purpose that prevails. From a very young age I knew I was different. I was called weird by my peers and rightfully so from the knowledge that they possessed, I never fit in. Always a little different, it took years for me to understand that being set apart is a gift and not a curse. In me being set apart I also learned that there was a calling on my life and God had placed purpose inside of me. He was in fact going to use me! Read more>>
Kashlee Ashlee | Wardrobe Stylist, Designer & Creative Director

The most important factor behind my success is God. Without him, the beautiful talents he gifted me with and most importantly the people he placed into my life, I truly wouldn't be here today. I am beyond blessed and grateful to have a support group of loved ones that help motivate me to reach my greatest potential as an individual and brand overall. Read more>>
Shayla McDaniel | Caterer

The most important factor behind the success of my brand is my clients. I truly thank God that my clients took a chance with purchasing from me and continuously coming back. They also spread the word fast to bring in more clientele and I thank them for trusting in my brand. I make sure I put love in what I do, make sure I'm professional and that I have great customer service skills as well. Read more>>
Unique Daves | CEO of AllAboutAhGrind & Artist

Well the most important factor behind my success is my family they motivate me to be better and make me want to do better. When I doubt myself they pick me up and carry me threw my worries. I second guess myself a lot to be honest. I think about failing and not being able to get out that hole but they help me not think about the bad in certain situation. They tell me to stay positive and keep working on what i want in life. Read more>>
Brittany Bryant | Self care creator

The most important factor behind the success of Ebonë Beautë is that I contribute to women feeling beautiful in the most natural way. My goal when starting Ebonë Beautë was to ensure the product I provided was natural with quality ingredients. Self care is important and it starts with the largest part of your body, your skin. When you put love and care into your skin you have this glow, natural beauty. I have always loved self care but especially when it came to moisturizing my skin. Read more>>
Dominique "High Defynition" Robinson | Music Executive & Entrepreneur

The most important factor behind my brand and my success is my ambition. I grew up in an environment that showed me what type of life I did not want to live. I lived in section 8 housing and homeless shelters before the age of 10. This self motivated me to set career goals that I have and am currently achieving. My ambition is fueled by my need to make sure I secure a better life for myself and my family. Read more>>
Aleah Moore | Entreprenuer and Business Coach

The most important factor behind me being successful is Perseverance. As long as I am given the gift to wake up everyday it is my duty to keep paving the way. The journey just to get here, right where I am today has been so rewarding but with those rewards there have been many risk that have been taken. So many losses before those wins started rolling in! With the ability to persevere and remember the bigger picture, the end goal I KNOW will be so fulfilling. One quote that will stick with me forever is: "Success is not determined by speed but direction" . Read more>>
Ibrahim Mohmed | Businessman. Content Strategist. Content Creator. Deal Maker.

The most important factor behind the success of my brand is focusing on what I can control. Seldom do I look at the things that I lack because thats creates major hurdles. I always look at the things that I am working with and how I can turn them into diamonds. By taking care of the things in my control and doing a great job with them, people take notice and other opportunities are brought to me. Read more>>
Aliyah Green | MUA / Esthetician

I feel like the most important factor behind success is to never give up and allow yourself to fail because that's how you grow and learn. Read more>>
John Rocker | Podcast Owner/ Host of Off The Rock Podcast

Its simple. It's being relatable to people and being for the people. Being one of the premier podcast for my hometown Mobile,Al the culture in the city is one that loves to uplift and bring people together from all shades of life. On the podcast we do the exact same. We have people on who do various things and that interest others to listen. That plus our personalities make us relatable to our listeners which bring us success genuinely and organically. That is what we live by here on off the rock. Read more>>
Dr. Sherida Lovelace | Faith-Based Media Personality | Realtor

The most important factor behind my success is Vision! I don't believe in doing "just because," or following the crowd, because their can be chaos in crowds. I believe in Vision first! Vision is personal, it's creative and it's given to us. How we move in developing that beginning seed determines its future success and, establishes a strong foundation early on. When you take time to learn who you are and understand your purpose, its easier to partner your actions with the first factor of success – Vision. Read more>>
Malkia "Milk" x Kazha "Sizz" Hornsby | Milk=Sizz Executive Producers/Music Creatives

We never stop moving FOWARD. Progress no matter how small or insignificant you feel may mean something is happening. The process can seem glacial, but try to exercise patience. You are in charge of your narrative and your timeline. As a matter of record, it took us four years to co-create and executive produce Grammy Nominated R&B Crooner J. Holiday's 4th studio album TIME. Creatively, the album which we started recording in 2018 was conceptually completed a year later. We were intentional about the direction and could identify the challenges, but we knew exactly where we wanted to go. Read more>>
Mia Pinkney | Cake Artist

The most important factor behind my success is never giving up. I have been faced with many challenges that sometimes made me want to quit. But I always keep going. I had to realize that in this business you will learn something new every day. Just keep practicing and never give up. Read more>>
Stacey Nunez | CEO of Better Day Givings, Inc.

The most important factor behind our success is making a true difference in our survivors lives. Most survivors don't have support from family and friends so we step in and give support on any level. It might be a wig, food, care package gift or just financial help. If they request a wig we give them a choice knowing they will be loosing their hair after the first or second dose of chemo. They have a choice of in color, style, length, human hair or synthetic. Read more>>
Rickey Banks | Owner/Operator/Personal Trainer/Consultant
We believe a big portion of our success comes from the impact of long-term client and trainer relationships. We pride ourselves on the high level of commitment and knowledge of our trainers. Providing great customer service is no longer the responsibility of just one person but all of us. Today it's called "customer experience," and everyone at SFX Fitness is responsible for exceeding expectations. We want our current and future members to identify with our brand which represents commitment, consistency, and dedication from our staff. Read more>>
Courtney Atkinson | CEO of C. Lauren Cosmetics

The most important factor behind my success is GOD. Hands down. God is the head of my life and my business. I also have a lot of passion and drive. The only thing that keeps my business growing is the passion I have for what I do. Read more>>
Marc L. House | Bishop

Whether it's Ministry or the Policeforce, the most important factor behind my success is Consistency. Read more>>
Fatima Edmondson | Designer & Seamstress
The most important factor behind my success is my faith in God and myself. There were times where I didn't have faith in either and I had such a negative mindset about life. For the last year and a half, I used to wake up every day and be mad at the world because I didn't like where I was at time and I felt like everything was falling apart. I was working a terrible job, going through a breakup, then I got rejected from the Fall '19 line, I started having health issues, I failed three classes in one semester, I fell out with my close friends, and then the pandemic happened. Read more>>