Perspectives on Risk-Taking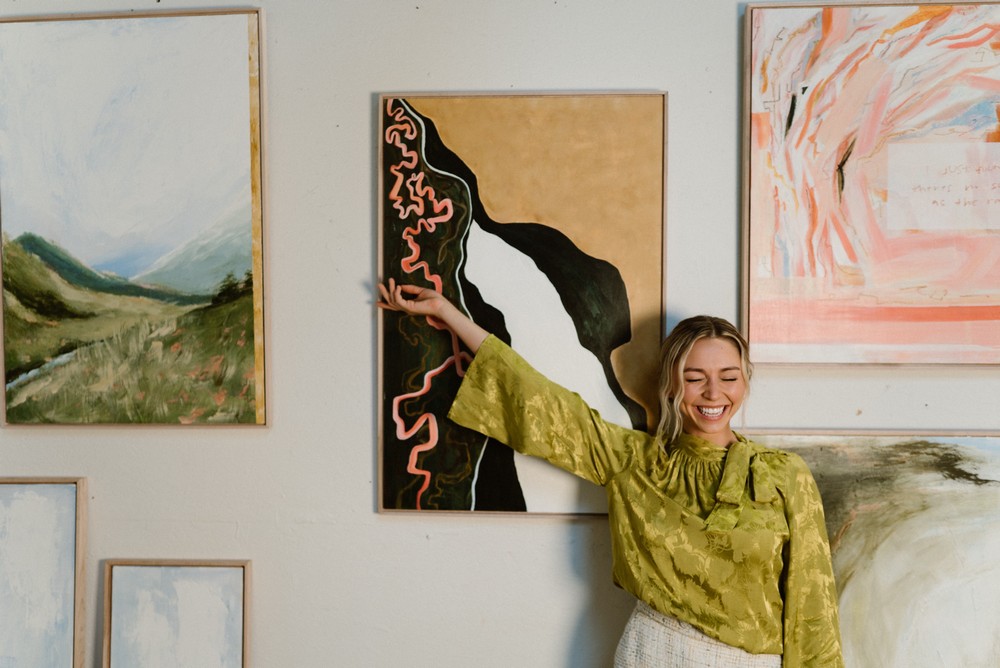 here is a wealth of academic research that suggests that differences in risk appetite are at the heart of differences in career and business trajectories. We wanted to go beyond the theory and ask real people from the community about their perspectives and experiences with risk and risk taking.
Katie Summerrow of Katie Max Art | Artist

To be honest, everything. Deciding to be a full time artist is a risk, releasing bodies of work to the public is a risk, and my biggest accomplishment to-date, hosting a ticketed, live, art auction, was a huge risk. I had to learn the only real risk is public failure, and fear of failure will never get me anywhere I'm proud of. Read more>>
Javier Villamil | Actor / Producer

Risk taking has proven to be invaluable in my career. After spending 15 years developing a music career in Chicago with a rock band, I had to take the huge RISK of completely changing industries. At 31, I moved myself to LA where I was basically throwing spaghetti to a wall to see what sticks with a general direction of "filmmaking". A year later, after realizing I wasn't making the right connections, I took another BIG RISK and moved to Atlanta, GA. Only then did i start to see the fruits of my labor and risk taking. Read more>>
Frank " Franko" Woods | Owner of Carver Cigar Co

I think Risk are a vital component to success, You try to calculate them but sometimes you just have to go with your gut feeling. I can honestly that the times that I did not take a risk left me with a feeling of regret or wondering what if? Read more>>
Danielle White | Fashion Model & Public Figure

When I think about risk, I think about change. I say this because a lot of the time risks can be scary, but despite that they can also open doors to a life of countless possibilities. I strongly believe that risks are simply decisions that every successful individual has to make and or take in order to reach their goals. I can admit that taking risks has played a big role in my life and my career, especially because they have challenged me as a person to either try something new or to step out of my comfort zone. Read more>>
GrG | Artist

Well I'd say just know when to take a risk, but I wouldn't necessarily take a risk if it's outcome wouldn't be beneficial or if it just wouldn't do any good in the end, well I feel you'll have to take risks if your trying to pursue something because not every step is gonna guarantee success, doesn't mean you stop, just take the risk by betting on what your doing to be worth it. Read more>>
Shreyas Sonwane | 3D Generalist and Filmmaker

I think taking risks is one of the most important and crucial steps towards achieving something big in life. I have been at crossroads many times where I could have chosen the easy route but in the words of Robert Frost, "I took the one less traveled by, and that has made all the difference". The very first decision that I had to make as a high-school graduate was to pursue my passion in the creative field as a 3D Generalist and Filmmaker. I had to convince my parents initially to study for a non-mainstream field which, according to society, was a fool's errand. Later on, after seeing my enthusiasm, my family became one of my biggest supporters and have been with me every step of the way. Read more>>
Emeral Eden | Painter & Makeup Artist

Exploring new depths can be frightening at first. No similarities to past events to make connections. No guidebook.So we often rely on validations from others to move forward. "Do this, don't do this". It is easy to drown out our own creativity when we are constantly giving the voices of others more power. We reclaim our voice back when we begin to trust in our own magic. Read more>>
Naomi, | Musician & Model

In my opinion, risk is necessary for growth. In my experience, sometimes the ideas that feel the most scary are the ones that have the greatest reward. Staying in my comfort zone has always kept me feeling too comfortable and complacent; taking risks has always either given me greater perspective or brought me great opportunities and results. Read more>>
Demetrus Coonrod | City Councilwoman & Social Influencer

Risk-taking is not all determinate to success, but it is an important influencer when well times and utilized strategically. Our traditional way of thinking about risk is inadequate. We should become better at taking risks rather than trying to avoid failure. One has to make a conscious effort to remember that risk-taking leads to positive outcomes. Taking risk have presented me with new career opportunities, new perspectives and opened the door to new possibilities. Read more>>
Helen Lavette | Master Esthetician & Beauty-prenuer

Highly successful people and people that are held in high regard are usually risk-takers. Risk-taking typically encourages innovation and change, and failed risks don't always equate to negativity. There's growth in failure. There's growth in taking risks. My entire life I've been a risk-taker! I always believed in myself and my abilities enough to take those risks and make things happen for myself. I always believed in challenging myself and being tenacious at attempting to do things even when others tell me I can't or shouldn't. I wouldn't be the serial entrepreneur I am today if I didn't. Read more>>
Rodney Iler | National Recording Gospel Artist & Graphic Designer

I am not too much of a risk-taker. I do ministry through the gifts of music and graphic design. As these are very creative gifts and industries to be a part of, they also require very strategic planning and tedious actions. So, I believe that you have to know exactly what you're doing before you do it and of course, you'll have bumps in the road that may end up requiring you to take risks. But taking risks for me, in these industries is not something I'll allow myself to get comfortable with. I also think that your level of comfort with risk-taking is based on your experience with doing so. For me, my start in the music industry was a 6-7 song live recording with around 300 guests, 6 background vocalists, and a full band. Read more>>
Quanishia Dixon | Baker & Social Worker

Honestly, When I used to think about the word risk it was all from a negative aspect and a lot of what ifs. What if I do this, and then this happen? I always thought talking risks were RISKY. But then i realized that change and growth is risky. You're risking not having that stability, the comfortability, and risk even losing people but thats ok. Would you rather stay stagnant and unhappy where you are or take that risk and potentially end up stepping into something that change your life? Taking risk has gotten me where i am today and built me into the woman that i am becoming! Read more>>
Alex S | DJ LX

Risk is something that is must in order to grow in the industry. This allows us to learn from our mistakes in order to advance and develop skills. There will always be something to risk and in my case it was more of time, effort, and most importantly networking. Your networks are your net worth when you start helping each other with all the best intentions to see everyone win. Read more>>
Jeremy Reid | Music Producer

Risk taking is one of the most important parts of life. To have ambition about being successful is what drives us to get out of bed in the morning and gives us the energy to be risky. Taking risks in my career is a normal attribute. I've had to go into the unknown of this business plenty of times, not knowing what would be the outcome. But that's the risk, I was doing something I absolutely enjoyed and was willing to ride the wave of whatever it brought my way. Read more>>
Amber Denae | Songwriter and Professional Vocalist

Everyday I have breath I expect to get into an adventure. No day is the same. I grew up in a sheltered, christian home and I had issues with keeping people close to me. Moving throughout middle school and high-school shyly and behind the scenes was easy, unless there was music involved. The stage was a freeing space, and that's where I learned who I am. I liked being the one who no one thought was coming, and as I grew older into this person I am now, I stepped outside of my comfort zone because it made me a more rounded person. Read more>>
Ti'Aira Carter | Content Creator & Entrepreneur

I believe in taking good risks; because there are also bad risks that have negative consequences. As far as my life and career, is it necessary that I take risks because the reward is always greater. From the saying "you miss 100% of the shots you don't take" to Drake's song "The Motto" that emphasizes the phrase "YOLO (you only live once", is it evident, that we should live life to the fullest and pursue whatever it is out there that we want. I am a strong believer that we are able to have whatever we want in this life as long as we put in the work and have faith in God. Like they say, "faith without work is dead." And that "work", is the risk that we need to be willing to take, because that's what's going to get you there. Read more>>
Kelli Center | Licensed Professional Counselor, Consultant, Itinerant Speaker

I have always been a risk taker. Not for the thrill of the risk, but the fear of regret and living with the "what if" thoughts. There's always a level of anxiety that creeps in when you are thinking about doing something you've never done before. That's normal. But in general, once you take the leap and move forward the unease leaves. Anxiety feeds on fear and the fear is usually just an unknown or unidentified expectation of an unfavorable outcome. Something we don't want to happen. Read more>>
Robert Holborough | Hip Hop Artist/ Event Curator

As they say " No risk, no reward"…….At the end of the day you have to bet on yourself and the most high….It was a risk for me to against my family and everything they stood for by choosing to do Music and while it may have not been as financially beneficial and has definitely been spiritually fulfilling…. Read more>>
Joe Williams | Entrepreneur

Risk Taking. Taking a risk is stepping outside of your comfort zone and testing new obstacles you are not sure of. Positive or Negative, risks will build you as a person and tests your true abilities. For me, a HUGE RISK was opening a business at the beginning of a global pandemic with little to no knowledge of the business world. I didn't have a plan, I didn't know where to start, and all I had was an idea in my head that I wanted to see right before my eyes. Read more>>
Jasmine Collins | Licensed Esthetician & Brow Artist

In order to get to the places you've never been or do the things you've never done you must take risks! I would not be where I am today if I didn't take any risks. It's all about taking calculated risk with a plan set in place. When I finally discovered the path I wanted to take was to pursue entrepreneurship, I made sure I did as much research as possible prior to executing the task. The first major risk I took was dropping out of graduate school; I was attending Winston-Salem State University studying Health Administration. Read more>>
Daniel Woods IV | Musician & Producer & Filmmaker

Taking risk is something a lot of people are scared of doing. Taking the most comfortable route that is safe and not worry about any consequences. And just to end up not enjoying the life that they lived. I believe in high high reward. But if you are going to take a risk, you have to have things planned and work for it. I tried to go the safe route in life. Go to college, get a degree, get a job i have to work for the rest of my life, then retire and not know where my life went. Read more>>
Bridgetown Rentals LLC | 360 Photo/Video Booth

When hearing the word "risk" I don't think nothing positive comes in the thinking process. Risk is one word that gets our attention fast, entrepreneur or not. Everyone knows starting a business is a risk if it wasn't this world would filled with entrepenuaers. It's hard to make decisions, invest money, and plan when you know a risk is involved. It doesn't sound as bad until you're in that moment to make a decision that will either make or break your business. When tying risk to our business it was definitely a wall that took us forever to climb over. We prolonged our process for so long because we knew it was a lot of money we were investing and the fear of not making that money back constantly was in our thoughts. So after making our investment you now face other situations mentally and financially. Read more>>
LaCarla Brockington | Private Chef

The older I get the more risk I'm willing to take. I took a risk by stepping out on faith and starting my business at the age of 21 . Here I am going on 23 years old, still running a successful business. I'm glad I took that risk-because along the way, it has taught me many lessons that have made me grow within my business. Read more>>
De'Ja Armstrong | Model, Visual Artist, Director, and Entrepreneur

I believe in taking risks. It is the only way you can level up in your life and career. Without risk you stay stagnent. Sometime risk can be scary because it pushes you out of your comfort zone, but the reward you obtain from taking a risk is always greater than the fear. Taking risks has played a major role in my career over the past year. Just before moving to atlanta offically, I comtemplated on when I should move and what would it look like to "have all my ducks in a row" before I take the leap. It wasnt until one day I told myself that I have to just do it. Believing I can be sucessful and spiritually aligning with my higher self is all I needed to do. Read more>>
Dr. Waajida Small | Leadership and Executive Coach & Work Wellness Content Creator

By nature, I am a risk averse person, so taking risks is always a second thought. When it came to my career all of the risks I took were calculated. They have paid off however. Each and every decision I have made has yielded great results. For me risk is moving past my fears. Once I have been able to do that, so many doors and opportunities opened for me. I think everyone should take risks, but be smart about them. I am all for jumping in head first, as long as you have a helmet on. Read more>>
Jude Kamal | Interior Designer | Sansa Interiors Inc.

I learned at a very young age to calculate risks and then take them. Risk taking is a huge factor in my daily life, I took a risk when quit my job and decided to start a business, I take risks when trying to scale the company, I take risks when pitching and it is almost an unavoidable role that you have to take on. Risks are great, the wins are usually extremely rewarding and the losses are mostly big too. Calculated risks are probably safest since you can take the hit if things go wrong. We all have to choose which battles we want to fight. Read more>>
Aniya Lay | Entrepreneur

If you are starting a business you need to learn early on that it all is going to be a risk, you might lose money, time and some friends but, without risk there are no rewards. There have been many times I've taken risk throughout my career from quitting jobs, turning down offers and loosing money. I do feel like everyone makes entrepreneurship seem like its going to be very easy but that's because they do not see all the behind the scenes and times it takes to turn a vision into a physical product. Read more>>
Samuel Lee Fudge | Independent filmmaker & Professional Actor

Risks are terrifying but absolutely necessary for professional and personal growth. Risks have played a significant role in my life / career in many aspects. With every achievement I've accomplished thus far in my career, there was a risk I was force to make right before. Me quitting my nine to five to pursue my passion and at the same time chase a dream with no absolute guarantee of financial stability were just a couple of fearful risks I've had to make to be in the position I am in today. Truthfully, I am grateful to have made them. I personally feel risks are a true test to one's desire in wanting to succeed. Read more>>
Derrick "Izzy The DJ" Isabell | DJ, Entrepreneur, Philanthropist

Anyone that knows me personally knows that I love to take a risk when it comes to something I believe in. In my opinion it's the reason why my career is where it is today. My thought process regarding taking risks is simple. I can't say I truly want to do something if I'm not willing to bet the house on it, figuratively speaking of course. Most people shy away from risks due to the potential of failure, so I got to a point mentally where I realized that there isn't a successful person in the world that hasn't experienced failure. Read more>>
AJ Williams | The Braiding Jedi | Beauty enthusiast

I believe taking risks as an entrepreneur is very important. Without taking risks, you will never know what is on the other side of fear. I've heard many stories from people who wish they had the courage to follow their dreams. Many people wish they had the courage to step outside their comfort zone to pursue something that some may think is unattainable. I believe if God gave me the vision, it is my responsibility to see the destination. I will not allow anyone to tell me what I can and cannot achieve based on their understanding. Read more>>
Stephanie Moore | Licensed Massage Therapist and Body Contouring Specialist

I feel risk taking plays an important role in both my life and my career. Why? Because it stretches and exercises my faith. I was an Aerospace Mechanic when Massage Therapy landed in my lap. I knew nothing about it. I never had a massage before in my life and did not know anyone that had ever received one. Tragedy stuck and God sent a messenger in the form of massage therapy student, to convinced me to receive a therapeutic massage. Read more>>
D'ANDRÉ | Emerging Atlanta Artist
Taking risks can be scary because the outcome isn't guaranteed to be good. However, to me, that's the best part. You never know how things are going to go. When I release music, I'm taking on a risk because I am incorporating different sounds and practically creating a new genre of music. If I don't receive the best response from my fans, I learn from the experience and grow as an artist. Risk is growth. Read more>>
Styanda Sha'Niece | Makeup Artist
Life is all about risks, as they say "the bigger the risk, the bigger the reward." Taking risks and walking on faith is literally what's gotten me this far. I first got interested in the beauty industry for real while in college studying business management/psychology, after really indulging in makeup and realizing that was my true passion I took the risk of dropping out, going to beauty school and working at a well known beauty counter. Once receiving my esthetics license I then took the risk of leaving my job at the beauty counter and working for myself as a full time makeup artist. Read more>>