Meet Vicki Sanders: Graphic Designer | Owner & Chief Hug Officer at the Hug Box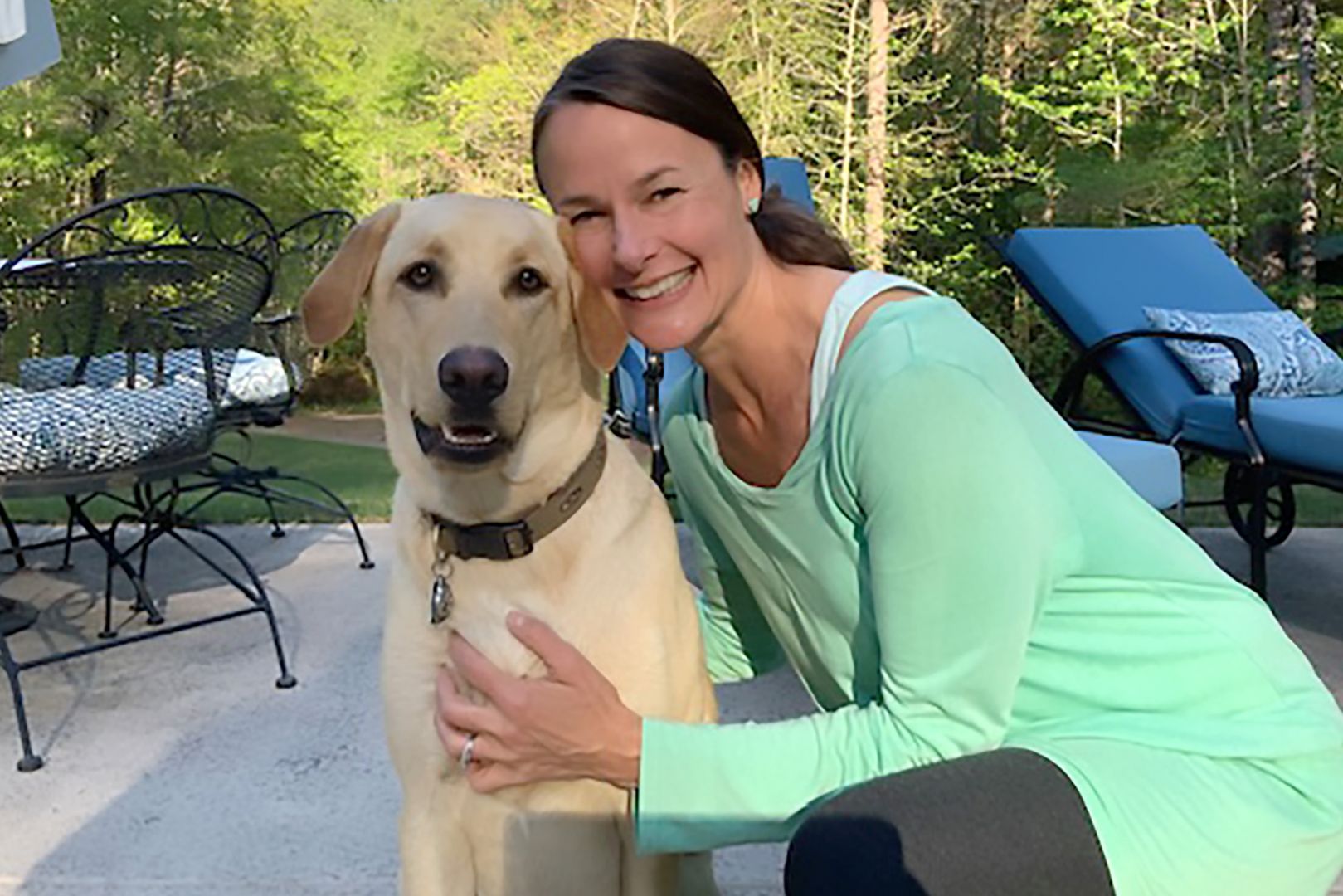 We had the good fortune of connecting with Vicki Sanders and we've shared our conversation below.
Hi Vicki, is there something that you feel is most responsible for your success?
As a graphic designer for over 25 years, I knew that defining a brand for my gift business, the Hug Box, from the beginning.was absolutely important for any kind of success. It is not something to rush through. There are four main attributes to discovering and building my brand: Passion. Knowledge. Consistency. Authenticity. 1. Passion. I knew since 2004, that creating meaningful gifts was a passion of mine, but it wasn't the right time. It wasn't until 2014, after being focused on my design career for many years, that I knew that it was time. And along with life changes, I was ready to do something different with my work life, something meaningful, joyful and creative from my heart. The passion for my previous dream of a gift business was still there. Life experiences, work and business experiences, embracing a daily life of health and eco-conscious living, attaining confidence and a lot of faith and God over the years was what it needed to flourish. I remember the excitement of my first Hug Box order from someone I didn't know. Everyday still, I love fulfilling a Hug Box order and everyday still I keep learning and discovering new ideas, artisans, products – ways to reach more people and to bring joy to their lives. 2. Knowledge. At the start, I chose a mentor to work with me. I had been to a couple of his speaking engagements in Midtown Atlanta, where his thriving creative agency was located, and I worked up the courage to wait to speak to him. I had no idea that someday I would be asking him to mentor me on my business idea. As I was working on the development of the Hug Box (which I had about 30 other names, but always came back to the first name, Hug Box), I would meet with him to share my progress and get feedback. Not only did this help me define my brand and designs, but strengthened my determination. Seeing it come to life was surreal, as I worked hard everyday, and learning all that I could to build this business. And it is ongoing. I learn something new everyday with the Hug Box. 3. Consistency. This is a tried and true method for excellent branding and design. Being a seasoned graphic designer with branding and creative copy experience, the name, tagline, logo, everything I created. It's not going to be perfect (hard one to embrace) and my designs have definitely evolved. You learn what is working after your business starts growing and you fine tune. Being fresh in this ever-changing and fast paced world can alter some of your designs and of course marketing, but basic brand guidelines from the beginning are crucial. You don't want to step away from those, you want to enhance them. You want to be recognized for your brand – the look and feel of your business. You can always tell which businesses that have worked with creative professionals (or have the ability themselves) to develop their brand, logo, print and web. You recognize a business because of their consistency and how they manage to keep their brand while building on it with time. Just look at Target or Starbucks. 4. Authenticity. So that last line written for consistency segways here. Stay true to you. Don't change because you saw your competitor doing this or that. Stick with what your passion was about in the beginning and if you really like some idea, figure out how to make it your own. Don't copy someone. This was something engraved in my head all through college. I would see other students outright steal ideas and showcase them as their own. That doesn't do you any good. Since launching the Hug Box, I have seen another hug gift business come out over a year later that had many of my ideas and brand similarities and there was even a business that tried to trademark the Hugs Box. At first it was frustrating, but I knew that I was authentic. "There is room for everyone" is a statement I always loved. But don't be the copycat. Which also brings me to this last point. I had a friend ask me why I wasn't selling on Amazon or in Walmart, saying you need to hit these markets to make it big like everyone else and I asked him if he even knew what the Hug Box brand was? Maybe the Hug Box isn't making big money currently, or ever, but I take joy in sticking to the brand, values and missions. I love the pace of it's growth. And every time I get a review about a Hug Box that was delivered and I knew both the customer and the Hug Box receiver had smiles from ear to ear. To me, that is success. A brand success. 
Let's talk shop? Tell us more about your career, what can you share with our community?
It's really hard to check a box for what I do now. I earned a BFA specializing in graphic design and established a career as a graphic designer and art director for over 25 years. As a child, I created and drew everyday. I experienced the art and design world through my dad. He is an oil painter and had a career as a an artist creating paint-by-numbers. I suppose that is how I chose to be a graphic designer. There weren't all of the options there are today with technology. And my parents wanted me to chose a major that would guarantee me work. (I honestly wanted to be a dancer and actress, but I still managed to do that later). When I was in college, we created with our hands, big cameras and other time-consuming methods to design layouts. It was a challenge, but mastering those crafts I believe helped me to truly understand design and it was imperative to sketch and sketch more developing the concept, before starting the production. You couldn't take a million photos and then choose one. You had to get it right the first time or waste more money and time. You had to carefully choose your typeface, because once you bought it and then laid it out on your illustration board – you were done. The first time I ever used a computer (Mac Apple) was my senior year in college. It was the professor's, a small black and white monitor with the software Pagemaker. I played around with some basic typography. From there on, I learned all of the computer graphic software after graduating, and on the job. My first career job, I was in similar shoes of many young people today, that were born with a computer in their hands and social media. At my first job at a design firm, I introduced the Mac to my then boss. I did all of the graphics from there on out using the Mac and his firm grew. We were faster and more efficient. It is pretty wild to have been able to experience the vast changes of technology from the 80's to now. I have to say sitting in front of the computer, working long hours all these years definitely gave me a lot in life, but I also gave up crafting by hand. I wish I had taken the time to draw and/or paint everyday. That was advice from my artist dad that I didn't listen to. Through the years, I have had diverse experiences working with magazines, agencies, a museum, art school and more. Today, I create and work with small businesses, artisans and non-profits as well as paint in my free time. My branding and graphic design business is vwahlacreative. I worked for myself once before back in 2004-2006, and then went back to a full-time design job. In 2014, I started on my own again when I was unexpectedly let go from my job. It was shocking and confusing, but I got over it quickly as I realized that I had so much more to do and offer. i was stifled at that job for so long and stayed because I was loyal and I suppose scared to move on anyway. But I believe bad things happen to elevate you to an even better place. In my heart, I know it was God's plan. It made me stronger and more courageous than ever. And that is when my gift business idea came back into my life as well, It was finally the time to conceptualize and build the Hug Box. I was my own client I guess you can say and the Hug Box was launched to the world in 2014. I am so grateful and joyful today creating for people with my graphic design, paintings and sending gifts of hugs!
Any great local spots you'd like to shoutout?
I lived in midtown Atlanta for 10 years and these were the places I loved and would love to share: High Museum of Art – Definitely need to visit Atlanta's beautiful art museum. Piedmont Park – My favorite retreat in the city for taking a walk or run, meeting friends and attending events. Beltline – A bike ride or walk on the Beltline and stop by for lunch or happy hour at Krog Street or Inman Park. SOA, where I live now: Serenbe – A peaceful place to enjoy the arts, good food, community, trail walking, yoga and special events Historic Downtown Newnan – This is where my shop is and so many wonderful little shops and restaurants.
The Shoutout series is all about recognizing that our success and where we are in life is at least somewhat thanks to the efforts, support, mentorship, love and encouragement of others. So is there someone that you want to dedicate your shoutout to?
My mom and my husband for their constant love, encouragement and support during the ups and downs. So many books, I can't begin to name them all. Seth Godin is of course amazing and wise. But recently, Elizabeth Gilbert's Big Magic was very inspirational. A long time favorite that was really powerful "The Fourth Agreement" Don Miguel Ruiz. My boss of many years, during my graphic designer turn art director days, Tobin Spirer. I learned a lot about business from him and how to work hard with a smile to be successful. There are many artisan friends that I collaborate with often and relate to since we all have small creative businesses, Marci Turnrow, Lori Duncan, Justeen Oess, Stephanie Carney, Suzi McKibben, Amy Jo Sears-Moore, Logynn Ferrall to name a few. Girlfriends are the key to many different successes! And my source of strength, God. 
Website: www.thehugbox.com
Instagram: @thehugbox @vwahacreative
Linkedin: Vicki Wahl Sanders
Facebook: @thehugbox @vwahacreative