Meet Neriah Kharece: Cinematographer and Video Editor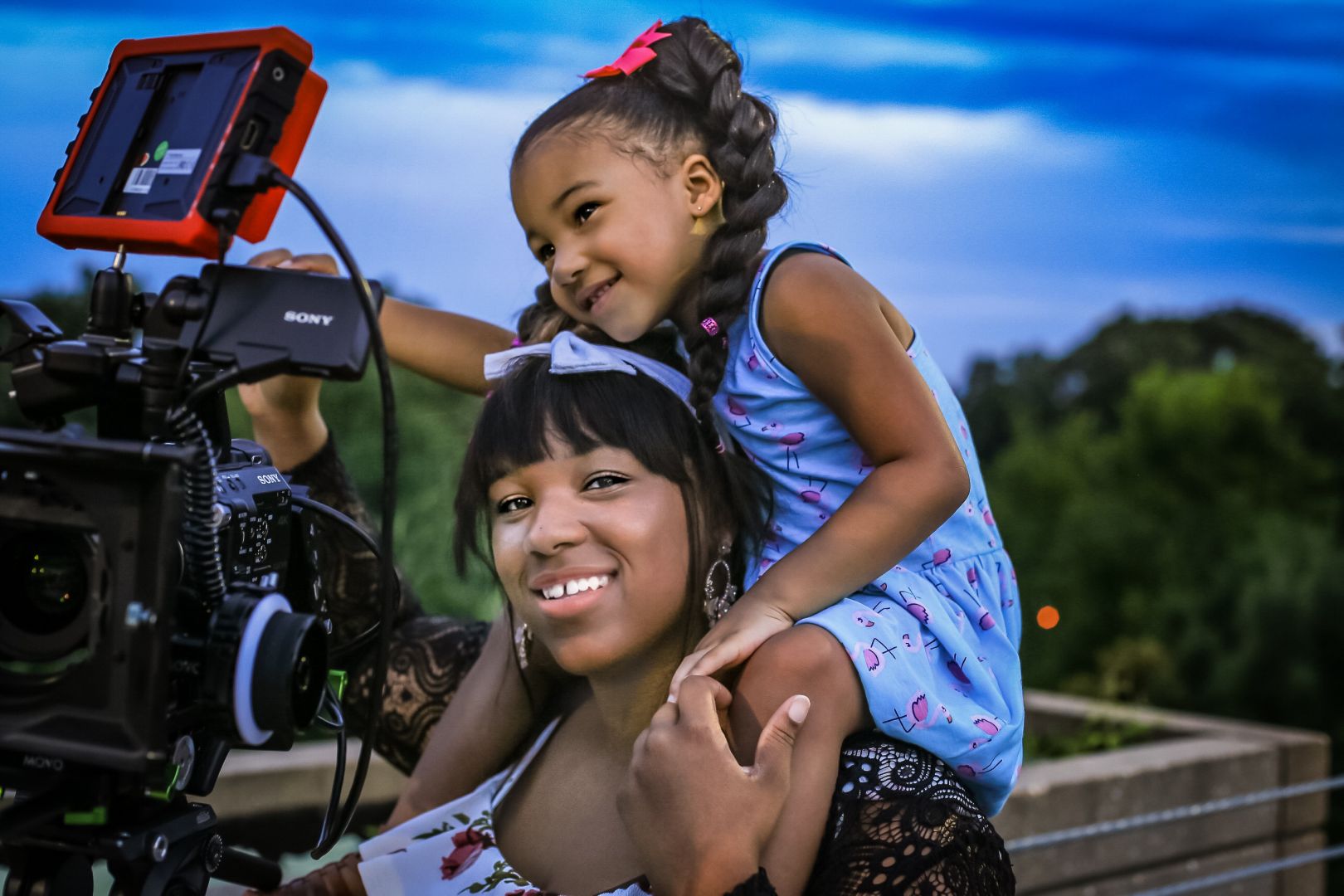 We had the good fortune of connecting with Neriah Kharece and we've shared our conversation below.
Hi Neriah, we'd love to hear more about how you thought about starting your own business?
My thought process for starting my own business was that I wanted to be in full control of my life. I had been in a life-altering situation. A company laid me off a month after having my daughter, which led to my being evicted, losing my car, and so much more. Another thing I considered was no matter how hard I work at a 9-5 desk job, there will always be a ceiling. I can never make more than my boss makes unless I take their role, which doesn't happen often. Also, I worked in corporate America for years, and there is so much power in other people's hands that ultimately dictate my future. Hence, my main driving force was to put myself in a situation where I can thrive. There won't be a cap on how much money I earn and the freedom and security of being my own boss. There was no risk of being fired or laid off or being discriminated against because I am the owner and CEO. Of course, owning your own business has its hardships, but its still one-hundred times better than getting paid just barely enough to get by but having to be somewhere you feel limited. When you own your own business, you get to have complete control of your livelihood. I was attracted to being limitless when it came to my career, so for me starting my own business just made sense for me.
Can you give our readers an introduction to your business? Maybe you can share a bit about what you do and what sets you apart from others?
Kharece Productions is now two years old, still a baby, and again very new. Right now, we film all aspects of video production. We cover weddings, commercials, trailers, films, events, web-series, training videos, and more. We also handle all the editing aspects. We are hoping to grow our team more and more and meeting more filmmakers along the way that has helped my company thrive in various ways. The primary purpose and goal of Kharece Productions are to create works of art that speak volumes and have an everlasting effect on audiences. I want my films always to evoke a deep emotion, and I want my viewers to feel something after experiencing my movie. I want them to feel hopeful or happy or inspired, forgiving, feeling heard, or just making the audience really question things or think, also, of course, bringing awareness to situations and starting difficult conversations. That's what I want every film of mine to do. What I am most proud of is that many of the projects I first put out were me, myself, and I only. I had to wear all the hats, which was stressful but crucial for learning all aspects of the different film roles. I am so thankful that I have started to operate with a team, and it's made me and my company so much more efficient! I would say one of the main things I have learned in business is to know your worth! Don't let people treat you or convince you that you aren't worth the price you set for yourself. Another thing I would say is always being open to learning new styles and techniques. The film industry is continuously growing, so I've learned to stay on the curve and be on the lookout for new technology that can make your filming and editing better and more efficient. I've also learned that you need to be a great communicator. If you don't know how to articulate yourself and your vision than you will never be satisfied with your projects because whatever team you are working with may not understand what you are trying to do, and that can be frustrating. And lastly, I learned that teams are detrimental to an exquisite work of art. Yes, you can get away with some cool stuff on your own, but bringing together the right group can push a project to its best.
If you had a friend visiting you, what are some of the local spots you'd want to take them around to?
I sadly don't get out much because, If I am not on set I am at home. But a few places that I always tell my friends about is Slutty Vegan! Everyone should try Slutty Vegan at least once and you will be hooked. Another place I would say is American deli because I am from California and I lived in Texas and they don't have that in those states. Their wings are amazing and again everyone should try them! Ponce city market has great restaurants and Also participates in some indie film events. I know this isn't the best representation of how amazing Atlanta is but, I have only lived here for 2 going on 3 years and I am still learning about everything there is to know myself.
The Shoutout series is all about recognizing that our success and where we are in life is at least somewhat thanks to the efforts, support, mentorship, love and encouragement of others. So is there someone that you want to dedicate your shoutout to?
There are so many people who I feel made me who I am today and defiantly played a massive role in my story and my success and where I ended up. 1. Mom- My mom obviously played a role because if it were not for her when I lost everything, my daughter and I would have been homeless. She fought with me to make sure that my daughter and I stayed above water. Without that unconditional support, I can confidently say I would not be here. I appreciate everything she does, everything she has taught me, all of the meltdowns she's helped me through and advice she's given and the lectures and pep talks it all got me here, So thank you Mom! 2. Sheril Rodgers- This woman is like a mother to me; she took me under her wing when no one asked her to. She is one of my number one fans and is my walking advertisement. Everywhere we go, she is selling me and who I am and my company, sometimes to the point where I feel embarrassed! But I appreciate everything she does for me she is always looking out for me and thinking of me even when I'm not around she's still putting in work to get me clients and put money in my pocket or give me the right connections. She's a phenomenal woman, and ill always be thankful for her. 3. Nathan Rigaud – I have to shoutout a new forming and hopefully long term friendship with this incredible human being. When I first moved to Atlanta, he found me on social media, complimented my work, and immediately offered me positions on sets. At the time, I had never met the guy in person, but he would call me and offer me stuff, and on top of that, give me advice on how to demand more money. Not going to lie, he gave me some high confidence when it comes to how I need to sell myself and how I need to price my business. With all of his many years of expertise and union status, he has NEVER made me feel like I was less than him. Even though I will always feel less when standing next to him, he has so much knowledge in the film industry. Point, blank, period, he has put money in my pocket, which has supported me and my daughter he has given advice and called me into gigs that he didn't have to. He believed in me enough to trust me on sets with him, and I will forever be grateful for him. Knowledge is power, and he has shared so much valuable knowledge that has changed me as an up and coming cinematographer. It is tough to find a genuine, kind, human being that isn't praying on your downfall. 4. Daniel Montes my BFF – Daniel has been my BFF since college, and he has been some of the best support a girl can ask for. He helped me through personal things back then, but seven years later, he is still even more supportive than I ever thought. I can call him when I want to vent, and he will listen. When I have writer's block he will help me breakthrough. He always has creative input on basically all of my writing scripts; because he is a fantastic writer, he will treat me to things without ever asking. He held me when I cried, and so much more. He has never judged me for being who I am, and he has never put any conditions on our friendship. He has always awarded me the freedom just to be me and thats enough. I can write this whole shout out just for him. I've never experienced a friendship so powerful and so meaningful he means the world to me, and when you have a strong bond like that, it helps you get through the day! 5. Quick shout out to my little brother AMORE, I don't need to go into detail on why he's a blessing, he already knows how I feel about him! 6. My daughter Aaliyah is obviously someone who got me through; she is my everything and made me such a smarter and better, more fearless woman. She has challenged me for the better, and I don't think anyone would have been able to motivate me more! 7. Lastly, I would advise everyone to look up and listen to Les Brown, the motivational speaker! He changed my life and made me believe in myself. I listened to him every day on the way to work, and it always put me in an " I can do all things" mindset. He is the only reason I took the risk and moved to Atlanta to follow my dreams because he put it inside my head that I have the power to create my reality, and I really do believe that. So I highly recommend him for motivation in the morning!
Website: www.neriahk.com
Instagram: @neriahk_video
Image Credits
Irina Hall, Amore, Kendra Alyse Amalia,