Meet King Cooley: Hip-Hop Artist, Art Director, Public Speaker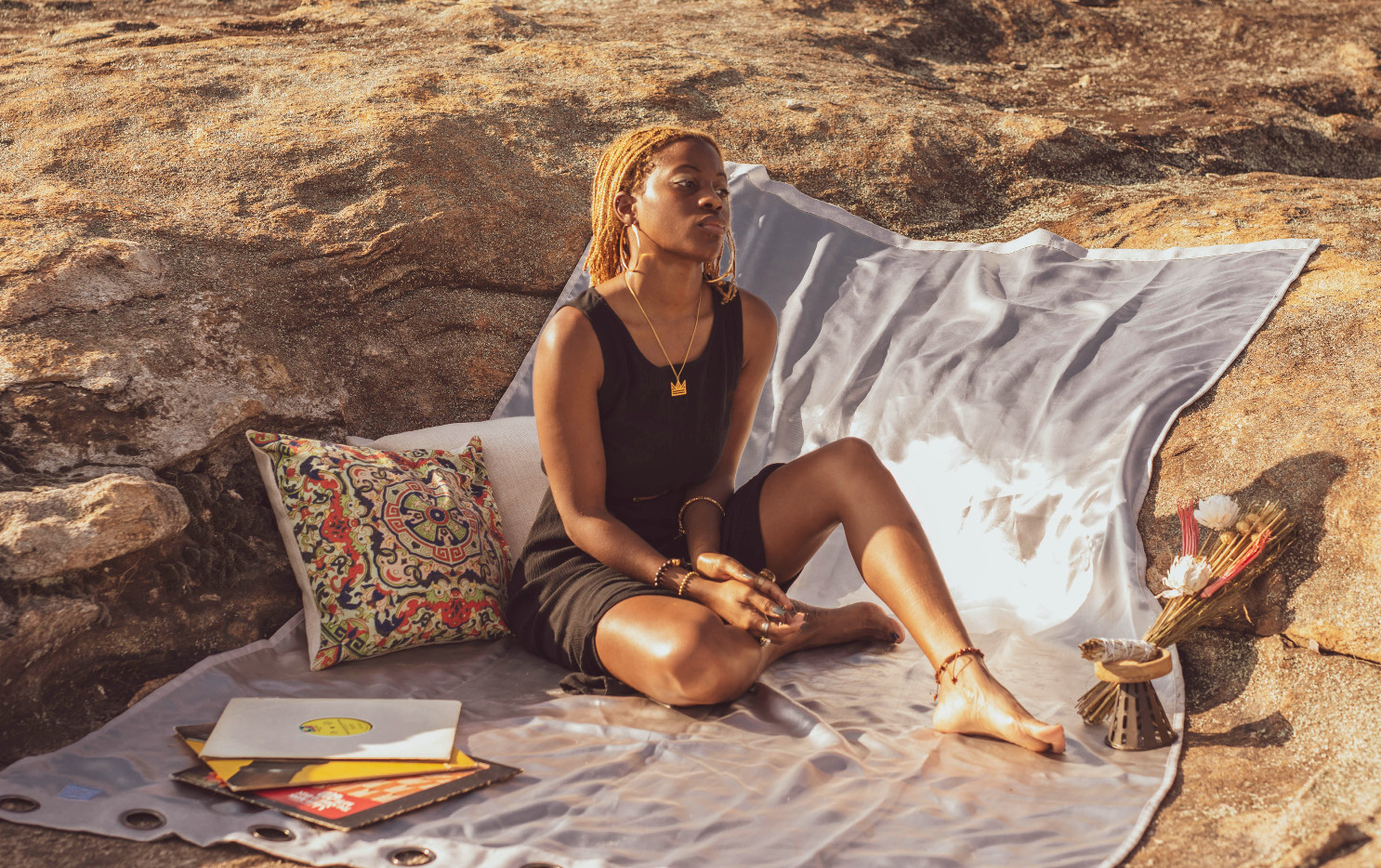 We had the good fortune of connecting with King Cooley and we've shared our conversation below.
Hi Cooley, we'd love to hear about how you approach risk and risk-taking
My pastor said something recently that has really helped turn my year around. She said, "It's not our job to get rid of fear. We'll always feel fear – we're human. But we can't live our lives in fear. Whatever that thing is that's terrifying you, do it scared."
In the past, I had always been very risk-averse. It used to take me days to make big decisions. Growing up, I saw a lot of my peers get caught up in heavy situations. I saw a lot of kids make life-changing mistakes. And I think seeing that made me very cautious, very calculated, and overanalytical. For that reason, in my adult years, I've had to learn to really trust God and the "gut" feelings He gives me. Sometimes that means me just praying and moving on autopilot. I'm learning now that I can trust the instincts I get and that also, some mistakes are worth the lesson.
On the subject, more recently, I took a huge risk to start searching for my biological family. I'm not ready to fully dive into all the details but, I was adopted when I was around age 2, and during the summer, I decided to just take the leap and reach out to the adoption agency to start the search. Well in November, I ended up finding them! I found my biological father, all my older siblings, aunts, and both of my grandmothers. It took me 20 years to work up the courage to start looking. There were a lot of great reasons to not go through with it. I thought, "What if they couldn't be found? What if they didn't want me in their lives? What if we didn't get along?" But after hearing that phrase, "Do it scared", I was really empowered to just move and set my expectations high. And honestly, the results have been better than I could have ever imagined. My siblings are some of the funniest, sweetest, most welcoming people I could have been blessed with. I finally have an older sister and she melts my heart. My brothers are ambitious and they make me laugh until my face hurts. And now, after finding them and getting to know them – getting to see how brave and courageously they live their lives – I'm realizing how much of that has always been in me. How much courage and curiosity I've had access to internally. I definitely regret not stepping out there to find them sooner. So, to anyone reading; do it scared. You'll discover so much more about yourself on the other side of fear.     
Alright, so let's move onto what keeps you busy professionally?
Sure! Right now, I am in full creative rehabilitation mode. Like most people, a lot of my plans got upended last year. But for me, quarantine was a really good opportunity to reassess my 'Why' and to slow down and focus on my creative process rather than the product.
Currently, I'm working on my next music project which is an album-book. It's called "The People of Color Project". It is a 13-chapter book that includes a 13-song soundtrack. I've been working on this since the Spring of 2019 and it has me the most excited. It is a sci-fi story about white people moving to Mars in a completely re-imagined United States. For the album, I've been producing all the tracks for it, which is very exciting and new. For years, I've been keeping little beats and notes for songs that I'd hope to make on my phone. To finally have the time and equipment to work on that feels really liberating. I feel like I'm in complete Kanye mode (…but only in a good way).
Overall, right now I'm just focused on making ownable IP and really taking my time to rehabilitate those parts of my creative process that got lost pre-2020 in our culture of immediacy. In fact, I'm reading a book now with my writer's group called, The Artist's Way and it talks a lot about nurturing our inner-creative child: taking them on dates, being kind to their ideas. It's been really cool. I'm just taking my time with myself like I would with any other relationship.
The last few months have really been about re-introducing myself to me. I'm doing it for my own personal growth and also because I don't want to be an artist that takes their responsibilities lightly. We're really seeing how much is at risk for Marginalized people in this country right now. And I think as artists of color, we've been given these gifts transmuting societal pain, and energizing the youth, and empowering the under-resourced, and bringing beauty to an ugly world. To give hope. The structure of this country doesn't make that easy. And I'm realizing that by nurturing myself and taking the time to nurture my inner-creative child, I can share my best middle finger to that Establishment. So I'm busy making myself better. I feel dedicated to using the gifts that have freed, challenged, and empowered me to free, challenge, and empower other people. I am committed to fully showing up as a Creative. I'm honored to have the opportunity to create for people. To even live in an age where people so willingly allow artists to decorate their walls, soundtrack their relationships, be apart of their lives – yeah, I don't take that opportunity lightly.
If you had a friend visiting you, what are some of the local spots you'd want to take them around to?
If my friend were in Atlanta for the first time, there are a few places we'd have to visit. The first would be getting brunch at Cultivate. I talk about this place very often but can rarely sit down in there because it's gotten so packed (thanks TripAdvisor). They have the best french toast I've ever had in my life. The staff is super sweet and the owner is an amazing guy. After that, I would recommend we grab skateboards and cruise around Little Five. Although the main area has gotten very yuppie, it still has some perfect little pockets of weird if you know where to go. We'd also have to stop at Little Five Pizza because they have the best pizza in Atlanta. Everyone will say it's Fellini's, Savage, or Goodfellas (which, they did use to have the best pizza but they got too comfortable) but Little Five Pizza is no-nonsense affordable pizza. Don't debate with me.
Some other good places to eat are Samad's (for the best gyros of our lives), Nuevo Laredo (for the best authentic Mexican of our lives), Malaya's (for the best Chinese/Thai/Malaysian), Upbeat (for the best vegan bowls), and Zunzi's (for the best sandwiches). But aside from all that, nothing beats Grilled Cheese Papi plates. And if you know, you know. (Follow him on IG.) Also, I'm sure most of you are thinking, "This is Atlanta and you haven't even mentioned soul food". Well, the fact is nobody makes better soul food than my momma so… unless y'all can find someone who can make better fried chicken than her, we'll be on the Southside with her.
Anyway, at some point during the visit, we'd have to check out the MODA downtown. Most people will rave about the High Museum, and they are awesome, but I am boycotting them right now because during their Infinity Mirrors exhibit last winter, they had families waiting out in the cold at 6:30 AM on Saturday morning and didn't tell us tickets were sold out in the first hours of opening until we'd waited hours in line. Can you tell I'm still pissed? Anyway, the MODA is just as interesting and just as informative, interactive, and intimate as the High. There's also the Museum of Natural History and Botanical Garden which are my other favorite places in the city. Atlanta also has some awesome spots for photoshoots if you know where to look. 54 columns is one of my favorites. The Bamboo Forest, The Majestic Theater, and the SCAD Parking Deck for a view of the city.
For something fun, I would suggest Cam Kirk studios (they always have something exciting, communal, and youth-centered happening for the culture at their space. I love their team). Then there's my girl Yani who, in a pre-Covid world, would be hosting a spoken word night or jam session at her crib. And if none of that was happening, we'd head to the Painted Duck – my favorite place in Atlanta – to drink, play weird games, and eat the best turkey legs we've ever had. It's basically a Dave & Busters turned hipster speakeasy. Then, the next morning, we'd head north with our hangovers to Jeju Spa and detox. That's on holistic period.   
Shoutout is all about shouting out others who you feel deserve additional recognition and exposure. Who would you like to shoutout?
On the topic of fear and risk-taking, I have to shoutout my partner/manager, Mark. Some people know his personal story. Most don't. But Mark is someone who has been a consistent inspiration, mentor, motivator, and friend to me. I mean, talk about a risk-taker. Mark is hands-down the most courageous person I know. He does not take 'no' for an answer. I've never met a person so loyal. And he's invested a lot of support and resources into my career. For instance, last summer I took six months off from working to tour the east coast and he was right there with me, taking off from getting his degree and work to be there and support. Most of my home studio is equipment that he's bought just to make sure I had the highest quality resources to create. And on top of that, he's my manager – always looking out. He gave me my first internship which is the reason I fell in love with design. Writing this makes me smile because he is so sweet and generous and I feel grateful to even know him. Mark deserves a lot of recognition in my career story – possibly most recognition. Everyone needs a Mark. And I owe him lots of love, hugs, and gas money.
Website: www.seecooleyplay.com
Instagram: https://www.instagram.com/kingcooleyofficial/
Linkedin: https://www.linkedin.com/in/katrinajlenzly/
Twitter: https://twitter.com/KingCooleyXIII
Facebook: https://www.facebook.com/kingcooleyxiii
Youtube: https://www.youtube.com/channel/UCFrow_GCSDUi8In7_jWOUvw
Other: https://open.spotify.com/artist/56dtkwoWMTKQQoOV4H0X7F?autoplay=true&v=A
Image Credits
Mark Redman, Morgan Kitchen, Keenan Hadley
Nominate Someone:
 ShoutoutAtlana is built on recommendations and shoutouts from the community; it's how we uncover hidden gems, so if you or someone you know deserves recognition please let us know 
here.