Meet Julia (Ms.BBB) Agnew: Educator, Writer, Photographer, Media Personal, Dancer, & Content Creator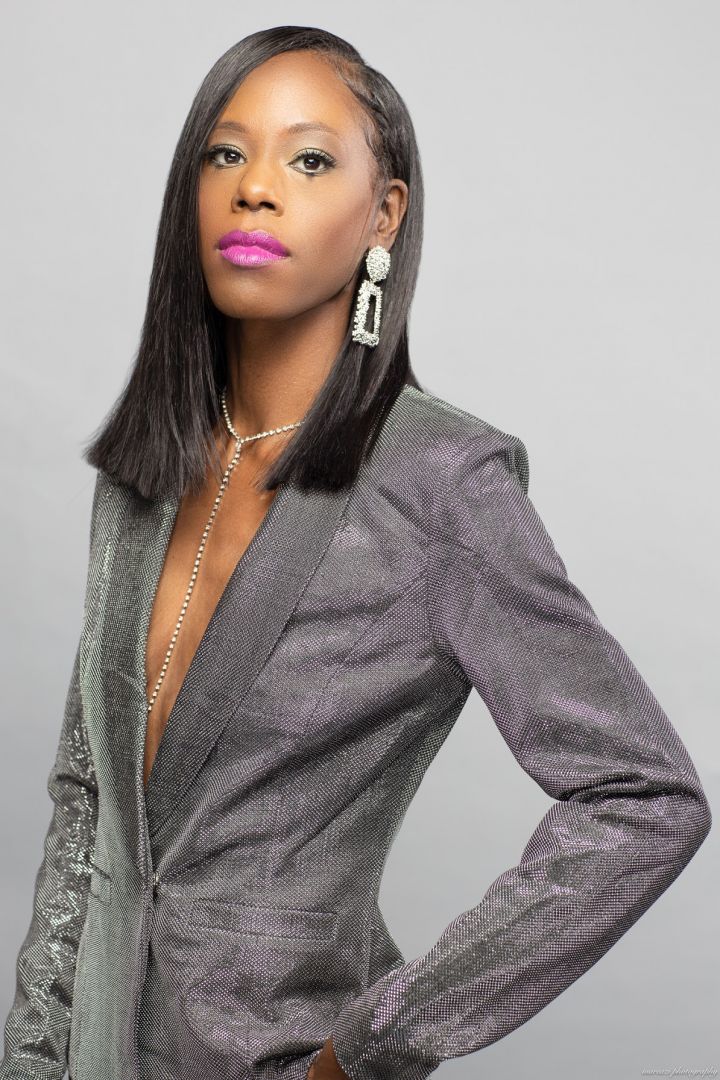 We had the good fortune of connecting with Julia (Ms.BBB) Agnew and we've shared our conversation below.
Hi Julia (Ms.BBB), what are you inspired by?
I am inspired by PURPOSE and understanding your WHY! I'm inspired by the drive for success from Black Men and Women, fighting to make a change within themselves and a difference in the world.
Alright, so let's move onto what keeps you busy professionally?
I'm a creative that strives to utilize all the gifts God gave me. I'm a creative person who encourages others to put their true self first, step out on faith, and utilize your talents to the best of your ability. I'm a creative that encourages self love first, then encourages the love for others. There was a moment in time, where I fell victim to losing the belief of who I am. It took awhile to even recognize that I was falling into a dark place. I fell short to doing for myself and loving myself, because I was so focused on the wants and needs of others. No matter the relationship, I was building up their dreams while tearing myself down and I became lost. No longer knew who I was as a person or what I had to offer to the world. I lacked the understanding of MY PURPOSE.
As I started to overcome that dark moment, the more I recognized the answers to everything I was searching for was in front of my face. I lost myself, because I no longer knew how to be creative with life and I didn't know how to look at life anymore to bring out the creativity in me. I was sure, I wasn't the only one who felt like this. Especially as a young black woman who longed for more. More out of her career and relationships with others. I knew the change had to come from within me.
Late 2019, when I found myself losing someone I thought would always support my dreams…I had to force myself to see, I needed to change. From my daily routine, evaluating situations, maintaining healthy relationships, diving into entrepreneurship, everything. I also knew that just how I felt alone in that dark time, I couldn't move forward on my next journey alone. So, that late 2019 I started bringing all the creative ideas I ever wanted to do together. From dancing, writing, photography, teaching, performing arts, entertainment, I wanted to create something big for myself that would keep me fulfilled.
I created Black, BOLD, & Beautiful that kicked off the ground top of the year 2020. Nothing about building a platform advocating truth and understanding purpose, by implementing self care strategies through digital and media productions was/is easy. I kept changing ideas because I wanted to produce something perfect. Something memorable! Then I had to put in perspective that perfection was one of my problems. What I create in Black, BOLD, & Beautiful most definitely will be memorable, I just have to stay creative. Within a short year Black, BOLD, and Beautiful has grown so much and I have been able to tell my story in pieces.
Those who interact with me on this new journey, have helped me learn more about myself and my talents. I believe it was my feature in this magazine around this time last year that really put the battery in my back. I used the past year to build Black, BOLD, & Beautiful to gather resources, network, and invest in a team to help me tell my story and theirs. From all the ideas that flow out of the BBB platform, I'm proud to bring motivation to the purposeful creative.
I enjoy engaging with a community of butterflies, assuring that we stand together. I love highlighting other creatives, experts, influences, public figures, celebrities…showing the love of working together through my podcast shows. I'm honored to boost the confidence and capture memories of children, families, and showcasing the identity of brands and businesses for other entrepreneurs with my photography. Black, BOLD, & Beautiful has turned into a safe space and I'm ready to take things to the next level.
Let's say your best friend was visiting the area and you wanted to show them the best time ever. Where would you take them? Give us a little itinerary – say it was a week long trip, where would you eat, drink, visit, hang out, etc.
In this moment of my life, this question comes at a perfect time. I've been reflecting on the understanding of, "Not everyone can be on the journey with you". Looking at my circle and the places I'm trying to go, this is a good question. Both of my best friends mean everything to me. Serving two different purposes. If my best friends were to come into town (Which I'm actually waiting for them to really experience a day with me), I would want them to see me in my new element.
To really see the changes I made within me. No matter what the grind for me does not stop, I'm hungry for a different type of success. So whoever comes to town, you can quote I'm not going to stop working. So I would need my best friends to understand that a week with me is not like it would've been in our 20s.
For my sanity, I'm a planner. However, I understand everyone is not and in respecting boundaries I would consider all of our interests. Both of my best friends have held me down at my lowest and support me on my new transition. However, both of my best friends live in different states, so they haven't really haven't had an up close, "A Day with Julia" the new Julia….Ms.BBB. Again we will not confuse my wish for them to spend a day or week with me, with their support.
Let's say they are coming into town from Thursday to Thursday. Everything I do must align with my purpose. Thursdays are my "ME" days, I usually take time to myself and catch up with loved ones. So, a perfect day for us to ease into a great week together. Thursdays are my "ME" days due to my podcast shows being earlier in the week, and photo sessions mostly on the weekends. Thursday I would plan a day of self care. Why???? it aligns with who I am and if I'm taking a day from work, I still need to think about myself first. I would start the day with brunch.
None of us get out to eat that much, so brunch is a great way to catch up. My favorite spot to brunch in Philadelphia is "Green Eggs Cafe." Then I would suggest we have a spa day. We stay talking about it, a week together would be the perfect time to make it happen. Not sure of the Spas offered in Philadelphia because "Massage Envy & Hands and Stones," so I would suggest that me and my girls slide to New York. New York is a quick 2 hour drive getaway from Philadelphia, and I hear "Sojo Spa House" is the spot. Ending that Thursday, I say we hit up Sugar Factory in the big apple before sliding back to the city of brotherly love. Fridays I normally have photoshoots, so I honestly would want my best friends to see how I work. Show them the studio I've been using and the different areas I like to shoot around. Knowing me, I'm going to get them in front of my lens. I've been itching to take beauty portraits of them both and family portraits. My best friends are Beautiful Black Queens. I offer it to them all the time, just waiting for their move.
So yea, if they were spending a week with me, I would make that happen on Friday. Treat them to a face beat, hook them up with some clothes from my stylist, and flick it up. Now I'm not going to be too bored. I'll chill off work on Saturday, and leave the ball in their court. Utilize the day to do the things they want. Maybe take a time tour of the city. I love chilling at the Art Museum, Penn Landing Harbor Park, Kelly Drive, and Belmont Plateau. Just post up and chill. That night, step out of the town. Again, I can't make this a getaway week like I could've in my 20s…so maybe hitting up a nice restaurant and then a lounge would do.
I've been wanting to try "Steak 48" on Broad Street. I think they would enjoy that. Sunday I'm back in my bag and though being with my friends and stepping away from work is needed, the real reason I want my friends around for the week, is so they can see me in action. Sunday I would like to introduce them to my team; my photographer, stylist, engineer, videographer. See that my team is my family, just like them. Monday gives them the opportunity to watch me record my podcast, then hit the mall for a little shopping. Tuesday I would plan a wine tasting tour.
There are a few spot in Jersey I want to try and after visiting "Chads Ford Winery" for my one best friends birthday, I like to experience more. I have a show on Wednesdays called Wine Wednesdays Live, so that would be the perfect day date with my besties, perfect time to get content for my show. Wednesdays are my busiest days preparing for the show later that night. After a week with me and putting up with my shenanigans, I would want to end our time, inviting them to join me on stage to chat, sip and get loose at the lips. Discuss our adventures to end our week on a high note. That's what time right now with me…Ms.BBB would be like. Plus you said, if they came to visit my area. Only so much to do in Philadelphia, that we haven't already done. Now if you would've said a vacation out of the country or something, oh yea they mad at me because I'm planning all that!

The Shoutout series is all about recognizing that our success and where we are in life is at least somewhat thanks to the efforts, support, mentorship, love and encouragement of others. So is there someone that you want to dedicate your shoutout to?
"A Queen passes the crown to a princess, who then becomes Queen once she's about to understand hot to stand in her BOLDNESS & BEAUTY"
My mother shared that above quote with me recently as I've been reflecting on my growth and the transitions I'm making in life. In this time of reflection, I think a lot about the hurt I may have caused her with my words, actions, and emotions. Yet despite it all she has always stood by me and continues to support everything that I do. She gave me so much joy as a child and I brought her too much pain then she should've bared as an adult. Through everything she has always seen my BOLDNESS & Beauty. She truly believes in me. My growth would be nothing without my Queen. My story would be unwritten. My mother gets my first shout out. I'm thankful for the guidance, the love, the prayers, holding true to God's words. Mother, I give credit to you.
I would also like to shout out my father, sister, and past partner. Without being cliche, I believe it's very true that broken relationships help shape who we become. It's human to believe we should accept a persons' ways or be comfortable with how we're treated. Wanting more out of the relationship, then what anyone is willing to give. I shout the three of you, because as much as I wanted more out of each individual relationship, each of you taught me the same lesson on this journey. "Do not expect what someone is not willing to give…Allow others to give what they ONLY can give." A hard lesson for me to learn, because I love you so dearly…and I know you love me too, but not as much as I want to build a strong relationship with each of you. However, I shout you out because I've learned some valuable lessons that I have grounded in me along my journey. So I can break the generational curse of ALL broken relationships. I shout you out, because despite ANYTHING I will always LOVE you for being a part of my story.
To those who stood by me at my lowest and picked me back up., I shout you out and thank you tremendously. You not only encourage and motivate me daily, but you allow me to express my creativity. Who best then to bounce ideas off, hear me complain from time to time, and be the battery in my back. No one other than you. To my Godmother, grandmother, best friends, my circle of value…you are my voice of reason. Thank you for being the battery in my back, just as valuable as the shoutouts above. You are loved!
TO MY TEAM. I advocate for the understanding of maintaining healthy relationships professionally and personally. It's important that as I'm placing myself in different situations, I weigh the pros and cons of everything. That's the power in collaborating with like minded people. Each of you are important to my journey. You see me in a different light, then I have ever been capable of seeing myself. You take my vision and execute it to the next level. Believe none of this is possible without you. I shout you out, because I want you to understand how grateful I am for everything you're teaching me. Learn to teach, what you learn is my 2021 success mantra. I shout you out team for holding me accountable.
Thank you to everyone who believes in me, as Ms.BBB
You are Black, BOLD, and Beautiful!
Shoutout
Gwendolyn Agnew (Mother), Walter Agnew (Father), Essence (Sister), Kevin (Vino) Whitehead, Conchita Gaffney, Shaneece Hymon, Jazzmine Winkfield Rhames, Hampton University Family & Support, Dj Damage & Legendary Media Group, Black Girls In Media, Sir Anthony Spease (OnAirWithSir), Quadry Grace (Dj Gudvybz), Steve Willis (Mareazi Fashion Photography, Bel Shots, Sadé Elm, and so many more.
Website: www.blackBoldandbeautiful.com
Instagram: @_ms.bbb_ @_iambbb_ @_bbb.photography_
Facebook: @IamBlackBOLDBeautiful
Youtube: Ms.BBB Productions
Image Credits:
Host: Ms.BBB (Julia Agnew) Co-Host: Dj Gudvybz (Quadry Grice) Photography Steven Willis: Mareazi Fashion Photography Styling Sade Elm: Ineviv Boutique
Nominate Someone:
 ShoutoutAtlanta is built on recommendations and shoutouts from the community; it's how we uncover hidden gems, so if you or someone you know deserves recognition please let us know 
here.