Meet Juleah Edwards | Mixed Media Artist & Art Instructor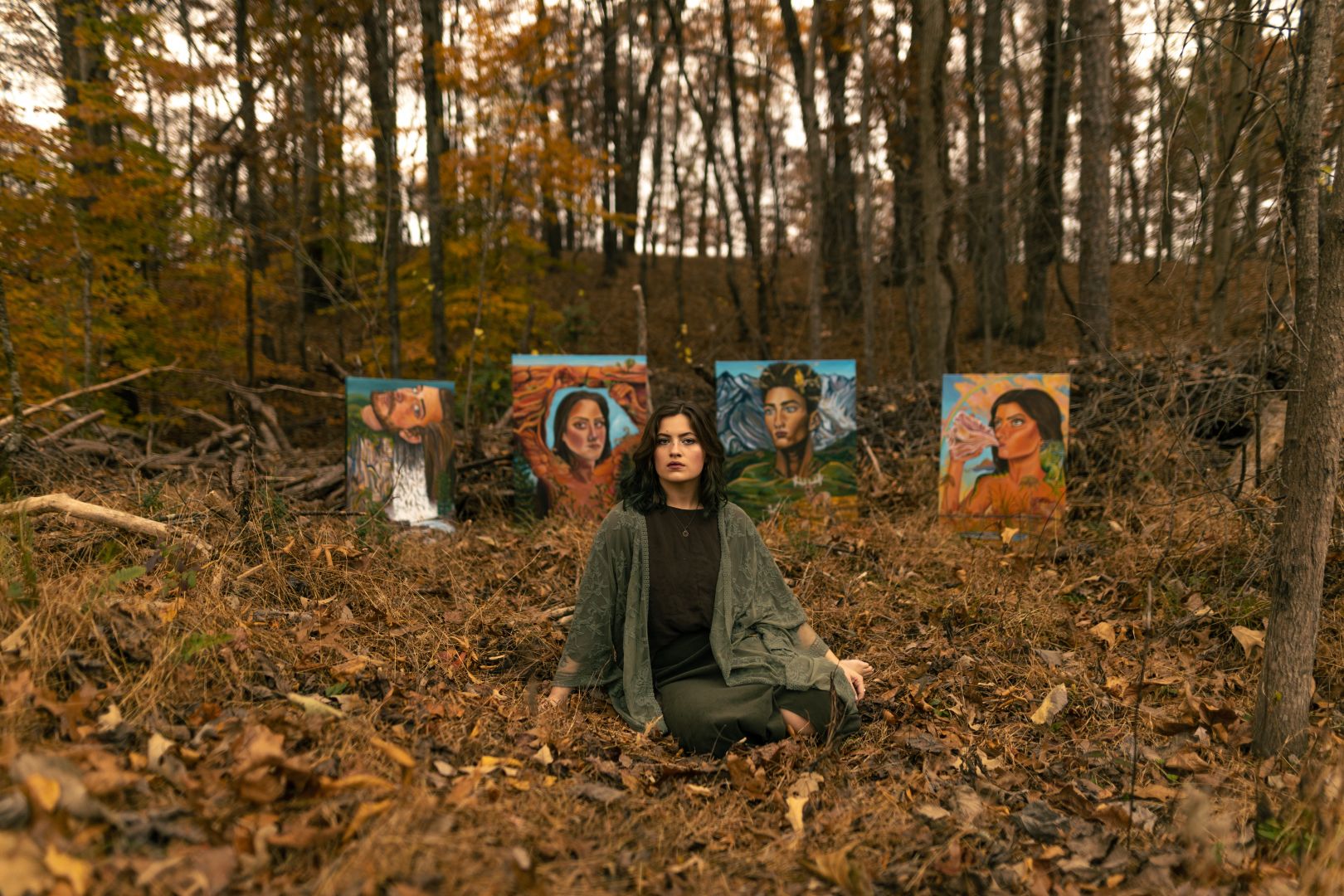 We had the good fortune of connecting with Juleah Edwards and we've shared our conversation below.
Hi Juleah, let's start by talking about what inspires you?
As an artist, inspiration symbiotically drives your work and ultimately, your purpose as a creator. My daily life is inspired by the hope that my creative practice will grow into something bigger than myself, something that provides me freedom and expansion through the connection of my work to others. As a kid I used to say, "There are worlds living in my head." I still feel this way, my imagination has always surged from an overflowing place inside me; I don't struggle with artist's block. If anything, I feel like I won't have enough time in this lifetime to carry out all the ideas I have. These notions of imagination guide me to pursue themes of youth, fantasy, mystique, and humanity through my painting and photography practices. I'm heavily inspired by the surrealism movement and the idea that anything can be possible in art. I'm constantly experimenting and exploring these themes through intimate and usually unconventional representations of people and nature by depicting the figure fused with landscape in a dreamworld presentation. I'm inspired by provoking new thought patterns through my art.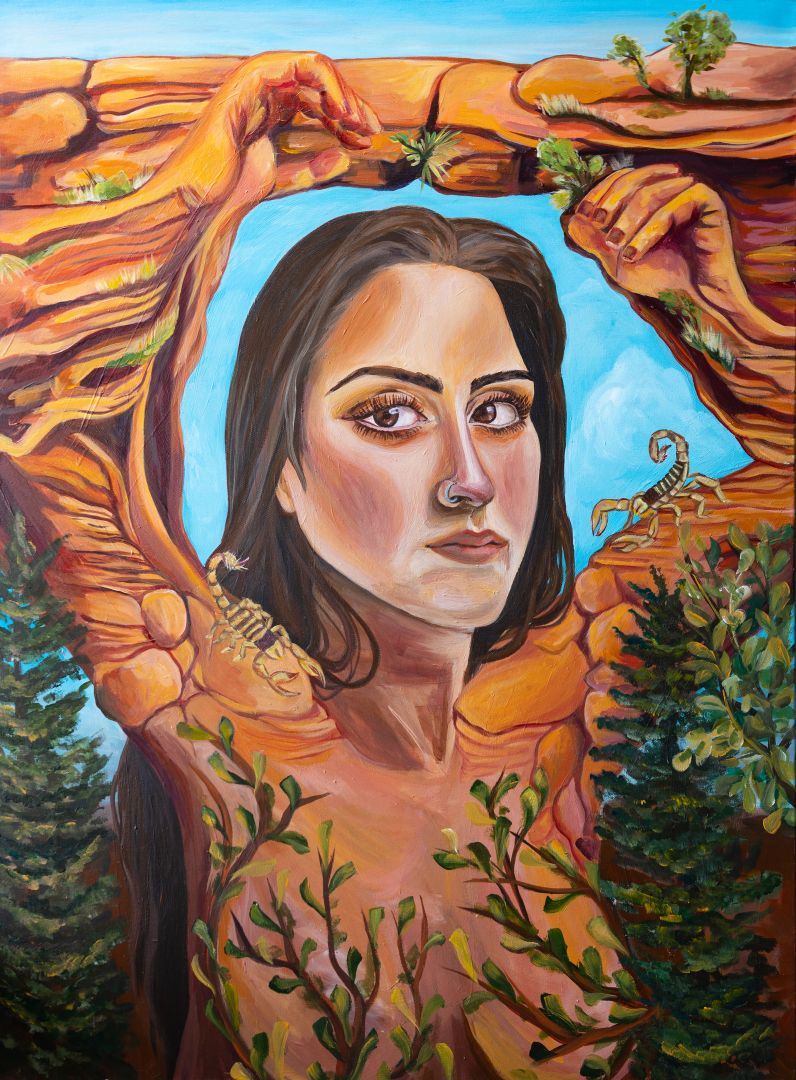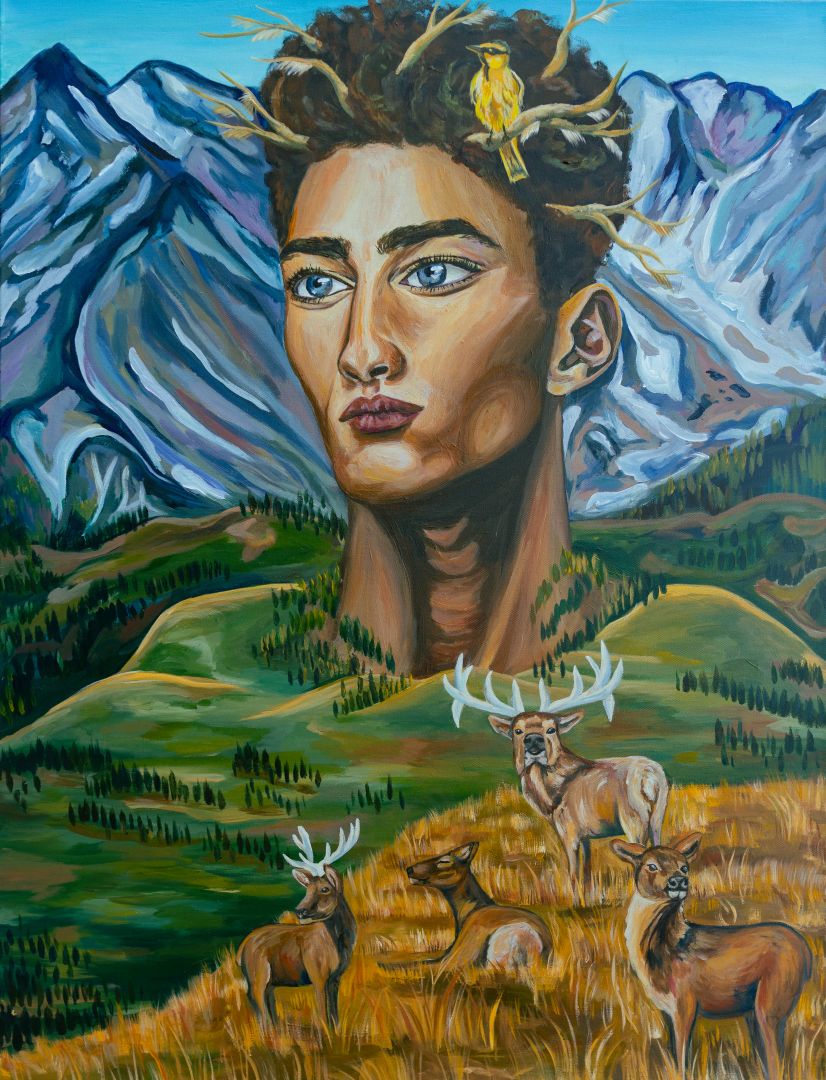 Let's talk shop? Tell us more about your career, what can you share with our community?
What sets me apart from others is my unique life experiences that drives the content of my art. Growing up with a single mom has cultivated a sense of resourcefulness in me and has led me to pursue a nontraditional lifestyle where I constantly seek out wonder, mystique, fantasy, and the weird. The idea of the surreal and the fantastical forged a form of escapism for me whenever I went through hardships as a child and is now a big driving force in my art as an adult. For instance, before I even started taking art seriously, I was barely 18 when I first road tripped across the United States, and it changed everything for me. I started exploring the United States more regularly during my summer breaks throughout college via long form camping trips in my no-business-doing-so Volkswagen Beetle. Although I love Atlanta and have enjoyed living here my whole life… exploring new architecture, vast landscapes I had never seen before, and learning about micro-cultures in the U.S in such a raw way has provided me valuable subject matter to explore throughout my art practice. The major theme I explore in my painting practice is human's connection to nature through surrealism. Through vivid colors, bold subjects, and personal narratives, I am using my work as a vessel to reveal that there are always fantastical moments in reality to be explored.
When creating, I tend to stray away from depicting reality as is and often pursue surrealism in my paintings by adding unique elements such as fusing the figure with landscape to show an emotional connection. My photography on the other hand explores memories, youth, and social or mental conflicts. I typically approach both photography and painting with a heavy narrative influence through symbolism and carefully placed motifs that convey both fact and fiction. Both art forms require a lot of research, experimentation, and intuition.
In this current chapter of my life, I am most proud of recently graduating from the University of North Georgia with an Art Marketing degree in December of 2021. During my last semester at UNG, I was able to host my first solo exhibition in November of my most recent body of work, Roads We Belong To, which was an absolute dream come true! I also recently got the news that I am a semi-finalist for a Fulbright Scholarship in Indonesia. If I get accepted to the next round, then I will move to Indonesia in June of 2022, where I plan to teach English and art for the next year or so.
I always say I got to where I am today professionally on accident. I always loved art, but as a kid I didn't think I had that 'it' factor that would set me a part as an artist meaning I didn't think I had what it takes. I didn't start to believe in myself until 2016 when I stumbled on a paint and sip teaching job. I was a senior in high school saving for my car (the Volkswagen Beetle I now travel in) and applied to be a receptionist, turns out they really needed an instructor, so the manager asked to see my portfolio and… I got the job. I worked there for six years, and that job opened the idea that maybe it was possible for me to make it in the art world. I also realized that the 'it' factor is up to my own discretion, I can decide what makes me unique as an artist, and that I really have a knack and love for teaching art.
This tiny step in the art world created a domino effect in my life. I went to college undecided of what I was going to do and on the cut-off date to pick a major, I decided to chose an art path because that was all I could see myself doing. It wasn't my intention when I first started attending college but after years of core classes and electives, nothing else clicked like I expected it to. I figured I could either work hard to make my dreams come true or work hard doing something I didn't like – either way I'll have to work hard, so I figured I might as well do it my own way.
With that, pursing an unconventional career is hard work and where I am today professionally definitely still feels like a work in process. I would say, no this has not been an easy path but that's not the point, it's the path I feel most like myself in. I feel like I flirt with the line of success and failure depending on the month, week, or day. It's constantly fluctuating and it's hard to reflect on my path like it's in the past and I've reached my peak success point, because I haven't and where I am professionally still feels like a work in progress. I'm not at the successful, financially sound ending yet but I'm enjoying the journey to get there. I hope it is refreshing to hear from a newer artist that hasn't 'made it' yet because I think a lot of us can relate to this point I'm in- the 'emerging artist' point where I'm pursuing lots of different paths to see what sticks and potentially kick-starts my career. It shouldn't discourage us because everyone in any field must overcome the tougher points in their early career to get to the good parts.
I've learned so many lessons as a working, emerging artist. My favorite lesson is that you can't choose to be the best, the most talented, or most recognized artist. All you can choose is to not give up, I really think that's what sets artists apart, you need that fire and plucky attitude which also means you need to genuinely care about what you're making. The biggest down fall of being an artist is the inevitable rejection that we all face at some point. Luckily, the only control we do have over the rejection is the stubborn tenacity that we all have to keep creating and keep trying. Deciding to keep creating and not give up is a discipline and not a skill, meaning anyone can do it. The artist that never gives up is the artist that makes it.
The artists you know and look up to are just farther along in their art career than you, it's not that they're better or luckier or work harder than you, they are just deeper in their career and 10 years from now you will be, too. When all else fails, lean into your work…that way when a big opportunity comes along you have work to show for it and you'll be ready. Don't be an artist that never makes art because you're too busy trying to be successful, remember that making the art is the whole point.
What I want the world to know about myself and my artist story is that everything I make has a narrative associated, a story that is translated from my version of truth, vulnerability, and imagination and that is what I offer to the art world. I decided that I don't need to be the most technically skilled in the arts to be an artist, just a story to tell and materials to tell it.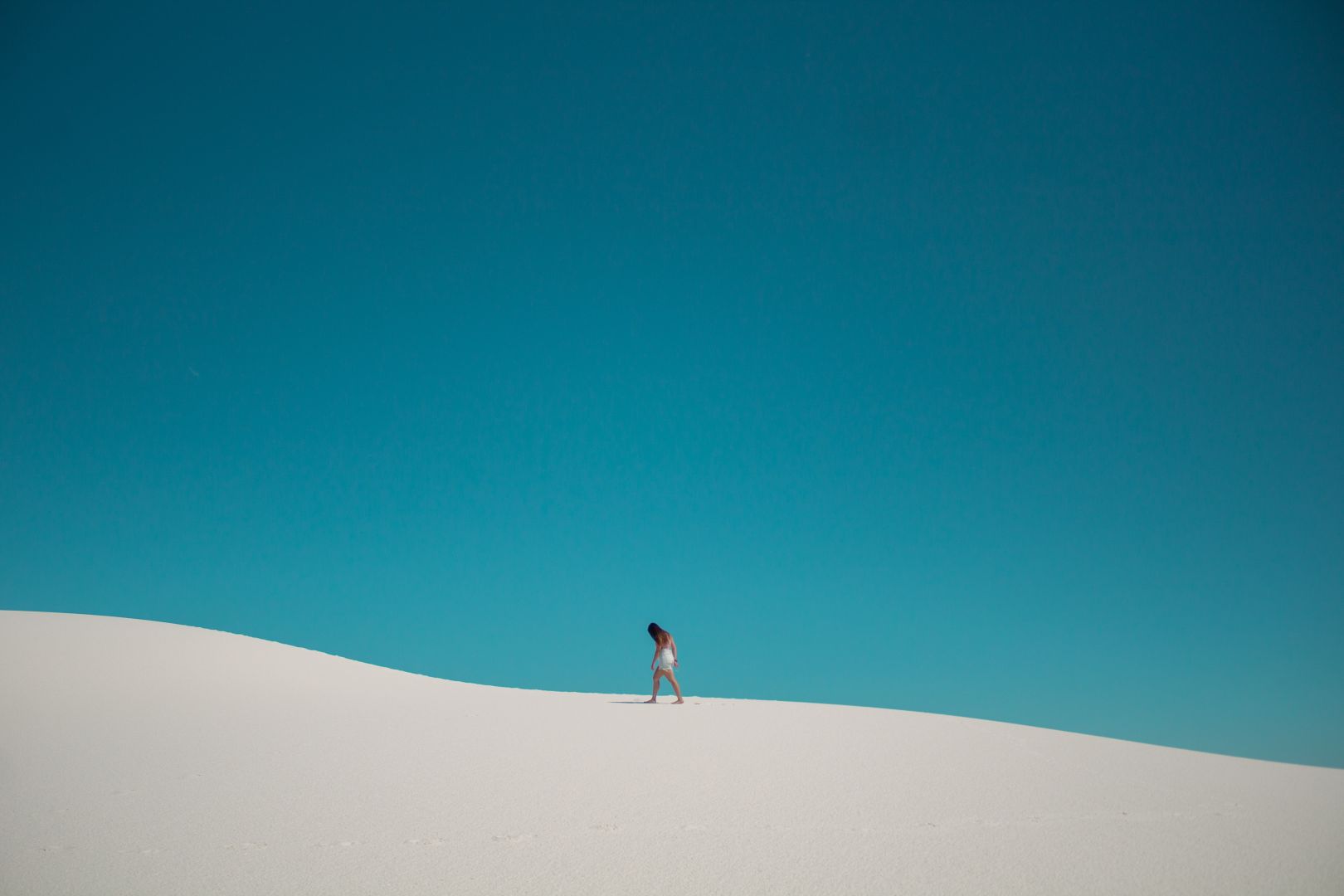 Let's say your best friend was visiting the area and you wanted to show them the best time ever. Where would you take them? Give us a little itinerary – say it was a week long trip, where would you eat, drink, visit, hang out, etc.
Luckily for my best friend visiting the area, I've grown up just outside the perimeter of Atlanta my whole life with lots of friends living inside the perimeter (I hope to be there soon!), so I've spent a lot of time in and around Atlanta. We will hangout around the outside of Atlanta at some of the nature spots and slowly work our way in since we have a week and all. First, assuming it's early spring or summer, I would spend the first few days taking my best friend to the great nature spots around Lake Lanier and the Chattahoochee River. Spending a day at Settles Bridge Park on the Hooch is the perfect atmosphere for swimming, rainbow trout fishing, and enjoying a few beers from one of my favorite breweries, Good Word. On that same note, we would spend a day or two paddle boarding, picnicking, and hiking at Bowman Island Trail and Laurel Ridge Trail along Buford Dam Park, not to mention that Buford Dam has the best views of both the lake and the river at sunset. As for hanging out in the city, the possibilities for fun are endless.
Now heading into Atlanta, we would have to see a concert at The Eastern one night and afterwards head over to Edgewood for drinks at Sister Louisa's Church and finally, end the night at Octopus Bar when they reopen at 10pm for amazing food and a speakeasy feel. Hotel Clermont's rooftop is always a good place to end the night for drinks and great views of the city. As for breakfast in the mornings, we have Muchacho for brunch and Brash for coffee.
A place where I always meet some of the coolest people in Atlanta is The Overlook climbing gym in West End and it's right near the gastropub, Boxcar at Hop city and the Atlanta BeltLine where you can ride your bike and admire all the incredible hand painted murals (I'd love to do one there one day!). Another day spent well would be setting up hammocks or blankets at Freedom Park during the day to relax and then grabbing drinks at one of my favorite cocktail bars, Little Spirit.
Lastly, if we still have time, we'd have to see the touristy but classic spots like Jackson Bridge to see the skyline at night, walking through Krog Street Tunnel and viewing the graffiti, riding the SkyView Ferris wheel to look at an aerial view of the city, watching a movie at the Starlight Drive-In Theatre, and of course, spending the day admiring fine art at the High Museum. And if all else fails, we can go to The Painted Duck for underground drinks and unlimited, unique games.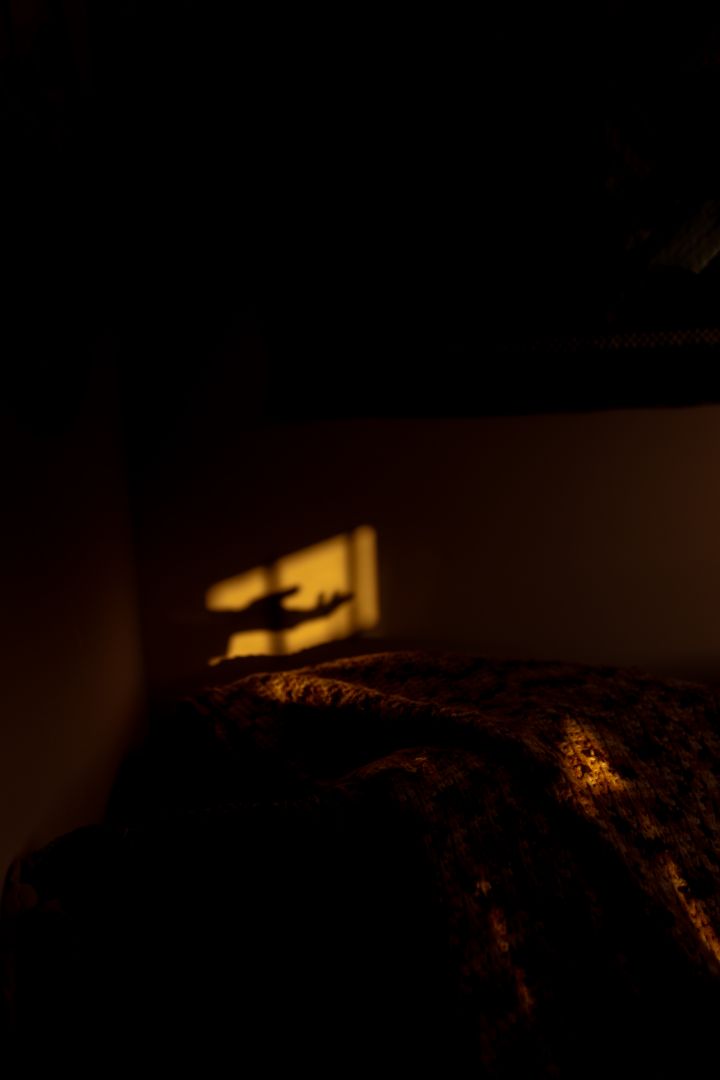 Who else deserves some credit and recognition?
I'm so grateful for all the people that have mentored and supported me along the way, and it will be impossible to include them all but here are a few. Margaret Legato, a close family friend who helped raise me, taught me how to paint, and who passed before she saw me become the artist I am today; she was the first person to light a fire in my spirit about art making. Chris Dant, my photography professor, who pushed me to challenge myself as an image maker and storyteller. He always understood my vision and helped by any means necessary whether that was loaning me useful books or staying after class to talk a project through. Erin McIntosh, my painting professor who has been a mentor and inspiration to me over the years. In my first ever art class, she told me it takes about 10 years to build an art career. It gave me hope that building a life as an artist is possible and just takes time. I remember being 19 and thinking "29? I can swing that." That day I decided to continue with my Art Marketing degree instead of dropping my classes and switching majors like I considered. My partner Clayton Fifer, who has been a constant support and muse to me over the past 8 years of this journey. I owe the pursuit of my professional artistic journey to Masterpiece Mixers, where at 17 I started my first art related job teaching paint classes to hundreds of people over the past six years. Lastly, I'm so grateful for the encouragements, efforts, and mentorship from my mom, sister, college peers and professors, close friends, family, and even if they were not mentioned, I cherish all who have believed in me and nurtured my dreams over the years.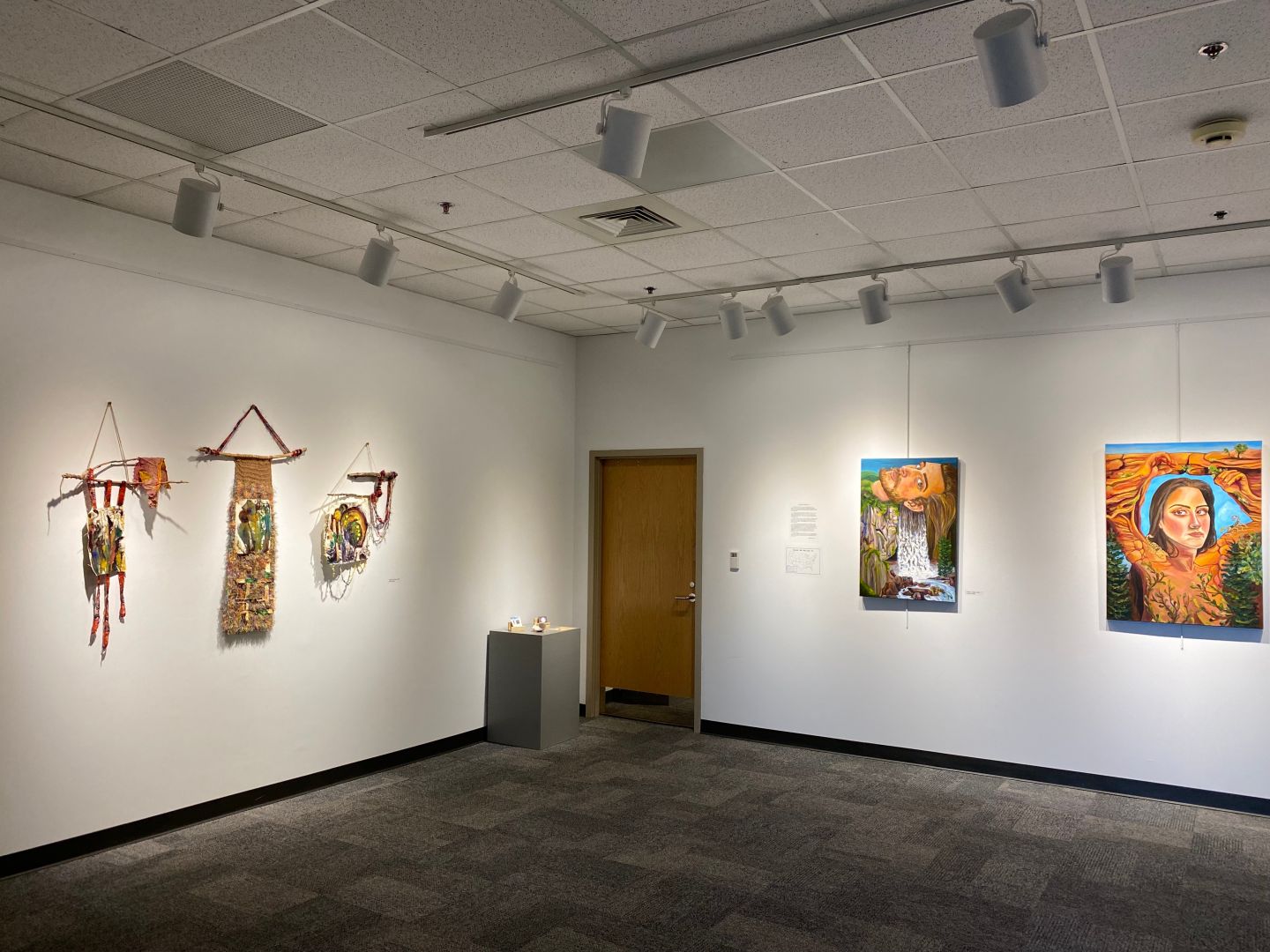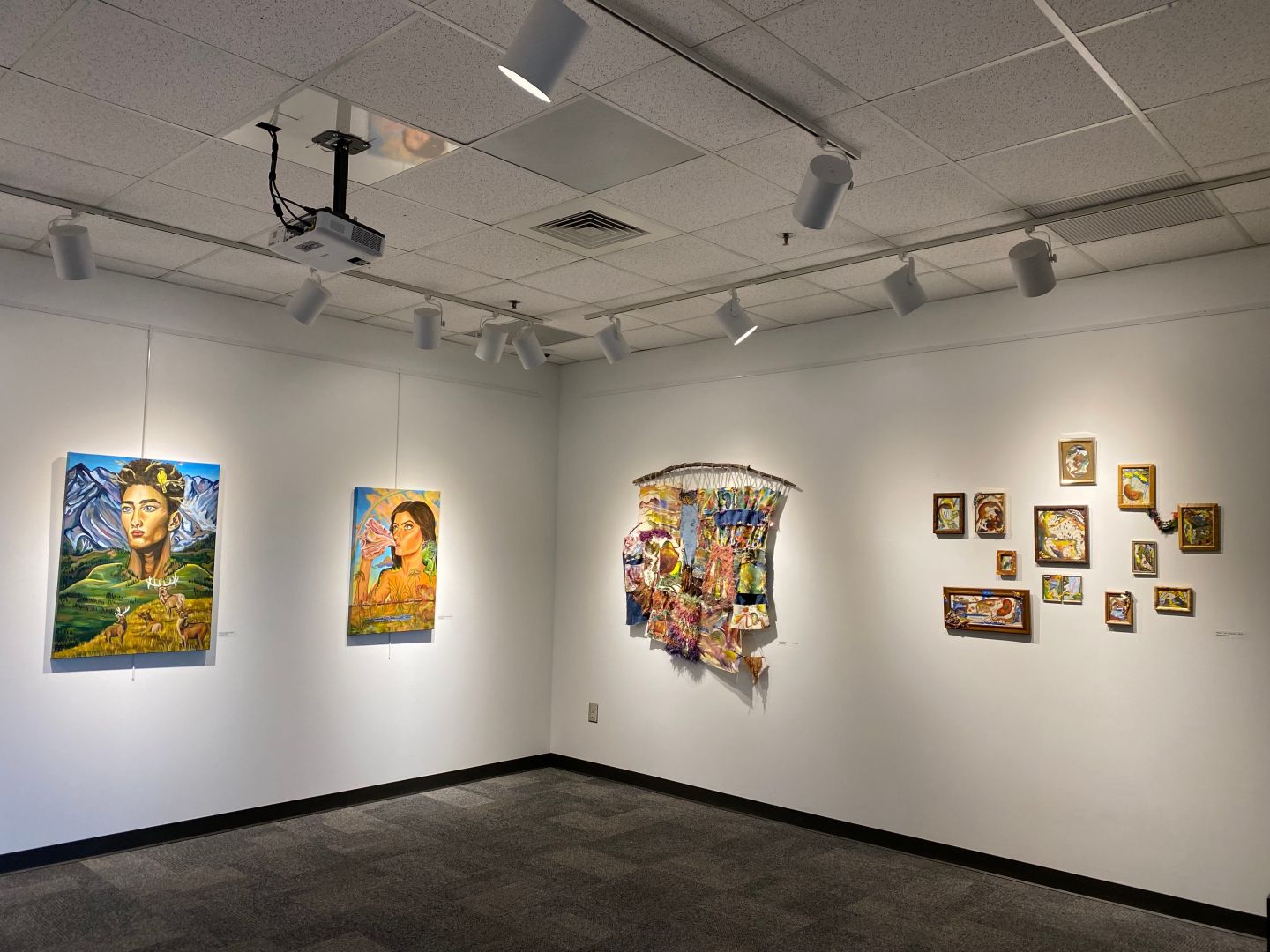 Website: https://www.welcometomymind.net/
Instagram: https://www.instagram.com/juleahxart/?hl=en
Linkedin: https://www.linkedin.com/in/juleah/
Youtube: https://www.youtube.com/channel/UCo-DI83-_1eXl1J4Ju-XWWA
Image Credits
Clay Fifer
Nominate Someone:
 ShoutoutAtlanta is built on recommendations and shoutouts from the community; it's how we uncover hidden gems, so if you or someone you know deserves recognition please let us know 
here.