Meet Geinene Carson: Visual Artist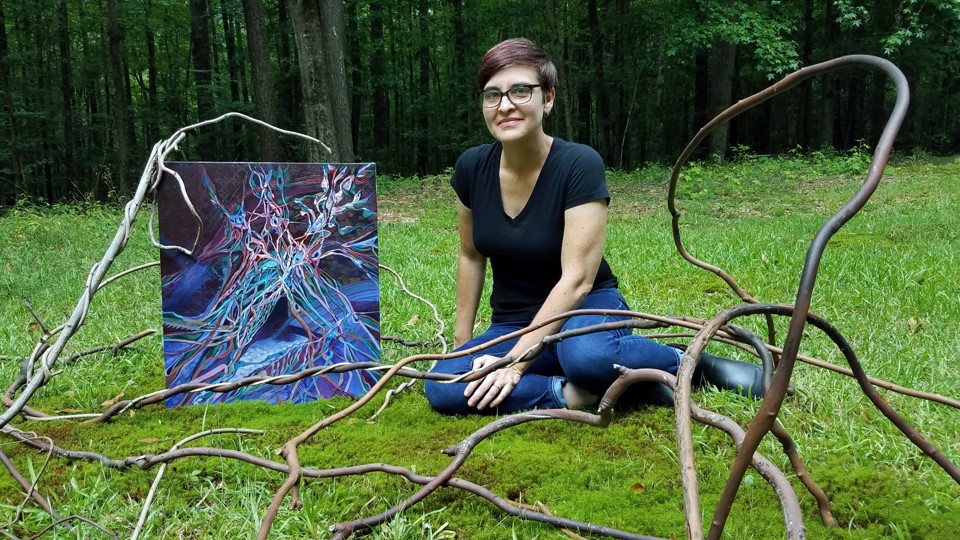 We had the good fortune of connecting with Geinene Carson and we've shared our conversation below.
Hi Geinene, Let's talk about principles and values – what matters to you most?
As a practicing artist, I have come to believe that no opportunity is too small or insignificant to be considered. One open door can lead unexpectedly to another with the next potential success hinging on just one solid contact or relationship.
When my art was on exhibit at a small local library several years ago, I did not consider it a significant opportunity; rather, just a way to keep my work somewhat visible and out of my cluttered studio. The library's space for exhibiting was one wall in a side room which remained locked except for small community events and a weekly children's story time. I told myself, and others, that it was really no big deal of a venue. However, this small library exhibit led to front page coverage in the neighborhood newspaper, which led to unexpected local recognition, website hits and new venue leads.
Rather than wait for the perfect high-profile venue, I have learned the value and prospect of seriously considering the small-scale opportunities that come my way. If not, my work could very well sit in a closet for years, with no exposure or interest whatsoever. What value is gained through that? Artwork is meant to be seen and experienced, whether by one, dozens or hundreds. It appreciates in value when people engage with it. It depreciates in value when I hide it away, selfishly waiting for the crowds or highbrow venues I may think more fitting of my creative expression. By being open and sincerely grateful for any audience granted, I experience growth in artistic experience and an increase in creative momentum. The encounters I'm having in everyday locations provide more authentic connections with the individuals seeing my art at their local café, church, library, favorite restaurant, etc.  As a benefit, my work is becoming commonly seen and known in places where life just naturally happens, gaining a more authentic patron base, one valuable person at a time, and generating growth in reputation by its steady presence in the community. As a result, the need to hit the pavement with portfolio under arm in search of opportunities has been less demanding than expected. It takes one person interested in my artwork enough to generously assist in opening another door for my work to engage a new circle of people. How very humbling, pleasantly relational and so much more fulfilling.
What do you want the world to know about you or your art?
I want people to know that I consider my art as creative advocacy and have realized that creating for a purpose bigger than myself seems to bring me and my art to life at a whole new level. I am thriving more now, as an artist and person, having identified the ambition of my work being to encourage and inspire others to express, own and reclaim our thought life. Art helps me to keep my cycle of thoughts in check, and we all seem to need more of that now than ever amidst the present social circumstances and demands. I strive to contribute images of hope and humanity to proactively counter the common default of anxiety and despair.
Any great local spots you'd like to shoutout?
I enjoy a good mix of urban and natural settings. If someone were to visit me, they would receive an introduction to places downtown as well as green spaces outside the city limits.
One could expect a picnic lunch in Grant Park, a leisurely jaunt around historic Oakland Cemetery, a coffee stop at Carroll Street café and art walk including a mural tour through Cabbagetown and art installations along the Beltline. We would take our appetites east of the city for an amazing dinner at the charming French restaurant, Café Alsace, and devour its signature rich lavender ice cream for dessert. Just before sunset, we'd venture over to the Fernbank Science Center Planetarium and Observatory to learn about the night's sky before stargazing from the rooftop.
A day outside the city would start with a hike up Arabia Mountain which, on a clear day, offers a distant view of Stone Mountain. After that, a bike ride along the Arabia Mountain Path, several miles of paved trail winding through beautiful countryside and ending at the Monastery of the Holy Spirit to enjoy the grounds, sanctuary and unique Bonsai tree garden before fueling up on coffee and a treat from the monk's bakery.
Another outing would certainly have to include a visit to Ebenezer Baptist Church where we would sit at length and listen to some of the most famous sermons MLK Jr gave in that very location. We'd talk about the inspiration  further while devouring some killer smoked brisket and fried pickles for dinner at the Fox Bros Bar-B-Q restaurant.
Who else deserves some credit and recognition?
Some of the best advice I received from an art professor in undergrad was to marry someone who would support my ambition of being a practicing artist. I took that suggestion to heart, and I did. My dear servant of a spouse has helped me set up multiple studio spaces over the years, develop business and marketing plans, solve my continuous tech issues, fulfill my photography needs and build handmade frames for every painting that leaves my easel. This whole art career is not just about me pursuing my vocation of choice, but it is about a way of creatively living life which involves those living alongside me. If I had tried to keep my art making only for myself all these years, I'm pretty sure that my art pursuit would have had a less personal and duller existence. Because my family has been on board with me making art and added to my inspiration, it has become more of a family pursuit and accomplishment, and less of a personal gain only. My husband and children know I need to create art to be a better version of myself, so they help me get the studio time I need. Their authentic encouragement makes me bold enough to keep pursuing being an artist, each and every day.
Website: geinene.com
Instagram: @geinene