Meet Christin Neal: Embroidery Artist and Stand Up Comic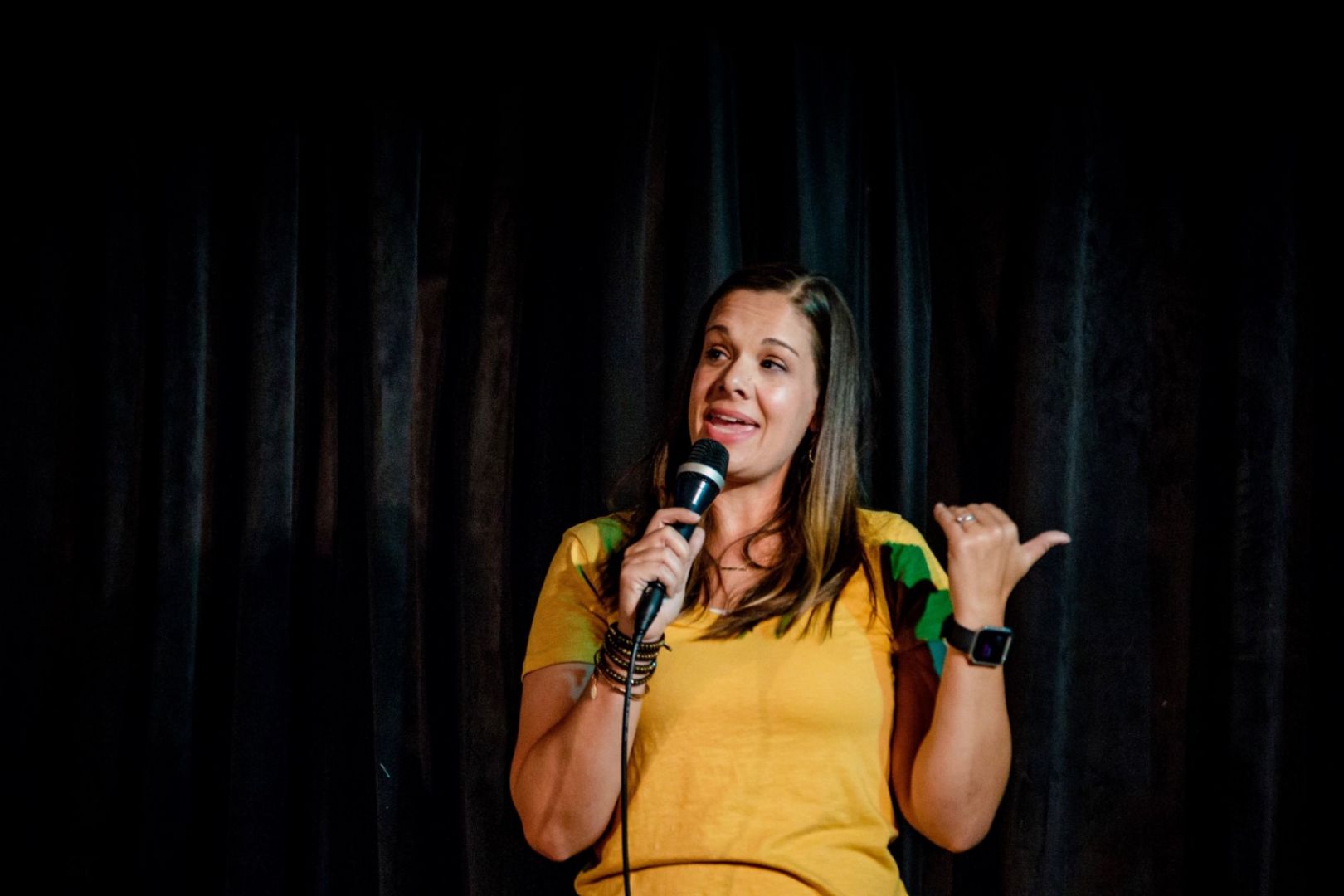 We had the good fortune of connecting with Christin Neal and we've shared our conversation below.
Hi Christin, is there a quote or affirmation that's meaningful to you?
I love pop culture. I love television shows, movies, books and podcasts. Most of my embroidery is somehow inspired by pop culture. There are so many great quotes from all of these resources that I have stitched, but one that always comes back to me is from the television show Mad Men. The main anti-hero of the show, Don Draper, has hit rock bottom and been rehired by his company on their terms. He must do work he deems below him and is close to sabotaging himself. He is hungover and pouting when his friend Freddy gives him the advice he needs. Freddy ends the talk with a stern, "Do the work Don." I always think of this when I am feeling sorry for myself about not having enough orders or Instagram followers or even if I am not meeting my exercise goals. Nothing can happen or change unless you put in the work. It is usually as simple as that, especially when it comes to personal goals. It is easy to look around and see others who you think are doing better than you and forget to look closer and analyze all the work they are doing to get where they are. I think that is one thing I like about embroidery, it is literally one stitch at a time. You can't see the hundreds of stitches I did on a piece, you just see the end result and could forget the only way it was made was by taking one tiny stitch at a time. I also have a horror movie podcast called "Sometimes Dead is Better" that I edit myself. It can take up to four hours to edit one episode, but the end result is worth it. "Do the work Don" and you will see the end result you want.
Can you open up a bit about your work and career? We're big fans and we'd love for our community to learn more about your work.
It took me a long time to allow myself to be considered an artist. Even though I had always been drawn to making art, my low self esteem never allowed me to think I was good enough to be called one. It took growing a tougher skin and allowing myself to fail to get stronger. I dabbled in painting, drawing, mixed media and photography until I found what I really loved, embroidery. I loved that an old fashioned task that women were expected to do had a new purpose of giving women a voice through their needle. I use my needle to mostly make pieces about the pop culture I love. Movies, tv, songs, podcasts and books inspire me, but I am also inspired by the women who use it to make socially aware art. The confidence I got from making art also helped me attempt stand up comedy. Stand up comedy is one of the most vulnerable and scary art forms there is. You have to trust yourself to put your words out and most of the time they fail. Then you have to assess what happened and try again. Comics pore over recordings of their sets and write and rewrite their jokes. You have no idea how much work goes into a stand up set until you try to write one yourself. With most all art forms it is just trial and error. If you quit, you will never know how far you can go.
If you had a friend visiting you, what are some of the local spots you'd want to take them around to?
This is all recommendations for pre pandemic, though a lot of restaurants and breweries are available for take out. I have really grown to love Atlanta over the last couple years doing comedy in the city so much. It became easy to live out in the suburbs and go downtown once in a while for the aquarium or the Coke Factory. Going into the city 3 or 4 nights a week really made me realize how much there is to explore in Atlanta. There are so many great restaurants that are nationally ranked and hole in the walls that you just stumble upon. I would have to get donuts at Revolution Donuts, a beer at Orpheus and pizza at Antico. Even though I am not vegan I can't resist The Slutty Vegan. There are the coolest bars on Edgewood like Church and Joystick. Wussy Mag puts on the most fun movie screenings at Plaza Theater. Being a stand up comic, I would definitely tell people to check out the local comedy scene. Comedy shows are everywhere, from breweries to people's backyards. I love history, so when people ask where to go in Atlanta my first answer is always the Martin Luther King Jr. National Historic Park. Most cities have a zoo and an aquarium, there is nowhere else where you can see Martin Luther King Jr.'s home, church and burial site. It is very moving and the free museum at the park is wonderful. I also love the Oakland Cemetery. In it lays slaves, slave owners, confederate soldiers, the first black mayor of Atlanta, it is such a peaceful place, but it also really makes you think and reflect on the early south. Around Halloween they do their Capturing the Spirit of Halloween where actors play some of the prominent people who are buried in the historic cemetery.
Shoutout is all about shouting out others who you feel deserve additional recognition and exposure. Who would you like to shoutout?
With the events of the last few weeks it is so clear that more Black artists and activists need to be elevated. I am committed to the Black Lives Matter movement and want to be a better ally. I want to shout out to an amazing Black embroidery artist that inspires me and uses their talent to make powerful work. On Instagram, @crewel_therapy is making some very powerful stitches that give you an almost visceral reaction to them. The way she stitches seems like it is reaching out to you to take notice. She also stitches on unconventional materials, everything from a real leaf to a maxi pad. Her art makes you feel uncomfortable and pushes you to do something, like great art can. She has had issues with Instagram censoring her, again, like a lot of great artists. You can support her work on venmo @crewel_therapy.
Website: https://www.etsy.com/shop/StitchinChristin?ref=search_shop_redirect
Instagram: @stitchinchristin
Facebook: https://www.facebook.com/stitchinchristin/
Image Credits
Lola Scott Alyx Libby Ashton Garner