Meet Bianca M. Forde | Former Federal Prosecutor | Global Ethics & Compliance Executive | Author | Advocate | Activist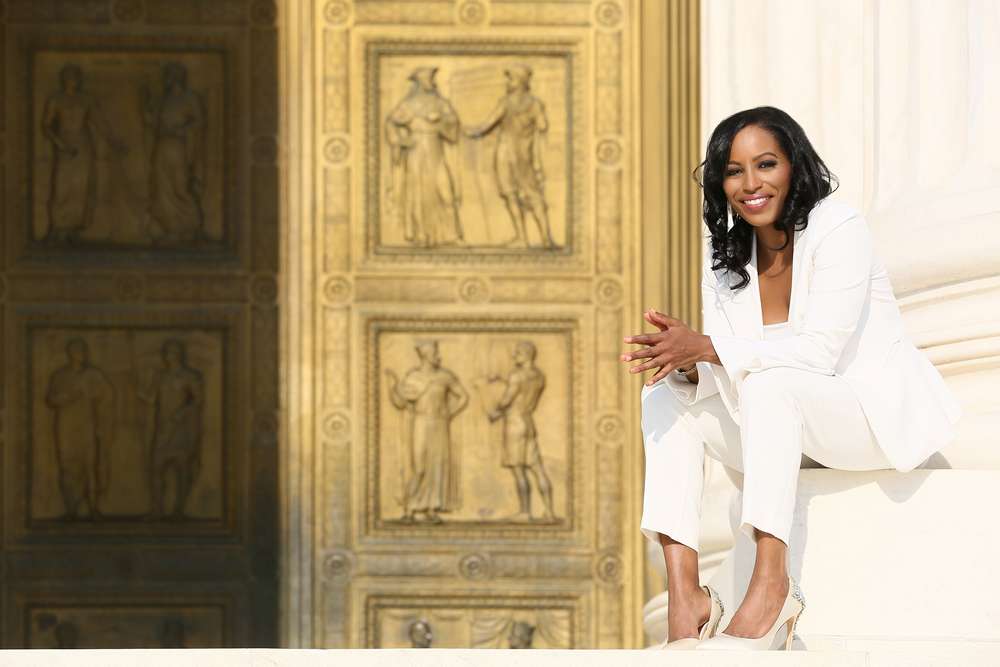 We had the good fortune of connecting with Bianca M. Forde and we've shared our conversation below.
Hi Bianca M., what role has risk played in your life or career?
The three biggest moments of my career have been defined by risk. In 2010, as a junior associate, my corporate law employer asked that I leave New York City and move to Dubai, UAE—7000 miles away—to serve a client. I said yes. In 2015, I received an offer to join the ranks of federal prosecution—an offer that required me to enter yet another unfamiliar space, and to leave the perks of my law firm practice behind. I said yes. In 2021, the Universe gifted me with a vision—not just any vision; one that could transform criminal justice, but not without highlighting one of the most painful periods of my life. Again, I said yes. In each instance, I challenged myself to take the risk; to choose the unknown over the familiar, and to abandon playing it safe. I did so, despite my fear, anxiety, and trepidation, because playing it safe has never appealed to me. "Safe" has never cured disease, birthed innovation, nor disrupted the status quo; and playing it safe does not create a legacy. These risks have collectively led me to where I am today. Absent my UAE experience as corporate counsel, I may not have been a contender for my current role—where I lead the global investigations function of a Fortune 500 corporation. But for choosing federal prosecution over the "big law" trajectory I knew, I would not have gained the insights necessary to birth my first book, "Prosecuted Prosecutor: A Memoir & Blueprint for Prosecutor-led Criminal Justice Reform" ("Prosecuted Prosecutor"). And without the courage to share Prosecuted Prosecutor with the world, I would never have been afforded this platform to connect with all of you. Through these and other experiences, I have come to view risk as a pathway to the extraordinary, and the key to living a life of purpose. While the risky option is often not the easy choice in the moment, it is often the most rewarding. And so, the next time you're offered an opportunity to step out of your comfort zone, I encourage you to say yes.


Please tell us more about your career. How did you get to where you are today professionally. Was it easy? If not, how did you overcome the challenges? What are the lessons you've learned along the way. 
At age six, I decided that I would grow up to be a lawyer. That decision wedded me to a very specific "playbook"—a set of steps that I would view as necessary to accomplishing my goal for the next two decades. By age 13, my mother enrolled me in a "Junior Barristers" program at Hofstra University, near our home. I can still recall the butterflies and adrenaline I experienced the first time I opened my mouth to speak before my peers—those same jitters would accompany me into the well of the court room as a federal prosecutor before every opening statement I delivered. Luckily, by the end of my first sentence, the jitters would be gone. After my freshman year of college, the "playbook" recommended that I spend my collegiate summers at a law firm. The internet had not yet hit its stride, so I turned to the Yellow Pages for my summer job search. I called every firm listed until I found one that said yes—an insurance litigation firm in Mineola, Long Island. I would spend my remaining college summers at that firm just as the "playbook" instructed. In law school, I would continue to abide by the "playbook". I would be selected for, and published in, a respected law journal. I would join a national moot court team, win first place at regionals, and earn the recognition of Best Oralist at the national competition. I would graduate with an offer to join a top national law firm. And, after a few years in "big law", my "playbook" suggested that I pursue partnership. I chose to let my authentic purpose guide me instead. One of the greatest lessons I've learned along the way pertains to the power of authenticity. When I entered the world of "big law", I entered a completely unfamiliar space. The majority of my peers and superiors were the children of judges, lawyers, architects, and doctors—all who seemingly and seamlessly acclimated to the "white shoe" world of three-course lunches, weekend golf, and summers in the Hamptons. Meanwhile, I felt conspicuously out of place. My fear of being coined an outsider caused me grave anxiety. It led me to self-isolate and to avoid many firm-sponsored social outings, thereby diminishing my ability to form the connections with senior colleagues that often resulted in the most coveted assignments. That all changed when I came across a book by Carla Harris titled, "Expect to Win: 10 Proven Strategies for Thriving in the Workplace." Harris's first chapter focuses on the importance of authenticity. There, she writes that one of the keys to long-term success in an organization is owning who you are: "Bringing the real you to work allows you to be free. . . . Putting on an act . . . uses up valuable mental capacity that could instead be directed toward making important contributions[.]" Those words hit me like a brick immediately upon reading them. By suppressing my full self, I was self-sabotaging my own success. I knew it was time to shift. Once I made the decision to approach each day, opportunity, and assignment authentically, I became adept at silencing my negative self-talk. With this new power, I could devote my energy to producing, rather than to pretending. And with this new approach, I began to form the right relationships, and the coveted opportunities began to flow my way. Authenticity is not only liberating, it is also powerful. I attribute much of what I have accomplished thus far to my courage to be authentic in every space that I enter. As a federal prosecutor, my choice to be authentic was central to my ability to connect with juries, victims, and witnesses. My authentic voice was critical while authoring my book, "Prosecuted Prosecutor: A Memoir & Blueprint for Prosecutor-led Criminal Justice Reform," through which I hope to leave the criminal justice system better than I found it. My authenticity is crucial to my effectiveness as a Global Ethics and Compliance Leader, where my team influences whether 70,000 employees are equipped to do the right thing when ethical dilemmas arise. Authenticity has given me confidence. My ability to achieve success while being true to myself has affirmed my belief that I was created for a specific purpose and time, and so were you. Our true value lies in those pieces that set us apart—those are the pieces that are far too remarkable and magnificent to be tucked away.


Any places to eat or things to do that you can share with our readers? If they have a friend visiting town, what are some spots they could take them to?
My best friend and I just arrived in ATL. It's Friday evening, it has been a long week, and we are ready to start the weekend. Assume we've been fully vaccinated against COVID-19. First stop, The Consulate Atlanta, which is as much of a feast for the eyes as it is for the belly. We'll start at the bar, catching the tail end of the happy hour scene before heading to our table to indulge in one culinary masterpiece after another. No matter how tired (or full) we are when dinner is over, we'll make our way to Apt. 4B Lounge, because we know that DJ Boogie Lov's spinning will be well worth it. On Saturday, we'll start the day with an Effect Fitness Boot Camp, where we will no doubt earn our brunch calories. Post-sweat, we'll head to Milk and Honey ATL, for their award-winning Shrimp and Grits, and Smothered Fried Lobster Tails & Grits. We'll walk it off at Village Market, where we'll get a taste of what budding Black-owned brands and performers are on the scene. We'll then head to Café Circa for a mix of day party, live music, and rooftop vibes. On Sunday morning, we'll feed our spirit with a little bedside Baptist—unless of course Ebenezer Church is back in session; in which case we'll head over, hoping to bump into our latest history-making U.S. Senator from Georgia. Post service, we'll make our way to Virgil's Gulla Kitchen and Bar, where the Sunday DJ is a whole vibe. On Monday, we'll enjoy Breakfast at Barneys, followed by a full day of pampering at IWI Fresh Farm-to-Skin-Spa. The 60-Minute IWA Spa Package is ideal before fully jumping into any new work week. Tuesday through Thursday will most likely be a mix of work and play. We'll spend our days (and some evenings) at The Gathering Spot, while continuing to explore ATL at night. We'll swing by Auto Spa Bistro, because where else in the world can you order crab cakes and a vehicle detail at the same time! We'll walk through "Paris in Atlanta," recommended by Destination Fab, so that we can snap a photo under Atlanta's faux mini Eiffel Tower. And we'll make sure to see what some of our favorite Atlantans—Andi, Bran, Blayne, Shani, and Chi—are up to. One of our final stops will most certainly be the National Center for Civil and Human Rights (the "Center"). It was there, while admiring a mural that powerfully captured the realities of segregation, that I first considered who I would have been during the Civil Rights Movement of the 50s and 60s. Would I have been a disruptor, or merely a pawn of the status quo? Standing in the Center, under an illuminated sign that read "Colored," I realized that my moment to be a change-agent had not passed, because while the methods of suppression have changed, the struggle most certainly remains. Given the impact the Center has had on my life, it is only fitting that I share this source of inspiration with my dear friend, so that she too can leave ATL ready to take on the world.


Shoutout is all about shouting out others who you feel deserve additional recognition and exposure. Who would you like to shoutout?
I dedicate my shout-out to my mother, who entered this country with nothing except a mindset of expectancy; a mindset that shaped my identity and nurtured my ambition at an early age. Her emphasis on education and independence taught me the value of both principles, and her faith modeled consistency even when faced with uncertain circumstances. I would not be who I am today, or on the path to becoming everything I was created to be, without my mother.
Website: https://www.biancaforde.com/
Linkedin: https://www.linkedin.com/in/biforde/
Image Credits
Tre' Lynn
Nominate Someone: ShoutoutAtlanta is built on recommendations and shoutouts from the community; it's how we uncover hidden gems, so if you or someone you know deserves recognition please let us know here.