Meet Beth Picard: Artist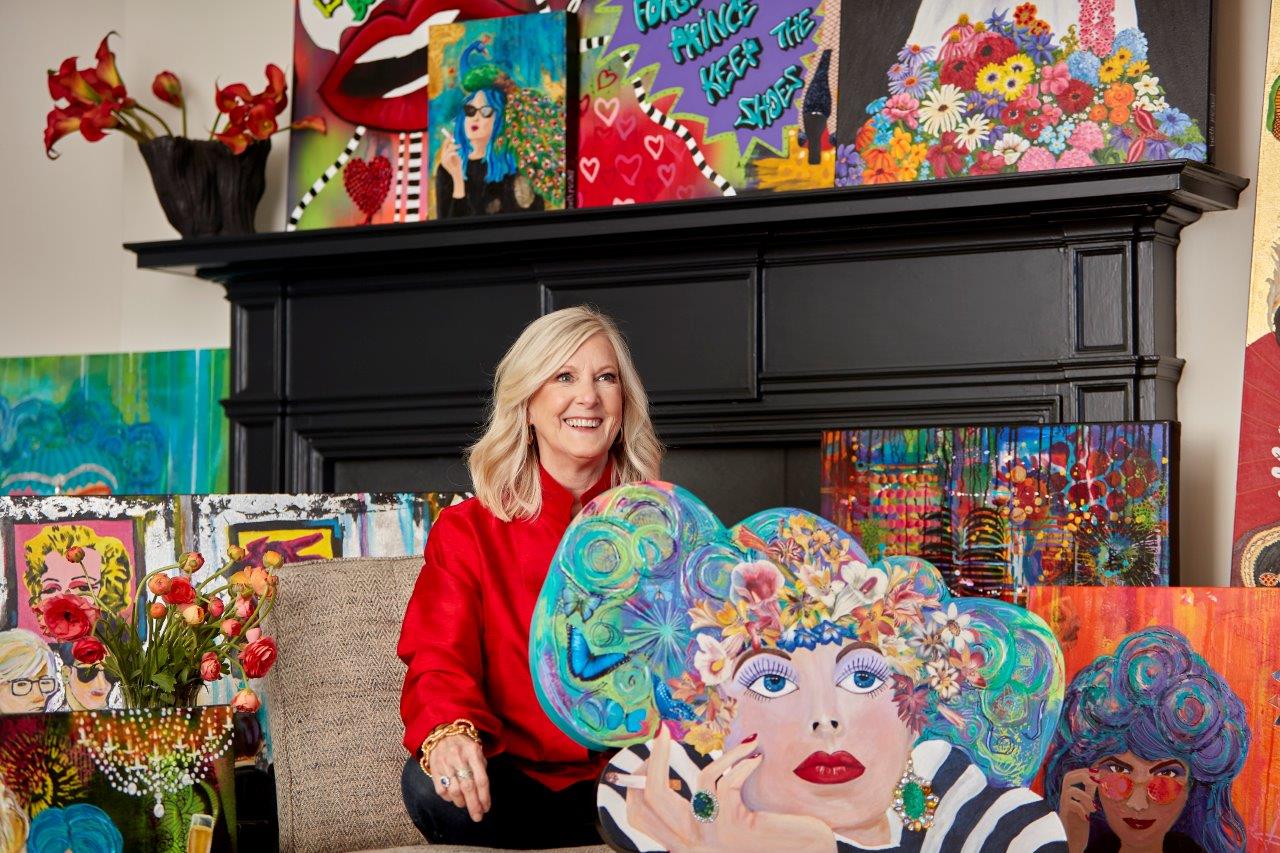 We had the good fortune of connecting with Beth Picard and we've shared our conversation below.
Hi Beth, can you talk to us about the impact the Covid-19 Crisis has had on your business.
The Covid-19 crisis has definitely affected my business. With all the people not being able to work, not having income, they are certainly not spending money on art. My husband sells invitations, primarily wedding invitations and we don't see that business coming back anytime soon, so I understand about not spending money on things that are not necessary. I know people love art, but buying food, paying rent or house payments is much more important. It has also affected me. You would think it would be a great time to create, but since I am always home painting that really didn't change that much for me. What it did change is my emotional state. I am a "happy" painter and not being able to see my grandchildren, my kids, my parents or my sisters and friends has been really hard. I have painted a little and certainly been thinking about things I want to experiment with, but I have not really been in the place I want to be to be knocking out paintings every week. It has given me a lot of time to think about things I really want to try that I never have given much time to.
Alright, so let's move onto what keeps you busy professionally?
I have dabbled in many different mediums through the years, clay, mosaics, photography, ceramics, textiles, and of course every kind of paint. Painting has always been my favorite and what I have been doing exclusively for the past few years. The internet has changed so much for artists. It so much easier to sell paintings than years ago when the only way was to attend shows or be in a gallery, The best part is being able to connect with other artists that you may never have had a chance to meet otherwise. I have some wonderful artist friends all over the country and we all help and encourage each other. I am constantly reinventing myself with my art. I love painting flowers, but put that aside for awhile to paint my "Wild Women" , although flowers are present in a lot of those paintings too. Lately I have been playing with abstracts. It seems everyone loves abstracts and although I have never done them before, people seem to love them, so I am going to continue to explore that. I am also thinking of trying out a mixture of paint and collage. I have hoarded magazines for years and think it might be time to do something with them and I have always loved the idea of collage. I have experimented with it a little, and although people may think it is really easy to do, it's not! So I am going to be working on finding a way to incorporate collage into my paintings, mostly because I think it will be really fun and maybe I can even start getting rid of some magazines at the same time! I don't think most people realize how hard it is to be an artist. It seems a lot of people don't consider it a "real job". I work more hours on my art than most people work in their forty-hour work weeks. I work on the weekends, at night, and more than eight hours a day most of the time. There is so much competition on the internet and social media, so if you choose not to go the gallery route, then you have to spend a lot of time helping people to find you. I wouldn't, I actually couldn't do anything else, even with all the challenges it brings. The joy and happiness of creating something out of your head and then having someone validate it by spending their hard earned money on it is the the ultimate reward.
Who else deserves some credit and recognition?
My family. My parents, have always encouraged me, since I was a young child. My husband, my children and my sisters are always encouraging me with excitement or constructive criticism when I need it. I can show any of them a painting and get an honest response, which has helped me in the past from embarrassing myself, but mostly when I may think something isn't the best, having them tell me they think it is good is really helpful. And of course all the wonderful collectors that buy my art.
Website: https://bethpicard.com
Instagram: https://www.instagram.com/bethcarlpicard/
Facebook: https://www.facebook.com/beth.picard.3
Other: https://www.chairish.com/shop/bethcpicard
Image Credits
Paul Jones