Meet Angelina Darrisaw | Founder and CEO, C-Suite Coach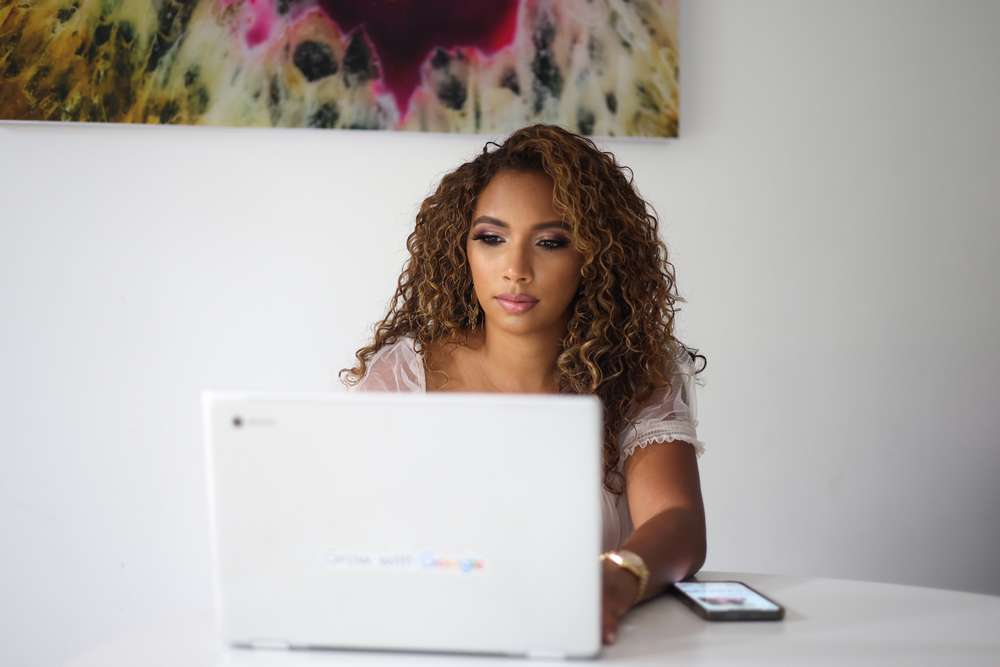 We had the good fortune of connecting with Angelina Darrisaw and we've shared our conversation below.
Hi Angelina, what do you attribute your success to?
I am very grateful for the growth that I've had in the last few years and all we have achieved. I used to joke at my training for small business owners that I would know I made it when I'm paying people's health insurance. It felt like a joke because it felt so out of reach. But last year, during the pandemic, I began paying my employee's health insurance. That was a major accomplishment for me and a reminder that the things we say repeatedly are the things that we truly need to start to manifest. So how we speak to ourselves and about our businesses is critical to any success.
Everything I'm working on, and all I've created is a work in progress. There is a continued commitment to trying to grow and achieve excellence. I look at myself critically, also with love, but critically. When I've fallen short on a goal, or I know I didn't stretch myself enough, I evaluate what I could've done differently and plan to do differently. That ability to constantly reflect & pivot as needed is what keeps us continuing to grow.
When I started my company, the mission was about scaling one-to-one coaching for Black and Latinx professionals. So it was tough for me to move on from the fact that my mission changed and the work was moving me in another direction. But due to reframing and remaining resilient, I was able to pivot and return to our original mission with the launch of our C-Suite Coach Network.


What should our readers know about your business?
I'm often asked why I launched my business. In my early twenties, I had been able to jump from a 40K entry-level sales job to a senior manager role in corporate strategy and business development for one of the top media companies in the world. I was getting promoted every year, achieving salary increases that helped me get out of student loan debt and get great visibility for my work throughout my company. I was making well over 100K, which only 10% of Black households can achieve, according to the United States Census Bureau. (I want to come back to this stat later). I finally moved from the neighborhood I grew up in (which required over an hour and a half commute to work) to a place in the big city (only about 20 minutes away). My credit score was above 800… My quality of life was improving substantially, and by all accounts, it looked like I was doing really well. But I was miserable.
Why? Well, it was the mental gymnastics for me, the constant small changes I had to make to chase the ambition of the coveted VP titles. When I got dressed every morning, I had to be mindful of making sure I never appeared too curvy and that I was overdressed so that I never appeared too young (have you ever heard Black don't crack?) or lacked executive presence. I straightened my hair often to fit in, and when I wore braids or my natural curls or changed my hair in any way, I felt like a streetfighter dodging hands in it. I had to come up with fake stories of my summer weekends to not appear like an outsider to those with summer houses and much bigger budgets for vacation. I constantly felt I had to be substantially better than everyone else (working way beyond normal hours, on weekends, etc.) to be considered barely good enough. I did a 360 feedback assessment for my developmental plan, and when I asked my VP what I seemed most passionate about, he said using data to solve problems. At that point in my life, I was on the board of a nonprofit, modeling nationally for Pantene, active on several community organization committees, and had deep relationships with my brothers. He knew none of that. I realized how much of myself I was hiding to fit in. How often I was biting my tongue as I was called "articulate" by someone shocked I could put my words together.
And my experience wasn't unique. Despite leading company efforts on innovative technology deals, my office door swung open regularly with another Black employee sharing their stress or difficulties at work. The promotion they were promised but got passed over for. The younger person on their team they were forced to train. The debriefs or happy hours they weren't invited to. And according to research, these are some of the frustrations that are causing attrition across industries. I wanted to be a part of changing that.


Any places to eat or things to do that you can share with our readers? If they have a friend visiting town, what are some spots they could take them to?
My family has a long legacy in Georgia and Florida. We were able to trace back our roots to the plantations our ancestors were on in the 1850s. That said, even though I'm a native New Yorker, road trips to see our cousins and historical sites in Atlanta and other parts of the south were a big part of my childhood. My mom would take us to Herndon House, the home of a freed slave who went on to be a successful business owner, and Martin Luther King, Jr. National Historical Park, among other historical sites. Atlanta is so rich in culture and history, and although it has a great food and nightlife scene, the sites also make for a good trip! If you're looking for food, I can never get enough of Gypsy Kitchen for dinner and Southern Gentleman for brunch!


Who else deserves some credit and recognition?
I'm a native New Yorker originally born and bred in Brooklyn. People didn't even want to go to the area of Bed-Stuy that I lived in, which has changed. My mom was a single teenager mother when she had me, and I come from five generations of teenage mothers. Because of her efforts, I am inspired by the sacrifices she made to ensure my life was set up differently. My mom went from being a teenage mom to being an assistant superintendent with a Ph.D. Her tenacity is a daily inspiration I carry with me as I continue to be the CEO of my company.
Being raised with the idea that these things are what a woman is, what women do for each other made me chase these connections with women in my early adulthood. I met a dynamic group of women. We brunched, not just for the mimosas but also for the brainstorms; our happy hours were happiest with a bit of networking; our new year festivities included some visioning activity.
So I shout out all the women who set examples in my life through their courage to be their authentic selves in a world that discourages them from doing so. I am inspired by the women who can show up in business and deliver, perform, and show up personally to take care of themselves, and the women who can be sexy or whatever they feel like being in that moment.
Website: www.csuitecoach.com
Instagram: www.instagram.com/linadarrisaw
Linkedin: https://www.linkedin.com/in/angelinadarrisaw
Twitter: www.twitter.com/linadarrisaw
Facebook: https://www.facebook.com/theCSuiteCoach
Youtube: https://youtu.be/WNM5gPpjwAU
Other: C-Suite Coach Information Website: www.csuitecoach.com IG: www.instagram/CSuiteCoach Twitter: www.twitter.com/CSuiteCoach LinkedIn: www.linkedin.com/company/c-suite-coach
Image Credits
Photo Credit: Katie Nunez (for all pictures except the public speaking photos)
Nominate Someone:
 ShoutoutAtlanta is built on recommendations and shoutouts from the community; it's how we uncover hidden gems, so if you or someone you know deserves recognition please let us know 
here.