Meet Alanis Broussard | Media Maven & Aspiring Broadcast Journalist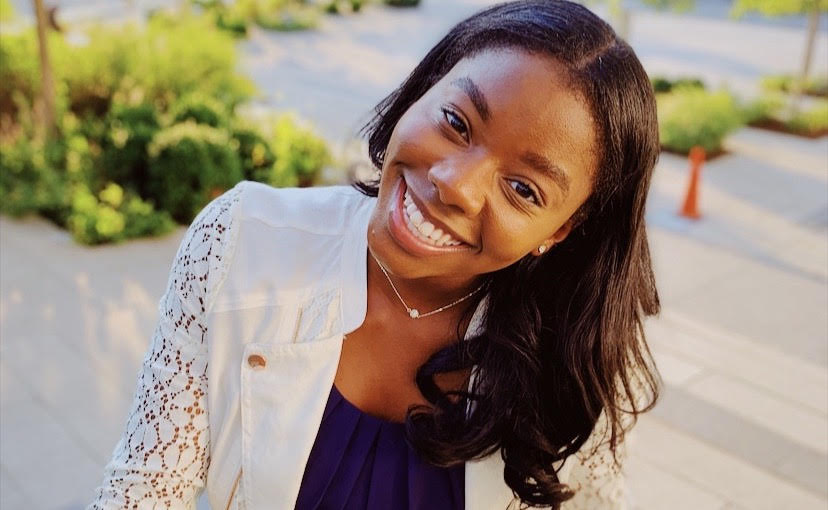 We had the good fortune of connecting with Alanis Broussard and we've shared our conversation below.
Hi Alanis, what do you want people to remember about you?
I have always said that my life is an ongoing story with my plot being edited by the experiences I hold and my chapters being added on by the year. Fresh out of high school, I could conceive of a false narrative that underlined my story, preaching that the amount of titles I held above each of my chapters equated to the overall entitlement I would feel. The lesson of learning how to intentionally take hold of the pen instead of letting what has been scripted by the world play out was never taught to me. Walking across the stage as one of the youngest keynote speakers to hundreds of industry professionals at the Atlanta World Congress Center, a quarter-finalist at a Harvard University international debate tournament, and being selected as a high school intern for Essence Magazine, I fully expected for that long-winded narrative to hold some degree of truth when I eventually looked between the lines. However, what I have come to realize is that at the end of all our lives, all of the accolades we have received amount to nothing unless they led to achievement for others. The title of being the "first" to do something isn't as important as ensuring that you aren't the "last." The miles we have personally trudged through will not make up for the lack of collective milestones in our communities. Most importantly, the paragraphs we add onto our story cannot be clearly read unless you give people the tools to turn the page. I now understand that I am simply renting my titles every day, for the possessions and labels I have on earth will not amount to anything after my passing. I shall temporarily hold these titles and then strive to pass them onto someone else since the story should not just end with me. At the end of my life, I hope to be someone who is remembered for doing just that. I want to be remembered for showing the connectivity of humanity's truth through the power of significant communication and generational continuation. My legacy will be built upon my mission statement of fortifying a platform for others to stand and, more importantly, speak upon. Contrary to what society preaches, my legacy will not be told in the autobiography I publish later on in life, the positions I held while navigating my professional journey, or the awards I will receive for dedicating myself to my craft. My legacy will be told through the narrative of someone else's story. Until the day comes when I must let my narrative bleed into someone else's, I want my legacy to be heard in the breath between my words, seen in the firmness of my spine, and felt between the fingers of someone as they read my story and turn the page.
Can you open up a bit about your work and career? We're big fans and we'd love for our community to learn more about your work.
As the years go by, I am learning that purpose is not a guaranteed promise set at the end of a streamlined path. Purpose is simply a continual commitment based on what our experiences have called us to contribute to the world. My work and the voids I have been called to fill are a direct result of the personal vacancies I have yet to satisfy. From managing and creating content for social media platforms, strategizing methods to increase consumer engagement through enticing forms of media, to eventually desiring to create and facilitate platforms that allow for the art of storytelling to occur, I have begun this process of achieving true fulfillment through many different mediums. Avoiding the excess labels and fluff of professionalism, my work is simply centered around providing a voice to the voiceless and a spotlight to those who never got to take center stage, making me a vessel of this truth through journalism by default. Being one of the youngest keynote speakers to hundreds at the Atlanta World Congress Center, a quarter-finalist at a Harvard University international debate tournament, and being selected as a high school intern for Essence Magazine, I am a young woman who has an endless desire to advocate for avenues of change through the power of speech and communication with others across all walks of humanity. Reigning from the city of Atlanta, I have a front row seat to the abilities of the black community, in particular, to evoke evolution of the media and entertainment industries. Because of this, my desire to contribute a fresh, youthful twist to traditional standards of media has never ceased to exist. From building up my level of experience through holding numerous leadership roles to always establishing my brand in every digital and physical space, the platform that I earnestly desire to create for the current generation is burgeoning every day. However, in order to truly acknowledge the fruits of my labor, I must direct my attention back to their roots. Growing up in a single-parent household, it wasn't uncommon to find the loudness of my potential being immersed in complete silence. Being a "latchkey kid" and not wanting my mother to have to juggle another aspect of her life around me, I was known for being the quiet, soft-spoken girl, often feeling more secure from being in solitude than from being in actual society. Lacking tangible experiences of communicating with others outside of myself, I ironically began building up a hunger to master words at a young age. From memorizing random dictionary definitions to imagining complex story lines, I found myself resorting to writing the thoughts I could never muster up the courage to say aloud. Alas I soon realized that my best friend was only a piece of paper. I was only holding a pen not a microphone. The voice that was attempting to write my life story could only go so far and be so loud. If the primitive purpose of communication is to connect to others, why did I keep on writing letters that were destined to have no address? Attempting to write a new scene into the narrative of my life, I decided to audition for a public-speaking group, called the Miss Media program. From this experience, I earned my first speaking engagement at the Second Century Luncheon, where I got to interview R&B singer Keri Hilson. Only when I saw the reflection of myself in the lens of the camera was I able to truly grasp the spotlight that my shadow had dimmed for so long. I was once known as the girl who was too scared to raise her hand, to hear the sound of her own voice, and to make connections with others. Now, I am known for being a Governor's Honors Program Communicative Arts Finalist, an ambassador for the Girl Scouts of Greater Atlanta, an alumna to the Disney Dreamers Academy, an ambassador for the Miss Media Program and National Calls Board, and connecting with Atlanta media experts, such as Francesca Amiker on 11 Alive News, Rose Scott on WABE, and Maria Boynton on V103. Because I overcame my internal barriers, this year alone, I have been interviewed by USA Today, have had my speech featured on the nationally televised event "Graduate Together," have conducted an interview on Good Morning America, and am in the midst of forming a non-profit that helps children master methods of communication. The void that I thought I needed to fill in my childhood was actually the origin of my very essence. Because after all, how can one expect to plant a flower without first digging a hole for it to take root? How can we, as a society, expect to build bridges to connect people when we have failed to recognize the need for a gap to actually crossover? Undeniably, my purpose was found in my places of debt not in my possessions of wealth. I bring up the beginnings of my story to note that this initial spark of curiosity had to be properly nurtured to create a fire that would provide everlasting warmth to keep me content with what I was called to do. The love for what we do comes naturally, but the commitment to being the best at what we do does not. While I am committed towards delving into my craft as a future broadcast journalist, my purpose is not bound to what my work title entails. Whether I am experimenting with podcasting or shifting my talents into sectors of videography and content curation, I depend on my skill sets in various areas to provide assets to my line of work. In the age of child stars, viral sensations, and the perpetual grind associated with the Gen-Z wave, I believe that my desire to spread knowledge instead of my desire to be known influences the impact people feel from what I do. I am separated by my climb instead of the clout. I am separated by obtaining familiarity of what it truly takes to succeed instead of being enthralled with the mere taste of fame. Simply put, I am separated by the factor of authenticity in my actions. Along my pathway to purpose, I fell into holes of unfulfillment instead of merely taking constant strides on the surface to reach my goal. What I thought was a downfall or disadvantage in my past actually allowed me to know what rock bottom felt like, feel the grit underneath my nails while trying to climb out of my own pit of despair, and rise to the occasion to put one foot in front of the other. My path wasn't always planned, but it was always purposeful. My entire story is centered around digging into the depths of who I am in order to fill the spaces of where I am called to be. In that plot, the theme of an existing dichotomy has always been present, teaching me that every downfall will also be met with success. I have learned that our weaknesses can be turned into strengths with discipline. I have learned that we should not deny ourselves of an accepting future just because our past was full of rejection. Most importantly, I have realized that the boldness of my story will someday rebound off the walls of a quiet room with another young girl in the middle of writing her own.
Any places to eat or things to do that you can share with our readers? If they have a friend visiting town, what are some spots they could take them to?
While most adolescents my age would be out with friends and celebrating in the stands of school football games, I can be found, most nights, wrapped in a fluffy blanket on my bed while watching Netflix and eating out of a tub of ice cream. However, whenever I do crawl out of the confines of my bedroom and get a taste of that good ole Vitamin D from the sun, I always have a few places in the city of Atlanta that come to mind. First things first: food. While I have lived in Atlanta for practically all my life, as a Houston girl, I have always had a soft spot for some good soul food. For all of your guilty pleasures, late-night cravings, and diet cheat-days, I would direct someone to stop by The Manna House Cafe, home to juicy collard greens, baked mac n' cheese, candied yams, catfish platters, and anything else your heart (or stomach) desires. For someone who previously played intense travel basketball and is a gym-junkie, I can somehow still never resist stopping in for a quick bite. Besides the cuisine, one of my first experiences growing up near Atlanta was going to see the Alvin Ailey American Dance Company perform at the Fox Theatre. Being a witness to the spiritual awakening that happened on the stage that night, I can recall that it was my first introduction into how incredibly moving and transformative the arts are. Ever since, I have always left the theatre with the same emotions I felt when I first saw the curtains open. Speaking of the quickly expanding media and entertainment industries that are flourishing in the city, a great facility that manifests various facets of this evolution would be The Plug ATL. This state-of-the-art multimedia facility is home to a podcast room, a Cyc wall film & photography lab, a recording studio, production suites, and various co-working spaces that freelancers can utilize to their advantage. Working as a former social media management intern, the amount of creative energy I got to observe and help cultivate was insurmountable. By the way, did I mention that it is also black owned? However, The Plug ATL isn't the only location where black excellence thrives. A colorful exhibition of what the outcomes of passion can truly create, my city of Atlanta is home to people who have a relentless motivation to make visible activism and paint a picture of a better tomorrow. If I were to imagine a mental image of what would be placed on this blank canvas of a city, I would undoubtedly point someone to The National Center for Civil and Human Rights. Here, you can truly deep dive into the various lanes of inclusion and diversity that were paved by some of the great civil activists who walked Atlanta's streets, such as Dr. Martin Luther King, an Atlanta native. Located close to The World of Coke and the CNN center, you can literally spend the entire day simply educating yourself in this area. Once you finish up that last bite of soul food at The Manna House Cafe, catch a show at The Fox, create at The Plug ATL, and walk around downtown, you of course have to end the evening with a little bit of fun too. For the adrenaline rush seekers and theme park enthusiasts, Six Flags Over Georgia is always the go-to spot for a quick thrill. After going on some of the roller coasters there (The Scorcher is an all-time favorite), you can travel back downtown to watch the sunset while riding in one of Atlanta's biggest attractions—Sky View Atlanta. While the massive Ferris wheel is impressive by itself, the glow that it casts over the surrounding buildings at night is a sight that you will always remember. But with a city as great as Atlanta, it would be really hard to forget.
The Shoutout series is all about recognizing that our success and where we are in life is at least somewhat thanks to the efforts, support, mentorship, love and encouragement of others. So is there someone that you want to dedicate your shoutout to?
It takes a village to raise a child. Growing up in a broken household and being raised by a single mother, the amount of truth that statement holds far exceeds what my mind can most likely conceive of. The pedestals I have been able to lift my voice upon could only be realized with the support of the foundations created by my community leaders and mentors who came before me. In all honesty, every interaction I have had with someone, whether negative or positive, has contributed to my motivation to become the best version of myself. However, the figures I attribute to significantly affecting me have entered through my personal gates of growth, consisting of my ears, mouth, and eyes. For allowing me to hear my natural intuition and block out my inner voice of doubt, I have to give praise to Ms. Alicia Jordan, the Digital Strategies Manager of Girl Scouts of Greater Atlanta and the adult supervisor of the Miss Media Program. Because of her support, I was able to earn many of my first speaking engagements, know how to pick myself up when I fall, and learn that through hard work and resilience I can build up the talent I seek in myself. For forcefully prying open my lips to reveal a voice I did not know I possessed, I give immense thanks to Ms. Kellye Britton and Mr. Brandon Fleming, my teachers and mentors at The Harvard Debate Council Diversity Project. Being a part of a cohort of highly ambitious scholars who have dominated spaces that were not built with them in mind has provided me with an unknown confidence that has guided me to where I am today. Seeing how our moments of victory have contributed to an overall movement of excellence is truly inspiring. Class after class, call after call, and meeting after meeting, this dynamic duo instilled within me that complacency is not tolerated in spaces where greatness is expected. For providing the foresight to envision the powerful woman I can become, I am obligated to dedicate this shout out to the woman who has stood by me throughout the many blind spots and moments of clarity along my journey—my mother. Words fail to express the amount of love and appreciation I have for you, so I will keep it short and trust that you know my love through my actions. Thank you for all that you do.
Website: Digital Web Page & Resume | soultospeak.org https://spark.adobe.com/page/e1fFPrXtvYhGN/
Instagram: @laneybroussard | https://www.instagram.com/laneybroussard/?hl=en
Linkedin: https://www.linkedin.com/in/alanis-broussard-51428b191/
Twitter: @AlanisBroussard | https://twitter.com/AlanisBroussard
Facebook: https://www.facebook.com/alanis.broussard
Youtube: Alanis Broussard | https://www.youtube.com/channel/UCP3qr_DfQ16AXi9sE8RxXug?view_as=subscriber
Image Credits
Demetria R. Lane Tim Caver Kevin Avila
Nominate someone: ShoutoutAtlanta is built on recommendations and shoutouts from the community; it's how we uncover hidden gems, so if you or someone you know deserves recognition please let us know here.