Entrepreneurs tell us about starting their businesses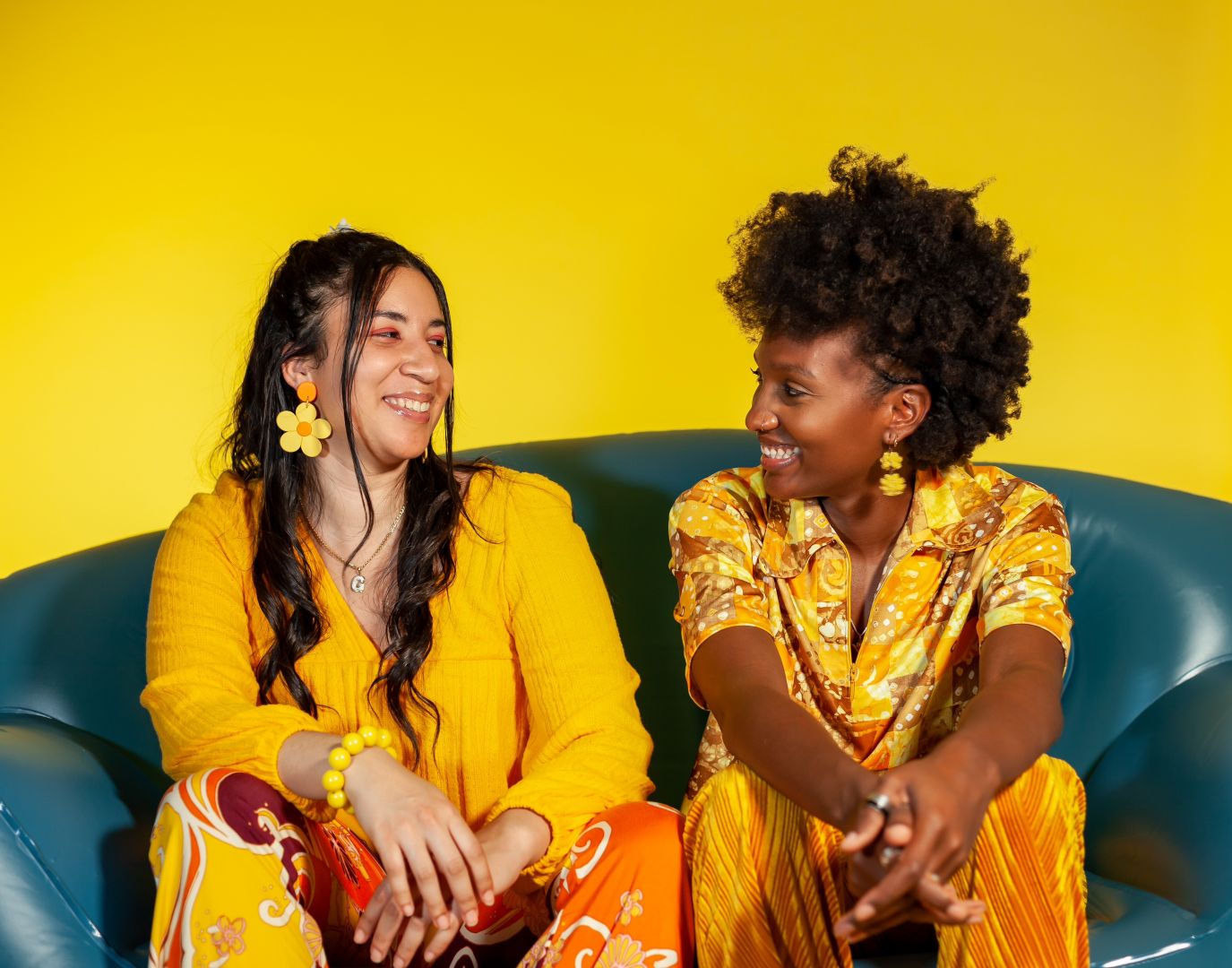 Thinking through whether to start a business – whether to take the risk, whether to go out on your own – isn't easy. So we asked some entrepreneurs we admire to tell us about how they thought through the process of starting a business.
Tashasa Colton | Artist & Model & Entrepreneur
My intention of starting a business was always in the back of my mind. I simply have always had a passion for art and I knew that's exactly what my business was going to be centered around. When I first started this business I knew I had to do my research on branding, marketing, my audience, and the purpose my business serves. My initial thought was I wanted to give people access to who I am and what I represent. As a black business woman, I wanted to represent an array of styles and services that reflect who I am. It was then that I came up with the name 4 KULTURE! My business offers the following services custom shoes, apparel, paintings, illustrations, accessories, handbags, hats, and more! I will say starting a business takes commitment and dedication. You have to be all in for everything that comes with it! It definitely comes with the territory. Read more>>
Alexia Adams | Sales rep, and entrepreneur
When I retired from playing professional basketball overseas, I didn't have the drive like I use to, to get in the gym. Also I started ordering food more often then normal at work now that I'm behind a desk. I wanted to be able to provide a service that could not only detox, lose weight, and maintain better eating habits. So I created a detox and weight lose juice called Alexia's Drink 2 Shrink that also comes with a meal plan. Read more>>
Keniya Love | Model Manager & Talent Scout
When it came to starting my own Buisness I was terrified. It was a dream that I had but I knew when it came to my dreams I knew that my future was only in my hands. The process from start to know has been a blessing and a huge eye opener for myself and my family. I knew with dedication and great skills I would be able to leave my 10 year job and be one of the worlds greatest non bias model agencies. Read more>>
Mia Michelle Houston | ATL Loctician & Creative
My thought process wasn't clean and cut at all. I had absolutely no clue where to start. I just knew I had a talent that I could build off of. I called myself 'LocsbyMiaMichelle'. I had been a Loctician already for the past 3-4 years, however, this was simply my side hustle in school for extra money. When the pandemic began, my eyes were really opened to the fact that in the blink of an eye everything can change. People lost their jobs, businesses closed, people went and are still going without. At the time, I worked as an advisor in the Office of Education Abroad at the University of West Georgia. School had stopped abruptly with me still having two semesters left to graduate, and of course, once school closed due to COVID-19, so did my job. Read more>>
Leana Marie Marshall | Yoga Leader & Facility Director
Wow! There were so man thoughts behind opening a black, women, lesbian owned yoga studio. My thought process was creating a space that was inclusive to everyone who has walked into a yoga space and hasn't felt included. I wanted to create an authentic community where people felt like the belonged. Often times, people are so intimated to attend yoga classes because they fear being judged based on race, gender, and how their body looks. I knew I needed to create a space where any and everyone could just be themselves. Read more>>
Marcy Floyd | Actress; Artist; Fashion and Jewelry Designer; Natural Cosmetic Product Formulator
When starting my own business, my first thought was freedom. Freedom from the hassle of dealing with Corporate America: compromising my creativity and having to confirm to the skewed ideas and protocols in order to "hopefully" climb the ladder to be promoted in a company that is not based on morals. My creativity sets me "free". I'm free to explore ideas on my own time as well as impact others with my positive vibes without being reprimanded for it. Therefore, in starting this business, I hope to encourage others with the same positive mindset and serve as an example to those who think it's impossible to live out your dreams and do what you actually love on your time. Read more>>
Brittany West | CEO of Vision Digital Marketing LLC
I love to create and was already providing social media and digital marketing services for a large Atlanta security company. I decided to go out on my own in August of 2019 and help small businesses with the information I learned. Read more>>
Davaughn Hailey | Master Barber, Poet
Far from cliche, I was in a sense forced to do this. I've tried multiple jobs where my ideas where either overlooked or my overall skill was nothing of importance. I was always taught to work and make the best of your path on one end. And on the other to do as you feel always if you can answer the why? Then, you can figure out when to make the right moves and what to do next. So I took the "leap of faith" and quit my job no money saved nothing just thinking starting my own was so easy. After years of struggling and thinking I need to go back to work, I can say seeing clear now. Revenue and clientele is growing, I'm becoming more conscious with decisions. Creative flow is going just things are going good for me finally, yet there is so much more to gain. I've started a clothing line F.A.D.E.D GoD Inc. I'm learning daily that networking and being open to criticism yet not letting it control my movement. I'm reading more just the mental I have now compared to that of what I had a few years back is so different. Scary yet something that makes me move differently daily. I'm ready for my path and the journey that comes with it. Read more>>
Nijil Jones | Founder-Worker-Owner
For me, I've always been an entrepreneur. And my dad is an entrepreneur. My mom also had her own legal practice for a while. I've worked as a server, dish-washer, barista, nacho stand person, etc., and I've been fired from lots of jobs. I've been fired on Christmas Eve and the Wednesday night before Thanksgiving Day. I value owning my own business, where I have more security. It's satisfying to be responsible for what happens with the business, rather than being disciplined by somebody else that may have to really deal with the consequences for the business. Read more>>
Martina Wright | Model & Business Owner
I wanted to make a lingerie/loungewear collection that is minimalist, comfortable and affordable for men and women. Beau. is meant to be beauty for ALL. I am working to expand my collection to include sizes for ALL as well. Read more>>
Tyler Johnson | Illustrator, Designer and Acrylic Artist
I would say the biggest reason I wanted to start my own business was creative freedom. I've been a graphic designer professionally for over 8 years now. Since i was fresh out of college I had these grand ideas of amazing projects I could be a part of on a team of insanely creative people just like in "Mad Men" but in reality was the work I was getting were quick turnover projects that I didn't really have my heart and soul into. They were great opportunities, don't get me wrong, and definitely kept a roof over my head, but always left me wanting more. Read more>>
Tia Haines | How it all started…
There wasn't really a thought for me. I never woke up and said, I want to start my own business. I was the one (still am) that was ok with working in the corporate world, ladder climbing, retaining good benefits, and building my 401k. Baking was just something that I did for fun starting out. For me, it started about 5 years ago when I wanted to do something special for Mother's Day for all of the women in my life. That something special was taking their favorite dessert and turning it into a cookie and it was a HIT! For my family, my baking talent started when I was younger (single digit years). Now that I bake professionally, they tell me all the time that I made the best brownies and cookies as a little girl, so I guess it was destiny. After my Mother's Day experiment, I became in charge of all of the desserts for any family function and was always told that I need to sell my treats, but it was my husband who convinced me to take this seriously and start a business. He's also the one that came up with the name and helped me with my first logo. Read more>>
Danielle Pittmon | Lash & Makeup Artist
Since the age of 12 my interest in cosmetology has grown. It started with braiding hair. I was interested in installing frontals, I got into doing makeup then I got certified to be a Lash Artist. My thought process behind starting my own business was being that both of my parents are entrepreneurs. I wanted to start perfecting my skill. I like the idea of being in charge and creating my own schedule while doing what I love. Read more>>
KaTesha Anderson | Visionary & Business Owner

The thought process for starting my own business started as a child. The first entrepreneurs I met was my Mom and Dad. My mother would be behind her sewing machine day in and day out making suits and dresses for women who paid her to make them. I recall as a kid helping her cut out a pattern or hand stitch a seam. My father had a landscaping business. I remember him loading up his lawn mower in the truck with his gloves in his back pocket and the faint small of gas from the gas can (I loved that smell….LOL). He once took my brother and I to a landscaping job at Skate Escape at Piedmont Park (btw F.I.L.A.) in which he laid out a beautiful assortment of flowers and scrubs. My parents were at their best when in front of the sewing machine or beautifying the earth. It was always a look of joy and creative freedom in their faces although in reality its tough to start and run your own business. The "entrepreneur seed was planted, so knew I would do the same. Read more>>
Red Almighty | Comedian-Podcaster & Entrepreneur
That's a very good question. I find it funny that my business actually started off with me just making people laugh on social media. I mean I don't mean to brag but I must, ever since I was a kid I was always pretty funny and understood the importance of laughter. Some people say laughter is good for the soul and sometimes the best medicine and I believe it. Me making people laugh on social media began to draw followers and with more followers came more opinions. Strangely enough lots of random people on the internet, mixed with a couple close friends talked me into creating a podcast to express my views and share my funny perspectives. While getting the podcast started I was then talked into creating an LLC for myself by close friends! Go figure , now that I'm answering this question I am realizing my thought process came from the opinions and hopes of others who genuinely felt I have a gift of gab and laughter . Read more>>
Zenobia Cardwell, CWEP | Creative Catalyst And Entrepreneur
Ever since I was a little girl, I used to craft with my mom. It was her peace but my way of learning and embracing my creativity. I also knew that I LOVED watching events go from an idea on paper to seeing said event to fruition. So I look at the thought process of combining my left and right brain and H4 was born! Read more>>
Emmanuela Rodenberg | Speaker, Author, Christian Dating & Relationship Coach
I started my business because I wanted teach Christian women how to date with marriage in mind and how to choose the right life partner. Our Mission is to build stronger communities through stronger family units by teaching individuals how to build and maintain strong intimate personal relationships. Read more>>
Tasheka King Bines | Founder/Owner
My thought process for starting my business came after I lost my father in November of 2018 after losing a battle with an illness. My parents, William ( Mett) & Gladys have always opened their home to people in need. My father Mett also loved to cook, and our family fed a lot of people in the community and surrounding areas. My mom, Gladys recently passed away after battling cancer. I learned about the homelessness in Brunswick County, and became inspired and decided I must do something to change it. I saw homelessness as a significant problem that was not being addressed in the area and discovered that these vulnerable populations were being transferred to surrounding counties. I decided now is the time for change. Read more>>
Tiara Cobbs | Permanent Makeup Artist
I started working at the age of 13 , and of course back then I never thought much about working for somebody else . All I knew was that if I worked I received a paycheck which I could use to buy whatever my young self wanted to buy . I didn't grow up around business owners , and truly never understood what it meant to be me entrepreneur until I moved to Charlotte in 2018 . Being surrounded by people that wake up everyday and work hard for themselves was truly inspiring ; it was in those moments that I wanted to find my passion and let it work for me . Read more>>
Jasmine Ringo | Owner of Bisoux Bakery
Before opening up my bakery, I was a freelance makeup artist for close to 19 years. It was natural for me to float around like a butterfly and not be held down to working for someone else. I always wanted to get paid for my talents and make other people happy and excited with my work. Starting my own business was just a no brainer. Read more>>
Travon Williams | Mr CEO MISTRO
Driving down Sunset Blvd I was always impressed with the big amazing billboards! So my fiance is a model and also co founder of global billboards Ashley Henderson aka Ashley Ca$h is a model,so I came up with the idea to out her on a billboard while she was on a photoshoot in NYC, The expression and surprise on her face was priceless. That started it for me,I linked up with a ad company and it's been great ! Read more>>
John Cardenas | Human, Son, Husband, Father, Family, Friend. Fashion. Designer. Owner. Strategist. Denim Enthusiast.
My thought process behind starting my own business was to create generational wealth for my children. I am a father of two boys and I want them to have financial freedom. My dad was the first entrepreneur I personally encountered. Our first business gave me hands on knowledge that is priceless. It made understand how hard things are and the value we brought to the table. So starting my own business was a way for me to make sure my kids are able to learn hands on and have an understanding of what it takes to run a successful business. Read more>>
Giulia Triassi Kiara Kensie | Co-Founders of Hunnibuzz
Our thought process behind starting our own business was we wanted to utilize our college degrees in a way that allowed us to take control of our full creative abilities and apply that to our own business. There is a lack of women in tech, especially the representation of Women of Color, Kiara and I actually bonded being the only two Women of Color in our web design class. We wanted to create a space in this industry that flourished in creativity, representation, and helping other business owners that look like us thrive. We also wanted the freedom of being able to create our own schedules, be our own bosses, and travel/work remote. At Hunnibuzz we want to build a legacy and create a working culture that is truly diverse that works to uplift our community. Read more>>
Emily Blacc | Mom & Entreprenuer
I wanted to start something inspiring, and something to get me off my feet. I had just gotten out of a toxic relationship of 5 years with a 2 year old. Growing up I saw my mom selling fajas and I remembered how women felt so confident wearing them, including myself. Then at that time I started BBL's, lipo, tummy tucks were just starting to become mainstream so I hopped on the bandwagon. Faja's can give you the similar effect! Read more>>
Danielle Stapleton | Boutique owner & stylist
I have always been into fashion, every since I was in high school. I remember doing a make over on a classmate for fun, and it really made me happy to make someone else feel good. My coworkers and supervisor would always ask, where do you shop? As time went on I realized this is my passion. I told myself you never work another day in your life when your doing what you love, I believe passion before profits because that will come when you treat people right and stay consistent and I wanted to experience that for myself so I decided to launch Everything Me Boutique, LLC. Read more>>
Ilesha Francis | Esthetician, Lash Technician & Body Contouring Specialist
I started my business because I wanted to turn my passion into my purpose. I wanted the freedom to go into work doing what I loved. I didn't want to be forced to do a job I hated because I need to survive. Since starting my business, I've gained true happiness, I set my own schedule and get to make a difference in my clients' lives. Read more>>
Jala McClelland | Owner/Designer of 1977 Hustle Lane
I'm a hustler by nature – I've had a million jobs, and careers. The "hustle" in my brand's name, speaks to that. I learned the HUSTLE, growing up in St. Louis, – which is why the STL in hustle is highlighted. 77 means that you are in direct alignment with your higher purpose….which is the vibe I want to be on – 1977 is also the year that I was born Time, was the thought process of starting my own business. If we've never received the lesson of how time is priceless, we definitely got it over the last year and a half. I've literally spent half of my life, giving someone else my time, to fulfill their dreams. I decided, I wanted to use my own priceless time, and spend it building my dream. Read more>>
Amelia Barnett | Online Boutique Owner and Food Blogger
My thought process when starting my own buiness was is this going to be successful and can I do this on my own. I had a lot of doubts in my mind and I was overthinking the entire process. I finally sat down and I made a pros and cons list before I finally deciding to take the leap. I am really happy I listened to my gut feeling and created my buiness. Read more>>
Shakira Yodora | Serial Entrepreneur & Enthusiast
Being from Detroit, Michigan born and raised, I grew up amongst family who were hardworking people. I enjoy challenging myself to be the best at whatever it is I set my mind to. In August 2020 I began juggling ideas on ways to contribute to COVID-19 (a global disaster which limited essentials). I introduced my brand "Yodora LLC" which was pulled from my mother and I's middle name. The name Yodora, is the perfect match with it's unique and eye catching logo setting the tone. We have created an audience in Detroit, MI selling undergarment essentials such as men's boxer briefs and women's sports bra & Panty sets. In April 2021, we expanded to Atlanta, GA capturing the attention of a more broader audience. In due time, we will be the next hottest undergarment brand in your favorite department store. Read more>>
Briana Brown | Luxury Event Planner
My thought process behind starting my own business was to begin to start generational wealth. I want to be able to pass down wealth to my entire blood line. Read more>>
Jasmine Williams | Entrepreneur/Small Business Owner
Honestly I just felt like if other people can do this so can I. Read more>>
Lexi Jones | Music Artist & Hairstylist
My thought process was very determined and motivated. I was tired of having to work for someone else and doing the same thing over and over again. Having to deal with upset customers at 8am so one day, I told myself " i'm going to quit this job & start my own hair business". Once I have a thought in my mind I succeed it everytime because a thought is a form of reality. Read more>>
Tynisa Hill | Herbalist-Cannapreneur & SuperMum
I've always had the Entrepreneurial spirit since childhood. The catalyst for me with starting my own business was when I was working for this major company, it was a WFH position, highly stressful environment nonetheless. I was working 10-14hr days sometimes up to seven days a week. The pandemic hit and schools turned virtual plus I was in the midst of a nasty custody battle. Now that virtual learning was in place, I submitted a simple request to my employer for my hours to change to a more reasonable timeframe so that I can accommodate my Son's needs who is on the Autism Spectrum. I would be available to assist him on the virtual learning schedule with his school and all that entails with that. Read more>>
Chris Allen | Lawyer & Entrepreneur
I've always had an entrepreneurial mindset and knew that when I graduated from law school, I wanted to start my own practice. As a child, I grew up around many family members who owned their own businesses and were self employed. Although they worked long hours, I thought it was cool that they had the ability to set their own schedule and work on their terms without having to report to a boss. I've always wanted to have that control over my life. Read more>>
Morgan Rackley | Licensed Medical Esthetician, Corrective Skincare Expert
The skincare world can be extremely difficult to navigate for consumers. I would find that I would go to dermatology offices or spas and leave feeling more confused than when I walked in. I knew there had to be a better way of interacting with clients and helping them feel confident and educated in their skincare journey. Luminous Skin Atlanta was born out of the need for results driven, science backed with a holistic approach skincare in a way that everyone can understand. Read more>>
Shanda Pollard | Thriftier & Financial Risk Analyst
My thought process behind starting my own business was simple…I wanted to do something that I love! I love dressing up/down with a twist. I want to share my style with the world. I've been an avid thriftier for 10 years now and I found out last year that reselling clothing was a thing and a big thing! I started with just cleaning out my closet during the pandemic and thought wow I could really do this as a part time gig. From there the ideas just kept rolling, I took a workshop to refine my business, and officially launched The Trendy Upscale Boutique March 2021. Read more>>
Cierra Link | Owner of Popcorn Explosion
Popcorn Explosion was created out of my love and desire for sweets. I wanted something to call my own and something that would keep me occupied. In the beginning stages, I researched and played around with different ideas, but ultimately it came down to me wanting to do something unique that hasn't been mastered before. I wanted to start a business that had a shock factor about it and that I felt could win over the community of people that have a huge sweet tooth just like I do. I'm a huge fan of fair food, food that you can't get on a regular basis, and I wanted to stay in that distinct category. We get so many customers that were hesitant to try our flavors at first and the feeling of winning them over is extremely satisfying and rewarding, which is a constant goal not only for myself but for my business. After several months of researching and preparation, I knew that popcorn was what I wanted to master, and it still allows me to implement my creative side and execute new ideas so it's a win-win situation for me. Read more>>
Darnika Platt | Owner of ManCave Atlanta
I'm an entrepreneur. I've been one my entire life so when it came to starting this business the first thing that I needed to do was research. I already knew the legal side, the financial side, and the initial setup process. What I didn't know was the actual business. I'm someone who has experience in finances and taxes, and I was starting a wellness business, which eventually included other elements. So, my primary objective was to research and talk to as many qualified people on what it would take to own and run an upscale spa. Read more>>
Renee Terrell | Author | Coach | Marketing & Brand Strategist
I started my business because I realized there was a real need to help others communicate their ideas, products and services in a way that causes their audience to take action. I also wanted to find an outlet for my innovative ideas. One that feeds my creative side while fulfilling my continual desire to help others. Service has always been an important part of my life. Even as a young child I would always find creative ways to encourage those who were around me. As a business owner it provided me the opportunity to not only express myself but help others do the same. It is my firm belief that everyone has something to offer the world. Therefore, I look at every business owner, service provider, non-profit organization or author that I assist in building their brand as my way of helping others share their gift with their world. Read more>>
Kaylan Mary | Artist, Songwriter, & founder of Kaylan Mary Productions
I've been in the entertainment industry since I was 9 years old. I've been blessed with many opportunities as a singer, actress and dancer to showcase my talents all over the world. Now that I'm entering adulthood, I'm learning the importance of not limiting myself to only being an entertainer, but exploring more avenues in the industry that I might actually be good at. This decision led me to realizing that I have a passion for songwriting, photography, and creative direction. I knew that starting my own production company would allow me to do all the things that I love. So on top of being a full time music artist, songwriter, and actress, I am the CEO and founder of my own production company, Kaylan Mary Productions, and I'm so proud of all that I've been able to accomplish as a new entrepreneur. Read more>>
Khairi Abdul-Latif | Photographer
I have a great talent that people love! People want to be a part of my work, and it's something I'm very passionate about and love doing. I've always had an entrepreneurial mindset and spirit, even from a young age. If I'm going to make money for a business, why not my own business? Read more>>