Denise Patterson | Event and Graphic Designer & Balloon Artist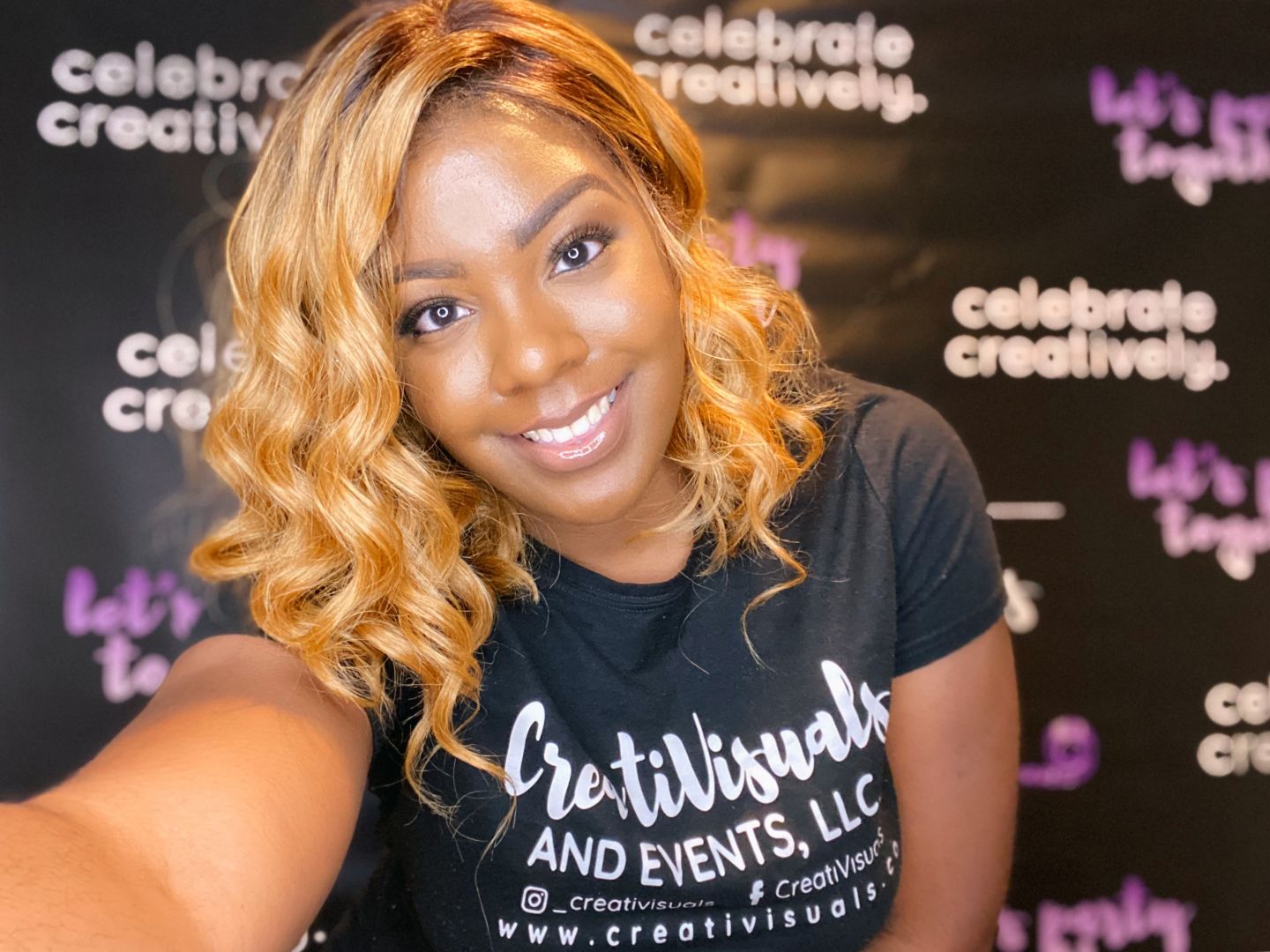 We had the good fortune of connecting with Denise Patterson and we've shared our conversation below.
Hi Denise, how has your work-life balance changed over time?
Whew! Work-life balance is my greatest struggle by far. It started from working in the restaurant industry and corporate fields that were open around the clock, such as hotels. I spent 15 years working in these industries and dedicated every second of those years to these jobs, mostly at the same time! Working numerous jobs has always been my "way of life". The more income. the more freedom is how I justified it. Although I barely had days off to enjoy the fruits of my labor, I felt satisfied giving 110% of me to my employer. This quickly changed when I found my passion in entrepreneurship. I started feeling a sense of selfishness with my time. I wanted to put that 110% into my business and goals versus into another company. Prior to taking on entrepreneurship as a primary source of income, I started transitioning my life in the corporate world by moving around the hotel industry and finding a role that would allow me a "9-5" so that I can have weekends off and evenings to relax. This worked for a while, however, it was those weekends off and free evenings that I developed the interest in becoming an entrepreneur. So while I had started to create balance for myself personally, I ended up turning that free time into work also…to start my business. Crazy, I know! Just as I was getting the hang of not working two jobs at once- I found myself creating a second income, but this time on my own terms. Starting a business is definitely a risk and also a time to sacrifice your personal time to reach the goals you want to accomplish. The problem for me was knowing when to stop sacrificing. When to stop sacrificing sleep, when to stop sacrificing resources, when to stop sacrificing "not eating until this task is completed" and so forth. When you are doing something you love you often dont see any negatives in your habits because ultimately- this is what you chose for your purpose. What I am learning more often though, is the benefits of balance in life will actually allow your purpose to flourish and grow. When you allow yourself to take a weekend off, or take a day to unplug it truly helps your mind and body reset. I think about balance as being able to take care of your needs and equally give attention to your wants. You need to wake up everyday and follow a schedule and meet deadlines, but you want to eat at your favorite restaurant and get an episode of your favorite show in as well. Managing how to "balance" that is what is a constant learning curve especially for entrepreneurs. I often work myself until my body tells me to slow down. It was after numerous occassions of being sick and neglecting my health that I decided to implement self-care days. On these days, I would not take any clients, I would not obligate myself to anyone or anything, even family. I would simply have the day to myself to rejuvenate and reset mentally, physically and emotionally. This is key when you are completely invested in what you do. You have to dedicate a time where you turn that off and allow your mind to breathe. Many people think that when you have a day off, you are having the time of your life. In most cases for me, off days are just ways to mentally prepare for the next week. Always keeping what's next on the radar, never allowing my mind to breathe. My body is resting, but my mind is racing- trying to keep up with clients, trying to keep up with invoices, trying to keep up with inventory and events. Work life balance is beyond just giving yourself vacations every once in awhile, although that is my favorite part :). Work life balance is truly to free yourself on every level to escape the daily whirlwinds that life gives us. When your days go like mine, an unplanned beautiful chaos, you often look forward to self-care days the most. In the future, I see myself putting work-life balance at the forefront and allowing people to respect the time I dedicate to my self care, without me feeling guilty about it. I hope that other entrepreneurs are also able to balance their work schedule with things & people they love and anything that make them happy. Don't be so dedicated to your dream that you forget to live in the moment and celebrate where you are and also where you're going.
Let's talk shop? Tell us more about your career, what can you share with our community?
Getting where I am today as an entrepreneur was a journey I never envisioned. I always knew I would climb the corporate ladder and join the brand team for Marriott's various boutique hotel brands. I earned my Bachelors in Hospitality Administration and thrived in that industry the moment I was offered a position in my sophomore year of college. It was naturally easy to transition into different management roles, but perhaps that is what eventually bored me, after almost 10 years it wasn't challenging anymore. . .and it didn't seem to lead me to my dream position so I took a leap of faith into entrepreneurship full time for 6 months before figuring out that relying on one income just isn't what I want for myself. Multiple streams is what I grew up juggling, so I carry that even with entrepreneurship, it's a comfort zone for me financially. I never became an entrepreneur to solely make money, I do it because I love it, so by working a job it allows me the freedom to not feel pressured financially in my company. Professionally, I learned so much while working in the hospitality industry. It is the forefront of any customer service related industry and has helped me use foundational skills to build my business model and values at CreatiVisuals and Events. What I have learned throughout the years is finding creative ways to say yes to people. There is rarely a time when your job wants you to tell a customer no, so I mirror that in my business. I find myself always committing to accommodating customers because of this mentality. I want the world to know that I pride myself in truly emphasizing the details and being very hands-on in everything I do. You will never see me just managing or overseeing an event, I am in it full throttle from start to finish. What I want the world to know most about my brand and story is that my passion and purpose is to create unforgettable memories and moments for my clients through thoughtful details and creative execution. Beyond my role as an event stylist and designer, I also help individuals reach their potential by investing in themselves to become entrepreneurs. I host a quarterly balloon workshop teaching the foundations of balloon art and how to create columns, garlands, centerpieces, balloon walls, and more. I share the ins and outs of balloon styling and also provide resources to start their journey as a balloon artist. The next workshop will be held in July and the following in October. I have helped over 20 individuals start supplementing their income by balloon styling and look forward to helping more soon!
Any places to eat or things to do that you can share with our readers? If they have a friend visiting town, what are some spots they could take them to?
Now that the city is opening back up, this is a great question to ask. Lifestyles have changed dramatically and businesses are readjusting with how they operate so having to rediscover places and activities would be the new itinerary. I would definitely take them to Ponce City Market to shop and chill on the rooftop, if they wanted to be outdoors but with room to social distance I would suggest Piedmont Park. If we're going for drinks. I would also need hookah, so I would suggest Sivas in midtown. If they wanted to shop but not a typical mall experience, I would suggest Atlantic Station with outdoor retailers and shops.
The Shoutout series is all about recognizing that our success and where we are in life is at least somewhat thanks to the efforts, support, mentorship, love and encouragement of others. So is there someone that you want to dedicate your shoutout to?
I am thankful for everyone who has helped me along this entreprenerial journey so far. I have received a tremendous amount of support from my close friends and countless strangers. I appreciate each and every one of them. I want to highlight some individuals professionally who have impacted my business/brand: My great friend Allie Friday, owner of MiniFriday Children's Boutique, is the person who pushed me and mentored me into taking my craft and turning it into a business. We partner today to help many people start their businesses through our ReadySetLaunch program. My great friend Koya of KoyasKre8tions is a shoulder, ear, and quarter-time employee LOL of CreatiVisuals and Events basically, she is one of my preferred bakery vendors, but most importantly a supportive friend. She shows up anytime I need her to and checks on my well-being through chaotic work weeks. She calms my storms to say the least! My awesome friend Kay also known as Kim of KRProphouse, she is a delight to collaborate with and encourage each other to take things to the next level. We push each other on design and always work together to create great experiences for the client. She delivers the WOW factor to my events and I couldn't be more thankful for her and her family team! My lovely and amazing assistant Briana of TheBusyBeeBrand is a blessing of all blessings. She interns for me and makes me so grateful to do what I do. She aspires to be a full-service event planner and has expertise in events, custom vinyl projects, balloon styling and more. She is the other half of my two-woman team on event days and I wouldn't be as successful on event days and through the planning phase without her! I cannot wait to help take her to the top of the event industry by helping her learn and grow. Pouring back into others is the best gift you can ever give and really puts passion in my work.
Website: www.creativisuals.co
Instagram: www.instagram.com/_creativisuals
Facebook: www.facebook.com/CreatiVisuals
Other: www.summerballoonworkshop.eventbrite.com