Artists & creatives on why they pursued a creative career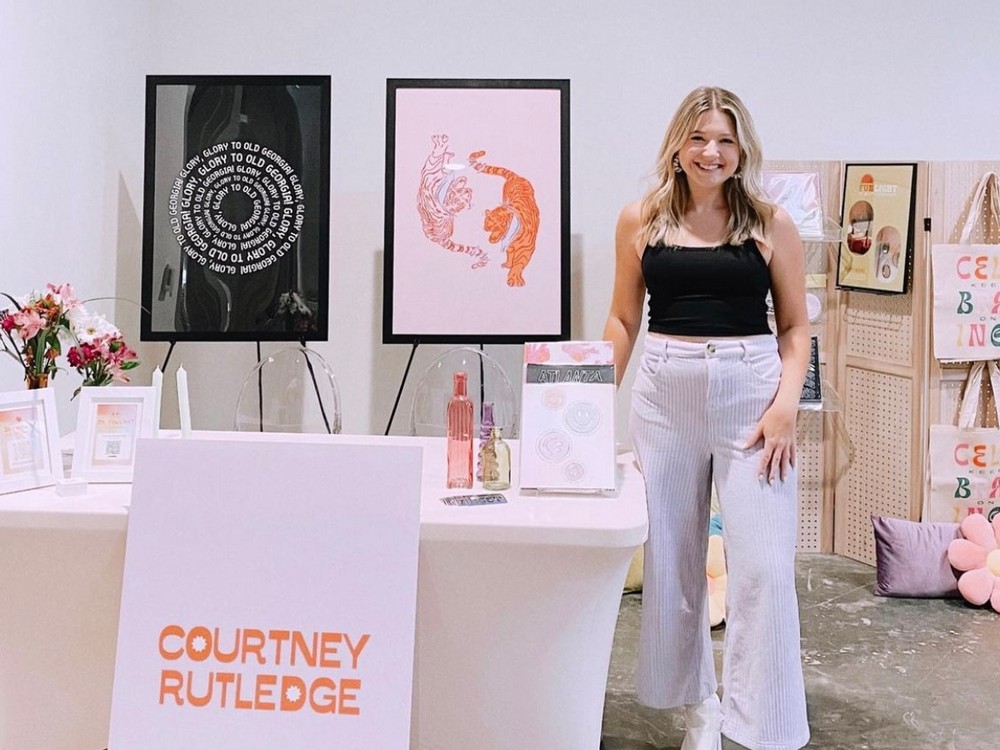 Artistic and creative careers are among the most rewarding, but they also come with unique challenges. We asked some of the city's best creatives to tell us why they choose to pursue a creative career.
Courtney Rutledge | Graphic Designer

I think something most people don't realize about creative careers is that it takes extreme courage to pursue one. When faced with choosing a major, I chickened out and chose a path that felt stable and secure – a path many others have traveled before with almost guaranteed success. If I had the opportunity to chose a path like that, why wouldn't I? But there's something inside of every natural born creative that pulls them in. Read more>>
LUNA | Singer/Songwriter & Ice Giant

My "career" started very early. My first shows were on the counter of my mom and dad's kitchen singing Whitney Houston songs to my mother while she cooked. Those are my first memories of singing and I've been hooked on pursuing that feeling ever since. I definitely had some pit stops like wanting to be a figure skater or radio personality but entertaining has always been the goal. Read more>>
John Burke | Composer and Pianist

Well, I had a job I thought I liked, but I got fired. After college, I found myself in quite a routine. I worked as a Spanish translator for a health insurance brokerage. A good ol' 9-5 job. At the time, I was also in graduate school at Georgia State University and working as a part-time choir director on the weekends. Music was a small part of my life, but I quickly found myself doing more and more of it. I was playing gigs, teaching lessons, and even composing. I released two solo piano albums while keeping up this 9-5 life, and eventually I let my music life invade my working life. Read more>>
Michel Monty | Film Director

I was lucky. I had a teacher in high school recognize an affinity for creation in me (and frankly a lack of mathematical ability). Their encouragement convinced me to choose a career in film. I'd been making shorts with classmates that would air on the school's news station once a month. They were goofy and often painfully unfunny, but the collaboration, the artistic decisions, the engagement. It was just fun. I didn't see it as a viable career until a mentor suggested otherwise. Read more>>
Ryan Harville | Wedding + Portrait Photographer

I'm not a good employee! I need a hybrid of being able to travel for work and editing on a computer. I also work very well with people of all personality types, so it makes my job very entertaining to meet new clients. Read more>>
Eric Hart Jr. | Photographer

A career in the arts is less of a choice and more of a calling. For me, I have to create. It's an outlet. A form of self-exploration. Creating is my way of putting things into perspective that could otherwise go unanswered. Not only my love for creating but my dependency on it is what led me to pursue a career in the art world. Read more>>
Xandri Alleyne | Fashion Designer

Honestly, I've already been a very srtistic person. Growing up I was always writing my own song lyrics, making up/ learning dance routines, doodling up my school notebooks with people in different types of fashion with various hairstyles, writing stories, etc. Everyone around me knew it was only a matter of tome before I began to really immerse myself in the field and take it seriously. Instead of playing video games or watching tv shows, I was creating clothes for my Bratz Dolls using a Projecy Runway design table I had asked for for Christmas and scraps of fabric from old clothes. Read more>>
Christian Powell | Photographer and Creative

Ever since a young age I have been a creative at heart. I used to ask for every arts and crafts toys. From LEGOS, Play-Doh, art supplies, to Crayola. My most common birthday gift from my parents would be disposable camera. At a young age it really intrigued me how you can make a camera see the same beauty as your eyes. Though growing up a young black male, I had a lot of controversial beliefs toward my dreams and interests. Sports were really projected upon me at a young age also. From the age of 4-22 years of age I was an athlete, reaching all the way collegiate level. Read more>>
Nick Ogawa | Composer/Cellist

I've always enjoyed doing things with my hands, making things, and just generally experimenting with stuff. I grew up in a really rural area in Vermont and spent most of my time playing outside or messing around with projects in the barn. I loved the American Boy's Handy Book by Daniel Beard when I was a kid and tried to make a lot of the different weapons and rafts and snow warfare projects that the book detailed. Read more>>
Carls Michelle | Figure Model, Designer, Organic Candle Maker.

Art inspires me to be myself, through art I am able to express myself in fashion and on canvas. Being that I am so inspired by art I wanted to create a way that I can inspire others. Read more>>
Laniqua Collins | Entrepreneur | Filmmaker

I chose to become a therapist because of the many experiences that I encountered throughout my life. From growing up in Mississippi to getting my Masters of Science in Clinical Rehabilitation Counseling at Georgia State University in 2020, I have seen and interacted with so many people throughout different walks of life. Being a counselor has afforded me so many opportunities from working in neuropsychology labs, hospitals and clinics, and now at a private practice. Read more>>
Nicole Sky | Actress/Model

I perused such a artistic career because I'm a artist and I want to share my artistry with the world and I want them to experience this journey with me as a actress. Read more>>
Gabe TS | Video Creator

I became interested in videography from watching things like 106 & Park, MTV, and Skateboarding videos when I was younger. I felt like I was always creative with ideas and concepts but never really knew where I would be able to put it to use at. That's until I found out about iMovie. On iMovie I was making videos to edit almost everyday and just fell in love with it through there. I look at my videos as something to express how I feel and present my own aesthetic through a screen for others to enjoy. It's the same thing with my photography and it's truly a been a passion for me ever since. Read more>>
Sativa Diiiva

It was my calling. I've always loved singing, curating different vibes, and helping bring people together, and it all kind of just fell into place. I moved to Los Angeles when I was about to turn 21 years old and I was asked to sing with the jazz band at a cannabis lounge the next week. Everything has just been in alignment with my dreams, so I keep pursuing it and going hard at it because I know it's what's meant for me. Read more>>
Ben Robinson III | Writer & Content Creator

Honestly, I didn't really have much of a choice. For years I tried to quiet the voice inside who kept telling me I'm a writer. But I never really believed I could do it, until I made the decision to quit my job and pursue it. It's been an interesting ride up until this point, and I know it's not over yet. But I'm here for it all. Most people think that taking the leap is only for 'some' people, but we can all do it. It doesn't have to be as dramatic as moving to another city. But it should require a bit of fear and a lot of faith. Hell, it can have a lot of fear as well. The most important thing to do is take the leap. It's the necessary step to move forward. Read more>>
Harolyn Rorie | Consultant/Entrepreneur/Black Creator

I chose to be a black creator because it is a gateway to self-expression. I'm able to openly express myself, my values, and my views in a way that is not intimidating or opposing. And, it compels others to look for and/or to see things from different perspectives, which is the first step to change. Read more>>
Shardaya Jones | Abstract Artist & Graphic Designer

I have always been a creative individual, even as a child. I was quiet but unique in my expression. My mom always talked about how I would mix colors & prints in fashion. I knew how to draw at a young age, and with development, I started understanding and expanding the gift more. As I got older, I started taking my artistic abilities seriously, which led me to pursue an art degree. I cannot envision myself in any other career path because I LOVE color and paint, design, fashion, and being able to tell a story, to create an experience through creative outlets! Read more>>
Michael DarkMythst" Brako | Afrofuturist/Cosmic Artist & Merch Designer"

As a kid, I daydreamed all day and night to the point I couldn't sleep. I would imagine characters, short films, animations and a variety of creative instances. I had been into drawing since I was able to write and I'd get into trouble in school for drawing instead of paying attention to my assignments. In high school, I already decided I would pursue a career path in something creative. It was about fulfillment and expressing my heart through art, since I was mostly a loner growing up. And I successfully achieved that. Read more>>
Kendrick Wooten | Lead Mic of Wooisms Podcast

I am very active in the community of Mobile, Alabama. I wanted to create a platform to let our black voices be heard and promote black excellence. I wanted to give other black entrepreneurs and community activists the free space to share their stories so others can hear and be a part of the change we want to see as well as promote black greatness. Read more>>
mosab alnomire | Journalist, poet & curator

I am a poet and Journalist. Poetry is the flavor of life for me. It can be bitter or sweet, but I believe that it generates meaning and value. Journalism allows me to seek answers for the existential questions I have in this complex world. Poetry and journalism combined are my tools to understand and express. This is my way of communicating and interacting as a person. Read more>>
Liz Sawyer | Designer, Cookier and Home Baker

Since I was very young, I have always been drawing, painting, crafting and creating. Making art and creating beautiful things is just something I've always done. When it came to a career, I just couldn't imagine doing anything else. I went to art school and got a degree in photography. I worked for several companies as a photographer and then creative director for some time before deciding to work for myself. Cookies came about kind of by accident. Read more>>
Jaden (JC) Lee | Youtuber & Content Creator

Honestly, I pursued a creative career or being a content creator because ever since I was a little kid I have always had big creative ideas and imaginations. I also had a love for big movie stunts, big explosions, crazy movie affects, and colors. Being the creative individual I am it was easy for me to find my career and a career I will love. Read more>>
Jalen Smith | Filmmaker/Cinematographer/Actor

I chose to pursue an artistic career as a result of my upbringing. I have been passionate about the fine arts since I was 2 years old! I grew up watching movies, mimicking characters and people in my family, dancing, singing, and acting. I've always had an affinity for fine arts because it brings people together by sharing laughter, excitement, and joy, but overall entertainment. Read more>>
Jayden Braddock | Author, Actor, Musician and Artist

Being diagnosed with Aspergers Syndrome in Elementary, It was always hard for me in school. Because of this, I always leaned on my creativity to get through life and my interpretation of it. I would always daydream about The Looney Tunes Show ,and the latest movie I saw in the theatre, while in class and that lead to me making my own original stories in high school, Which eventually led to my debut Highly anticipated book, Dear Freedom Writer, where I tell my story of being diagnosed with Asperger's Syndrome. Read more>>
frank, sandella, and frankie malloy | Dance Family, Executive Director, Artistic Director, Musical Director

We absolutely love dance. We have been touched by dance profoundly. We were compelled to "MOVE" and pursue this creative avenue because of the love, talent, and desire to share the work. Read more>>
Tanya Sweetin | Artist

I have always loved art, design and fashion. I love creating art pieces, putting clothes together and shopping for interesting objects that can finish a room. It never gets boring! Read more>>
Emmett Hunter | Actor

I've been interested in the arts since I was in middle school. I started out in the band playing the French horn, bass clarinet, and tenor saxophone. In high school I started writing poems as a form of therapy. At the age of 14 my friends and I formed a rap group. We spent the next 7 years making music and performing throughout the Tampa Bay Area. So I guess I've pursued a career in the arts because I've always had a desire to express myself in all types of creative ways. Read more>>
S. Bleam ArtByLP | Music Artist and Designer
I think I've always been a creative person. Music and Art have been interests of mine since I was 2 years old. I started drawing when I was about 3 or 4, creating my own comic series and drawing some of my favorite cartoon characters. I started selling artwork as early as elementary school, recreating cartoon characters with a heavy Hip-Hop influence. I think it was my 7th grade year I decided I was going to take a creative career path after my art teacher told me "You have a gift that you need to practice with more". Read more>>