Taking Risks: how your perspectives affect your life & career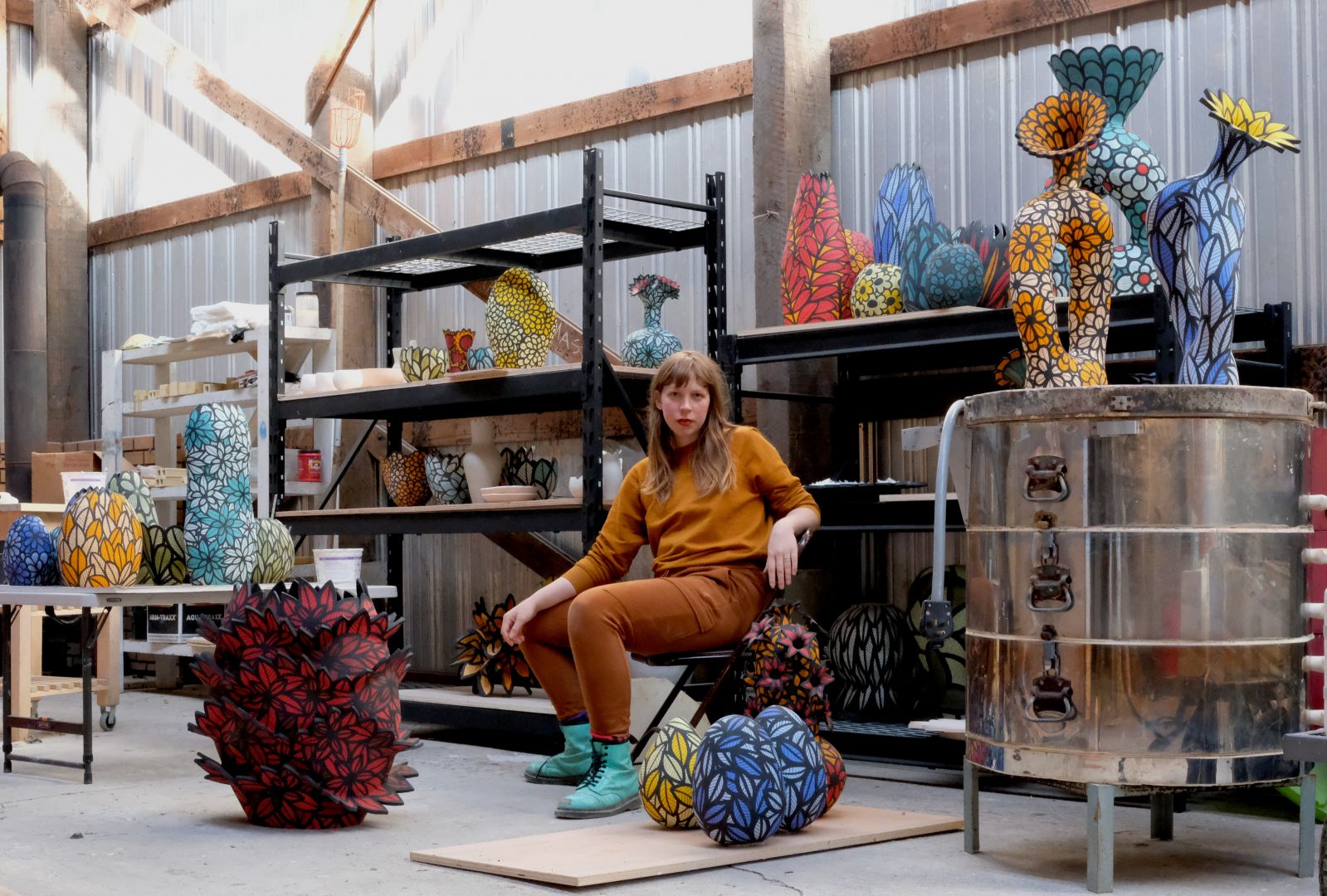 Legend holds that Cornelius Vanderbilt had built a massive fortune in the steamboat shipping industry, but then realized the railroads were the way of the future and invested almost his entire net worth into railroads. The gamble paid off and made Vanderbilt one of the wealthiest entrepreneurs ever. But risks are inherently…risky. How do you think about risk and how has it affected your life and career? Some of our community favorites share their perspective below.
Ariana Heinzman | Ceramicist

Risk is the special sauce! I sprinkle in risks throughout my life and career to keep me excited. I don't want things to be predictable. I have to remind myself that when I get insecure or something doesn't go well. I don't want it to be easy, I want to grow and that means taking risks. That being said, If I'm going to take a big risk it has to be something I've wanted to do for a long time. I'm not a spontaneous risk taker. Read more>>
Nadine Joseph | Educator, Author, and Mentor

If you want to live a fulfilled life, at some point, you'll have to take risks. Risks are essential to growth and truly bring out a different passion and grind/hustle. I remember when I first wrote my children's book (Imani's Crown), I Iet it sit in the "notes" in my phone for months. I sent it to my mentor and he told me I HAD to do something with it because a little girl needed it somewhere in the world. I played with the idea for a few more weeks, maybe even months, before I put it on paper. Read more>>
Nakiya Pitts | Serial Entrepreneur

I think of risk as an essential part of being an entrepreneur. Calculated risks are par for the course and necessary when building your business from concept to service or product delivery. If I was adverse to taking risks, there would be no Bese Saka. I would have stayed at my 9-5 job feeling unfulfilled and under recognized for years to come. Instead, I decided to bet on myself and push past my inner fears and thoughts of self doubt. Taking a risk allowed me to step into my purpose and connect all people but especially more people of color to the continent through our products. Each small decision led to the next, like putting one foot in front of the other and I am truly seeing my vision coming to light. Read more>>
Xavier Rush | Serial Entrepreneur

I don't look at risk as a bad thing. Risk to. me is a situation. or challenge that equals success when conquered. Knowing that the path won't be smooth is the challenge I look for in. life because the fruit that are bared are even sweeter. I was always told something worth having is not easy !I feel like everyone should take that risk toward their passion and what they love doing ! Read more>>
Jaden Thompson | Filmmaker, and Photographer

I think risk-taking personally defines my career. Being a filmmaker there are no diamond absolutes, everything is up in the air. From your crew to schedules, the weather, equipment, money, etc. If your trying to do this in order to have a safety net-like career this is not the business for you. But it would be boring if it was, and that's the thing making films are not really boring. It always feels like this insane rollercoaster you're on where at any moment, everything can fall apart and break down, but for the moments where it doesn't, it can be truly exhilarating. Read more>>
Donavan Morgan | CEO of RoofsByDon

That's a great question. I feel like taking risks has made a big impact in jump starting my career by going against the industry standard and doing what felt normal to me. Sometimes the biggest risk is betting on yourself. Risk is what makes the process fun . You're going to take some losses but from those losses you find lessons to ensure they don't happen again. And then .. you celebrate your wins . The main thing is the bigger the risk the bigger the reward and I want the biggest rewards. Read more>>
Kryzle Dina | Painting Artist

The word risk can be associated with fear and anxiety but can also relate to excitement and adrenaline kicks, so it is somehow a two- sided feeling when it comes to taking risks. No matter if you jump out of an airplane to do some skydiving or leaving your 9 to 5 job behind and take all the risk to fulfill your career with something you believe in. I already learnt how to take risk when I was 19 years old by moving out from home. Read more>>
Tacheline Dayoute | Fashion stylist & Real estate investor

As an Entrepreneur, I live a life full of constant risk-taking. Risk-taking has enabled me to make some of the best business moves to date. And I have learned that my failed risks weren't always negative, they have provided me with the most valuable business lessons an entrepreneur can learn. The world is forever changing to me the biggest risk one can take is Not taking any. Taking risks has played a huge role in my life as an entrepreneur it has helped me to think outside of the box to create solutions and I get to see challenges as opportunities instead of problems. I left my 9-5 Job with no money in my bank account to pursue full time Entrepreneurship and that was a risk I was willing to take even though I was scared but I knew the results would be beautiful and it has been. To me Taking risk is a way to create opportunities and progress. Read more>>
Rosa Vasquez | Host & Content Creator

I feel taking risks are very important stepping stones towards the moments in life that help you to grow, mentally and socially towards your passion and purpose in this lifetime. I have been a career changer throughout my life because I have constantly evolved and nurtured what I value and believe in overtime. I always appreciated my ability to adapt to my needs and wants in my current life. I also know that sometimes that voice & vision that wakes you repeatedly throughout your life at 3 am is the life that you should be living and nurturing. Read more>>
Jayvone Paige | Photographer & Creative Director

I, generally, think the outlook on risks and wether you take action or let it drown you in anxiety determines the resulting fruits of your labor. If anyone were to ask me how do I grow as an artist, person, and in overall life, taking risks will find its way into the answer. I am a firm advocate for the expression " You only have one life ", and this expression leads me through the path of unknown destination while simultaneously countering any anxiety that comes with the life of a creative/artist. In a way, it opens your third eye and clarifies the thought process that sometimes its not about the destination and end goal, but it's the journey and experience… with the destination being only a result of that journey. Read more>>
Natalia Castells-Esquivel | TV/Film writer

When I was 21, I moved to New York City with $30 in my pocket. That summer saved my life. When I was 26, I moved to LA on a whim "for a year" because I was in love with a girl and because LA had really good tacos al pastor. This city has now been my home for over six years. And when I was 28, I dropped a stable career in advertising for a writers' assistant job that paid half my salary. I'm now a TV/film writer — the career of my dreams. I've taken insane risks. The tattoo I got in Costa Rica for $100 was *maybe* not a great one. But most others have paid off beyond my wildest dreams. Read more>>
Valerie-Taiylor Williams | College Influencer

When I'm thinking about taking risks I think it's a fun journey. Life is full of risk and sometimes you have to take the risk to get where you want to go in life. If you take that leap of faith you might fail but that is okay as long as you get up and keep trying. I've taken a lot of risks in my life but I honestly wish I was taking more than what I am doing. I wish that I would not let my fears of what other people think hold me back. Right now I'm on my self journey where im trying things to benefit myself and takes those risk for myself and putting myself first. Read more>>
Sherrie Simmons | BUYER + STYLIST for Television & Film

Taking a risk on myself was literally the catalyst for my career as a Buyer + Stylist. Prior to, I worked in Corporate America where after 11 years, (the last five of them being really terrible) I decided to risk the security of a stable job, benefits and a high paying salary, in order to chase my dreams of becoming a Buyer+Fashion Stylist for Television and film. Read more>>
Shannon Dill | Musician

Everyone takes risk. When you start that new job. When you start that business. When you navigated your life. Everything you do is a risk. A risk in forming not only what you put out to the works, but also what you gain back. For instance, I took a risk in developing a career in music. Music has always been my passion, but not until I got fully formed within it; did I start to take risk. The risk was putting something out there for others to enjoy, and not knowing what the probability of it could cause of loss or gain. Read more>>
Vanessa Williams | Owner of R. Will Cleaner's & Co.

Life is all about risk taking. As you grow and learn the world, you also learn to take more calculated ricks. Calculated risks help move us forward on our life's purpose path. They say "Fortune favors the brave". When stepping out on faith in your self you will Win every time. That faith in self shouldn't feel like a risk though, you have to feel it in your gut! Read more>>
Shane Wolf | Visual Artist & Director

When taking a risk, I ask myself is this in alignment to my goals? Am I okay with losing my investment and gaining knowledge? I've taken many risks some didn't work out as I envisioned it, however I gained knowledge to do better. When I first decided to be a professional artist I put my art on a lot of t-shirts. My mother questioned if I was sure it'll sale. Read more>>
Monet Maxwell | Stylist, Model, Creative Director

Honestly, I'm somewhat of an impulsive person, so risks are something that I take often. My career has been built from me taking risks and betting on myself. If I wouldn't have taken a risk and moved to New York five years ago I think my life would be completely different. Life is so short and we are only here for a certain time. I want to be able to look back and confidently say that I took the risk and did everything I told myself I would do. I think the most successful people took a chance and weren't afraid of failure. Read more>>
Erica James | Artistic Baker & Actress

Taking risks is extremely important to me because if you don't try something you've always wanted to do then you will never know what could happen or what could be. I never want to look back on my life and regret not trying my absolute best or doing whatever I could to make my dreams come true. I have taken many risks in my life to get to where I'm at now and when I look back, I realize how far I've come and if I never took those risks than I wouldn't be where I'm at now. Read more>>
Kwaejo Manu | Music Artist, Fitness Enthusiast

I think about risks as the differentiating factor that separates the successful from the average. A quote I like to keep at the forefront of everything I do is "You can't be great doing the same thing that everyone else is doing". With a mindset like that I'm always encouraged to be the one who's gonna dare to take the risk and divert from the norms or social constructs that most adhere to. Almost everything I've attainted has solely been a result of me taking some sort of risk. For whatever reason there aren't many things I've accomplished or attained that simply just fell into my lap. Read more>>
Devesh Bhan | Hospitality Professional and an Online Business Coach

LIFE IS RISKY. From the time one is born, they are at risk. Risk is not a theory or a concept that needs to be clarified in our minds however is a part of growth and success. Anything new that you try has the potential for it to fail or not be liked by the audience and that is where learning and development come into play. I have always emphasised personal development and mindset growth by reading the right books, listening to motivational podcasts and looking inward to find answers to all your questions and be self-aware. Read more>>
Kiesance | Designer, Stylist, Creator of Poet's Pitch

Every day is a risk for me. God called me out of work over a year ago and told me to start a business. It was hard to ignore job opportunities I qualified for without a constant source of income, no help from the state, no handouts and bills to pay. All I had was faith. I feel like today, it's a risk to have only one job, so to have none is extremely risky. But for me, it was more of a risk to be outside of God's will and not walking in purpose. It's like a paradox. Read more>>
Foreign Evolution | Music Artist

With Foreign Evolution being in the music industry every decision he makes is a risk. Foreign says that because not every artist is bringing in millions of dollars and we all have everyday bills and priorities. However, there are times when opportunities occur and you might have to make sacrifices and risk not paying a bill, or you might have to call out of work because you have such a great opportunity. Foreign Evolution says he has been placed in so many situations similar to this and would say every time it's worth it. Read more>>
Ashley Lay | Travel Agent

I can't say that I have ever been labeled a risk taker but if I have learned anything from the last two years, it is that tomorrow is not promised and to take the risks or opportunities when they occur. For 12 years, I have spent 180+ days of each year inside of a classroom with some of the most remarkable 12 and 13 years olds. Teaching seventh grade was never something I saw myself doing. Not only did I have the opportunity to teach them science, I had the rare chance to prepare them for life and all of the highs and lows it would hand them. Read more>>
Sharron (MzCritiQue) Johnson | Founder of Critique Empire LLC & Licensed Lifestyle Stylist

My entire career off me taking risk. I quit my job working a government job to follow my dreams of pursuing the entertainment industry full time. After leaving in 2017 so much has changed for me. It was the best decision I ever made as far as my career and I wouldn't change anything about it. Read more>>
Tyzlah Daniels | Owner of Magique Noire Beauty Supply

I heard this saying from John Ron " everything is a risk…no matter what you do no one makes it out alive" when I think about risk I often think about to that quote and about the choices we decide to make for ourselves whether you choose to risk it all , or risk nothing at all. There is still a price to be paid for you're choices so why not choose the one with the biggest potential outcome. Taking risk has allowed me to break cultural and generational barriers and allowed me to become a Owner of a Beauty Supply Store at the young age of 23. Read more>>
Sascha Illyvich | Publishing Romance Author, option trader, editor, wolf.

This will be an answer to both the question regarding risk and the question about pursuing artistic careers as well. To start off, I began writing professionally back in 1999 and sold my first erotic short poetry collection in 2000 when a then unknown publisher took a chance on me. Renaissance E-books was a relatively new publisher seeking erotic manuscripts and while I'd sold several short erotic stories, didn't have enough material at the time for their criteria. Why did I go into publishing? Read more>>
Paige Horton | On-Site Hair & Makeup

I think taking a calculated risk is essential whenever one is looking to advance to the next level of success. Before starting my own wedding business, I did a ton of research and creative thinking. However, I eventually had to go all in and risk falling flat on my face in order to reap the benefits of being a successful entrepreneur. Read more>>
Suzanne Wynn | Voice Over Artist

I think risk is one of those things you're mostly either born with the ability to do or not. And maybe it stems from being a smart-ass from the get-go and almost always shooting from the hip. In school, I rarely studied but was still mostly an A/B student even through college. That was a risk I was willing to take. I had better things to do. That reminds me of a public speaking class in college. A friend of mine is a total type A. Always studying. Always homeworking. You can't do that in a public speaking class. She was always trying to memorize her scripts. I jotted down a few notes right before class and then just went with it. Guess who got the A and who almost failed? Read more>>