Risk, Reward & Life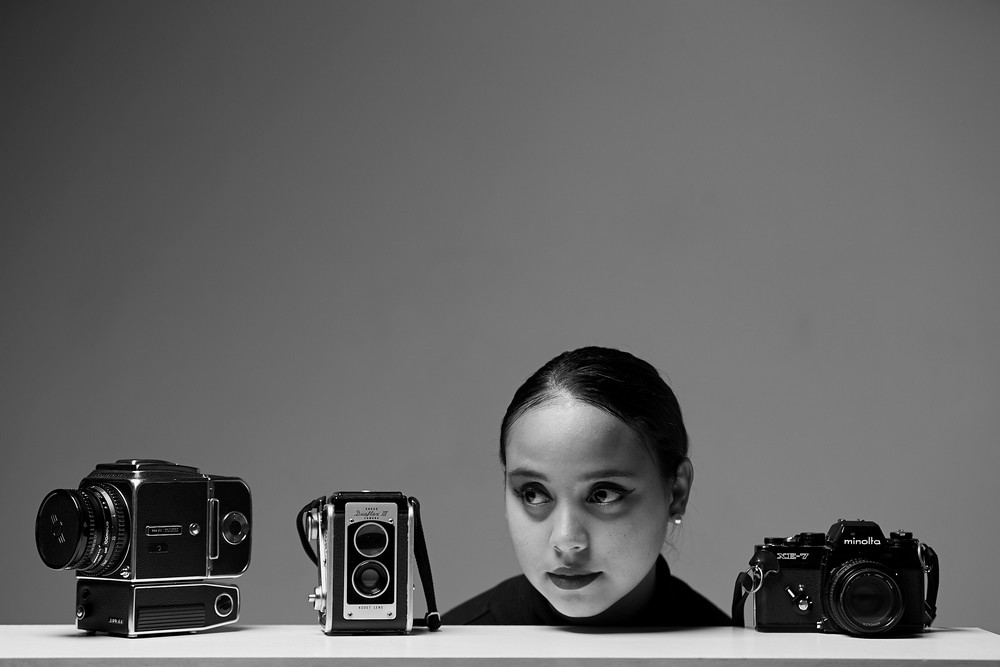 We asked some brilliant folks from the community to talk to us about how they think about risk and the role risk has played in their lives and careers.
Shannel Resto | SJR Photography CEO/Founder/ Photographer

I come from a huge dance background, so taking risks was a critique I always received in my training. "Just go for the movement, don't be afraid to fall, make mistakes, it's okay", my dance instructors would say. The idea of taking risks was something I struggled with, because I had this idea of perfection and being in control. But, when I started to photograph professionally, taking risks became easy for me. I stopped worrying about perfection and focused more on the freedom I had through my perspective. Read more>>
Star Carter | Bridal & Editorial Hairstylist

Risks…and taking them…is definitely scary, but how do you expect to grow sitting comfortably? Taking risks is something that I've actually struggled a good amount with in my adult life. I've always known that I wanted to be a hairstylist but, since graduating high school, was always too afraid to take the risk–in fear of it not being lucrative and because, during that time, society was definitely pushing the "go to college or you'll be nothing" narrative. So, from high school, I went to uni for 3 years, for psychology…got bored, dropped out and continued working. From there, I went to school for Aesthetics. Read more>>
Alvin Santamaria | Music Producer & Engineer (Formally Known As "Ambience")

Risk taking is the foundation of accomplishing true fulfillment. I believe majority of people get scared in the idea of taking risks, which results to never doing it. As a music producer my whole career has been built in taking chances and betting on myself, I've lost and learned, I've won and continued making collective progress, that's part of the journey in entrepreneurism. The best way one can prepare before taking the leap is to use and collect as much knowledge and evidence as possible, then just add a little bit of faith. Read more>>
Shawn McClendon | Entrepreneur

I look at risk taking as a necessity when it comes to having faith. I tend to be a calculated, risk-averse type of person. I think about decisions a lot internally, running the consequences of each choice through my mind, and letting the resulting thoughts sit in my mind until I know I have peace about a particular choice. Rarely do I make spontaneous decisions. Read more>>
L'Vasia Holloway | Advanced Nail Technician & foot specialist
At one point in my life I was afraid of risks. Don't get me wrong, I've never been afraid of taking chances. However, when it came to risks, I would always play it safe. Over time I realized that by playing it safe I wasn't tapping into my full potential. One day I got tired of playing it safe. I decided to bet on myself and step out of my comfort zone. As the saying goes, "A comfort zone is a beautiful place, but nothing ever grows there". I knew it was time for me to grow. Since then, my career has benefited from me taking risks. Now I feel like I can't lose. I will continue to push the boundaries and take more risks Read more>>
Jae F Freeman | Jae Freeman Speaks on Taking Risk

You have to be able to take risk you always gotta be willing to bet on yourself you gotta believe it before some else will you have to know you can do it after that ain't nothing to it Read more>>
Dezy Jackson-Hughes | Professional Makeup artist/owner of ClassyFace By Dezy

Risk can be tricky but I've learned over the years that we take risk daily! For me I took a huge risk, my family and I moved all the way from Oakland ca to Atlanta just for me to follow my dreams. I look at it more as having Big Faith but it' was still a risk. I stopped working a full time 9-5 job to fully focus on being a makeup artist and doing it more than just on the weekends. It has been one of the best Faith move/Risk taking decisions I've ever made! Read more>>
Kadeem Phillip | Multimedia Artist

I believe risk taking is very important when you're an artist. I believe that when you're willing to take risk; that when you find out what really works for you. What people are drawn to & it helps to develop a better understanding of self in a way. I believe that sometimes, people are afraid to take risk because; They don't want to fail or appear as if they have taken a loss. When in all actuality; that when you learn the most. You have to be a risk taker. Read more>>
Tahjanique Ruffins | Makeup Artist

I believe taking risks in life is necessary. It is how we grow and evolve as people. It challenges us to step outside our comfort and rather we succeed or fail taking those risks it changes us individually and that is what life is ultimately about. As a young entrepreneur, I have had to take a lot of scary risks. I quit my job at the hospital to pursue my career as a makeup artist. I was scared of the unknown. I wasn't sure how things were going to be paid or even if my plan would work. I must admit the road was not easy and sometimes cloudy but I knew what God plan was for in my life and that was to be my own boss, to inspire people to do the same , but most importantly with every stroke in my brush i am bringing out the inner beauty within thus changing lives. Read more>>
Magda Gomez AgentATLANTA.com- RE/MAX Center | REALTOR, 23 years career helping Buyers and Sellers with their real estate needs and investments.

Risk is a very scary action for many people. But risks we take every single day in all different levels. We take risks the moment you start driving your car to go to work, etc. In business decisions, yes, there are risks as well. In my real estate field, I have acquired so much education, experiences and challenges , that I feel confident in the risks I take. I view a risk as an opportunity in a variety of results. For example, a risk if it is not successful then you learned from that experience to only make it better next time. A successful risk as well. Read more>>
DeSean Lewis | Fashion Designer

Risk taking is inevitable when it comes to creativity. Anytime you create something, you're taking a risk because you never know if someone is going to like it, share it or even buy it. However, it's those risk brings creativity. Creativity brings innovation. Innovation brings success. Read more>>
Sylvia Floyd | Barber Stylist &Barbershop Owner Operator

I honestly feel like you have not lived life to the fullest if you have not taken risk. I mean I'm originally from Louisiana where there's a lot of casinos, so I started taking risk at an early age lol. When you take risk, you will either succeed or fail. But if you never take risk, you do not even get the opportunity to fail, and failure isn't necessarily a bad thing because it's something you can learn from and grow from. you can miss out on many opportunities by not taking risk. Most people problem is they do not like to take risk. But honestly how can you fully develop that way? Taking risk is what landed me into success. Read more>>
Adriene Michelle | CEO, Model and Talent Manager, Event Planner

"He who is not corageous enough to take risk will accomplish nothing in life" – Muhammad Ali. Risk opens the door for success. Since a child I have always been the black sheep in my family. Reason being I was the daredevil, the rule breaker, the one who thought outside of the box. I never feared or honestly even calculated the risk if I knew what I wanted was on the other side of it. I have always been the one to run before I crawled or jump before I knew how far the fall was. Taking risk is how I became fearless. If I didn't take risk I would have never started my businesses. Read more>>
Charizma Giavanni | Makeup Artist & Curvy Model

I always say Rick Taking is something no one is ever ready for, you just do . I grew up in a family where we stuck to structure and I was always the one going left while everyone went right. I do not believe in Consequences , just lessons. If you do not take risk how will you know what the outcome will be. Risk has played a huge part in my life from being a influencer to a business owner. Being a curvy girl , I strongly believe you can wear whatever you please and make it look fire, then when it came to my makeup business ; I quit my retail job to open a glam room. Have not looked back since, yes it has its triumphs but each time I overcome. Read more>>
Aquayemi-Claude Garnett Akinsanya | Student, Author, Campaigner, Youth Delegate, Entrepreneur, Influencer, Keynote Public Speaker, Philanthropist, CEO, Fashion Designer, Activist in reducing Inequality + Quality Education also the creator of "The Claudes SEN Law Campaign."
'
It's all about what you believe is right because when you feel you have to stand up and speak your truth and for your community, Take the opportunity to change the narrative. Read more>>
Alyeshia Walton | Body Contouring Specialist

I've always been a risk taker. You can't play it safe because you then limit yourself and the possibilities. Well, that's my opinion. Being a risk taker allows me to separate myself. Most people rather play it safe. They rather know the outcome but for the vision that I have for myself , I must think outside of the box and most of the time , that requires taking a few risk and so far so good 🙂 Read more>>
Christal Clifton | Body Sculptor & Licensed Esthetician

By definition, risk is exposure to danger. However, my personal definition for risk taking is exposure to the "unknown". I think it's essential to step outside of my comfort zone to embrace experiences and situations that will help me to grow and will ultimately become part of my new comfort zone. At least 30% of my professional choices have been the result of risk taking. And that doesn't mean that I don't plan, it means that while planning I'm willing to explore various opportunities that are unfamiliar to me. The goal is to always have positive outcomes. And even when the outcomes are not positive, I still learn from it. Read more>>
Dazia Rice | Entrepreneur & Consultant

When I think about risk, the first thing that comes to mind is that there is something God needs me to do in order for me to get to my next level and I believe in order for that to happen God places risks to see if we really want what we're asking him for. Are we committed. Are we ready to make those necessary sacrifices. And if we are, we move on to where we want to be. We keep evolving. I took my first risk back in 2017 when I decided to spend my entire paycheck on real estate school. At that moment is when I realized not only did just spend my entire paycheck, But I was ready to risk it all for a future even I couldn't see. Read more>>
MiMi Edouard | Content Creator, Online Boutique Owner

As I much as I overthink and get scared, I do it anyway. I believe you have to take risks in order to learn what works and what doesn't. It not only helps the growth of your business but also helps you grow personally. If we operate on fear, we'll never discover our true purpose. God may not have given me the gift of performing surgery or how to do hair etc. but I know what I'm good at/meant to do and I can't wait to be able to really help the people in my community once everything comes to fruition. Read more>>
Candice Sands | Entrepreneur & Fashion Model

As an entrepreneur, risk taking to me is simply taking a leap of faith hoping that whatever you invest in is lucrative. Risk taking played a major factor with my business because not only did it have positive and negative aspects , the negative times enabled and encouraged me to be innovative. I am considered one of the top boutique seller's in the Bahamas and I'm still trying to obtain and manage that title . I took a risk in 2020 and decided to leave my hometown because I was ready to start turning things up a notch. I expanded my inventory to cater to a bigger audience! I went into this business with the mindset that this is a gamble and to never give up if tough times ever occurred. I am so grateful and amazed to know that I'm still successful in an over saturated market. My business has taught me to be more humble , Read more>>
Kiyya Collins | Hairstylist

Growing up I've always been a risk taker. I'd always say " it'll either turn out good or it'll either turn out bad, but I will never know if I don't take the risk." In life you only get so many chances. When you don't take the risk you can possibly lose your chance. When it came to starting my career I stepped out on faith. I trusted that God will let my gift, my talent make room for me. When you want to succeed as bad as you want to breathe you'll take every risk necessary. A famous quote I live by is "you miss 100% of the shots you don't take"by Wayne gretzky. When you have a dream but don't take a shot you miss the opportunity to succeed. Yes, you may fail the first try but failing is a major part of success. Read more>>
Dan Johnson | Music Producer, Film Producer, Graphic Artis

I think there is a broad misconception, regarding risk, among most people. Risk taking has taken on an inherently negative connotation, especially among non-entrepreneurs. Most are confortable in finding rhythm in normality. For me, it has been quite adaptive. I have consciously taken risks and watched it turn into success, as well as taken risks that have provided epic failure. Ive taken some risks, where my assessment has not been to my favor, but the results have been. Ive also failed miserably at some things after a largely positive assessment. I definitely would not be where I am at today without taking those risks, both calculated and non-calculated. You learn from both the failures and the success. Read more>>
Jasmine Birt (SlayByJ) | Pro Makeup Artist & Esthetician

Scared money don't make no money. If you aren't willing to take risks then entrepreneurship simply isn't for you. I'm not saying this to discourage anyone but it's the truth. As business owners, there's many times where we don't know how something will play out but if we don't act on it, we can potentially miss out on a great opportunity. Now that I've finally grown into the "Let go and let God" mindset, everything has been working in my favor and I'm more than grateful. Read more>>
Caroline Carter | Actor/Broadcaster/Content Creator/Writer

Heading back into the workforce after a 17 year hiatus raising my four kids, some might say is super risky. Especially because I was in my early 50's and for some that might seem like a tall order. Making that especially scary, is the fact my career centers on me being in front of the camera again. Prior to my life "pause' from working outside of the home I was a sports/broadcaster in Canada. I was definitely a "pioneer" at the time as one of only a handful of women in the country working in sports broadcasting at the time, In the late 80's and 90's, sports broadcasting was a male dominated profession. Read more>>