Meet Yolanda Fountain: Mental Health Counselor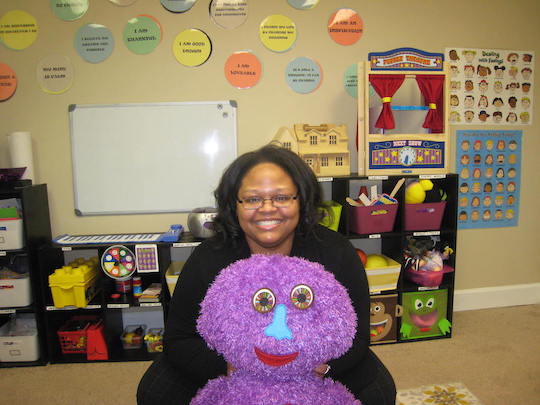 We had the good fortune of connecting with Yolanda Fountain and we've shared our conversation below.
Hi Yolanda, do you have any interesting experiences or advice related to making friends as an adult?
I used to believe that I had a great set of adulthood friends. Then, within a two year span, I loss a former "friend" of thirty years and a former "best friend" (now known as the "best betrayal") of thirteen years. With the first "friend," I remember everyone close around me insisting that her unkind and uncaring behaviors towards me were all because of jealousy. I was fervently resistant to that idea because: 1) I thought some people prematurely rid themselves of relationships by blaming jealousy, 2) I did not want to believe that someone who I grew up with would invite envy into the heart and separate the two of us, and 3) It was challenging for me, someone who is a very collaborative person, who wants everyone to succeed, and who has had some challenging life circumstances, to believe that I was "capable" of being jealous of. Yet, one day after a significant disrespectful behavior towards me, I opened my eyes and grieved for the next two months over the loss of my longest "friend." It also became my first time setting a non-negotiable, finalized boundary (related to how others were to treat me) by terminating the friendship. While painful, it was essential preparation for what was to come in my life. The best betrayal came at a huge surprise and during one of the worst times in my life. A manipulative and deceitful woman ran a red light, t-boned the vehicle that my family was in, and that all led to me losing my very first child via pregnancy loss three months later. It was during this time that the best betrayal chose to utter the following words within one minute of being on the phone (but after three months of not being available for a phone call): "I can't care about you" (and, yes, she proved it). Because I dedicate my life to caring for others, I was shocked. Nevertheless, that conversation was the last one. It was also the beginning of firm boundaries in and/or termination of other relationships with people who chose to be neglectful in friendship. In adulthood, friendships have been harder to develop and easier to loss. Somewhere in life, people began to associate me as the "strong," "she's always okay," "she'll handle it well," and "no need to check on her" friend. Dually, I forgave easily and hurt often until my counselor politely informed me that this may be a characteristic of codependency. I was willing to do everything that I could for those who I cared about with little or no expectations for shared responsibility in the relationships. Luckily, I quit that crap and began to focus on the friends who actually valued friendship. Two friends did a superb job caring for me even at a geographical distance, one friend apologized for a lack of care (which was such a feeling of restoration), and I developed deeper relationships with four people (who are now friends) along the way. My losses led to great clarity, boundaries, and better quality friendships that I deserved. At this age, I am not just looking for a ton of fake facebook friends or occasional random texts that assume friendship. Instead, I am grateful for people who value picking up the phone to hear my voice, virtually checking in with me to see my face, encouraging in-person visits for a hug, and showing care to me whether I am doing well or in deep despair with a vested interest in my well-being. I keep friends who want to take the responsibility of true friendship, and that starts with me. As a gift to myself, I began to pour into myself all of the unconditional care and love that I was freely giving to others (which is no longer free as there is an expectation for me to receive respect and care as well). I embrace Beyonce's sung words of being "my own best friend." All other mutually supportive, trustworthy, and collaborative friendships that were in existence and that are to be cultivated along the way are considered bonus gifts.
Alright, so for those in our community who might not be familiar with your business, can you tell us more?
I am the owner of Play Wellness LLC in Roswell, Georgia, and I am the founder of the Child Loss Center Inc. Play Wellness provides intergenerational (infants to geriatrics) mental and behavioral health care. Specialities include infant mental health, maternal mental health, play therapy, and sand therapy. Play Wellness also provides supervision and education services to mental health professionals to that they learn the art of providing quality therapeutic services. Play Wellness is really cool because it uses preventative approaches to enhance parent-child relationships during pregnancy and throughout the life span. With this approach, families can build strong bonds, parents can enhance mental wellness, and child abuse can be prevented. The Child Loss Center Inc is a non-profit with a mission to provide health services to empower women (and their families) who are hurting from infertility and perinatal, infant, and child loss. It is also missioned to educate medical professionals on emotional and mental health matters related to supporting families after child loss. The Child Loss Center is currently seeking funding opportunities to offer mental and physical health services for families impacted by child loss. The goal is to increase a sense of connection, share helpful resources and support, provide grief and trauma counseling, and make available health services for restoration.
If you had a friend visiting you, what are some of the local spots you'd want to take them around to?
With the current pandemic, all visits are now virtual!  However, pre-pandemic and post-pandemic, the following options are delightful: For fun, we can visit SkyZone, My Clayground, or Main Events; For exercise, walk around local parks, the Avalon, or the Halcyon; For meals, we could visit Folk Art Restaurant, Ted's Montana Grill, Pizzeria Lucca, True Food, or Milton's Cuisine; and For museum/cultural exploration, we could visit the Atlanta Botanical Gardens, Georgia Aquarium, National Center for Civil and Human Rights, or the Martin Luther King Jr. National Historic Site
Shoutout is all about shouting out others who you feel deserve additional recognition and exposure. Who would you like to shoutout?
My family, true friends, helpful colleagues, and the Georgia chapter of the Tears Foundation
Website: www.playwellness.net
Instagram: https://www.instagram.com/playwellnessllc/?hl=en
Twitter: https://twitter.com/playwellnessllc
Facebook: https://www.facebook.com/playwellnessllc/
Image Credits
Play Wellness LLC