Meet Waverly Lucas: Co-Founder, Co-Artistic Director, Resident Choreographer for Ballethnic Dance Company Inc.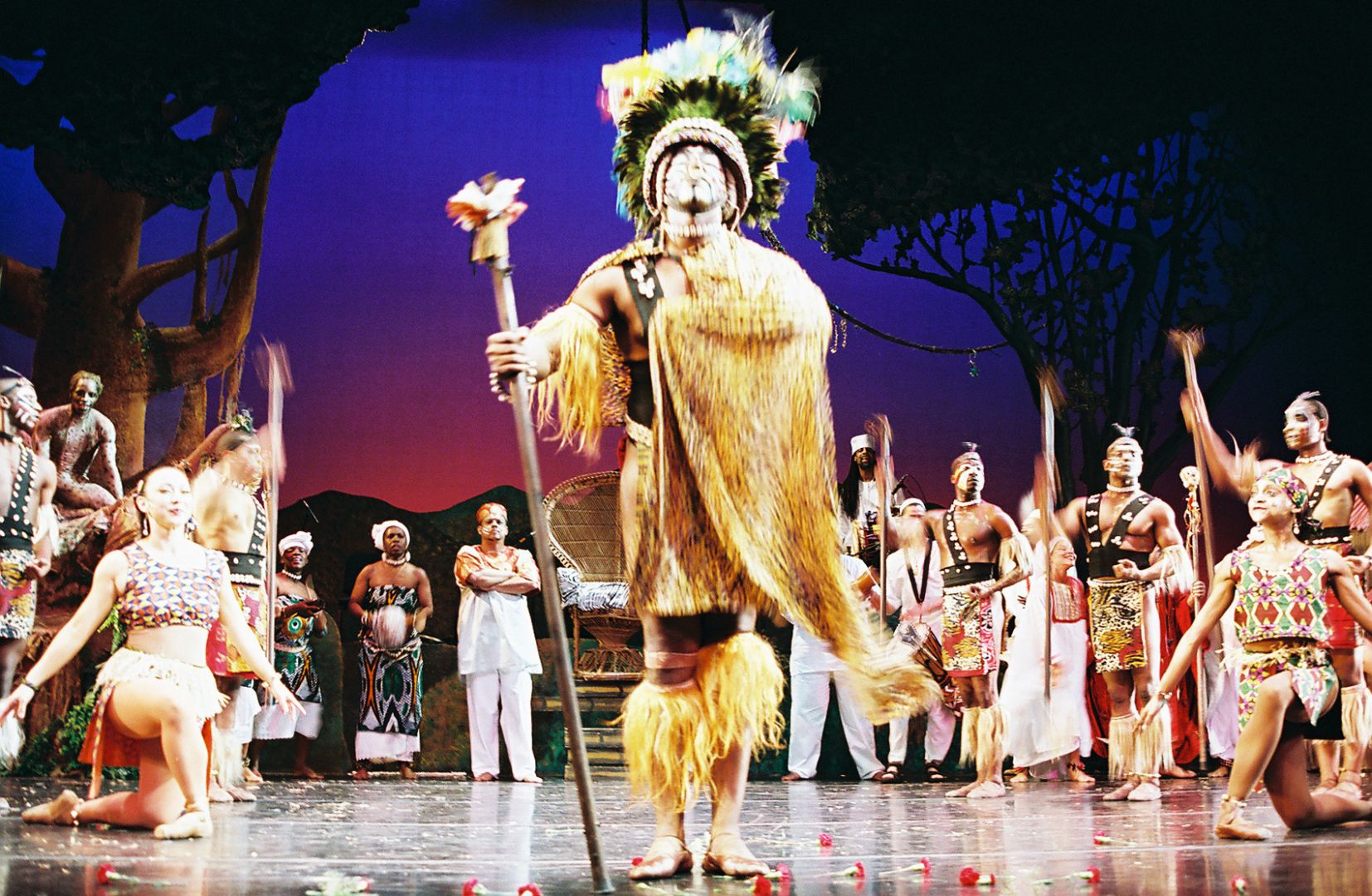 We had the good fortune of connecting with Waverly Lucas and we've shared our conversation below.
Hi Waverly, can you walk us through the thought-process of starting your business?
My thought process in starting my own business was to simply do something that I had a passion for and to provide a service and product that uplifted and inspired the community. I wanted to affect change by positively infusing hope and possibilities for youth and the community at large. It was important for me to live frugally in order to reinvest in the business and build a strong foundation based on ownership of real estate. Working tirelessly with my wife and business partner Nena Gilreath, we made a pact to listen, learn, work hard. We valued learning from the mistakes of others and avoiding those same mistakes. Furthermore, we committed to the long-term goals of the organization and avoided chasing the shiny object that would dull after its acquisition. We realized that mistakes are an important part of learning and risk-taking, and accepted the fact that we would err but focused on not erring repeatedly without empowering ourselves with the knowledge to use the faults for progress. As a youth, I dreamed of a profession or career that would allow me to spend much of my time enjoying my work. I wanted to play in the NBA, but my talents didn't support those ambitions. While in high school I began acting and had a nice little run in the play "Arsenic and Old Lace" but the excitement of rehearsal for a play paled in comparison to the actual live event. It wasn't until I discovered the dance that I found my purpose in life. I would use this vehicle to tell the stories of my people and myself. I realized the true meaning of wealth was not measured by financial exploits but by the ability to serve humanity in a dignified and righteous way. I would incorporate all of my life lessons into creative motivation and disciplined perseverance to co-found Ballethnic Dance Company Incorporated and make the necessary sacrifices to keep the organization afloat through many inequities and injustices throughout its the 30-year existence.
Alright, so let's move onto what keeps you busy professionally?
At Ballethnic, our authenticity is our secret sauce. We have the audacity to blend ballet and African dance concepts regardless of the popular skepticism toward the two idioms as opposites and incompatible. Dr. Pearl Primus challenged and encouraged me 30 years ago when I first attempted to experiment with blending the two idioms choreographically. She told me to dig deeper into the concepts of African dance to develop embodied knowledge of the elements that construct it. Later in the history of Ballethnic Dance Company, Katherine Dunham would also complement and challenge me to delve deeper into the African dance and culture and to document my work academically. She pointed out that I was continuing the work that she started and was actually going a step further by placing it en pointe. This was at a performance for her 90th birthday celebration at Jacobs Pillow where I had benefitted from a summer experience with Reginald Yates. Dr. Dunham warned me that if I did not follow up on the documentation many would ignore the historical significance of my work with Ballethnic Dance Company. We performed the "Mating Pas" from "The Leopard Tale" for Dr. Dunham and it would take me many years to adhere to her charge.
After being consistently told by Baba Chuck Davis of "Dance Africa", Brooklyn and Chicago, to document my work I eventually decided to pursue my M.A. in Ethnochoreology at the Irish World Academy of Music and Dance at The University of Limerick in Ireland. Baba Chuck would proclaim "I never thought I would see Mendiani en pointe" referring to the celebratory African dance and the rhythm that is known for its increased pace and challenge between the dancers and drummers. My introduction to the University of Limerick came from Professor Ras 'Mikey' Courtney of Wayne State University, who received his Ph.D. in Ethnochoreology from the Irish World Academy of Music and Dance of The University of Limerick. He attended a panel discussion of men in dance that I accepted a last-minute request by Denise Saunders Thompson of the International Association of Blacks in Dance conference as a volunteer panelist and met Dr. Courtney. We discussed my desire to pursue a postgraduate degree and tell the story of the Ballethnic Dance Company. This was important to me because I noticed how often Ballethnic was ignored throughout the limited history of professional black ballet dance companies even though we carried the torch when Dance Theatre of Harlem was on a nearly ten-year hiatus and the other professional black American ballet company had yet to be founded. Dr. Courtney put me in contact with Dr. Catherine Foley who started the program at the University of Limerick and the rest is history, I am completing my thesis and will submit it at the end of August.
While in Ireland I was fortunate to experience a smorgasbord of performances from Irish dance and music to studying with a Ghanaian Ph.D. student John Nutkepor, to selecting the Tribal Spirit Drumming facilitated by John Bowker as my independent studies, and also joining the Irish World Academy of Music and Dance African Drum Ensemble. Learning world dance forms such as Irish Dance, Flamenco, Kathak, and Serbian dance gave me a new perspective on the possibilities for Ballethnic. Learning to play the Bodhran an Irish drum also expanded my creative intuitive spirit. Art and culture are meant to be shared and developed. Babatunde Olatunji would often remind me that no one should covet art and culture because it is a living and growing entity. I am so glad that I accepted the challenge of pursuing this goal to share the journey of Ballethnic Dance Company from my perspective and from the perspectives of former company members and the students who came through Ballethnic Academy of Dance to reflect on their experiences through my thesis.
 As a black male ballet dancer, I have experienced a multitude of injustice and inequality rooted in racism, both systematic and overt! I have never been one to cower in the face of dispute especially when my human dignity is being violated. Such was the case when I was a dancer for the Atlanta Ballet when the cast list was posted and I saw my name listed to perform the role of 'Blackamoor', I refused to accept this racist casting and knew my days were numbered there. When I left the Atlanta Ballet based on principals and integrity, I would go through a very difficult time. It became difficult for me to get a job that would allow me to audition and take dance classes to stay in shape. I had just purchased a new truck and had payments that required me to take employment at places such as Hooters, washing dishes, and Speedy Pizza, delivering pizzas. I remember how people would treat me disparagingly based on my current condition, and vowed to improve my plight. My wife Nena was very supportive and said she was making enough to pay the bills but, I was not raised that way. I was going to contribute regardless of the hard work and disparaging conditions.
My outlook seemed really bleak and one day my sister Karen who is a doctor called and stated that she was proud of me for working those jobs and said it showed great character. That meant a lot to me because I was beginning to doubt myself and needed that lift after touring the USSR and Europe with Dance Theatre of Harlem to delivering pizzas and washing dishes. I persisted with the work that allowed me to pay my bills until I was able to improve my condition by modeling for a company out of Portland called Van Grack and working as a guest artist for ballet companies during the Nutcracker seasons. I was fortunate to dance into my early fifties, which is extremely rare for a male ballet dancer. I was enjoying my dancing career, before rupturing my Achilles tendon and suffering post-operative infections that required four skin grafts. I would have a schedule composed of multiple doctor's appointments. My schedule consisted of seeing my podiatrist, the infectious diseases specialist, and the wound care specialist. I was wearing a wound vac and using a rollator to get around.
This caused us to suffer extreme financial distress and nearly sent us into bankruptcy. Thanks to the relationships, partnerships, and collaborations that I had invested in through the years, my support network came through with donations through GoFundMe and personal offerings that allowed me to sustain myself over the more than three-year ordeal. All the while I was choreographing "Memphis" for the Aurora Theater and Theatrical Outfit. Unable to demonstrate the steps I had to recall my experience learning "Billy the Kid" from the great Agnes DeMille at Dance Theatre of Harlem. Sitting on the floor as she described the movements and motivation for them from a wheelchair with one foot that would point and one functioning arm. This embodied experience helped me get through my ordeal.
If you had a friend visiting you, what are some of the local spots you'd want to take them around to?
I am back and forth from our home in College Park to our home in Athens because my wife Nena is the Facilities Director for East Athens Educational Dance Center and I also teach dance there as well as Ballethnic Dance Company and Ballethnic Academy of Dance in East Point. When in College Park, we go to Noodle or Happy Buddha or Zab-E-Lee. In East Point, it is Q's, Oz Pizza, or Thumbs Up the many choices of the Camp Creek Marketplace. In Athens its Taziki's Mediterranean Cafe, The Grit, or Peking Restaurant. In Atlanta, Flying Biscuit, Dat Fire Jamaican, L T's Wings. I usually cook so going out is not a big part of what I do. I love grilling out at Ballethnic and grabbing some vegetables for a salad from the Ballethnic Community Garden. I enjoy going to Jeju Spa with my wife Nena. Usually, our friends already know where they want to go in Atlanta, and we will end up going for the first time because they saw it on a tv program or heard about it from social media.
The Shoutout series is all about recognizing that our success and where we are in life is at least somewhat thanks to the efforts, support, mentorship, love and encouragement of others. So is there someone that you want to dedicate your shoutout to?
My parents deserve great credit for instilling a strong work ethic and integrity within me. My father, even though I only experienced him in life for six years, molded me early so that my mother could handle the responsibility of raising a strong black male in the rough and robust city of Detroit, Michigan. I learned the value of working at four years old as the paperboy's helper. I delivered the papers on my side of the street on my Big wheel, and he paid a small wage that seemed like substantial loot to me at the time. I watched my mother work multiple jobs as a young widow and even open her beauty shop. I would catch the bus to the beauty shop after school and open it and prepare things for her to arrive from her job at the Ford Motor Company standing on her feet all day working on the assembly line. She would get to the beauty shop and immediately began doing hair. I learned to do wash and sets to help her and built quite a clientele.
This experience prepared me for the hard work and responsibility that is necessary to be an entrepreneur. There were also many of my relatives, both living and now deceased that were significant influences and supporters in my career ambitions and life, such as my sisters, grandparents, aunts, and uncles, and cousins. My dance instructors at Marygrove College, Iacob Lascu and Penny Godboldo were especially influential in me developing the unique blend of ballet and African dance concepts based on the Ballethnic way of dance in which we dare to place African dance movements en pointe (in pointe shoes) and create the concept corps d' ballethnic based on the corps d' ballet concept in classical ballet. Also, it was at Marygrove College that I conceived the name Ballethnic based on my love for ballet, taught by Iacob Lascu, and ethnic dance taught by Penny Godboldo who was taught by founding member of the Dunham Company of Katherine Dunham, Clifford Fears. I was mentored by Homer Bryant, Iris Cloud, and of course Arthur Mitchell while at Dance Theatre of Harlem. After leaving the Atlanta Ballet I was mentored by Reverend Gloria Bowden, Mozel Spriggs, and also the great Dr. Pearl Primus who coached Ballethnic for our premiere concert at Baldwin Burroughs Theatre at Spelman College. Further mentors include Ramazon Bapov and Lydia Abarca-Mitchell formerly of the Bolshoi Ballet and Dance Theatre of Harlem respectively. Special mentoring by African dance and drumming legends include Babatunde Olatunji, Baba Ishangi, Irene Tassembedo, and Baba Chuck Davis. Business mentorship by Ron Tigner, Larry Epps, and several men from the Alpha Fraternity. Harriet Sanford, Veronica Njoku, and Stephanie Hughley were valuable assets in the formative years of Ballethnic, as were Louis Johnson and Dr. Richard Long who met with us at Mick's on Peachtree St. and encouraged us to start Ballethnic Dance Company. I could go on listing the many individuals and organizations worthy of notice but still would inevitably overlook valuable supporters. Ballethnic is the result of our relationships, partnerships, and collaborations. They are the community that we value and cherish.
Website: www.ballethnic.org
Instagram: danseurlucas, ballethnic, nenaleopardess
Linkedin: Waverly Lucas
Twitter: Ballethnic Dance @ballethnic
Facebook: Waverly Lucas, Ballethnic Dance Company Inc., Nena Gilreath
Youtube: Ballethnic Dance Company
Image Credits
Ballethnic Photographers: Keiko Guest, Wendy Phillips, Denise Gray, and Sirk Photos
Nominate Someone:
 ShoutoutAtlana is built on recommendations and shoutouts from the community; it's how we uncover hidden gems, so if you or someone you know deserves recognition please let us know 
here.