Meet Sandra Oei: Multi-Disciplinary Digital Designer and Illustrator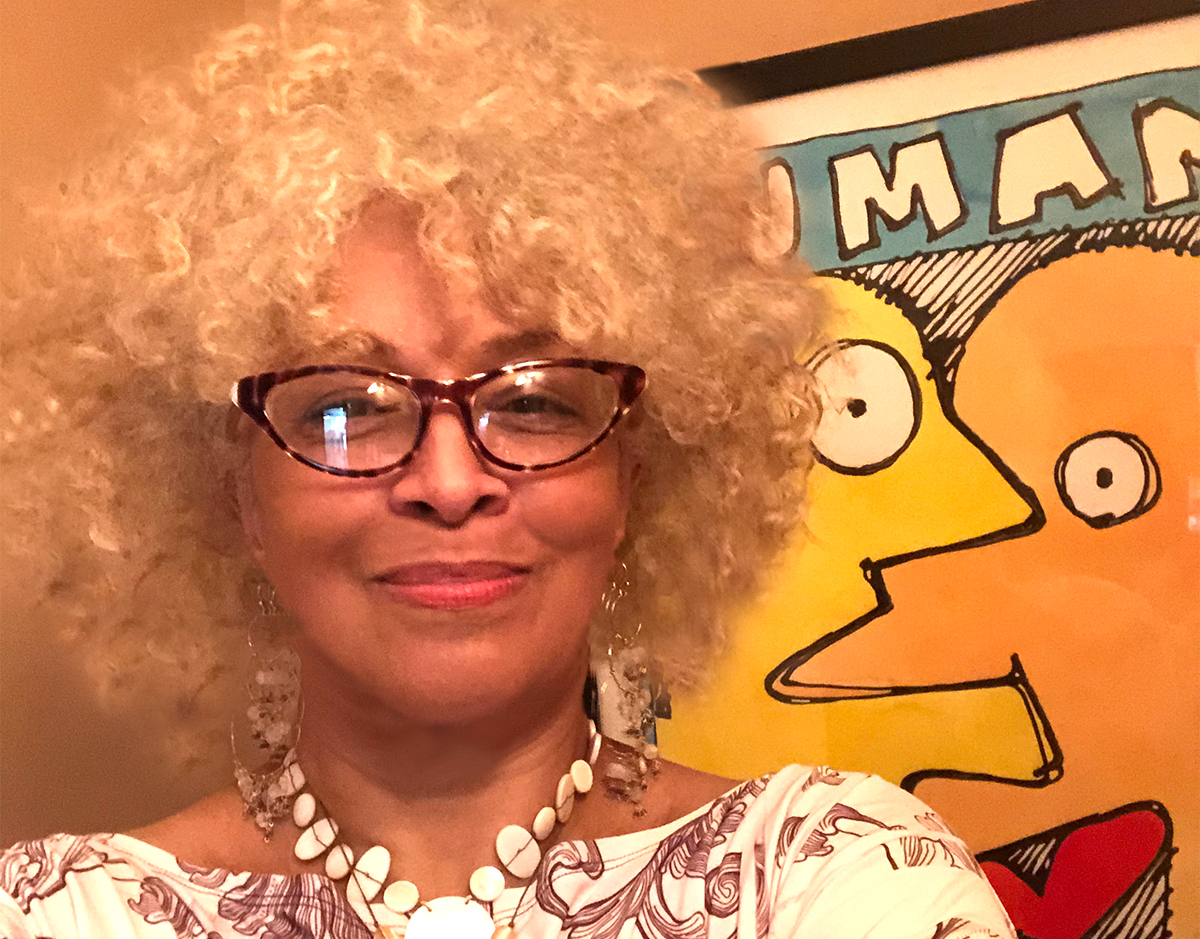 We had the good fortune of connecting with Sandra Oei and we've shared our conversation below.
Hi Sandra, what role has risk played in your life or career?
When pondering risk and the role that it has played in my life, I first consulted the dictionary for a common ground definition and concisely found: Risk – A possibility of incurring loss or misfortune; a situation involving possible exposure to danger. As I look back over my life, I confess that "risk taking" has been a large part of my personal and professional journey. I believe when avoiding risk, it's usually out of the fear of, and not the certainty of loss or misfortune that deters us from moving forward into the unknown. I also believe that the unknown is not the same as the unknowable. I do believe in research. Therefore for me, risk is taking that leap of faith with the confidence of knowing that somewhere in my landing, there will be solid ground. And, I believe that solid footing and foundation must first come from within, by having that unwavering confidence in one's self. That ability to rely on yourself with the confidence of knowing that you can follow through, that you can do what is required to take the next (albeit unknown) steps.
Yes, a large part of risk taking is based on the unknown. But what can be a known factor is your own strengths and abilities. Those assets that you would bring to any given situation, while having the confidence in knowing that what you bring is valid, and has value. As long as your vision is aligned with your purpose, failure shouldn't even be considered as an option, although at some time or another we all have experienced failure. But, we pick up and keep moving forward. Again, it's about self-confidence aligned with a healthy dose of positive self esteem.
There is a quote taken from one of the works of Kahlil Gibran that resonated with me when I was young and just starting out. To paraphrase: "But you who are strong and swift, see that you do not limp before the lame, deeming it kindness." This spoke to me as saying "Be bold". Do not let the limitations of others define your actions. This strongly resonated with me because it speaks to the idea of always putting your strengths out in front, fearlessly and confidently. Really believing that you have what it takes to succeed in spite of any of the limitations of those around you, not allowing them to project their fears onto your moving forward.
In addition to self-confidence, one's intuition should play as large a role in making decisions when risks are involved as well. Once again trusting yourself, relying on your instincts and gut feelings, being able to develop a kind of emotional sonar / radar to pick up the vibes that surround you, guiding you towards knowing whether or not you are in a place in which you should be. I recall once when very young deciding to relocate from New York to Los Angeles and look for work in the entertainment industry, thinking that this would be a next logical step to begin furthering my career. I had already been working at an advertising agency in Manhattan as an Assistant Producer and figured Los Angeles could be where I needed to be. And so without knowing in advance anyone or anything other than that is where I wanted to be, I packed my bags (including my cat), hopped on the plane, and landed. After making many "cold calls" and frequenting employment agencies I was directed to a fairly powerful Hollywood executive who had the ability to "get me in the door" and further my career. Not very long into our meeting he closely approached me and very intimately whispered that my ability to get ahead in this business was in direct proportion as to what I was willing to do in order to get it. Engaging my fine-tuned internal radar…I instinctively knew that my next move was to "exist stage left", and out the door. This was a risk I certainly was not willing to take. I believe I was around 22 years of age at that time, and then having to really ask myself what would I be willing to do in order to get where I wanted to go? Willing to do? I really felt that I would be an asset to any company that would hire me. I was talented, hard-working and smart: that's what I had to offer. And so I left that man's office more determined than ever to rely on my abilities, and the realization of knowing that I could attain my professional aspirations through my own efforts, and without having to sacrifice my integrity and values along the way.
I persisted and eventually found all kinds of productive work and in many interesting places. After that experience there were many similar moves and relocations that would take me on my life's journey, moving from Los Angeles back to New York, then on to Paris, then back to New York, then Brussels, then back to Los Angeles, then Hawaii, then back to New York and now for the past 12 years, I'm a permanent resident of Atlanta. With each adventure there were always risks just waiting to be taken… and yes, I was always prepared and ready to take them. About 25 years ago I made a very big decision to leave behind a successful career while working as an executive for a large, international entertainment corporation. At that time, there were many friends and family that feared for me, chastised and even criticized me when I told them of my decision to leave… without any idea of what direction my professional life would take next. I just knew that I needed a total change of direction; a change that would be more in line with my earliest memories of wanting a more creative and artistically centered life. This was another risk I was willing to take.
Within three months after leaving that corporation, I had made a discovery into a brand new industry, one that was not yet fully commercially developed, but was an upcoming industry that attracted and intrigued me. This was soon to become known as the "new media"… the internet and web technologies. I had always been known to be quite an "information junkie" and a bit of a "geek", and so this potential direction immediately caught my attention. And, it was not long at all before this new interest took over my entire focus and led me to what was to become my next career path. Also, because I was considered an "early pioneer" in this new media game, it had gotten around that I would be a person of interest to speak to about my knowledge and practical application of all things related to the Web. This seeking out and being sought after gave me that solid industry footing I needed to start my own small web design firm. And, even after 25 years, I still enjoy the tech industry.
Yet, always looking to expand my interests and opportunities, I have recently extended my professional offerings by incorporating my more personal, artistic side in my work, that being as a Digital Graphic Designer and Art Illustrator. I have now come full circle. I believe that we should always confidently state what we want, and why we want it, and then get that energetic momentum in play. With this mindset risks shouldn't feel as "risky". Neither should uncertainty prevail. There were several times in my life when not only did I make big changes, but I made them while moving far away from what I considered as "home". Moves I made without business contacts or personal connections, or in a couple of instances moves to foreign countries while not even fully speaking their native languages. The phrase "fake it till you make it", also requires faith in oneself and confidence in one's abilities. I've heard about the "imposter syndrome" where talented and creative people don't really believe in who they are, or feel as though their work has any real value. Fortunately for me, even when starting out and faking it a bit to get my foot in the door, it was always my knowing that I could succeed if just given a chance, that kept me from falling into a trap of insecurity and under-performing. If you think you've got what it takes… be bold about it. Take some risks. Use your own measure of what success looks like to you as your professional barometer. Be the success that defines you.
Lastly, here is another bit of relevant information that I picked up from author James Clear who wrote the book "Atomic Habits". This is an excellent book on understanding how and why our everyday habits are the reasons why we encounter success or failure, and the ability or inability to achieve our goals. He states: "We think that we need to change the results (of our actions)…but the results are not the problem. What we really need to change are the (personal) systems that we put into place that cause those results; setting up systems that can bring about the ultimate desired outcome. Fix the inputs and the outputs will fix themselves". And in regards to goal setting: "Goals are future happinesses. Goals are an either/or situation. Either you attain your goals and are successful, or you fail at attaining those goals and you are disappointed. With this mindset you mentally box yourself into a very narrow version of happiness. Disappointment in oneself can lead to lack of confidence and inaction. Taking risks require taking action." 
Can you open up a bit about your work and career? We're big fans and we'd love for our community to learn more about your work.
Regarding my art, I will be brief. Although I have been developing and designing websites for many years, over the past few years I've started taking my graphic designs and illustrations into more personal territory, away from the more commercially focused genres. So far I have been successfully selling my personal artwork at local Art Fairs, and as I continue to create, I will take the next steps and begin selling my work online. My artwork pays homage to my love of Nature and indigenous, cross-cultural global artifacts.  My mission for my work is to produce thoughtful, engaging, beautifully crafted pieces that perhaps informs and inspires others to take a closer look, and have much more appreciation of the world around them.  My vision is to interpret and express Nature's brilliance and beauty, hopefully encouraging others to see the beauty in it themselves.
If you had a friend visiting you, what are some of the local spots you'd want to take them around to?
I love good food! So I will say that for me, great restaurants are my first choice for sharing Atlanta with visiting friends and family, and Atlanta and Decatur have more than their share. I would say I am partial to those places where there are many choices in close proximity. Especially informal eating places like the Krog Street marketplace, Ponce City Market, and downtown Decatur Square. Since my art studio is in Avondale Estates, three of my favorite close by restaurants are the Vietnamese restaurant Vietvanna Pho Noodle House and the Venezuelan restaurant Arepa Mia in Avondale, and the Indian street food eatery, Chai Pani in downtown Decatur. And, for those who love really delicious, creamy ice cream, for me nothing comes close to Atlanta's own Morelli's Gourmet Ice Cream. Also, just prior to our need for social distancing, my intention was to begin exploring eating spots within Atlanta's west end. I hear of a lot of new activity buzzing around on that side of town and would love the opportunity to check it out. I have yet to try the Slutty Vegan, and I'm told I don't know what I'm missing.
Shoutout is all about shouting out others who you feel deserve additional recognition and exposure. Who would you like to shoutout?
Shout out and much love and appreciation to my Mother, who was definitely not a risk taker and was often concerned about my unplanned and quick decisions to take risks with a frequency that caused her lots of angst and concern, but who fully supported me once she realized that my taking risks also gained me my most successes.
An additional shout out is to someone I have not yet met, however someone with whom I have recently been gaining quite a lot of inspiration, and now consider her as a virtual mentor. Her name is Malene Barnett. About a year ago a very close friend of mine was listening to me speak about my latest desired artistic direction and he immediately referenced Malene as someone I should meet. He made a brief email introduction, however at that time Ms. Barnett was on her way to Italy and suggested that I contact her after her return. When doing my initial research I found her to be the model of what a truly accomplished woman would be. I felt as though I could learn so much from her just by studying her work, and her successes. Also, I wanted to wait a bit before making actual contact while I focused on developing and refining my own personal artistic style and delivery.  I believe I am almost there. You can find out more about Ms. Barnett here:
malenebarnett.com
Website: http://www.sovisual.com
Linkedin: https://www.linkedin.com/in/sandra-oei-8644b29/
Other: As a multi-disciplinary artist, I've compiled samples of my personal artwork under the name of "Shook Arts". You can see some of my work here: shookarts.com
Nominate someone: ShoutoutAtlanta is built on recommendations and shoutouts from the community; it's how we uncover hidden gems, so if you or someone you know deserves recognition please let us know here.