Meet Kahn Douglas-Williams: Spoken Word Poet & Photographer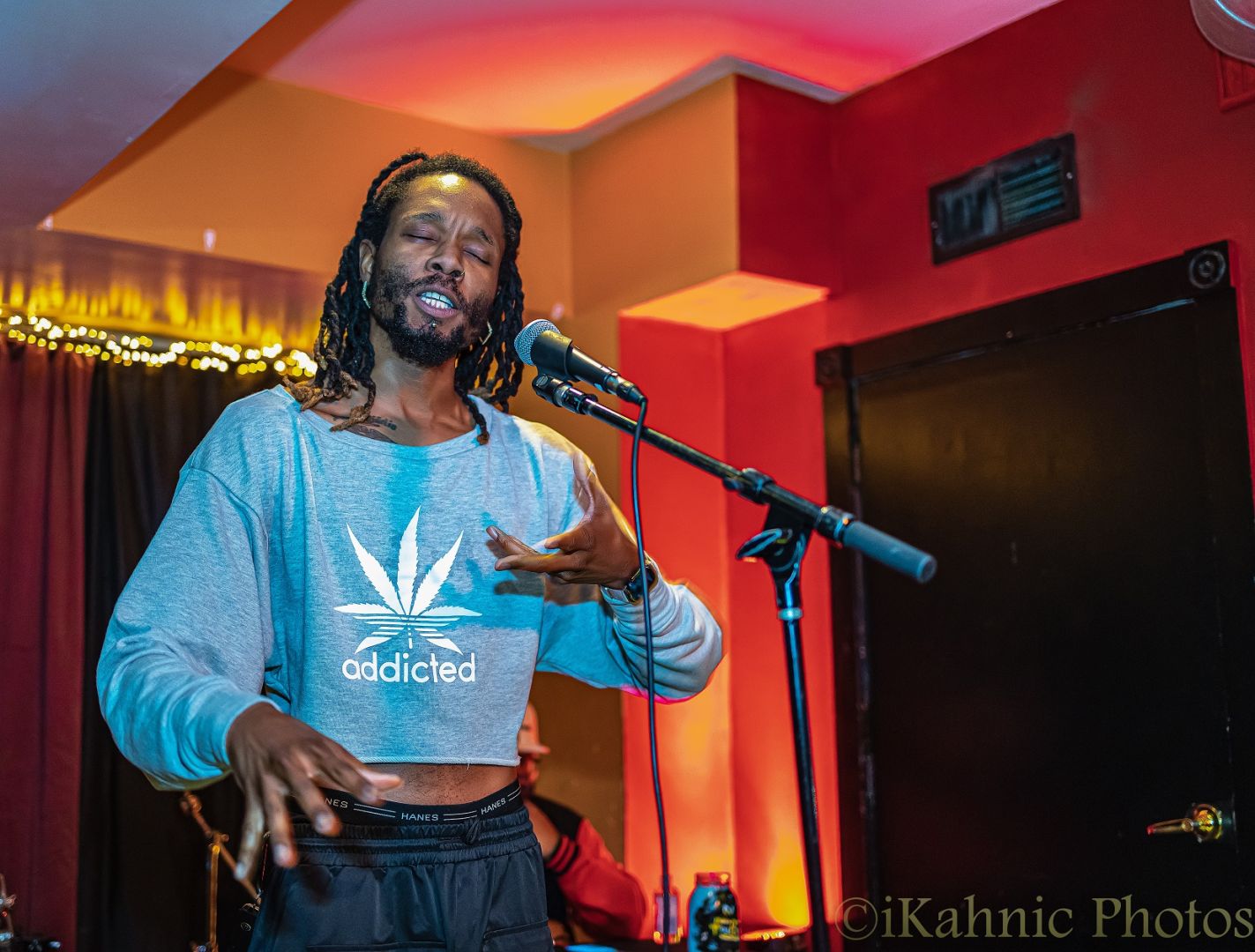 We had the good fortune of connecting with Kahn Douglas-Williams and we've shared our conversation below.
Hi Kahn, where are your from? We'd love to hear about how your background has played a role in who you are today?
I was born and mostly raised in South Jamaica Queens, NY during the '90s. I'm an '80s baby in most of the ways that term entails. I was raised by my grandparents and lost my mother and father at a very young age. By the turn of the millennium, I lost my grandmother as well. Don't worry I'm not getting into every detail of my life, just highlighting how these turning points in my childhood are the foundation for the man I am today. My grandfather and I moved to Augusta, GA when I was 14. After high school, I joined the U.S. Army. I've always been a writer, always been verbally creative, but I never considered myself visually creative. I was first and foremost a spoken word poet but I fell in love with photography,  content creation, and all things digital communication. I grew up in a tough environment and then joined the military 2 years after 9/11. All of this, I believe, reflects in my words on stage and in my specific editing style of photos that I take for clients and for myself. This was but a summary of course, there is a whole book of things in between the lines that could fully explain how my background and upbringing made me who I am.  
Alright, so let's move onto what keeps you busy professionally?
I currently have two brands. My spoken word moniker KahnScience which is a play on the word conscience using my middle name Kahn, but pronounced Kaan-Psy-ence. It basically means to me, a leader who drops knowledge. Then I have my photography brand, iKahnic Photos pronounced iconic. I'm mainly a street photographer and I also do portraiture and model photography. I will be separating those into different social media accounts as well as I finish my 'rebrand' that's not really a rebrand haha. I'm proud of myself for getting back to writing and for stepping out of my comfort zone to be a self-taught photographer. I completely stopped writing after high school in 2003 and for the next 7 years while I served in the Army. When I got out and pursued my B.A. in Communication & minor in Creative Writing at the University of South Carolina Aiken, I picked the pen back up as if I never left. I didn't even know what spoken word was officially until I had some college peers hear my work. They then showed me videos of the poetry collective Strivers Row on YouTube and that helped me realize that spoken word is what I've been writing the whole time. Writing and performing is easy to me. I don't have the same level of fear and nervousness about public speaking because Uncle Sam will help you to manage that whether you want to or not. In a weird yet tragic way, I was most excited about being on the "2019–Year that shall not be name-ty" College Unions Poetry Slam International (CUPSI) team while obtaining my M.A. in Writing & Digital Communication at Agnes Scott College in Decatur, GA. Yes, they allow males in the graduate programs only for those that know about Agnes. Sadly that dream was never fully realized because it was the same year that Rona came to ruin everyone's day. I refuse to ever say the actual year ever again but y'all know. I've since graduated from Agnes so CUPSI will forever be out of my reach. However, once the world opens back up I'm definitely taking my talents to any regional and national slams I can get into. As far as photography goes, I picked that up at Agnes. I took a course called Digital Storytelling in which we were issued DSLR cameras to do various still, video, and audio projects. While going through that class, something clicked. I've used cameras and taken regular pictures before of course, but for some reason this time it hit different. I bought my own camera and it's been a wrap ever since. I bought books, watch hours and hours of YouTube tutorials, and went all over metro Atlanta taking photos of everything. Soon after I got my first gig which is one I still have now, I take photos for a monthly open mic called Come Get Some at Kat's Cafe in Midtown every 3rd Saturday. I combined both of my loves and I have never been happier. Which is great considering that I've been diagnosed with severe depression. With that, definitely comes with challenges. I struggle sometimes with motivation to create among other things and it really doesn't help when trying to start my own freelance business. Yet, I am making progress and some progress is better than no progress at all. Despite my challenging childhood, my mental scars from the military, and its aftermath as a civilian, if I've learned nothing else, I've learned perseverance. I've come so close to giving up, in multiple ways, suicidal, nervous breakdowns, contemplating quitting school, actually quitting jobs that provided my only source of income. Covid really hammered that lesson home as well. After graduating in May of last year, I still have yet to find employment in any field much less my own. Being undiagnosed for so long had led to me making mistakes that are still costing me to this day. But I still get up, albeit after 12pm sometimes, I still try to write 3-4 times a week and take photos or edit every day while continuing a constantly disappointing career hunt. For anyone relating to my story, keep getting no until you finally get a yes, that saying is fairly well known but I would add to it. Keep getting no until you finally get a yes and at the same time make a yes for yourself. Either I'm going to be someone's greatest employee in the field of Communication or I will be a very successful self-employed photographer who may or may not have another job. The choice is up to employers to look past a person's history and see who they have grown to become but that's another issue entirely.
If you had a friend visiting you, what are some of the local spots you'd want to take them around to?
The homie and I definitely have to hit up RA Sushi in Midtown, omg the food is *chefs kiss* delicious! We would also have to check out Ponce City Market and its Skyview, stroll through Piedmont Park and the beltline. We are going to a poetry open mic at someone's venue. Finally, once Rona go away, we'll check out one of the fiddylem bars and clubs this city has to offer. I'm a New Yorker to my core but Atl is my second home for real for real.   
Who else deserves some credit and recognition?
I want to give a shout out to my family, my sister Cynthia, Aunt Kira, Uncle Chandler, Grandma Anna, Aunt Steph, Uncle Wendell the cousins Ariel, Lil' Dre, Jonathan, Val, JR, Kim, Chandra the whole Parker gang. Next is my friends who are like my family, Stacee, Quin, Ashlee, Ieshia, Addie, Mel, Jeff, Marquis, Brittany. Finally but certainly not least, my SQUUAAAD D.N.A. which stands for Dope Nu Artists, we are a creative collective out of Augusta, GA. Shout out to Ynobe G, Jazz June, The Kidd Justice, Soulful Vision, Nakia Jade, and Mia the Rhapsodist! I love all of you! If I forgot you, charge it to my head and not my heart and I owe you a drink. RIH to my mother Tania, my father Fred, and my grandmother Celeste. I love and miss you all dearly. Y'all got room for all this?
Website: https://ikahnicphotos.mypixieset.com/ (Under construction)
Instagram: https://www.instagram.com/kahnscience/ & https://www.instagram.com/ikahnicphotos/
Twitter: https://twitter.com/KahnScience
Facebook: https://facebook.com/TKahnscience/ & https://www.facebook.com/iKahnicPhotos/
Youtube: https://www.youtube.com/channel/UC0epiYCKFxUj-r73TYNN0zw
Other: I'm also on TikTok & Clubhouse! @KahnScience
Image Credits
iKahnic Photos
Nominate Someone:
 ShoutoutAtlana is built on recommendations and shoutouts from the community; it's how we uncover hidden gems, so if you or someone you know deserves recognition please let us know 
here.