Meet Jordan Rhodes: Graphic & Web Designer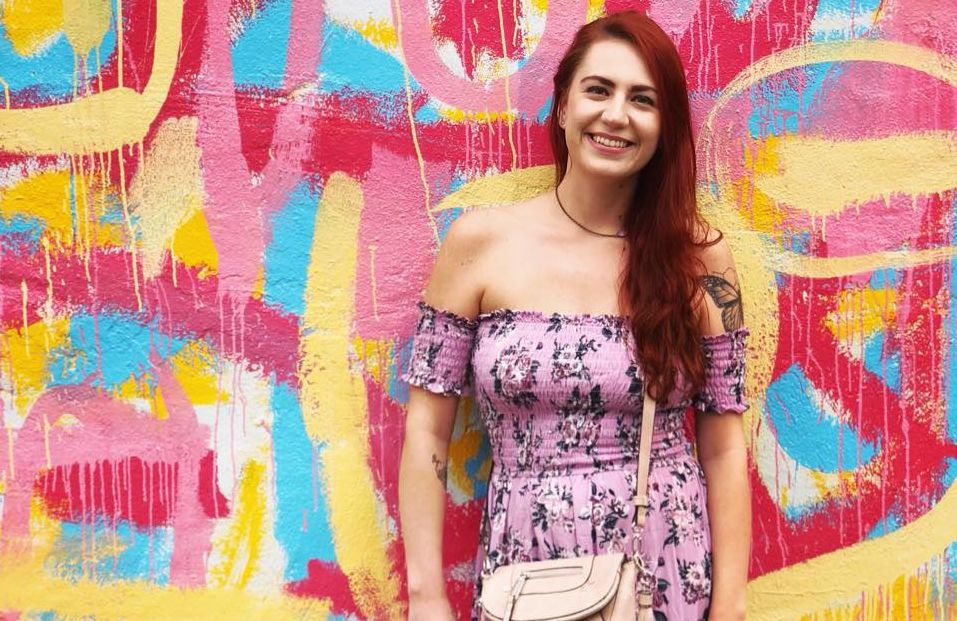 We had the good fortune of connecting with Jordan Rhodes and we've shared our conversation below.
Hi Jordan, can you walk us through the thought-process of starting your business?
When thinking through wanting to really venture into freelance work as much as possible, my bottom line was always that I wanted to create something from scratch. I wanted to see my work, skills, and client relationships grow in every way possible and truly and deeply feel that personal satisfaction with each successful – and even unsuccessful – project. Another incredible aspect of my own business for me is the flexibility to craft my own environment and schedule. Coffee shops, client offices, my couch – wherever working is going best for me is where I'm able to work, when I'm able and ready to work. I'm also able to interact with such a vast array of clients in different industries at different sizes, etc. My work and focuses are always interesting and always shifting, something that lacks a bit when you are only able to focus on one brand and/or company. Wrapping up, there was absolutely nothing stopping me from getting started but myself. I honestly couldn't sit with knowing that if I never got started, it would have been my own self setting me back from doing so. Loving what I do is what makes me happiest about every single day, I can't step away from any chance to embrace that.
Let's talk shop? Tell us more about your career, what can you share with our community?
The main thing that I believe sets myself and my art "apart" from others is my drive to create significant and lasting relationships with my clients. While one-off projects can be random and exciting, I really prefer to harbor a positive and collaborative nature with each of my clients for as long as I possibly can. I want them to trust me and my work before they're forking over invoice payments and calling it a day, never to speak to me again. This is what is most important to me with each interaction. Any challenge along my way can somehow be attributed to doubt – doubting if I was fit for a project, doubting if my final product was good enough, doubting if a client liked me, doubting if I could hit a deadline or pass a class. I've gotten through all of it, but still find myself with the same doubts as each challenge appears. The biggest lesson I can say that I've learned along the way building my brand so far, is that I will never be done learning or facing challenges, or learning how to face challenges! I'm not a fan of change and ebbs and flows, but I've had to adjust, and will always have to keep adjusting. That itself is a challenge for me that I work at every day. I never feel that my work is necessarily done or perfect, and I am constantly trying to learn and add and keep pushing. If anything is known about my brand or story, I would like for it to be that I am always trying to keep pushing. This work is the love of my life, and there's no reason I shouldn't put my all into it. Remember not to get too comfortable, and keep your friends and inspirations close. Love what you do and who you do it with, or it's not going to work.
Any great local spots you'd like to shoutout?
Atlanta "tourist hopping" is one of my FAVORITE things to do. I have been here almost eight years now, and I absolutely love this city. Friend and family visits allow me to unleash my inner planner and Atlanta lover, so this question rocks. My number one spot is Krog Street Market and the surrounding area – eat, drink, the best street art stretch in the city, Krog Street Tunnel, right on the Beltline (AKA easy access to tons of other awesome places as well)… you name it. In my opinion, the market has one of the best selections of food and alcohol in the city in a location you seriously can't beat. The tunnel and surrounding area on Wylie St., etc. is Instagram-central and just a cool spot to catch local artists and some of the best mural work around. There's almost always a photoshoot, music video, bar crawl, event, and/or all of the above in the area. Ponce City Market nearby is great as well, but KSM just has a smaller, homey feel that I really enjoy. Please check it out if you're in the city! Another favorite of mine and definite stop, especially for a first-time visitor, is an Atlanta United game at the Mercedes Benz Stadium. The atmosphere of the games is electric, the fans and chants and food make the experience, and our team freaking rocks, so what is not to love? These games are so much fun, definitely recommend. I'll wrap it up with a shoutout to my own little eclectic gem of a neighborhood, Little Five Points. This place has been my favorite section of Atlanta since some of my first visits here 10+ years ago – it is always bustling with some of the weirdest but most intriguing artists, performers, street art, food, bars, locals, music, shops and tourists. I can promise you that you will always have some sort of memorable experience visiting here long enough. Special shoutout to my favorite local bar, L5P Corner Tavern! Devour a huge burger at The Vortex then head over to them.
Shoutout is all about shouting out others who you feel deserve additional recognition and exposure. Who would you like to shoutout?
Any credit and/or recognition within my entire school and career story goes entirely to my personal support system of friends, family, classmates, and teachers – both at Auburn High School and The Art Institute of Atlanta. Through every late night, rough project review, financial obstacle, moments of wanting to give up and leave Atlanta – they've all always told me what I needed to hear and not necessarily what I wanted to hear, even if it meant leaving class in tears sometimes. Shout out to Ed Jett, I love ya! 🙂
Website: http://jordanrhodes.squarespace.com/
Instagram: http://instagram.com/jordanrhodesdesign
Linkedin: https://www.linkedin.com/in/jordantrhodes/
Facebook: https://www.facebook.com/jordanrhodesdesign
Other: https://jordanrhodesdesign.pixieset.com/
Image Credits
Mobivet of Tennessee, LLC.