Meet Jade Patton | Model & Actress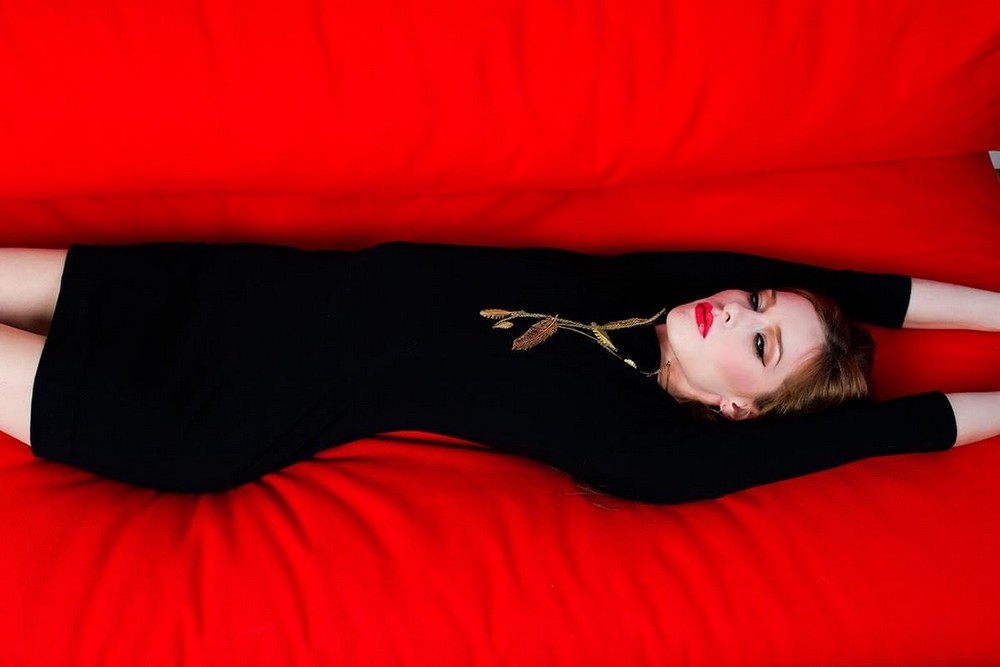 We had the good fortune of connecting with Jade Patton and we've shared our conversation below.
Hi Jade, have you ever found yourself in a spot where you had to decide whether to give up or keep going? How did you make the choice?
The only way I had to convince myself growing up, not only as a young adolescent surrounded by peer pressure, bullying, and the unnervingly painful expectations that you have for yourself in contrary to those like our loved ones, and how we sometimes, are too scared to share in fear of being ridiculed or judged. There were many times I can say "I wanted to give up." Of course, that's what happens with hope and being a human being. What bothered and still does about that phrase, while at the time, is when I feel my resilience starting to grow paper thin. In that moment then, somehow at that age, I told myself with the strength to keep carrying; "If you give up now, look at all of this time you've spent building, working, studying towards this. If you quit now, what will the fifteen-year-old-you be saying if she somehow had a time traveling machine and coincidentally just felt like checking up on how things were going? She'd probably kick your butt firstly, but especially all those times you've cried in frustration wondering how the person next to you gets chosen but you've spent years of immersing every fiber of yourself to understand this business. In all seriousness, contrasting to that phrase of giving up, my first response while on this journey was one of the thoughts, "think of how many people will be disappointed." Then after that thought, it was a liberating epiphany that, "I'm actually putting the work in by myself, so I'm literally doing this for myself. No one else." Just to add that little spice of motivation and a pop of oh fun, how funny would it be to envision my past self discovering I just eventually said, "yeah I quit." It would be as much as a tragedy as saving up after working fast food/dead end jobs to visit an agency in New York City only to tell me after wishful sweet-nothing's of my 'future career' with them were passed through emails, that I was, "too old for them." I was twenty four. Fifteen-year-old-me would have said if she had shown up in the future, "So what? I made a goal that by twenty six years old, then I can at least say that I've tried, and that modeling just simply isn't for me." Especially with my father being involved in the same industry basically since I was conceived, it's always given me the wanderlust of what it's like when I hear him talk about it, see him on set when he brings me to a catalog shoot, or shows me old magazine articles. I really looked up to him until I faced that inevitable fear of telling him, that's what I want to do. Everything in him just went silent, even over the phone I could feel it. That's when he said, "you know, you should probably focus on something else that will yield more income." That's when fifteen-year-old-me at the time thought to myself whilst setting that goal in stone, "Yeah, definitely never giving up. Until then, it just either was not meant to be, or was a dream come true." Come to find out the year of 2019, twenty-five-year-old me, two months before my twenty-sixth birthday, is now a newly signed fresh face represented by Click Models of Atlanta wondering how in the hell I did it.


Alright, so let's move onto what keeps you busy professionally?
My art is just simply real, no filtered raw emotion in front of a camera. I think that's what sets me apart from a lot of other models as an individual. To render yourself so emotionally vulnerable to achieve a mood in a room full of strangers; it's nerve wracking. Definitely not an easy feeling. Especially once you finally overcome that, "Alright let's do it," but then you have the stage fright that sets in. I'd always get so ahead of myself in confidence, it was daunting to see how eager I would be for any concept but not committed enough to pull my soul out and literally place it in front of a camera. I was so scared at the thought of trying that. I just never understood the level of authenticity, that I knew I had, but conveying it in such a way where you have to captivate others in an immortalized, capsulized photo of you. That's what really excited and I think made me proud of most of all. It was when I finally had overcome that fear of just letting it all go and expressing the innards of my character on film or camera. "You are what you think," for lack of a better term was how I had approached the mindset on a job when I could feel the anxiety and hesitation rising. It was probably around the age of eighteen, three years after I had made that promise to myself. I was working for a friend that owns her own online clothing shop for vintage clothes. We would be working weeks on end while I was still in high school, making 40$ a week so I could have some cash to go out or anything I wanted to do. She picked me up from my house since I didn't have a car at the time. Once a location she saw that she really liked happened to be on one of the busiest roads in my hometown, so there on friends would message, "Was that you the other day?" With her also being a mother, she really helped me to overcome while still growing up as a bratty teenie bopper that thinks she knows the world. Certain times she would see how badly I want to just drop to the ground exhausted, but still clocking into twelve hours into the photoshoot. She could tell how much I desired to just catch a glimpse of what it's like to succeed, even when almost every odd possible, is against you in every way. She taught me as if a mother would to her daughter, to never let anyone bully you out of anything you choose to do. That's what I want people to know about me if they are reading his and are probably wondering, "Who the hell does she think she is?" Well, I'm definitely somebody that had no idea what they had gotten themselves into. I'm from a flea market of an extremely small town with the worst accent you can imagine. But I'm also someone that is here to at least say, if you think you can do it. You can. The only thing stopping you is you.


Any places to eat or things to do that you can share with our readers? If they have a friend visiting town, what are some spots they could take them to?
One thing I would love to do is take my boyfriend to Little Five Points for a surprise on his birthday. Even though we've been once, he is a musician and it's humbling to watch him in his element when he thumbs through used cassette tapes and vinyls. Preferably for me is spending some time at Mellow Mushroom for obvious reasons, but also for that delicious side of Trimtab Language of Thunder accompanied with a giant cheese pizza. An ageless favorite of mine is enjoying a few concerts together with my mother, since she barely even travels out of state unless it's the beach. Rocking out at the Masquerade and the Tabernacle surely is my ultimate way of spending a great day in Atlanta.


Shoutout is all about shouting out others who you feel deserve additional recognition and exposure. Who would you like to shoutout?
The shoutouts? Oh man. Besides my mom deciding that she should introduce the idea to me and what I would think, she deserves all the credit for deciding to leave the idea at the table instead of brainwashing it. She let it just happen with me naturally since I wasn't giving any thoughts about it at first more than video games at the time, until I chose to venture towards it myself. Once she noticed my interest towards that department, I could tell she couldn't have been more elated. Not because I went after something she suggested in her own idea, but more so rather because she saw me wanting to grow out of my comfort zone and I just didn't know any other way how to. It was always literal hell for me growing up with an overbite, going to school in clothes my mom dressed me in that I really was not fond of, and being the sandbox target of other kids that happened to be nearby and bored. She could see something in me wanted to shine, and she really helped me to realize what it was that just needed a little bit of a spit and polish. My sister deserves a shout out for simply putting up with little sibling ole' me. But mostly for being my nonstop literal light, helping me see the qualities of myself that I don't and would be comparing myself to other girls that are more successful, and keeping me so down to earth with being grounded in myself and not letting that ever falter. My grandmother deserves more than just credit alone for being supportive of my endeavors and rebelling against her expectations of me going forward with an education. I assured her before I was eventually signed for modeling professionally from Click Atlanta, she seemed to understand once it happened, that I somehow knew in my heart and still assured her then, that I would not disappoint her in any way. She has given me so much strength to carry myself as a person. Most of all, would love to personally shout out each and every friend that's gone out of their way to reassure that I'm on the right path. You all have deeply moved me with such little words that you brush off as a light compliment, but the sheer weight of being revered through someone else's eyes is something I don't think I will ever feel worthy of. You all are my equals even if this business has made me grown apart so far, that I can't see you everyday unfortunately. This is why I work so hard everyday not only the people mentioned above, but also to show you guys that I'm never not thinking about you all. To prove that fifteen-year-old me is still residing in just a somewhat now taller body that people find intimidating. It's always going to be the same incredibly geeky yet larger-than-life attitude in me that all of my friends, so many to mention it would eat this entire article, you all helped to instill while I was in doubt. That's what will never change. I will never forget how 99% of the interactions go, "Please don't forget me!" Funny you all say that, because that's why I'm giving you all a shout out. For reminding me why I should work hard for myself. I love each and every one of you.
Instagram: @redneckprincess
Twitter: @berettabetty
Other: Twitch: @berettabetty
Image Credits
B&W photo credits: Photographer-Holly Kringer MUA-Mraz MUA
Nominate Someone:
 ShoutoutAtlana is built on recommendations and shoutouts from the community; it's how we uncover hidden gems, so if you or someone you know deserves recognition please let us know 
here.