Meet Alaina Booth: UGA Student and Video Producer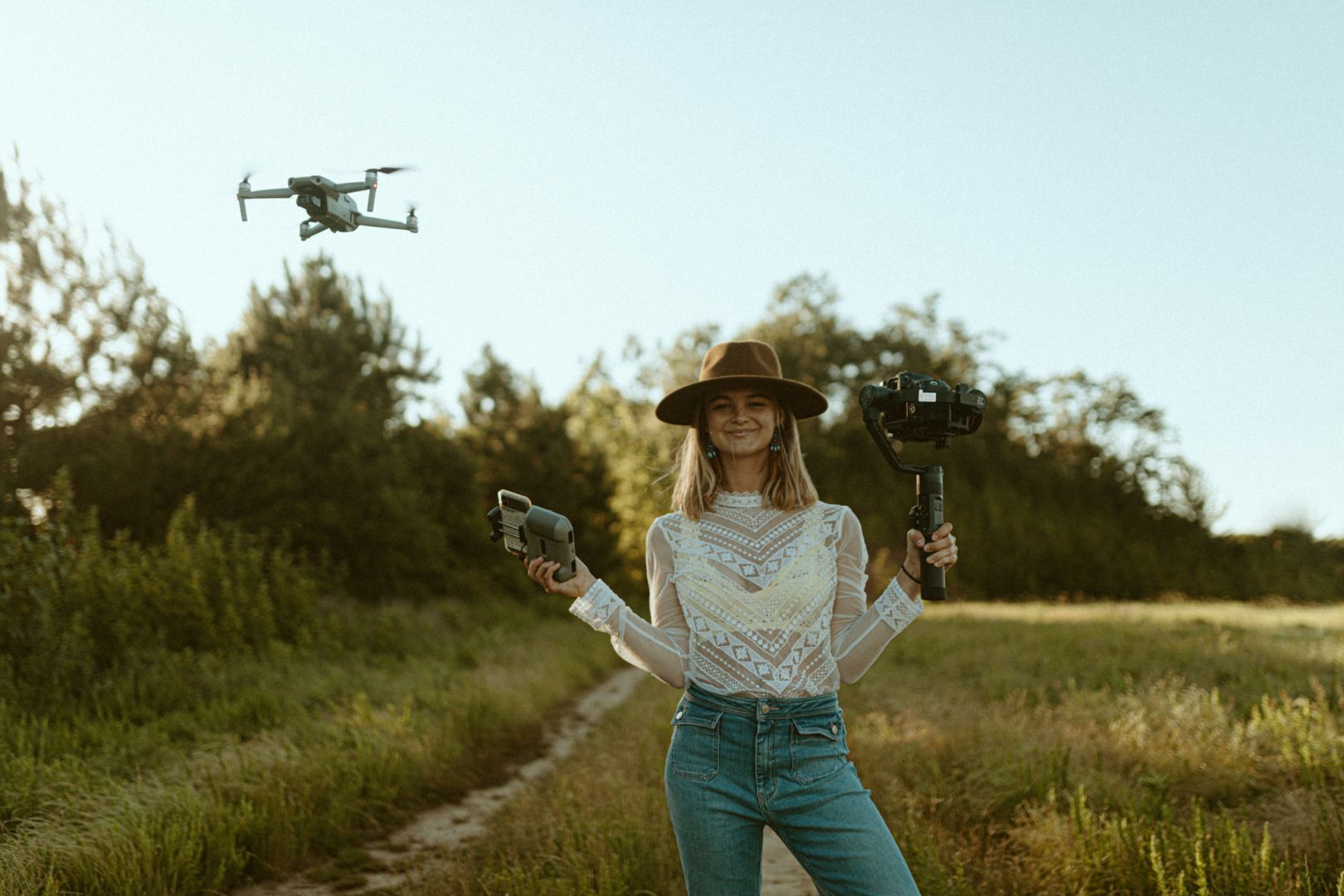 We had the good fortune of connecting with Alaina Booth and we've shared our conversation below.
Hi Alaina, we'd love to hear about how you approach risk and risk-taking
My career is so young that I feel kind of silly answering this question to talk about risks I've taken throughout my life and career, but the risks I've taken have gotten me to where I am. Taking a risk, to me, is another way of saying "I have the courage to trust myself even if I fail." I was 18 when I started shooting for clients. For most of the jobs I took on, I felt unqualified for, but said yes to anyways. To me, there was no way to learn other than doing work that I didn't quite feel ready for, because I don't think you'll ever feel ready to take on something outside your comfort zone. Every job that I took on that I "didn't feel ready for" turned out great. The client was happy, I created something of quality, I learned something new, and built up confidence. Because I'm constantly pushing myself outside of my comfort zone, I've gotten to the point where nothing is too challenging for me. When faced with a challenge, it's always a mentality of, "Okay this is a big mountain to climb, what does my first step need to look like." Within the next couple years, I'm planning on moving to LA to pursue my dream of producing for film and TV. This will undoubtedly be my biggest jump yet, but because of the small courage deposits I've made over the past couple years, I have full faith in myself that I can make it out there!
Let's talk shop? Tell us more about your career, what can you share with our community?
I started making videos when I was a junior in high school. When I told a close peer that I was making a summer video, I remember him telling me that "making videos is really hard" and that I might realize that and quit. People doubting me is free motivation. So even after losing my work like 10 times, I persevered, computer crash after computer crash. I started to make videos of everything around me out of a strong urge to document my life in the truest form I could find. When I got to college, I continued to build my portfolio by making videos of my life, and asking cool people if I could make videos about their lives. I quite literally said yes to everything. It was Winter 2019 when I shot my first wedding, and throughout 2019 and 2020 it was a steady and organic start to grow the business to where it is today. I have learned the value of building relationships with my clients. I have found that being honest, being communicative and attentive, approaching projects with empathy, and being someone who keeps their word has helped me to build my business with integrity. Because that's the only way I'm going to continue to build it. I think there's something special about doing the work in order to go somewhere far, rather than taking the easy way to get somewhere fast. And I'm in this creativity thing for the long haul. As for challenges I have faced, I think it's easy to stand on top of your struggles and say – hey, I did that! But I think transparency is the best way to inspire. So instead of describing the challenges I've overcome, I'll be honest about where I'm at: this has been the most challenging season yet. I am having to adjust from this being my occasional side hustle to running a full time business alongside being a full time student. I don't take great care of my health. I'm a people pleaser. I'm not great at saying no even when there's a job that I don't want to do, and I'm really scared that I'll be lonely when I move to LA. Regardless, I'm open to the rich lessons each challenge has to offer because they are shaping me to be the best possible producer I can be one day. Through these challenges, I'm starting to realize the things that make me and my brand unique. One thing that is unique about me is that I am extremely calculated and logistical, which is not a common quality in creatives. I am someone who will go to great lengths to rise under pressure and get it DONE (in a really cool way). I might have a private emotional breakdown along the way, but I can promise you it will be quality work. If people take away one thing from my brand or my story, it's that the life you want is out there; someone's gotta do it. Dreams aren't reserved for special people – they are worth listening to, fighting for, and investing in.
If you had a friend visiting you, what are some of the local spots you'd want to take them around to?
If I had a friend come and visit me (and lets assume COVID just doesn't exist), I'd definitely take them to Krog Street Market and let them shop around the different funky food options, we might hit little 5 points to shop. Near Roswell, there's plenty of spots to get outside, and I'd probably take them on a good old river adventure – climbing the rocks and braving the current to get to the middle. We'd definitely hit all of my favorite Athens spots – eating at Maepole, watching the sunset on government station road, and sitting under the colored lights at the old scoreboard behind Brumby. Finally, we'd finish out the day with some cheesecake from Last Resort Grill.
Who else deserves some credit and recognition?
There are SO many people I could shout out here. I will undoubtedly miss so many who have substantially helped me along the way to this point, and to think I've only been doing this for such a short amount of time. I can't wait to look back on this and see how the list grows as I enter new phases of my career. I want to start off by thanking my mom. My mom was my best friend and support system when I was growing up. Even through extremely difficult circumstances and challenges that come with being a single mom, she never wavered in making sure I was supported and had a sense of stability – even when she didn't feel stable herself. My mom's support is a product of my wonderful grandparents who have supported her, and have always made me feel like I have a safety net to fall back into. I am so grateful for them! Beyond my mom, other women in my life have inspired me in many different ways. My aunt Amy has shown me the importance of gratitude and is incredible at using humor in the midst of chaos – something that has been such an important skill to learn in this industry. My stepmom Rita, through her job as a physical therapist, has taught me lessons about empathy and passion for the people you work for. My grandma has always been a role model in showing what it means to stand up for yourself. Another woman in my life who deserves a special shoutout is Laura Stahl, my cheerleading coach throughout middle school and high school. I constantly connect current life situations to lessons that I learned while I was cheerleading. My work ethic, leadership, resilience, and ability to truly thrive under pressure are all qualities that were built on cheer teams throughout the years. Stingray Allstars has had the BIGGEST impact on me as a person, and had I not been a part of it, I doubt I would have had the confidence or work ethic to start my business. I am so thankful for the people who pushed me to my limits there. I want to also thank the professors that I have been able to learn from here at UGA, and the Entertainment Department as a whole. I feel well equipped and knowledgeable about the industry that I am headed into. It's been fulfilling to take something that I have learned in school and actually being able to apply it in a job setting. I want to also thank my entrepreneurship professor, Don Chambers, for encouraging me in my many learning experiences, and for believing in my passion. Don has never once made me feel like my energy and passion is naive. Even though she will probably never see this, I want to thank Indy Blue, the reason I started making videos in the first place. Her zest for life and the way she constantly pushes her own boundaries have inspired me to never keep my creativity in a box, share the things that I am proud of, and live my life on MY terms. Had I not stumbled across her 2016 video, I have no idea what my life would look like right now. Definitely not this. A few more people I want to thank that have had a huge impact on me and my business:
– I want to thank my UGA mentors and other mentors out in LA who are the only ones who don't think I'm crazy for wanting to pay LA rent! Being able to hear about your experiences is always assurance that I CAN do it.
– I have to thank all the clients who took a chance on me when I had no experience, and for those that have continued to invest in me as a creative, including Dan Hannon, Michael Wright, and the Manly Hero.
– I want to thank Amanda Coker, who runs Dash Photography in Atlanta, for allowing me to be a part of the 2018 dream team, for being such a role model of a small business owner, and for keeping it real with me about the hard parts of running a business. Little does she know I think "how would Amanda handle this" every single day. Watching her rock all parts of her job was the first time I had ever seen entrepreneurship in action, and even though I didn't realize it at the time, being a small part of her company's family was one of the most valuable experiences.
– I specifically want to thank all my gurus who remind me what a true gift it is to be creative. Harriet, Adeline, Gabbie, Emily, Katie, SG, and many others are always some of my favorite people to be creative with when I'm stuck in a rut.
– One of the things I'm really passionate about is giving people permission and validation for their dreams, and I want to thank Ms. Rosner and her directed study class for allowing me to study video. She validated and supported everything I wanted to do, and in her class I met one of my biggest dreamer friends Mintie. I'll always remember how we were just dawning on discovering that the world is accessible through our deep conversations about how dreams are in our reach.
– This would be INSANELY incomplete without thanking my wonderful boyfriend Alec Murphy, who consistently supports me in everything I wanna do, encouraging my autonomy, freedom, and independent development as a young woman. I wanna thank him for pushing me to focus on my health and rest and for cooking me dinner every night so that I can work. I am so lucky to walk life paths with someone who is equally passionate about what they wanna do. Finally, I have the most supportive group of friends. Thank you to my roommates
– Adeline, Annie, SG, Becca, MC, Rachael
– for always encouraging me (or driving lenses to me when I forget them at shoots or being patient even when I can't always be the most present college roommate). I will always be thankful for this time of life with you guys, and cannot wait to look back on all of our sweet memories.
Website: alainabooth.com
Instagram: @lainabooth
Facebook: Alaina Booth
Youtube: youtube.com/alainabooth
Image Credits
Harriet Thompson – Harriet's World Photography
Nominate Someone:
 ShoutoutAtlana is built on recommendations and shoutouts from the community; it's how we uncover hidden gems, so if you or someone you know deserves recognition please let us know 
here.