How has your background affected your future?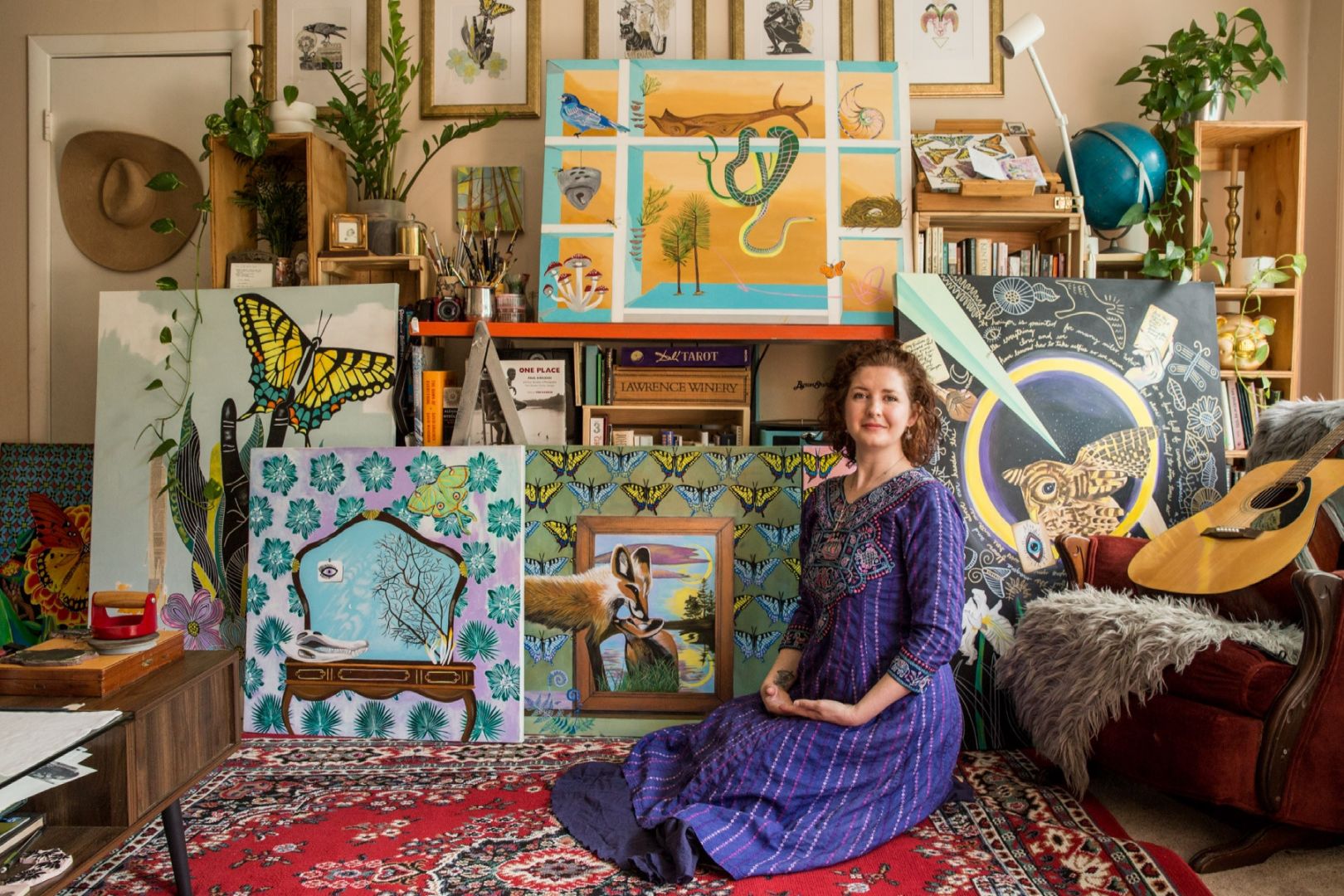 Where you grew up and your background can often have surprising effects on our lives and careers. We've asked folks from the community to tell us about how their background has affected them.
Rebecca Cristante | Painter, Printmaker, Poet

I grew up in the little town of Bainbridge, in SouthWest Georgia (USA), although I have lived in Atlanta now for the past twenty years. Bainbridge is the kind of place where everybody knows everybody. There is only one high school for the entire county and the school promenade and football games are important cultural events, even for those who don't have kids participating in them.There are a few beautiful tucked away springs and caves, but mostly the trees have been deforested and it is surrounded by farmland. Read more>>
Rochelle Simmons | Compliance Director and Realtor

I am originally from East St. Louis, but we moved to Georgia when I was in the third grade. My mother was in an abusive relationship for the majority of my childhood until my middle school years. She has been a recovering alcoholic for over 30 years. I did not meet my father until I was a teenager and we have never really had a good relationship. I had my first child a the age of 17, the summer before my senior year of high school. Read more>>
Paris Corley | Model & Creative

I'm Originally from a small town in the deep South called (Allendale) or some people know it and surrounding areas as the (Low country). Growing up in the south and being so different and LARGER than life had a huge impact in making me the strong woman I am today. My mindset was always small town girl with BIG city dreams. In being such I was I was judged a lot because my way of thinking and doing things it was NEVER the traditional way. Me being a strong minded individual I broke away from all the judgment and doubt of that and forged on my own journey of self discovery and manifesting the life I was deserving of and wanted for myself. Read more>>
Malik Jones | Motivational Speaker , Community Activist ,& Youth Mentor

Malik Jones was raised by his grandmother in Savannah, Georgia. She was not that easy on him. As the years passed by, he better understood why. He did not have what many would consider the average childhood. As a young boy, Malik was labeled a "problematic child." In the fifth grade he was sent to an alternative school for an incident that he was falsely accused of. Unfortunately enough, at 11 years old, Malik made his first appearance in front of a juvenile court judge due to his chronic anger outbursts. Read more>>
TaDarius Cosby | Founder & Creative Director of VISIOŃE

I'm from Chattanooga, TN about a hour and a half away from Atlanta depending on the traffic. My background is rooted in my city and my upbringing comes from my family and friends. I've learned so much from my family growing up I used to sit and listen to my family talk about stories of just experiencing life and forever cherishing memories. It was exciting to hear them talk about their stories and as I got older and started to experiencing life I fully understood why those moments my family cherish so much meant to them and started to create memories of my own with my friends and family as well. Read more>>
Logan Evans | Nail Technician & Computer Scientist

I am from Mobile, AL the original place of Mardi Gras. I believe my background and upbringing greatly impacts who I am today. I come from a family of people who "make things happen". We do not stay knocked down for long. If we get knocked down we already have a plan to dig and figure it out that way. I have rarely seen anyone in my family on either side let any of their circumstances become them. We really kept going in spite of anything. I know for a fact I hold that mindset and principle to my own life. Read more>>
Sévère Erase | Content creator

I was born and raised in Haiti and traveled to the states When I was just ten years old. I have lost of memories of Haiti and the way my mom conducted business. I witnessed it first hand, she was such an early riser and knew when and how to delegate tasks. The culture of Haitian people is very rich, they take pride in what they do and their reputation is something to cherish and don't take lightly. I believe in the same that your reputation and how you conduct business or self is what people will remember you as. So I do my best to leave a good traill behind so others will remember the good in me. Read more>>
Amy Phelps | Floral Designer

I only recently moved to Atlanta in 2017 and had lived in Cleveland, Ohio my entire life (but for college and studying abroad). Growing up in the Midwest, you learn to really appreciate warmer weather and sunshine since so much of our year is chilly, rainy and/or snowy. I have so many memories of the beaches of Lake Erie and hikes in our Metroparks from my childhood and more recently with my own family. But some of my most impactful memories were the simple ones spent in the garden. Read more>>
Amanda Osborne | CEO, MOM, Entrepreneur and Your Favorite Waistbeads Lady

I Amanda Osborne was born and raised in Nashville, TN on the East Side of Nashville. I would say that my background and upbringing impacted who I am today. I was raised by my mother, who had three other children, and we were a close-knit family, and my mother made sure we took care of one another and that we always had what we needed. My grandmother played a very big role because we all spent a lot of time with her, so there was always family around, and family is so important. Read more>>
Antonio Harris | Butter knife shawty catering service

Growing up in Rockdale County, I acquired my passion for barbeque at the age of 12 by watching my grandfather cook. By the age of 19, I took barbeque seriously as I started throwing parties for friends and family. From those positive experiences, I realized I wanted to become a pit master. I have been cooking for family and friends and doing pop-ups around the Atlanta area since 2006 . Barbeque is not just about the smoke and the meat. Read more>>
DAVENCHY | Artist & Creative Director

I was born in Evansville, IN and raised in Cincinnati, Ohio. They are both smaller cities (compared to majors like Atlanta) and encompass a small-town feel where sports are #1 and blue-collar industry is heavy (Cincinnati is HQ for Proctor & Gamble, which most likely make up at least half products in your household!) I wear my REDS gear proudly, and often include workwear in my fashion choices to reflect the culture of where I come from. There was a grit I was able to develop in these conditions, where the colder weather and lack of creative opportunities created a tenacity to achieve something greater outside of the city. Read more>>
Brandon Sutton | Artist/Songwriter/Producer/Christian

I was born and raised in NC. Born in Greensboro, NC & raised in Charlotte, NC to be exact. My background and upbringing was rooted in faith. Faith in God and in Jesus Christ. It impacts everything about who I am today because of the personal relationship I have developed with God in my adult life. I know I'm called by God and my purpose is to tell people of who is and that his word is true. I'm called to let as many that will listen know that he gave us a gift in Jesus Christ and through him we have access to salvation. Read more>>
Cierra Fly Bobo | Designer. Founder. Author. Trainer.

I am from College Park, Ga. My mom had me when she was 16, and my father got addicted to drugs when I was a toddler. I watched both of my parents overcome those obstacles. They are my heroes, and they motivated me to be great in everything that I do. The passion that I have comes from my upbringing; therefore, everything I do I carry my parent's legacy on my back. Read more>>
Semaj Thompson | Tutor and Learning Coach/Founder of Everyone Can Learn Tutoring and Coaching Services

I was born in New Orleans, Louisiana, but I was mostly raised in the Atlanta area. My entire family was displaced by Hurricane Katrina during my first week of the first grade. I have no idea how many different schools I attended as we transitioned from New Orleans to Texas and then later to Georgia. Once we were uprooted initially, it's like we never permanently settled. I lived in a different city almost every year. High school was the first and only time that I stayed at a school for four years straight. Read more>>
Matéo Penado | Artist & Organizer

I'm born and raised from Gainesville, Georgia and my parents are both immigrants. My mother is Mexican while my father is Salvadorian. I grew up mostly around my Salvadorian side of the family and heavily entrenched in the local Latinx community. I practically spent my entire childhood on Atlanta Highway and visiting the Pendergrass Fleamarket on the weekends. Almost all of my aunts and uncles have worked at least once, in their life, Read more>>
Mercedes Sykes | Serial Entrepreneur & Branding Specialist

I was born and raised in Birmingham, Alabama. My upbringing was in 2-parent home and my siblings. My parents really never displayed "the struggle" persay but as we got older they shared with us things that we never knew was going on. They made it work and they made it through and I admire their strength. My parents always instilled in me to go for what I want but do it the right way. That's something I stand on everyday. Read more>>
Jai'Koa Parham | Creative Director & Choreographer
I am originally from Heerlen, Netherlands but raised in Anchorage, Alaska. Growing up as a military kid, I feel like you gain a much broader perspective on the world. You end up meeting so many different people from different cultures and end up learning so much. I feel like this has impacted my life immensely as a result when it comes to working on new projects I incorporate a lot of things with respect to many different cultures that I was exposed to during my upbringing. Read more>>
Satoya Hayes | Black Female Entrepreneur & Mental Health Coach

My Name is Satoya Monesha Hayes but am known by (Monesha) here in Atlanta. I was born in Fort Lauderdale fl, I moved to Rochester NY at the age of 8, during the same year I lost my father growing up in Rochester it was hard to express yourself everyone wants to be like each other and its barely people that want to stand out. It impacted my life because a creative person needs an atmosphere to grow and be impactful but I felt like Rochester was holding me back so I moved to Atlanta. Read more>>
Lance Scruggs | Visual Artist

Born, and raised In Nashville, Tennessee. My father is a hard-working man, and he taught me to be active with my hands at a very young age. Although he may not be an artist in the medium of painting I credit him for the creativity, Ingenuity and the ability to improvise that I picked up observing him over the years. Read more>>
Mischa Morris | Social media influencer

I'm from a small town named Abbeville, which is located in Alabama. I actually have always been big on being something they now call the "IT" girl. With my hometown being so under populated, it was hard for me to express my passion the way I wanted to. People would always tell me I was bigger than the country life and I should really go show my talents in a big city. And this is where I am now, Atlanta Georgia doing what I love. Fashion, Influencing, etc! Read more>>